The Leap of Faith Friday 3 April 2020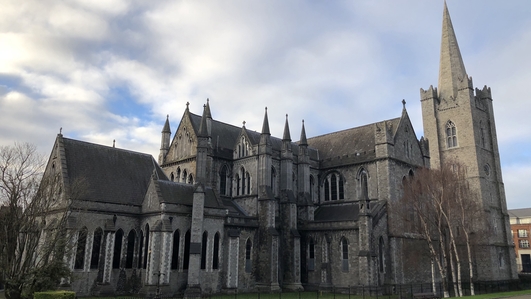 The Leap of Faith Friday April 3rd
On tonight's programme, we hear from Aubrey McCarthy, Chair of Tiglin rehabilitation centre on the challenges for those recovering from addiction in a time of social isolation. The Dean of St. Patrick's Cathedral in Dublin, The Very Revd William Morton talks to us about a virtual Book of Condolences opened online. We'll hear from the Moderator of the Presbyterian Church in Ireland, the Rt Reverend Dr William Henry and from the Methodist Church, Secretary Reverend Dr Heather Morris about a call to prayer by all the Christian Churches in Ireland for Palm Sunday at 3.00 pm. Finally, from Co Donegal, we'll talk with Fr Brian Quinn about the newly installed Stations of the Cross in the Church of the Irish Martyrs, Ballyraine, in Letterkenny.
About the Show
In a programme for people of all faiths and none, Michael talks with those whose life experiences cause them to call on their beliefs, as he seeks to discover what religion does for people - and occasionally to them.
With regular updates from across the world's faiths and from those that hold them, this is a thought-provoking 30 minutes of radio.
The programme is produced by Sheila O'Callaghan, the commissioning editor of the series is Roger Childs.