The History Show Sunday 26 October 2014
Temple Street Children's Hospital
Founded in 1872, Temple Street is now one of Ireland's best recognised children's hospitals. From the nurses who used to smuggle 'Penny Horribles' onto the wards, to the child whose journey to Dublin took seven hours on a turf-fired train, memories of Temple Street are as rich as they are varied.
Today, the old buildings still resonate with stories and the author of a new book on the hospital, Barry Kenerk talked about some of those memories as well as the history witnessed by this old building.
Below is a selection of photos from Barry Kennerk's Illustrated History of Temple Street Children's Hospital.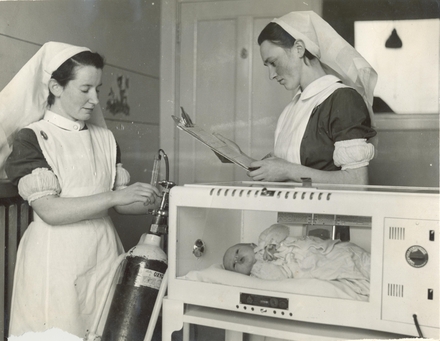 Nurses (1960s) Nurse Maria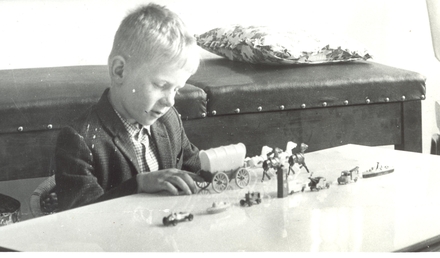 Boy playing with cowboy set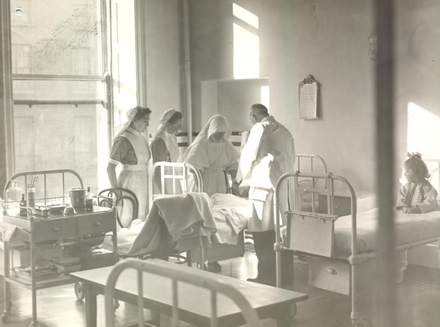 Dr. John Shanley on his rounds (c.1930)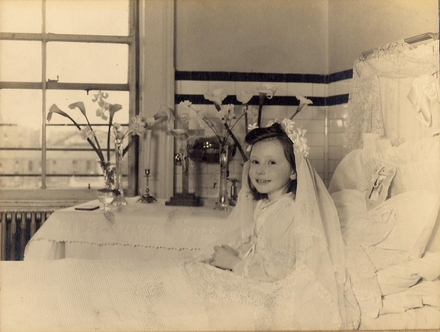 Nuala Fischer (1944)
Outpatient Department
Exhibition at Little Museum of Dublin until 31 October
The Little Museum of Dublin is hosting an exhibition of memorabilia from Temple Street Children's Hospital.
The exhibits include a nineteenth-century vestment stand from the hospital and nursing cloak, a hand-crafted rocking horse, photos, plaques, a Puff-Puff Loco 'Mystery Train', doctor's spirit lamp burner (Temple Street Hospital 1890-1910), and doctor's improved inhaler (c 1900).
For more information, check out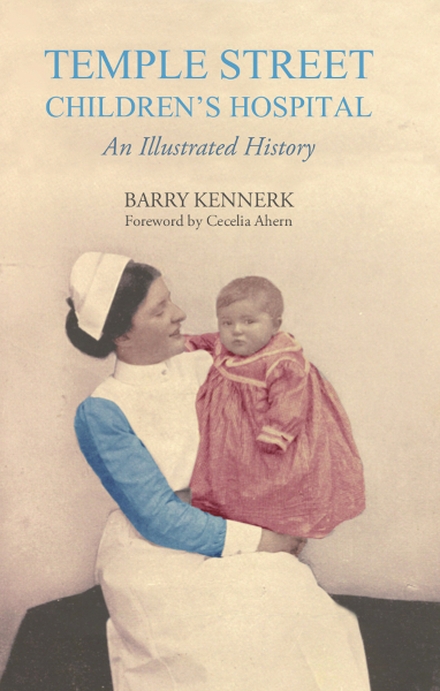 Haunted Ireland
Tarquin Blake's new book, Haunted Ireland delves into the world of Irish ghosts, vampires, witches, werewolves and other tales. He drew up a list of 'true' ghost stories, researched each in detail, and set out to photograph Haunted Ireland.
Lorcan Clancy spoke to Tarquin about some of the unexplained phenomena that can be found around Ireland.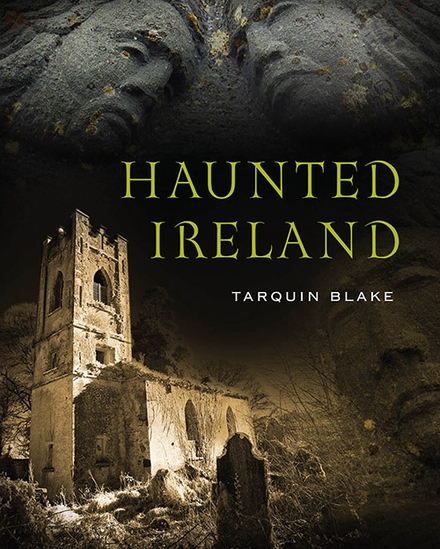 Keywords
Irish Vampire Myth
The concept of vampirism, which is the belief in bloodsucking evil spirits and their malevolent deeds, has a long and nuanced medical history.
The myth of the vampire is widespread in many cultures, especially those of Eastern Europe.
Consultant psychiatrist, Dr. Brendan Kelly has studied this area as well as the origins of the vampire myth and he joined Myles to share his findings.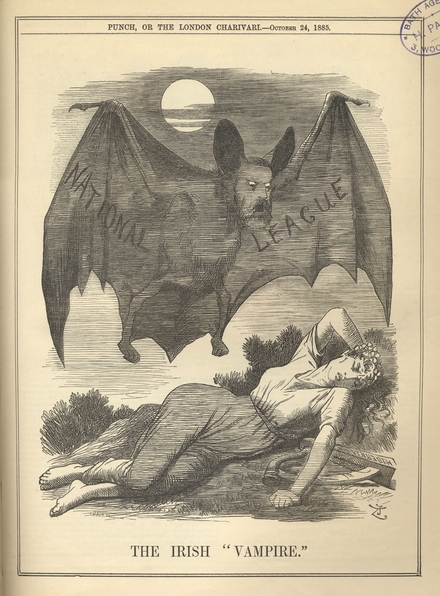 Keywords
On next week's programme.....
Food we ate during The Emergency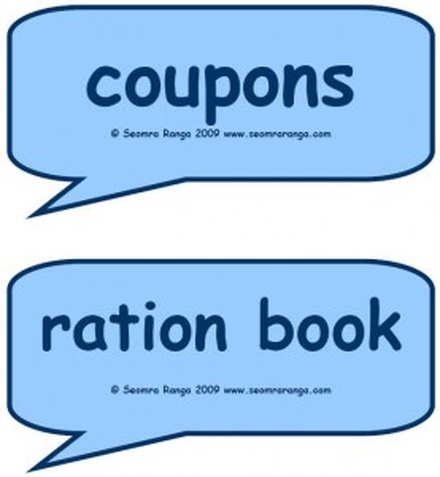 Irish MPs who fought in World War 1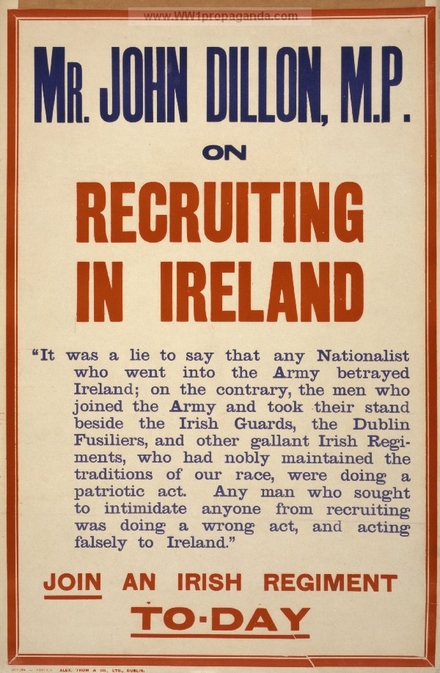 Keywords
November Book Club
Alan Turing: The Enigma
by Andrew Hodges (Viking)
We will be discussing this book on our 16 November programme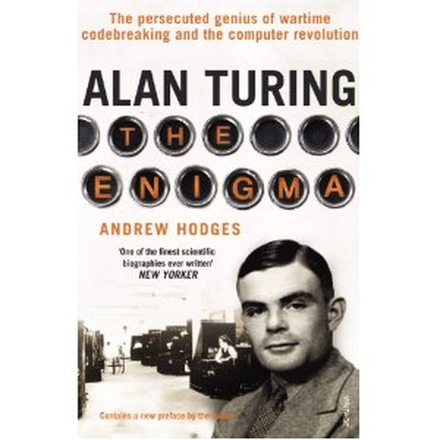 Backgound: Alan Turing was born on 23 June, 1912, in London. He studied mathematics at Cambridge University, and subsequently taught there, working in the burgeoning world of quantum mechanics. It was at Cambridge that he developed the proof which states that automatic computation cannot solve all mathematical problems. This concept, also known as the Turing machine, is considered the basis for the modern theory of computation.
In 1936, Turing went to Princeton University in America, returning to England in 1938. He began to work secretly part-time for the British cryptanalytic department, the Government Code and Cypher School. On the outbreak of war he took up full-time work at its headquarters, Bletchley Park.
Here he played a vital role in deciphering the messages encrypted by the German Enigma machine, which provided vital intelligence for the Allies.
After the war, Turing turned his thoughts to the development of a machine that would logically process information. He worked first for the National Physical Laboratory (1945-1948). His plans were dismissed by his colleagues and the lab lost out on being the first to design a digital computer. It is thought that Turing's blueprint would have secured them the honour, as his machine was capable of computation speeds higher than the others. In 1949, he went to Manchester University where he directed the computing laboratory and developed a body of work that helped to form the basis for the field of artificial intelligence. In 1951 he was elected a fellow of the Royal Society.
In 1952, Turing was arrested and tried for homosexuality, then a criminal offence. To avoid prison, he accepted injections of oestrogen for a year, which were intended to neutralise his libido. In that era, homosexuals were considered a security risk as they were open to blackmail. Turing's security clearance was withdrawn, meaning he could no longer work for GCHQ, the post-war successor to Bletchley Park.
He committed suicide on 7 June, 1954.
http://www.bbc.co.uk/history/people/alan_turing
Keywords
The History Show
1916 Proclamation
Who actually read the 1916 proclamation? A new claim suggests that it wasn't Patrick Pearse. Historians Ann Matthews and Ruan O'Donnell discuss.
James Hack Tuke
Kathleen Villiers-Tuthill talks about the Tuke Emigration Scheme which assisted 9,500 people from remote Western areas between 1882 and 1884.
Temple Street Children's Hospital
Historian, Barry Kennerk delves into the past of this hospital which opened its doors in 1872 with 8 beds for Dublin's poor.
Haunted Ireland
Lorcan Clancy talks to Tarquin Blake about his new book which explores the history surrounding some of Ireland's haunted buildings.
Irish Vampire Myth
Psychiatrist, Brendan Kelly talks about his reserach into vampires.
1916 Proclamation
If you ask any Irish person to identify the most potent symbols of the Easter Rising, they'll probably point to the GPO and the Proclamation of the Republic. And one of our most iconic images of 1916 is of Patrick Pearse reading that Proclamation outside the GPO.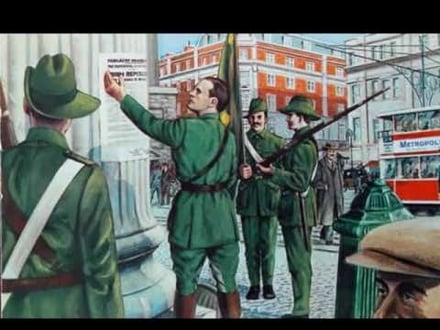 A new book written by historian, Ann Matthews claims that in fact Pearse probably didn't read the Proclamation. And that it wasn't read outside the GPO at all.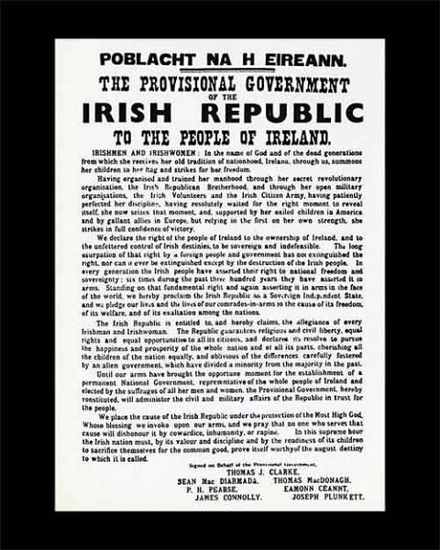 In her new book, The Irish Citizen Army, Ann Matthews makes the following assertions:
The Proclamation was not read by Patrick Pearse outside the GPO, but by Tom Clarke from in front of Nelson's Pillar. She points to this contemporary account written by a reporter from the 'Dublin Saturday Post':
"At 1.30 there came from the post office a small man in plain clothes, with a bundle of papers under his arm. Escorted by a guard of revolutionaries, he made his way to Nelson's Pillar and began to speak".
The significant point is the description of "a small man in plain clothes" says Ann Matthews.
She quotes a senior British official, Sir Alfred Bucknill, who said Pearse "was dressed in [a] green uniform with yellow staff tabs and he had a hat rather like a Colonial's with one side turned up. He was tall and well set up".
"The only leader who fits the description given in the 'Post' is Tom Clarke," she says.
Ann also asserts that the writing and printing of the proclamation was done in absolute secrecy in a short 24 hour period. It was not distributed at Liberty Hall nor was it read out before the rebel army went into action. Consequently it cannot be stated with the certainty that is often is, that the rank and file went out that Easter to declare a Republic. The only people who knew what was in the document were the three printers and the leadership. Those at the other garrisons in the city had no knowledge of it before they marched out. It was only given special status retrospectively by those intent on rewriting the rebellion. The Proclamation was not read by Patrick Pearse outside the GPO, but by Tom Clarke from in front of Nelson's Pillar.

Ann Matthews, author of 'The Irish Citizen Army' and historian Ruan O'Donnell from the University of Limerick discussed the above points.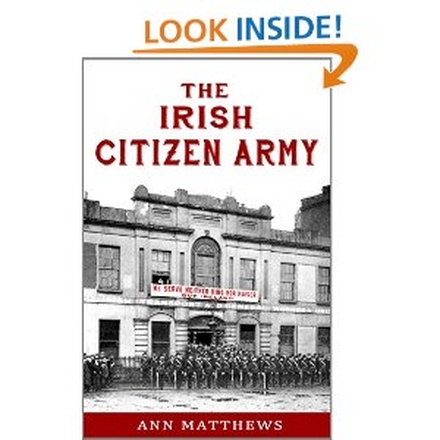 Keywords
James Hack Tuke
Clifden historian, Kathleen Villiers-Tuthill highlighted the work of James Hack Tuke, an English banker and philanthropist, whose charitable work in Ireland in the 1880s is now almost entirely forgotten.
During the brief period between 1882 and 1884, Tuke assisted over 9,500 people from the West of Ireland to emigrate to America and Canada, saving them from misery and hunger and setting many families on a more promising path for future generations.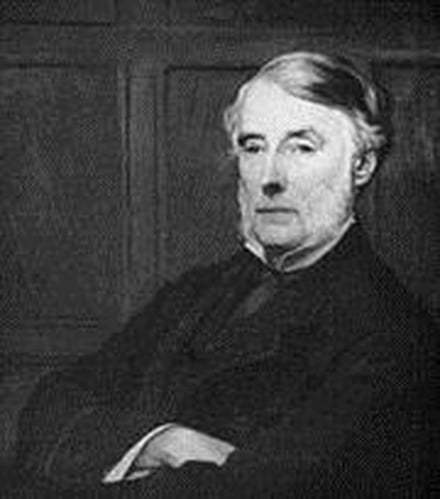 James Hack Tuke's Emigration Scheme
by Kathleen Villiers Tuthill
Born in York in 1819, Tuke was among those members of the Society of Friends, the Quakers, who visited Ireland during the Great Famine and reported back to their community on the wretched conditions they found there. Their poignant reports, which were later published, did much to highlight the plight of the starving Irish and helped to raise funds, for food and clothing for remote communities on the western seaboard.
Over the years Tuke keep up an interest in the West of Ireland and in 1880, again at the request of the Quaker Community, he returned to investigate the conditions of the people at a time when crop failure and agricultural depression had reduced many to near famine conditions.
Following a six-week tour of the western counties, Tuke observed that the preoccupation of the government and the people was entirely given over to suppressing agrarian crime and land agitation, with little or know consideration given to providing solutions to poverty or improving the circumstances of the people. In 1881, he published an article promoting assisted emigration to Canada and America for poor families in the west. The following year he set up 'The Tuke Fund' with money raised from private and government sources. The fund was in operation from 1882 to 1884 and assisted the emigration of about 9,500 people from Galway and Mayo to Canada and the United States of America.
The benefits from the scheme were expected to be twofold; assisting those anxious to emigrate would release land that would, in turn, create more economical holdings for those who remained at home. Entire families were encouraged to go, young, old and even the in-laws. The stipulations were that one member of the family had to be able to speak English and there must be sufficient breadwinners among them to support the family group.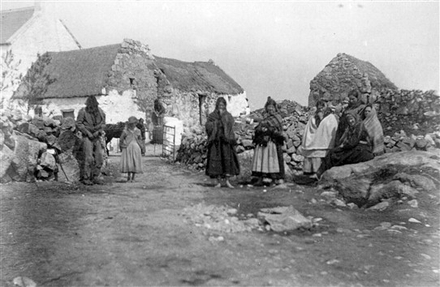 www.oughterardheritage. Photographs taken by Major Ruttledge-Fair For James Hack Tuke
The committee persuaded two shipping companies to call at Galway port so as to avoid the expense of transporting passengers to Queenstown or Liverpool. In 1882 the Allan Line and the Beaver Line sent ships to Galway and 1,276 passengers left in April and May of that year. Further emigrants were sent out in 1883 and 1884.
A great deal of work went in to selecting suitable families, collecting them from their scattered homes and having them at the quayside in Galway in time for embarkation. Each emigrant was provided with new clothing and careful arrangements were made for their reception on the other side. Those arriving in Canada were met and taken charge of by agents of the Canadian Government, while supporters of the scheme met those arriving in Boston and Philadelphia. Great care was taken that the emigrants should be in a position to obtain work, for, as stated in the reports of the Committee, although 'mostly destitute, the adult emigrants were able-bodied, capable and willing to work.' Others were provided with rail tickets and sent by rail to join family or friends further a field.
The scheme was at first lauded by all, and satisfactory accounts were sent back on the successful integration of the emigrants. However, as economic conditions began to improve in Ireland, the Tuke scheme attracted opposition from both Irish politicians and the Catholic Church, and it was brought to a close in 1884.
The work undertaken by Tuke in instigating and managing the scheme was instrumental in saving thousands of people in the west from poverty and wretchedness.
Recording his death in the Minute Books of the Clifden Union in January 1896, the Clifden Guardians referred to him as 'a really true philanthropist', a man who had 'conferred so great a benefit on so many hundreds of our people at a time when widespread depression existed'.
Clifden Conference
If you'd like to hear more about Mr. Tuke's Fund, a conference dealing with Connemara Emigration in the 1880s will be held in the Clifden Station House from next Friday, the 31st of October until the 1st of November.
Keywords
About The Show
Bringing the past to life! Discover how our world was shaped as Myles Dungan and guests explore events ranging from medieval times to the recent past.
We want to help explain ourselves to ourselves. We will search out fresh angles on familiar topics, seek out the unfamiliar and will not shy away from bizarre or controversial issues. Our ultimate goal is to make The History Show the primary port of call for those with an intense or even a modest interest in the subject. We want to entice the casual and the curious to join us in celebrating the past.
Our aim is to create informative, reflective, stimulating and above all, entertaining radio.
Join us on Sundays from 6.05pm for The History Show with Myles Dungan on RTÉ Radio 1.
A Pegasus production for RTÉ.