The History Show Sunday 30 March 2014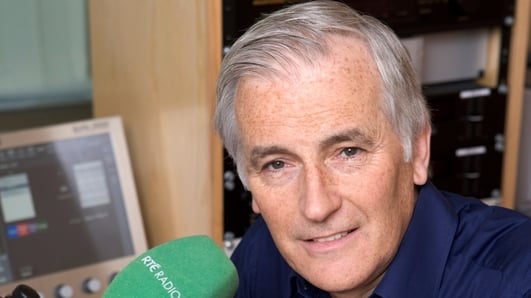 The History Show
Bringing the past to life! Discover how our world was shaped as Myles Dungan and guests explore events ranging from medieval times to the recent past
Centenary of Cumann na mBan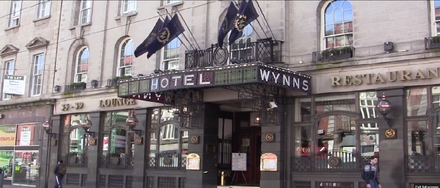 "Should the women of Ireland stand idly by while the most sacred things in life are at stake?"
So asked Agnes O'Farrelly at a meeting of a new organisation of Irish women 100 years ago this week.
Cumann na mBan was formed at Wynnes Hotel in Dublin on 2 April 1914 where Louise Denvir met historian Ann Matthews to recreate the scene.
Conor Mulvagh, lecturer in Irish History at UCD (and their man working on the decade of commemorations) joined Myles to talk about the origins and membership of the organisation.

Click here for Irish Times report 3 April 1914 on first meeting of Cumann na mBan
Cumann na mBan 100 Conference
Collins Barracks, Dublin
Friday 4th and Saturday 5th April 2014
Organised by The Women's History Association of Ireland
Click here for details of Cumann na mBan 100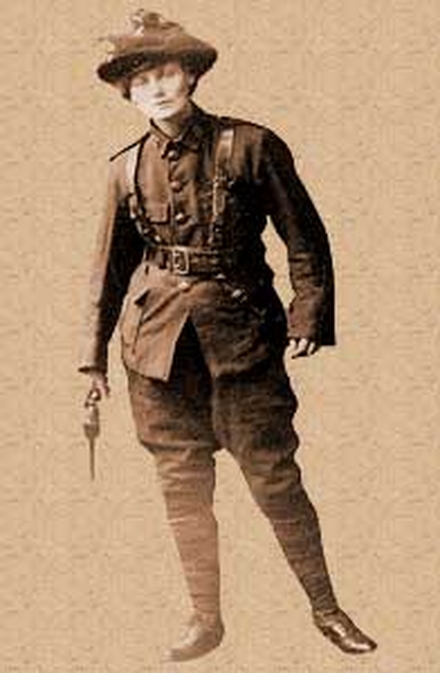 Cumann na mBan centenary
by Conor Mulvagh
Introduction
On 2 April 1914, an estimated 100 woman met at Wynn's Hotel where, four and a half months previous, a meeting had been held to inaugurate the Irish Volunteers. The object of the meeting on 2 April was to found an organisation called Cumann na mBan/the Irish Women's Council. Among those present were Agnes O'Farrelly, Jenny Wyse Power, Margaret Dobbs, Louise Gavan Duffy, Mary Colum, Mrs Bridget Dudley Edwards, Mary Kettle, Elizabeth Bloxham, and Elizabeth Somers. Officially, Cumann na mBan was an auxiliary to the male-only Irish volunteers.
The exact origins of Cumann na mBan have been distorted considerably by the presence of conflicting and often hazy accounts of its early history, often by participants that were not central to the events they recounted. Elizabeth Bloxham's witness statement to the Bureau of Military History recounts how Jenny Wyse Power and Mary Colum (née Maguire, wife of Pádraig Colum) were the key founding members. Other accounts make it clear that Agnes O'Farrelly chaired the inaugural meeting and introduced the constitution of the organisation. Citing the testimony of Kathleen Clarke, historian Cal McCarthy explores the suggestion that the Irish Republican Brotherhood (IRB) worked towards the establishment of Cumann na mBan. Nationalist figures such as Thomas MacDonagh and Con Colbert are also noted as having assisted and encouraged the formation of the organisation. Incidentally, in late November 1913, the Gaelic League newspaper An Claidheamh Soluis, then managed by The O'Rahilly, featured a front page photo of British women engaging in a shooting competition. In Irish, the caption underneath read 'we in Ireland must get more information about this sport. It's better than tennis.'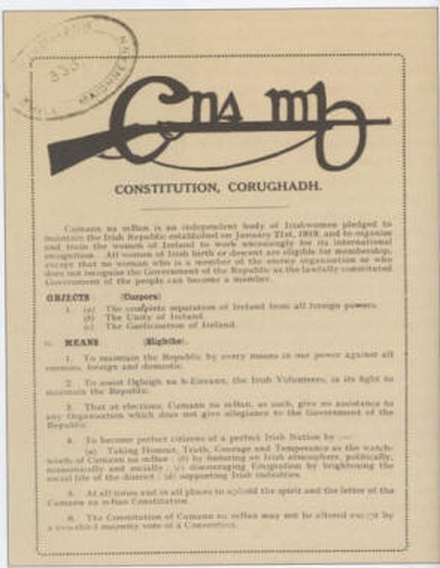 Precursors and origins of Cumann na mBan
By 1914, the tactically diverse but essentially united women's suffrage movement had splintered over the national question. The foundation of Cumann na mBan represented a hardening of attitudes and a commitment among those who founded it to focus on an advanced nationalist solution to the Home Rule crisis. To those who were committed to women's suffrage above all else – notably the co-founder (1908) of the Irish Women's Franchise League (IWFL), Hanna Sheehy-Skeffington – women's suffrage was the paramount objective. Despite her own nationalism, Sheehy-Skeffington believed Cumann na mBan were diverting themselves from the primary goal of early-twentieth century feminism: winning votes for women.
While the IWFL differed in its goals and outlook to Cumann na mBan, another pre-existing organisation was much more sympathetic. Inghinidhe na hÉireann (the Daughters of Ireland), had been founded in 1900 as an advanced nationalist/separatist women's organisation. The overlap of aims between the Inghinidhe and Cumann na mBan was so great that, by the end of May 1914, Inghinidhe na hÉireann had incorporated itself as a second Dublin branch of Cumann na mBan and ceased to exist as an entity in its own right.
There was also an important overlap of leadership between the two movements. The veteran Ladies Land Leaguer, Jenny Wyse Power, whose restaurant on Henry Street was both a meeting place for political radicals and the site where the 1916 Proclamation was signed, was a co-founder of Inghinidhe na hÉireann in 1900 and a founder-member of Cumann na mBan in 1914. In 1915, she was elected the first president of Cumann na mBan.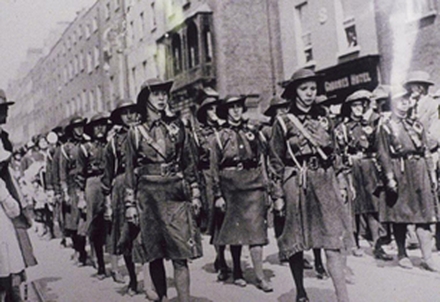 In the fertile period before the outbreak of hostilities in the Irish revolution, there was much cross-fertilisation and common membership between radical nationalist and suffrage organisations. To take just one example, Elizabeth Bloxham, a senior organiser for Cumann na mBan, was simultaneously an active suffragist. Despite cases like Bloxham's, connections between the various movements were not always harmonious. Historian Ann Matthews has documented how nationalist women such as Mary Kettle and Hanna Sheehy-Skeffington clashed with separatists such as Lecturer in Irish at UCD, Agnes O'Farrelly, when Cumann na mBan was being established.
Establishing Cumann na mBan
At the inaugural meeting of Cumann na mBan, Mary Kettle, whose husband Tom had been a Home Rule MP, objected to some of O'Farrelly's comments about the Irish Parliamentary Party. Kettle's opposition did not derail the meeting but it signalled the discord between suffragists and the new movement. Historian Ann Matthews explains that Hanna Sheehy-Skeffington took up where Mary Kettle left off in terms of criticising the role Cumann na mBan had identified for itself. For Sheehy-Skeffington, the subordinate role of Cumann na mBan to the all-male Irish Volunteers was setting the feminist and suffrage cause back. For committed Cumann na mBan members such as Mary MacSwiney, the national question would have to be solved as a step towards the enfranchisement of Irish women. However, for Sheehy-Skeffington, the new movement was little more than an 'animated collecting box' for the men's organisation. She would frequently refer to Cumann na mBan as 'slave women' and, in a letter to the Irish Times, she argued: 'The proposed "Ladies Auxiliary Committee" [of Cumann na mBan] has apparently no function beyond that of a conduit pipe to pour a stream of gold into the coffers of the male organisation…' (Matthews, p. 100).
Arguably the most visible woman of the revolution, Constance Markievicz, had a complex relationship with Cumann na mBan. Famously, the Irish Citizen Army was exceptional among paramilitary organisations in Ireland at this time because it did not assign a subordinate role to women. However, recent research has questioned this and found that, while equal on paper, women often ended up playing second class or gender stereotyped roles within the Irish Citizen Army. By 1915, there was only one woman with an army number and officially on the rolls of the Irish Citizen Army: Constance Markievicz. Markievicz took an enthusiastic role in the early days of Cumann na mBan although it took some time for her to become an official member of this latter organisation. However, the countess disassociated herself from Cumann na mBan when she began to feel stifled by the subordination of women under the Irish Volunteers. Thereafter she committed herself to the Irish Citizen Army.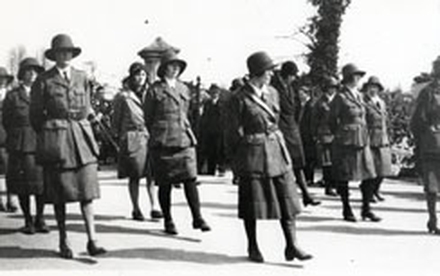 The other question that must be addressed is class and family politics and how this shaped the early years of Cumann na mBan. Historians have noted how membership fees of 1 shilling and the convening of key meetings during working hours constituted barriers to entry for poorer working women. The other notable fact about the membership of Cumann na mBan is that a surprising number of prominent members of Cumann na mBan had husbands who were leading figures in the Irish Volunteers. The wives of Eoin MacNeill, The O'Rahilly, and Pádraig Colum are just some examples of this. However, others such as Wyse Power, O'Farrelly, and Bloxham had no family ties, marital or otherwise, with the Irish Volunteers.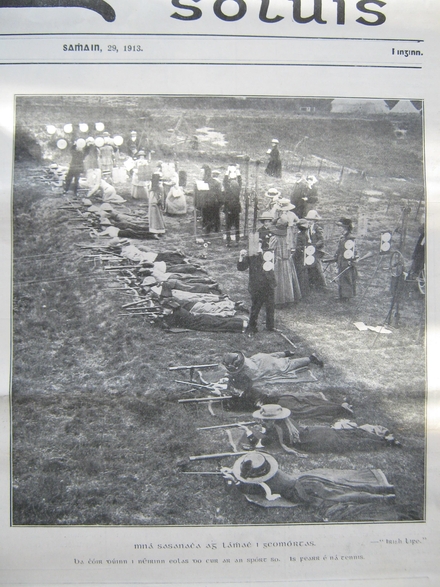 An Claidheamh Soluis, 29 Nov. 1913, image: National Folklore Collection, University College Dublin.
Fragmentation and national politics
Just like the Irish Volunteers, Cumann na mBan was not immune from splits. When the men's movement split over the question of participation in the British war effort in the autumn of 1914, Cumann na mBan followed suit. Agnes O'Farrelly was one of the few members of the leadership who sided with Redmond and left Cumann na mBan. However, a majority of the rank and file appear to have sided with Redmond, a situation that was mirrored in the Irish Volunteers. Similarly, when the treaty split occurred in 1921/22, Cumann na mBan again split. This time, Jenny Wyse Power was the most prominent member to take the moderate stance. The pro-treaty faction of Cumann na mBan took on the name of Cumann na Saoirse. Cal McCarthy estimates that the section of Cumann na mBan that stuck with the Irish Volunteers in 1914 had grown in number to around 650 members by the eve of the 1916 rising.
Work and role
One of the biggest questions for historians is whether, or specifically to what extent, was Cumann na mBan subordinate to the Irish Volunteers and how much of a role did it have beyond fundraising for the rifles and equipment of their male counterparts. Cal McCarthy has succinctly explained the nature of Cumann na mBan's work, arguing that it was 'hardly an army but not a sewing circle either'.
Fundraising did form a large part of the movement's early work, but the same can be said about the Irish Volunteers, where subscriptions were desperately needed for the purchase of arms in 1914. McCarthy also notes that one woman at the inaugural meeting gleefully suggested that 'women could do splendid work as spies'. Cumann na mBan quickly settled into first aid duties but, importantly, the six person stretcher teams included one member who was tasked with taking charge of an injured volunteer's rifle. Loading, unloading, servicing, and cleaning rifles was compulsory training for active members and when rifle practice was offered to Cumann na mBan members, many of them took up the opportunity with great enthusiasm. Ann Matthews notes how the Belfast branch of Cumann na mBan organised a Christmas shooting competition in 1915. The winner scored 92 percent in her table. Field ambulance units attached to the Dublin units of the Irish Volunteers settled on revolvers as the best armament for personal protection.
Police surveillance of Cumann na mBan appears to have been extremely lax outside of Dublin with county inspectors not taking seriously the threat posed by these active and drilled women. The activities of Cumann na mBan during and especially after the 1916 Rising would underline the miscalculation made by police in not taking seriously the revolutionary and military threat posed by Cumann na mBan. Following the wholesale arrest of male participants after the Rising, women were elemental to maintaining momentum in the republican movement.
Further reading
Rosemary Cullen Owens, A social history of women in Ireland 1870-1970 (Dublin, 2005)
Cal McCarthy, Cumann na mBan and the Irish Revolution (Cork, 2007)
Ann Matthews, Renegades: Irish republican women 1900-1922 (Cork, 2010)
Senia Pašeta, Irish Nationalist Women, 1900-1918 (Cambridge, 2014)
Keywords
Food and World War One
Brown Stew mightn't sound like the most appetising of dishes, but this is typical of the sort of fare that sustained soldiers in the trenches during World War One.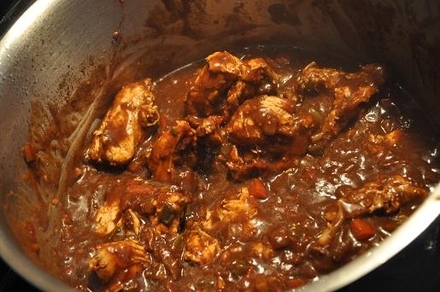 Historians Bryce Evans of Liverpool Hope University and John Borgonovo of University College Cork have researched various aspects of food and the First World War.
Bryce talked about the food riots involving Liverpool Irish that followed the sinking of the Lusitania (see Bryce's article below "Food Riots in the First World War").
Meanwhile, John told us about food shortages in Cork, in late 1917 and early 1918 where there was public anxiety relating to spiraling food prices; shortages of certain staples; and the introduction of rationing in Britain. Sinn Fein and Labour were very unhappy and feared real starvation.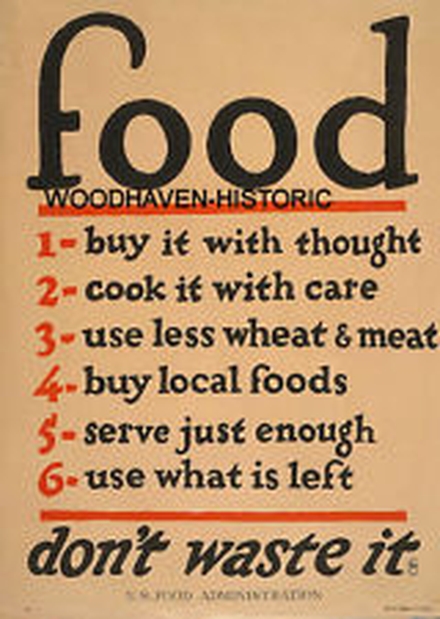 Food and the First World War Conference
The centenary of the outbreak of the First World War provides the opportunity for in-depth study of this most compelling and controversial conflict from new and refreshing angles.

This conference, which takes place on Wednesday 2nd April 2014, combines two of the 'hottest' topics in current historical research – Food, and the First World War - the respective themes of the annual Anglo-American Conference of Historians in 2013 and 2014.

In 2014 people around the world will mark the centenary of the outbreak of the First World War. This one day symposium explores a unique aspect of that conflict: the role of food and drink on the Western Front and beyond. Eight speakers explore the moral, nutritional, social and economic role of food and drink in the First World War.
Topics range from substitute foodstuffs to farming, from troops' diets to 'fair' distribution, and from alcoholic overindulgence to temperance.

This conference is sponsored by the Royal Historical Society, Society for the Study of French History and the Economic History Society.
Click here for more information about Food and the First World War - Liverpool Hope University Conference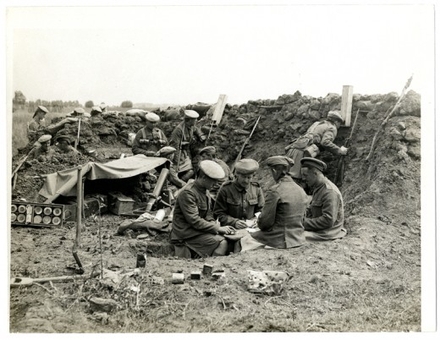 Bryce Evans on the British army's diet during World War I:
The key recruiting slogan was 'Join Lord Kitchener's army! Ten bob a week, plenty of grub to eat!'
And for those from the working class, used to a diet of essentially bread and tea, the army diet was really quite good. It was around four and a half thousand calories per man (today, British Army recommends 4,000 calories for male troops 'in the field') and there was plenty of red meat (think morale and contemporary conceptions of male fighting potency linked to red meat). OK, they didn't properly understand vitamins back then, but I think that the British had learnt the importance of food and nutrition from previous bad experiences (Crimea and Boer war) and even accommodated colonial troops with different dietary requirements (Indian troops etc).
On the other hand, by today's standard, the diet was too high in fatty proteins and too low in vegetables (think corned beef in tins) and so a common consequence was constipation. The Germans, for example, had a better veg allowance in their rations. A more common gripe was the monotony of the food - and this is the key issue I think - if you are in a trench for three weeks it soon becomes an issue of the same old food, having to eat this monotonous fare without privacy, and toilet without privacy, there are going to be gripes. 'Machonichie' stew was called a 'war crime' by at least one soldier and the biscuits often took soldiers' teeth out. And obviously, due to supply disruption, especially after the Germans launch unrestricted U-boat attacks from 1917, there are going to be supply shortages on occasion.
All in all, though, the British didn't mutiny over food (unlike the French) and it's important to remember that, with troops paid in local currency, if you hated your ration that much there were opportunities to purchase food locally and avail of many supplementary canteens run by charities etc so in the final analysis I don't think it was too bad.
Food Riots in the First World War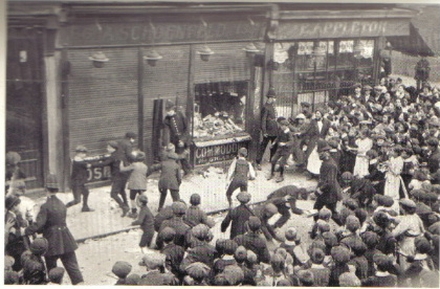 Emigrant Irish and the 'Lusitania Riots' of 1915
by Dr. Bryce Evans
In May 1915, the sinking of the Lusitania, the Cunard Line British passenger ocean liner, provoked food riots across Britain. Most of these violent actions were directed against German pork shops in British urban centres. This piece explores the reasons behind the notable involvement of Liverpool's Irish community in these riots.
Food Riots in the First World War
British industrial unrest during the First World War, in particular industrial action on 'Red Clydeside', is well documented. Less documented is the fact that Britain was convulsed by food riots throughout the conflict. Britain, of course, was not alone.
In Germany and Russia, for example, scarcity and price inflation resulted in riots. Frustrated by standing in lengthy queues for little or no return, butter riots break out in Berlin 1915 led by women. There were a number of subsistence riots in Russia during the war years and, again, women played a leading role in these.
'Moral Economy' and Wartime
Because consumer sacrifice in wartime comes to be associated with the collective community struggle, governments have to take action to ensure fair price. But, as we know, full rationing was not established in Britain until 1918 – the last year of the war. So what about popular (as opposed to state-imposed) actions against profiteering before then?
The famous English radical historian EP Thompson spoke of early modern food riots as being legitimated by 'traditional rights or customs' and 'supported by the wider consensus of the community'. Following this idea, which Thompson termed 'moral economy', perceptions of market fairness were as important, and in most cases more important, than merely hunger itself.
So when women and men took part in food riots, they were prompted by 'an outrage to these moral assumptions', quite as much as actual deprivation. Food riots were not just 'rebellions of the belly' according to this theory.
Historians usually portray community-based subsistence riots as occurring in pre- or proto-industrial settings where informal community politics prevail and not in modern market economies. During wartime, however, there is an intensification of economic morality in society. Why? Because food and other resources are more scarce. Amidst frugality on the home front in WWI, food queues developed, there were arrests of hoarders and, because of wheat scarcity, brewing was limited.
With this enhanced wartime morality, did older notions of 'moral economy' reappear? And, if so, how did they tie in with the popular nationalism of the war effort?
The Lusitania Riots
In May 1915, the sinking of the Lusitania, the Cunard Line British passenger ocean liner, provoked moral outrage and food riots across Britain. Lusitania left New York bound for Liverpool on 1 May 1915. On 7 May, eleven miles off the southern coast of Ireland, she was sunk by a German U-boat, causing the deaths of 1,198 passengers and crew.
German pork shops – symbolic of the enemy but also of domestic food shortages – were to bear the brunt of the riots which followed the sinking.
Home Office files Document unrest and rioting in Britain following this outrage. In mid 1915 the importation of flour was briefly suspended as a consequence of what was called "the uncertain conditions of trade caused by the recent riots on German bakers shops", 60% of which in London were German.
In Gateshead, British Home Office sources reported, several German pork butcher shops were ransacked. In London, riots broke out across the city, with The Times reporting that these actions were 'Particularly serious in Poplar and East-end districts with a number of people and police injured' and that the Damage done was very great.' In Southend, the military were deployed after crowds wrecked German owned pork shops and tobacconists. In Manchester, 13 men and 8 women were convicted of disorderly conduct and wilful damage to property.
Pat O'Mara and the Liverpool-Irish Rioters
But some of the worst riots were to occur in Liverpool, which possessed a very large Irish emigrant community.
Pat O'Mara, in his memoir, The Autobiography of a Liverpool-Irish Slummy, which was first published in 1934, takes up the story of the Liverpool riots in May 1915:
"It took about two days for the names of the drowned among the crew to be published. They were appalling. That night Freddie and I, clad in our American tailored suits, started for a dance over Paddy's Market in St Martin's Hall. We never attended it, however. Before entering the Hall we walked around Scotland Road listening to the cries of the women whose husbands and sons had gone down in the 'Lusy' and we heard the bitter threats made against Germany and anything with a German name.
We walked down Bostock Street, where practically every blind was drawn in token of death. All these little houses were occupied by Irish coal-trimmers and firemen and sailormen on the Lusitania; now these men who, barely two weeks ago, had carried their bags jokingly down the street were gone, never to return.
Some of the women, drunk, were laughing – laughing as mad people laugh when the border line had been passed ... On the corner of Scotland Road ominous gangs were gathering – men and women, very drunk and angry. Something was afoot; we could sense that and, like good slummy boys, we crowded around eager to help in any disturbance.
Suddenly something crashed up the road near Ben Johnson Street; followed in turn by another terrific crash of glass. We ran up the road. A pork butcher's had had its front window knocked in with a brick and a crowd of men and women were wrecking the place. A little higher up the same thing was happening – everything suggestive of Germany was being smashed to pieces. Up the road the crowd surged, some cutting into Sawny Pope Street; others going into Ben Johnson Street; others continuing up the road.
Down Scotland Road, in the opposite direction, the window crashing was more terrific – clear down to Bryon Street. Everyone had a brick or a stick or something tucked under his or her coat or apron and there was much pilfering. The police themselves, imbued with bitterness, were the most passive guardians of the law. I recall one stout little Irish sausage dealer pleading with the crowd that her husband wasn't a German, but the name was too suspicious and in the windows went and the place was wrecked. Freddie turned to me: "What about all the 'Uns up our way? I'll bet they're having some bloody fun up there now. Let's go up there." So we left the Scotland Road mob and took the tram up to our own South End.
The Violence Spreads across the city
Freddie had guessed correctly. As soon as the tram got near Charlie Beech's pork shop, opposite St Vincent's Church, a dense mob caused it to stop. Mr Beech had been living in Liverpool thirty odd years, but there was a faint suspicion that years ago, anticipating just such a riot, he had changed his name. His big shop was in shambles when, running from the halted tramcar, we got to it; Mr Beech and his son had made their escape. Someone in the mob mentioned Mr Agte was a retired German sailorman, now a naturalized Britisher, and married to the popular Sarah Doran, as Irish as a leprechaun.
"Ah, lave thim alone!" said a Joan of Arc who was leading the mob. "Sarah allers hilped the church. Let's get after Yaag – that's the bloody 'Un!" So instead of Agte's we raced on to Yaag's pork butcher's in the Great George Street, most of us boys in the vanguard and anxious to be the first to crash the enemy's windows. Mr Yaag, a big, wholesome fellow allegedly had been born in Germany, but I don't think he remembered much about it. Two of his nephews were with my cousin Berny and the Eighth Irish over in France. I always liked Mr Yaag, but not quite so keenly as I liked to break his window without fear of molestation.
As we converged on the big shop, Mr Yaag, arms akimbo and thinking some urchin was fleeing from Aeroplane Joe, came out, pipe in mouth and with his usual broad smile; this vanished instantly as someone kicked him in the belly and a volley of bricks sent in the huge windows. From the sawdust floor the astounded man had the pleasure of seeing his choice sausages kicked down and thrown about and the furnishings reduced to shambles. "You'll sink the bleedin 'Lusy', will you!" yelled our Joan, waving a shillelagh over his prostate form. "I'll give you sinking the bloody 'Lusy'! 'Ere, bust that up; kick that out; smash the whole bloody business!"
We left Mr Yaag and Yaag, Inc., in a worse mess than Charlie Beech's. Cook's pork butcher's in Mill Street came next. Mr Cook knew as much about Germany at the time, I think, as I did. Later investigation proved that he came from strictly Yorkshire stock and was a devoted student of Mr Kipling dashing off a bit of patriotic verse himself once in a while. But he had a pork butcher's shop, and as pork and Germany were identical items, we left his shop in a shambles and himself stretched across the counter groaning. I began to get sick from all the free sausage I'd been eating.
Our next conquest was Annie Monnigan's little shack. Annie was just as Irish as Sarah Doran, German Bob Agte's wife, but she didn't contribute as generously to St Vincent's and this made a big difference. Several reasons why Annie didn't contribute so much to the church as Sarah was that she had no sailors' boarding house, had six small children to feed, and her husband was interned. But she was quite as good a Catholic as Sarah. Years ago, she had married Charlie Thomas, fresh from a German four-masted barque. As the children came, Charlie quit the sea and matriculated, like all old sailors, to dock labouring – an occupation he was at when hauled off to the German detention camp on the Isle of Man. One of our crowd, with remarkable memory, verified this and the stampede was on. I shall never forget the hysteria of this last debacle, with the six children screaming and Annie, like a good colleen, fighting back and asking no quarter. After doing a second job here, we left loudly cheering our commander-in-chief, herself now sporting a black eye, given her by the fighting Annie.
Aftermath
The following day all was quiet, and the police, now mindful of their jobs, started taking an inventory. All damage was carefully checked and all victims adequately reimbursed, the cost going on the tax rate as is the way with good British justice. Our commander-in-chief, the fiery little Irishwoman, was relieved from her chip-chopping activities and given six months in Walton for her valour, and only his adeptness at secreting himself behind the chimney pots saved the Black Prince from going along with her. Several others got minor sentences.
There was some disguised blessings, too. Most of the wrecked butchers shops were obsolete contraptions, but when the reconstruction architects came in, newer and gaudier edifices were erected. Little fighting Annie Monnigan had always detested the little shack in Frederick Street, so when the government offered to rebuild it according to the original plan, she threw up her hands in horror and suggested a cash settlement. Poor Charlie Beech and I were the worst sufferers. Charlie's son John dropped dead after racing with his father from the shop to his house Aigburth; and I got a pernicious bellyache on account of all the raw sausage I had eaten.
Analysis: the Righteousness of Moral Economy, or the Bigotry of Racism?
In Liverpool, overall, 200 shops were gutted with the damage costed at £400,000.
O'Mara admits "Many mistakes were made" and the excerpt shows the flighty, almost schizophrenic character of the Liverpool mob, making it hard to detect what we might regard as any overriding moral economic valour, or logic, in their actions. Some shops clearly not even German. Moreover, EP Thompson may have denied that food riots were merely 'rebellions of the belly', but Pat O'Mara's bellyache from raw sausage seems to defy this notion.
Nonetheless, the reluctance to smash Sarah Doran's shop, because she gave money to the church, shows that there were at least flashes of a moral economic ethic at work here. That pork and Germany were viewed as identical items suggests a moral economy issue. In total war societies, the notion of morality and immorality, based around perceived infractions in the moral conduct of war, but also notions of absence and abundance, was powerful: here we see popular moral polarisation at work, with everything German (in the wake of the Lusitania's sinking) viewed as symbolic of an infraction of fair play more broadly.
Another classic aspect of moral economy is the primacy of women, as moral economic guarantors, as evidenced in the excerpt
What's most interesting is the involvement of the Irish: O'Mara, in the book, talks about dutifully taking his place in Liverpool's pre-war sectarian riots between Irish catholic and Irish Protestant populations in the city, about opposing loyalism and the fierce sense of separate identity among the Liverpool Irish - but then, as he puts it, "the foe for the brief moment had changed from England to Germany" in 1915.
The Liverpool Echo reported that after the riots 150 German residents were rounded up by the police and removed to internment camps (to secure public order as much as for their own safety). There was, we are told, no hostility shown towards them by a large crowd that had gathered at Lime Street Station – this suggests, perhaps, that popular outrage centred on food and pricing rather than ethnic animosity alone.
The Introduction of full Rationing in Britain, 1918
Full rationing ostensibly staved off rioting by ensuring fair price and equitable distribution. But this was not until the very latest stages of the war.
But late into the war, and well after the shift from Asquith's somewhat complacent leadership to Lloyd George's "push and go" administration, food riots were still breaking out – these were 'anti alien' riots, yes, but more often than not they were centred on food shops.
For example, a Home Office report of 9 July 1917 revealed that in just one day of anti-German riots in East London 30 shops were rifled, 37 arrested, and 14 police officers injured; flour, biscuits, tea and cash were stolen from each of the premises by members of the mob.
In conclusion, actions such as Liverpool's anti-German riots of May 1915 were examples of race riots. Indeed, the German pork butchers were not the only targets of mob action in 1915: Liverpool's Chinese shops were also targeted, with the Foreign Office reporting Chinese citizens begging for protection. The Republic of China, of course, was at this stage firmly neutral.
But despite their unpalatable character, and albeit heavily coloured by the nasty ethnocentrism of a war economy, these actions possess many of the tenets of that - admittedly most elastic of concepts - moral economy. And the involvement of the Liverpool Irish raises many questions about the complex issues attached to national identity in wartime societies.
Keywords
Memorial Cards
Throughout the twentieth century memorial cards, small commemorative cards sent out by the bereaved to mourners after a funeral, were a vital part of Irish funeral culture. Even in an apparently secular Ireland, the memorial card – albeit in the modern guise of the commemorative bookmark – persists. Rather than being an old-fashioned relic of conservative Catholicism, Mary Ann Bolger who's a design historian and lecturer in critical theory at Dublin Institute of Technology argues that memorial cards, embody the tension between tradition and modernity that charcterised the newly modern Ireland.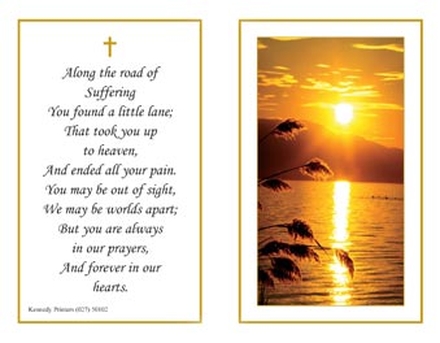 The Memorial Card
by Mary Ann Bolger
While the origins of the memorial card – still part of Irish Catholic funeral practice today– can be traced back as far as the funeral mementoes of seventeenth century Dutch nuns, in its modern form it is really a result of the entrepreneurial spirit of the Industrial Revolution…
It has been noted that the experience of grief is marked by an illogical desire to help the deceased. Traditionally, the Church provided reassuringly official ways to do ones best for the dead: funeral services and paraphernalia comforted the grieving by giving them an opportunity to do their best, and simultaneously reinforced the Church's own position as vital to the social order. One clear way to aid the dead was to recite "indulgenced" prayers, which promised remission for the Souls in Purgatory.
The genius of late nineteenth-century jobbing printers was to recognise the potential of print to combine generic indulgences with the specific details of an individual death: thus appearing to guarantee the application of the remission to one's loved one particularly.
By the mid-twentieth-century, the typical Irish memorial card consisted of a generic holy picture, bulk-bought, pre-printed, from France or Italy, and overprinted locally with an individual's details, indulgenced prayers and the number of years remission from Purgatory that they promised. The inclusion of a photograph and the elaborate typographic treatment of the deceased's name helped to further individualise the intended recipient of the indulgence.
The photograph, which became common from the mid-twentieth century, was usually glued on. In this it echoed the inclusion of a relic in some forms of holy card. But it could also cause anxiety: if Uncle Gerald's glue came unstuck and his photograph detached, it might suggest uncomfortable parallels with the corruption of the mortal remains. Hence, from the 1970s lamination became commonplace – the stationery equivalent of embalming.
Nowadays, memorial cards take the form of bookmarks and digital imaging technology allows for secular as well as religious wish fulfilment by literally inserting Uncle Gerald into an imagined better place, on the golf course, perhaps, or in a field of sun-dappled wheat.
Keywords
Grave Matters Conference
For centuries, Dubliners have left behind monuments, traditions and practices that mark their passing, these allow us to gain some understanding about their attitudes towards death.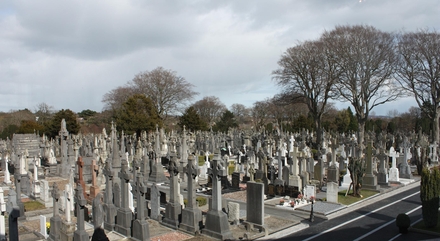 Funeral rites, expressions of grief, and symbols of death including sculptures and literary descriptions tell us a great deal about generations of Dubliners, their values and concerns.
On Saturday 12 of April 2014 a free public conference, hosted by the Dublin Research Group in Glasnevin Museum and Cemetery, will explore the social, economic and medical aspects of dying in Dublin 1500-2000.
To register for conference click here to email organisers
Click here for Grave Matters Running Order
Keywords
Service of Remembrance for Children Killed in Easter Rising
Service of Remembrance for Children Killed
in the Easter Rising
Thursday 10 April 10th
10 a.m City Quay Parish Church (Matt Talbot Bridge)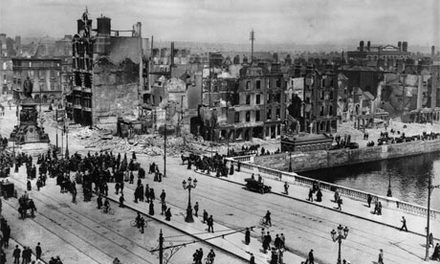 INVITATION TO ECUMENICAL SERVICE OF REMEMBRANCE AND RECLAMATION FOR THE CHILDREN KILLED IN THE EASTER RISING 1916
LED BY CANON BARBARA FRYDAY AND FATHER MICHAEL SCOTT ( RELATIVES OF TWO OF THE CHILDREN ) AND REVEREND PEARSE WALSH (CITY QUAY )
WITH THE PARTICIPATION OF CHILDREN FROM CITY QUAY NATIONAL SCHOOL.
ALL ARE WELCOME
THIS IS PART OF A PROJECT FOR A PERMANENT MEMORIAL TO THE 40 CHILDREN AGED BETWEEN 2 AND 16 WHO DIED DURING THE EASTER RISING .
JOE DUFFY
Spanish Civil War
This week marks the 75th anniversary of the end of the Spanish Civil War, a bloody conflict that's often viewed as the prelude to World War Two. On one side were the Nationalists, led by General Franco and backed by Hitler and Mussolini. On the other side was the Spanish Republican government.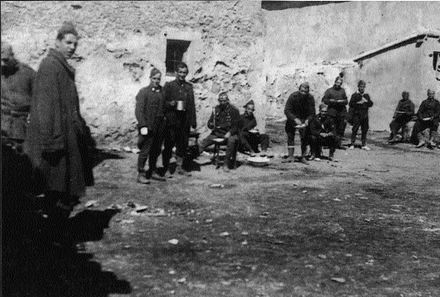 Volunteers travelled from all over to world to form military units known as "the International Brigades". They came to fight fascism and defend democracy.
Ireland's reaction was unique, as Irish citizens travelled to Spain to fight on both sides. Lorcan Clancy spoke to historian Harry Owens about Irish involvement in the war.
Keywords
Poverty and Famine in Ireland conference
Held in the old eighteenth century Poor House of Belfast, this conference on 'Poverty and Famine in Ireland: The Great Famine, its contexts and legacy' includes speakers from Ireland, UK, Holland and Finland.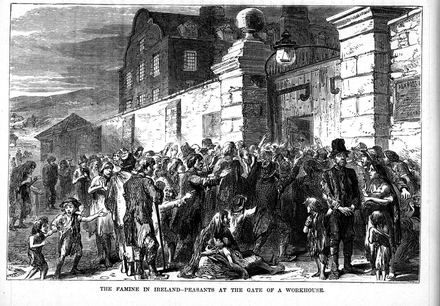 The conference will exlore a wide range of themes including health care and disease, fictional depictions, archival sources, famine commemoration, nutrition and welfare provision.
Open to all, it will be held over two days, 11-12 April 2014 at Clifton House, North Queen Street, Belfast BT15 1EQ in conjunction with the School of History and Anthropology, and the Institution for Collaborative Research in the Humanities at Queen's University, Belfast.
All are welcome, and admission is free.
For space and catering purposes however, we would ask that you contact Dr Georgina Laragy, g.laragy@qub.ac.uk. For further information see http://www.belfastpovhist.com/stories-from-the-archives/ or follow us on twitter @belfastsickpoor
Click here for Poverty and Famine Conference Programme
Programme on 6 April cancelled
Due to he Heineken Cup Quarter Final Toulon v Leinster (kick off at 1630) our programme on 6 April has been cancelled.
Keywords
On our 13 April programme......
Book Club
White Cargo: The Forgotten History of Britain's
White Slaves in America
by Don Jordan and Michael White (NYU Press)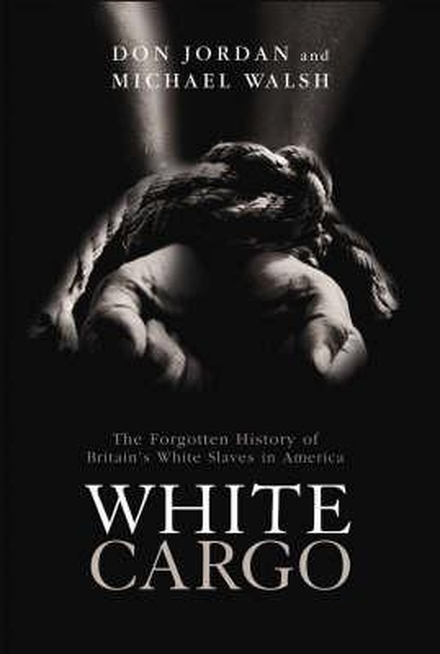 In the seventeenth and eighteenth centuries, more than 300,000 white people were shipped to America as slaves. Urchins were swept up from London's streets to labor in the tobacco fields, where life expectancy was no more than two years. Brothels were raided to provide "breeders" for Virginia. Hopeful migrants were duped into signing as indentured servants, unaware they would become personal property who could be bought, sold, and even gambled away. Transported convicts were paraded for sale like livestock.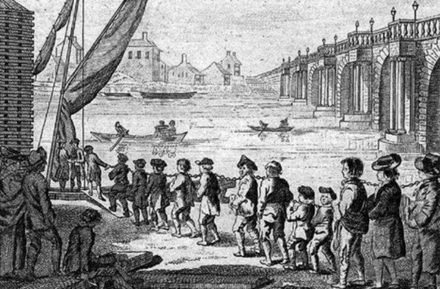 Drawing on letters crying for help, diaries, and court and government archives, Don Jordan and Michael Walsh demonstrate that the brutalities usually associated with black slavery alone were perpetrated on whites throughout British rule. The trade ended with American independence, but the British still tried to sell convicts in their former colonies, which prompted one of the most audacious plots in Anglo-American history.
Keywords
About The Show
Bringing the past to life! Discover how our world was shaped as Myles Dungan and guests explore events ranging from medieval times to the recent past.
We want to help explain ourselves to ourselves. We will search out fresh angles on familiar topics, seek out the unfamiliar and will not shy away from bizarre or controversial issues. Our ultimate goal is to make The History Show the primary port of call for those with an intense or even a modest interest in the subject. We want to entice the casual and the curious to join us in celebrating the past.
Our aim is to create informative, reflective, stimulating and above all, entertaining radio.
Join us on Sundays from 6.05pm for The History Show with Myles Dungan on RTÉ Radio 1.
A Pegasus production for RTÉ.
Logos
Rodrigo Y Gabriela
2:50 Every Day I Love
Squarepusher
2:37