Philip McCabe, RIP (20/10/18)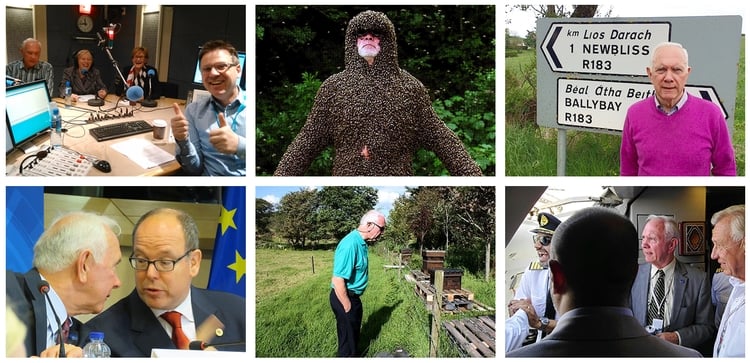 Everyone on Mooney Goes Wild is devastated to learn of the death of our friend and colleague, Philip McCabe. Philip did more for our understanding of the honey bee than a life time of learning could ever have taught us. Kind, thoughtful and generous, he was a true gentleman, and his knowledge, quick wit, and wonderful ability to entertain us with his storytelling meant that he was a pleasure to be around. He will be very much missed. Our deepest sympathies to his wife Mary and family, and all who had the pleasure to know or meet him.
In January 2017, Derek made a documentary called The Beeman, which profiled Philip McCabe, his fascinating life and work. To find out more and to listen to the documentary, click here.
Email: mooney@rte.ie
Facebook: facebook.com/rtenature
Twitter: @NatureRTE
Eurosong 2014: Contestant 1 - Patricia Roe
We'll find out on Friday night which song will represent Ireland at this year's Eurovision Song Contest in Copenhagen. Five songs will compete for the honour live on The Late Late Show, and each day this week on Mooney we'll speak to one of the five performers and hear their song...
Patricia Roe
We'll start today with a woman who has history when it comes to this competition. Patricia Roe was part of the group Roe-Mance who took part in the 1980 Irish National Final. 1980 was of course the year Johnny Logan went on to win the Eurovision with What's Another Year. In 1992 Patricia Roe competed again in the National competition and her song Your Love came second. 1992 was of course the year that Linda Martin went on to win the Eurovision with Why Me. A year later, in 1993, Patricia came 3rd in the National contest with a song called If I Changed Your Mind" - and of course that was the year Niamh Kavanagh went on to win the entire Song Contest with the song In Your Eyes.
Patricia Roe joins Derek live in studio this afternoon to tell us about her entry for this year's Eurosong: Don't Hold On.
SONG

TITLE

Composer/Lyricist

PERFORMER(S)

1

DON'T HOLD ON

Patricia Roe

Patricia Roe

mentor: Valerie Roe

2

THE MOVIE SONG

Karl Broderick

Eoghan Quigg

mentor: Mark Murphy

3

HEARTBEAT

Hazel Kaneswaran, Jonas Gladnikoff,

Rasmus Palmgren & Patrizia Helander

Can-Linn

(feat. Kasey Smith)

mentor: Hazel Kaneswaran

4

BE MINE

Cormac Battle

Andrew Mann

mentor: Cormac Battle

5

YOU DON'T REMEMBER ME

Don Mescall & Lucie Silvas

Laura O'Neill

mentor: Billy McGuinness
The winner will be decided by both regional jury vote, which will make up half of the overall marks (the juries are located in five regions: Dublin, Cork, Galway, Limerick and Sligo) and the public televote which will account for the other half of the overall result.
The five mentors responsible for selecting their artists and songs are: Valerie Roe (on behalf of her sister, singer Patricia Roe); Mark Murphy (on behalf of Eoghan Quigg); singer/songwriter Hazel Kaneswaran (on behalf of Can-Linn featuring Kasey Smith); RTÉ 2fm disc jockey Cormac Battle (on behalf of Andrew Mann); and member of Irish rock band Aslan, Billy McGuinness (on behalf of Laura O'Neill).
The Late Late Show Eurosong Special will be broadcast on Friday, February 28th and hosted by Ryan Tubridy, with the winner being announced at the end of the show after the national televote results and the verdicts of the five regional juries.
Two Eurovision Song Contest semi-finals will take place – on Tuesday May 6th, and Thursday May 8th. There are already six direct finalists – the 'Big Five' countries: United Kingdom, Spain, France, Germany, Italy, plus last year's winners Denmark, will proceed directly to the Eurovision 2014 Final on Saturday, May 10th. The contest will take place in Copenhagen, the Danish capital, where the Contest has been hosted twice before, in 1964 at the Tivoli Concert Hall (won by 16-year-old Gigliola Cinquetti for Italy), and in 2001 in Parken Stadium (won by Estonia's Tanel Padar, Dave Benton & 2XL). The remaining 31 countries will compete in one of the semi-finals in order to win a place in the aforementioned Final. Ireland will compete in the second semi-final on Thursday, May 8th. Live coverage will be on RTÉ Two for the semi-finals, and on RTÉ 1 for the Eurovision 2014 Final, with commentary provided – as ever – by Marty Whelan.
SONG 1: DON'T HOLD ON
Composer/Lyricist: Patricia Roe
performed by PATRICIA ROE
Born in Enniskerry, Co Wicklow, Patricia already has a relationship with Eurovision, having placed runner-up with her own songs to both Linda Martin and Niamh Kavanagh in consecutive Eurosongs in 1992 (2nd with Your Love) and 1993 (3rd with If You Changed Your Mind), both of the former went on to win the Eurovision outright in their respective years. Patricia also provided backing vocals for Malta in the Eurovision Song Contest in 1994. When approached by Eurosong 2014 mentor Valerie, after a 20-year break from the competition, it was an easy decision. Few people will remember that Patricia and Valerie were members of the band Romance, who participated in the 1980 National Song Contest, placing fifth with the Ken Stewart-penned Love Is All There Is – the winning song that year also went on to win Eurovision (Johnny Logan singing Shay Healy's What's Another Year?)
Patricia trained as both a dancer and a singer as a child, so much so that her actual singing career started when she was just 14 years old. She has performed throughout the world as both a soloist and backing vocalist from as far east as Singapore to the far western desert plains of Las Vegas, where she lived on two occasions. She has been a professional singer her entire life.
Her mentor and sister Valerie Roe said: 'My vision for Ireland this year is to go back to our roots with a powerful song and an exceptional singer with strong production and the artistic style that Ireland is famed for worldwide. Don't Hold On is a compelling and passionate song that makes my heart beat faster but also break a little bit at the same time! I want this opportunity so much for Trisha. She has been so close so many times. I think this will be her chance to finally shine and for everyone to experience her extraordinary talent. Trisha was always my chosen singer, without question. We were so thankful for all the songs we received but in the end we felt that Don't Hold On had the best chance. Trisha is stunning inside and out and I think her powerful voice, arresting stage presence and beautiful song will capture everyone's hearts.'
IRELAND'S EUROVISION RECORD 1965 – 2013
Since Ireland's first participation in 1965, we have finished as follows:
1st place: 7 times – 1970, 1980, 1987, 1992, 1993, 1994, 1996
2nd place: 4 times – 1967, 1984, 1990, 1997
3rd place: once – 1977
4th place: 3 times – 1966, 1968, 1986
5th place: 3 times – 1978, 1979, 1981
6th place: 3 times – 1965, 1985, 2000
7th place: twice – 1969, 1974
8th place: twice – 1988, 2011
9th place: twice – 1975, 1998
10th place: 4 times – 1973, 1976, 1991, 2006
Note that all of Ireland's Top Five placings occurred between 1966 and 1997.
The 1990s became Ireland's most successful decade, having won four contests in five years – and the year in between (1995) featured Irish violinist in the Norwegian-Irish collective Secret Garden.
The 2000s has been the country's worst decade in terms of our track record.
The best placing was at the start, in 2000, when Millennium Of Love, finished sixth.
2001 saw our entry Without Your Love finished third last, and put Ireland out of the 2002 contest. Ten years ago, the You're A Star format of selecting a Eurovision entry for Ireland was introduced, and Mickey Harte gave us a credible eleventh (joint) position in Riga in 2003. Chris Doran (2004) and Donna & Joe McCaul (2005) were less successful – the latter performers did not even qualify for the final. Brian Kennedy temporarily restored fortunes in Athens, 2006, when his own composition finished tenth in the Final. In 2007, the trad band Dervish, however, gave us our first bottom placing! Dustin won the national heat in Limerick in 2008, and went to Belgrade hoping to make it eight victories – it was not to be, especially as he didn't make it past the semi-final stage. 2009 saw the girl band Sinéad Mulvey & Black Daisy narrowly miss a place in the final in Moscow with Et Cetera.
Now we're in the 2010s, and former winner Niamh Kavanagh went to Oslo with a strong ballad, It's For You, but finished way down the field. Former The X Factor contestants from Lucan, John & Edward Grimes, aka Jedward, won the national selections in 2011 and 2012 – mainly due to the huge under-16 female vote. The first of their entries, Lipstick, gave us a worthy eighth place in Düsseldorf two years ago. And the following year in Baku, Azerbaijan, the twins fared even worse, when Waterline plunged to nineteenth place on the night. As for 2013 in Malmö, Ryan Dolan plunged to last place in the Final with Only Love Survives.