On Sunday May 5th 2019, it's International Dawn Chorus Day - and listeners across the globe will once more awake to the sound of bird song, thanks to a collaboration between RTÉ, EBU broadcasters and BirdLife International ornithologists! The programme will begin at midnight and end at 7am - and this year, we've gone bigger than ever! Those taking part in the broadcast this year are:
Country: Ireland
Organisation: RTÉ Radio 1 & BirdWatch Ireland
Location: Cuskinny Marsh Nature Reserve, Cobh, Cork
Cuskinny Nature Reserve, near Cobh, County Cork, Ireland is managed by Birdwatch Ireland (BWI). The land is privately owned, and comprises about 12 ha of land located along the lower reaches of the Ballyleary Stream on the Great Island in Cork Harbour. The reserve includes a mixture of lake, swamp, grassland and woodland habitats and is of local nature conservation importance. It is also an important local amenity and is used by local schools for educational purposes. For further information about Cuskinny Marsh Nature Reserve, and the different birds that can be found there, visit www.cuskinnynaturereserve.com. To view more photos of Cuskinny, click here.
On Air: Derek Mooney, Dr. Richard Collins, Niall Hatch
Derek Mooney: One of Ireland's best-known and highly decorated broadcasters, Derek Mooney has been leading the development of wildlife radio broadcasting here for over two decades. His achievements in the natural history field include Habitats, The Nature Line, Nature Trails and Mooney Goes Wild On 1, all for RTÉ Radio 1, BioBlitz Live, Wildtrack and Nature Live on RTÉ TV, and Nature Detectives for the BBC. In February 2015 Derek started his new role as Executive Producer for Nature programming on RTÉ Radio.
Dr. Richard Collins: Born in Limerick in 1944, Richard holds a BE in Electrical Engineering, a BA in Philosophy and English and a PhD in Zoology. He was Honorary Secretary of the Irish Wildbird Conservancy (now BirdWatch Ireland) from 1977 to 1982 and is a BTO bird ringing permit holder. A weekly columnist on environmental topics with the Irish Examiner since 2002, he teaches at the Adult Education Department, University College Dublin, where he is known for his quirky and colourful lecturing style. A former vice-president of Dublin Zoo and a former Governor of Fota Wildlife Park, he joined RTÉ's Mooney Goes Wild team in 1995. Specialist interests include Mute Swan biology, oiled seabird rehabilitation and philosophy of Nature. Ornithological papers published in Waterbirds, Ringing & Migration, Biology & Environment, Wildfowl and Irish Birds. Engineering papers in the Proceedings of the Institute of Electrical Engineers (London), Networks 1995 (Budapest) and Technical Journal (Dublin).
Niall Hatch: A keen birdwatcher since very early childhood, Niall is currently the Public Relations, Branches & Development Officer for BirdWatch Ireland, Ireland's largest and most active conservation NGO, and, amongst other things, is the editor of its Wings magazine. He has worked on bird conservation and public education projects on six continents, and has a special interest in island endemic species and evolution. He is also a qualified solicitor and is well-versed in wildlife protection law. A veteran both of the Mooney Goes Wild panel and the Dawn Chorus, he has a particular passion for bird song. For more information about BirdWatch Ireland, visit www.birdwatchireland.ie.
Key Species: Blackbird, Robin, Song Thrush, Wren, Dunnock, Woodpigeon, Goldcrest, Wren, Rook, Hooded Crow, Pheasant, Chaffinch, Greenfinch, Great Tit, Blue Tit, Coal Tit, Treecreeper, Chiffchaff, Willow Warbler, Sedge Warbler, Swallow. Also - Moorhen, Coot, Little Grebe, Shelduck, Mallard.
--------------------------------------------------------------------------------------------------------------------------------------------------
Location: Luttrellstown Castle Resort
The history of Luttrellstown Castle goes back to early 1200's. Geoffrey Luttrell purchased the estate for 20 ounces of gold! The name Luttrell is from French "l'outre" meaning otter. Visitors include Queen Victoria, Fred Astaire, Paul Newman, President Reagan, Prince Rainer & Princess Grace, King & Queen of Denmark, David & Victoria Beckham (who famously were married at the venue in 1999).
The grounds stretch to almost 600 acres and include a 13-acre lake, Doric Temple, waterfall, a boat house, an ice house, a American walk, a glen, a folly and an obilisk. Kingfisher and Dipper nesting indicate good water quality. There is a giant sequoia (the second largest in Ireland) and there are a number of champion trees on the estate. Luttrellstown Castle and grounds have five of Ireland's bat species, and pine martens are also present.
On Air: Terry Flanagan, Eanna ni Lamhna & Eric Dempsey
Terry Flanagan: A trained biologist, Terry is the senior Science teacher in Moyle Park College and has been teaching there for 40 years now. He is also a senior Leaving Certificate Biology examiner. He is responsible for the setting up of Senior and Junior Science clubs in the College encouraging many students to follow a Science career. He has contributed enormously to wildlife organisations over many years. He is a past Secretary of the Institute of Biology (professional biologists in Ireland). Terry is presently the Science and Wildlife reporter on Mooney Goes Wild, and has been since the programme went on air.
Eanna ni Lamhna: Eanna holds degrees in Botany and Ecology from UCD as well as the H. Dip. Ed. She started her working life in An Foras Forbartha where she was in charge of the Irish Biological Records Centre, doing the initial work on mapping the distribution of Irish plants and animals in the 1970's and 80's. She has worked as a lecturer in DIT for the past 20 years teaching the principles of sustainable development to both post graduate and undergraduate students. She is a former president of An Taisce and is currently Vice-President of the Tree Council of Ireland. She is the author of several books on wildlife, the most recent being Wild Dublin (O'Brien Press), and Wild Things At School (Heritage Council). Her distinctive Co. Louth accent makes hers one of the most recognisable voices on radio.
Key Species: Blackbirds, robins, wrens, tits, thrushes, blackcaps, pheasants, jays, and hopefully buzzards. As there is a stream running through the woodland where they are based, they may get kingfisher and dipper.
--------------------------------------------------------------------------------------------------------------------------------------------------
Location: Fota Wildlife Park
Fota Wildlife Park, part of the Zoological Society of Ireland, is located on 100 acres at Fota Island 10km east of Cork City and has an annual attendance of 440,000 visitors. It is currently the second largest visitor attraction in Ireland outside of Leinster. Fota Wildlife Park's vision is to inspire people to understand and conserve the biodiversity of our natural world. The Park's core values of conservation, education, research and entertainment have ensured that we are uniquely placed to foster greater public understanding of the threats to plant and animal habitats and decreasing global biodiversity. Fota Wildlife Park has made considerable investment in the past 5 years upgrading its infrastructure and is currently near completion of an additional 27 acres development that focuses on Asian animals and plants.
On Air: Bláthnaid ní Chofaigh & Sean McKeown
Key Species: Ostrich
--------------------------------------------------------------------------------------------------------------------------------------------------
Location: The Burren
The Burren; photos by Susan O'Donohoe
Susan will be based a few kilometres outside Kilfenora in the Burren in North Clare. This is an area with conifer forests, bog and farmland. Here Cuckoos, just returned recently from Africa, can be seen perched up high on their conifer calling posts. The surrounding bogs are home to their favourite host species in Ireland, the Meadow Pipit.
On Air: Susan O'Donohoe
Susan O'Donohoe is a bird conservationist and licensed BTO bird ringer. She has worked all over the world with birds such as Long-eared Owls in Serbia, Woodpeckers in Oregon, Honeycreepers in Hawaii and Kingfishers in Saipan. She is passionate about studying birds and working to conserve them and their habitats. She is also a wildlife researcher for nature documentaries and has worked on many productions including the TG4/BBC production Eire Fhiain/Wild Ireland.
Key Species: Common Cuckoo
Adult male Cuckoo (Photo: Marcin Karetta / BirdWatch Ireland)
The Countryside Bird Survey is a BirdWatch Ireland survey, and is largely a volunteer-run project. Since 1998, 43 different bird species have been recorded in Susan's 1km CBS, square which is not far from her current location. It's no surprise that it holds good cuckoo numbers as along with Connemara, the Burren holds the highest density of breeding pairs in the country.
--------------------------------------------------------------------------------------------------------------------------------------------------
Location: Donegal - Tory Island
Tory Island had 16 calling male corncrakes in 2018 and 17 calling in 2017. Nettle Early-Late Cover patches currently yields about 80-100% nettle cover on Tory. We are hoping, with favourable weather conditions, there should be good nettle growth before the majority of the birds arrive. Last year some of the birds also used oats and potatoes for cover on Tory Island.
On Air: Liam Loftus
Liam Loftus: Supervisor for the Corncrake Project and Fieldworker for the West Connaught Region
Key Species: Corncrake
Corncrakes are migratory, wintering in sub-Saharan Africa, mostly in south-eastern countries like South Africa, Zimbabwe, Zambia and Tanzania, where grassland habitats are favoured. They begin arriving back on their breeding grounds in April and May and seek out tall vegetation for nesting habitat. Throughout the breeding cycle they require continuous cover of tall vegetation and are most frequently found in annually harvested meadows, or unfertilised, marginal and damp grasslands.
In the early stages of the breeding season, birds favour nettles, yellow flag iris and reed beds for cover when the surrounding grass is short but by June, birds will usually begin moving into surrounding grasslands.
Males attract mates with their loud rasping call, usually heard during the night from midnight onwards. The female is attracted by the call and makes a nest in the vicinity of a calling male. She incubates a clutch of about 8-12 eggs in a shallow nest on the ground concealed in tall vegetation. First brood chicks are accompanied by the female for about 12 days before she abandons them to lay a second clutch. Peak hatching dates of first and second clutches are mid-June and late July/early August, respectively so flightless chicks from second broods are still present on breeding grounds into September.
Conservation efforts focus on working with landowners to delay mowing until after the peak of hatching of second clutches, as well as to mow fields from the centre outwards which allows chicks to escape. The Corncrake is on the Red List of Birds of Conservation Concern in Ireland due to historical declines.
In Donegal, the proportion of calling males on offshore islands relative to the national population has increased significantly since 2000. An average of 37% of the national population was on islands from 2000-2008 and this increased to 55% from 2009-2017. The reasons for the increase on these islands may be due to good productivity as a result of less mowing activity during the breeding season and reduced disturbance.
--------------------------------------------------------------------------------------------------------------------------------------------------
Location: June Rodgers' Cottage, Tallaght, Dublin
June and her husband Peter live in a cottage that is 120 years old. She has two foxes, a hedgehog, frogs, blue tits, magpies, wrens, house sparrows – and then on the "night shift", she has field mice that visit the garden. She has a bird feeder, and uses seed such as niger to entice the smaller birds. June's love of the garden came from her dad Alex, who also grew veg. It has evolved into a gorgeous oasis of calm and colour, particularly in the summer, when everything is in full bloom. June's favourite plant is a stunning creamy-white hydrangea in her front garden called Annabella, that people often call to the door and ask her about. She also loves verbena, as it attracts butterflies, and as a famed nature and animal lover, she tries to attract some wildlife into the garden as well.
On Air: June Rodgers & Fergus Sweeney
June Rodgers has been a very popular figure on the Irish comedy circuit for 30 years. She started performing on the John Player Tops of the Town circuit, and once Ireland got a taste of her immense comedic talent and brilliantly funny characters, she was able to leave the day job behind and hasn't looked back since. Listeners to the Joe Duffy Liveline radio show will be familiar with her regular slot on the Funny Friday shows, and she has been a star of TV, radio, film and theatre for the past three decades.
Key Species: Blackbird & Robin
--------------------------------------------------------------------------------------------------------------------------------------------------
Location: Rory Cowan's roof garden, Kilmainham, Dublin
Rory has a couple of bird feeders on his roof garden. He has planted plants to attract bees. Rory would love a hedgehog as they're great at garden maintenance including slugs, but he feels his garden wouldn't be big enough to sustain one.
On Air: Rory Cowan & Fergus Sweeney
Key Species: Thrush, Robin, Magpie, Wood Pigeon
--------------------------------------------------------------------------------------------------------------------------------------------------
Location: Menlo Castle on the Corrib, Galway
Menlo Castle is a 16th century castle on the banks of the River Corrib, it is a 2km paddle in a kayak from the city, and takes about half an hour to get there. It was home to the Blakes who lived there until 1910. It burned down in 1910 and the ruin is still there today. Barn owls have been known to nest in its ruins. There is a lovely woodland surrounding it with lots of wild garlic growing in it giving a lovely fresh smell.
On Air: Dónal Glackin
Dónal Glackin: Dónal is a freelance photographer based in Galway. He does a lot of kayaking with the Galway Kayak Club and they regularly run club trips to the Upper Corrib where they see lots of bird life. Dónal has been living in Galway for 5 years.
Key Species: Starlings, swans, coots, moorhens, possibly barn owls.
--------------------------------------------------------------------------------------------------------------------------------------------------
Location: Great Saltee Island - Co. Wexford
There are over 220 species of birds recorded in the Saltee Islands. The three main groups on these islands are breeding sea birds, resident land birds and migrant birds. Most day trippers and bird watchers enjoy viewing the Gannets, Puffins, Guillemots, Razorbills, Fulmar, Razorbill, Guillemot, Manx Shearwater, Kittiwake, Great Black Backed Gull.
On Air: Sean Pierce
Sean Pierce: Sean works as Physical Education and Geography teacher at Balbriggan Community College. He's a founder member of the Fingal Branch of Birdwatch Ireland, and has served nationally on the Executive of Birdwatch Ireland. He has a life long interest in natural history and specialise in bird conservation projects, surveying and censusing a wide variety of bird species particularly on the offshore islands of Ireland. He has a particular interest in the Roseate Tern Conservation Project on Rockabill, and students and staff at Balbriggan Community College produce Nestboxes to support the project. He is a Co-Director of Shearwater Sea Kayaking, which specialises in training people is sea kayaking skills to expedition and enjoy Ireland's offshore islands.
Key Species: Gannet
The sounds from the breeding colony on Great Saltee is the intended backdrop. The Gannet returns to breed in large numbers on Great Saltee after being at sea all winter. Their courtship displays and vocal calling is one of Ireland's best natural history experiences.
--------------------------------------------------------------------------------------------------------------------------------------------------
Location: Westmeath - Mullingar
On Air: Brendan Mulligan
Brendan has a farm outside in County Westmeath, with a mix of commercial forestry, old woodland and open farmland. The farm is not certified organic but has operated as organically as possible for generations. The benefits are evident in the range of biodiversity on the farm. He has a keen interest in encouraging and re-introducing native and farmland birds through traditional farming methods. He is presently hoping to attract a swift colony in the yard buildings through sound recordings played at dawn and dusk.
For the Dawn Chorus, Brendan hopes to have the Great Spotted Woodpecker, which he recently recorded for the first time drumming there on a young oak tree. He also has a pair of nesting barn owls, long eared owls, calling cuckoo at the minute, and raucous ravens!
Key Species: Woodpeckers and owls
Country: Australia
Organisation: EBU - ABC
Location: Wamboin, a rural area just outside Canberra – Australia's capital. It's an area of dry bushland, and while there are large chunks of uncleared bush, there are many farms, homes and other developments in the area. This is up in the high country of eastern Australia, right next to a man made dam.
On Air: Dr. Ann Jones. Ann hosts ABC Australia's nature podcast Off Track – and travels the country seeking out the weirdest and most wonderful creatures. She's a field recording specialist with a special love for Australia's birds. To find out more about Off Track, and to listen to or download the podcasts, visit www.abc.net.au.
Dr. Ann Jones; photo: Corey Hague
Key Species: Australian Magpie (Completely different to European or American Magpie. Black and white, highly sociable, special song, also mimic. Dangerous bird); Australian Raven (Large, ubiquitous bird in many Australian landscapes. Long drawn out calls); Crimson Rosella (Small red-velvet coloured parrot, eats seeds, has bell like call and different alarm calls as well as a flight call); Sulphur Crested Cockatoos (Screaming characters of the Australian eastern seaboard. Large white cockie with yellow crest, sociable, unafraid and larrikans); Wood duck (Has adapted to human changed environments – because likes lawns. Needs hollows to nest); Shrike Thrush; Little Friarbird; Domestic chook; Blue Fairy Wren; Red wattle bird; Corella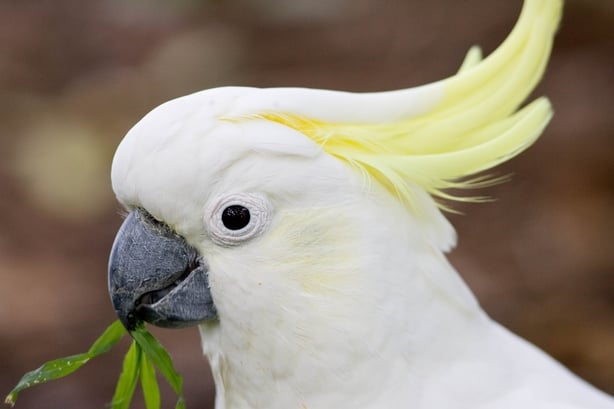 Sulphur-crested Cockatoo, Australia. (Photo by Tim Graham/Getty Images)
Country: Azerbaijan
Organisation: BLI - Azerbaijan Ornithological Society (AOS)
Location: Maiden's Tower in central Baku
In the capital of Azerbaijan, Baku, the famous Maiden's Tower has been home to swifts for many years. Holes in its crumbling walls provided nest places for about 250 Swifts for the past 30 or 40 years. The tower is now being conserved to solve a hundred years of weather damage. But the conservation, when completed, will leave only about 40 holes usable by the Swifts. So special swift boxes are being installed on local buildings to re-house the birds. Green Finch blackbirds are nesting on nearby trees
On Air: Dr. Elchin Sultanov, Director of Azerbaijan Ornithological Society, Associate professor in Qafqaz University (former name, now Baku Engineering University), & Head of Ornithological Working Group of laboratory of Terrestrial Vertebrates, of Institute of Zoology of National Academy of Sciences of Azerbaijan
Key Species: Swift, Green Finch and Blackbird
Country: Bahrain
Location: A farm in Hamad Town located to the south west of Bahrain.
The farm is mostly cultivated with date palms intersected with seasonal crops and fodders. Additionally, there are several kinds of trees (e.g. Papaya, Jujube, Indian Almond and Icecream Bean) which attract resident birds for feeding and roosting.
On Air: Abdul Khamis
Left: Abdul Khamis; right: broadcast station, Bahrain
Abdul is the former Acting Director of Biodiversity at the Supreme Council for the Environment in the Kingdom of Bahrain.
Key Species: The White-eared Bulbul (Pycnonotus leucotis), House Sparrow and Palm Dove
The White-eared Bulbul, Pycnonotus leucotis, has a black head and throat with a large white patch on the cheeks and yellow undertail-coverts. Its distribution range stretches along the Arabian Gulf's coastline and the western coast of the Indian Subcontinent. It breeds during February-May with clutch size counting 2-4 eggs. This bulbul primarily favours the cultivated areas, but it may be seen also in the desert and house gardens. Locals love this bird so much mainly because of its beautiful songs and easiness of breeding in captivity.
The House Sparrow is the most common bird in Bahrain. Along with the Palm Dove - which is breeding presently - it could make an appearance.
Country: Cyprus
Organisation: BLI - BirdLife Cyprus
Location: Akrotiri Marsh, Limassol
Akrotiri Marsh is a unique natural wetland in Cyprus covering an area of 150 hectares. It is part of the of the Akrotiri wetland complex, the largest natural wetland complex of the island. The marsh is a Ramsar site, an Important Bird Area (IBA) and a Special Protection Area (SPA), equivalent to the EU designation, according to the mirror law (26/2007) in the Cyprus Sovereign Base Areas (SBAs).
The site had been largely unmanaged for the last 20 years resulting in overexpansion of reeds and consequent loss of bird and plant diversity. An ecosystem-based conservation project in combination with public engagement actions started in April 2015 and was completed in March 2017 to restore the area and its biodiversity.
On Air: Christina Ieronymidou
Christina Ieronymidou is an ornithologist, ecologist and conservationist from Cyprus. Following a Ph.D. at the University of East Anglia on farmland birds and land-use in Cyprus, and a brief stint as a nature conservation and biodiversity policy analysis intern at the Institute for European Environmental Policy, she joined BirdLife International where she worked as European Research Assistant, implementing a study on wildlife comeback in Europe, and then as European Species Programme Officer, working on the 2015 European Red List of Birds. After more than a decade in the UK, she returned to Cyprus, where she currently works as Monitoring & Research Coordinator at BirdLife Cyprus.
Key Species: Reed Warbler, Nightingale, Woodchat Shrike, Turtle Dove, Bee-eater, Golden Oriole, Various hirundine species, Spur-winged Lapwing, Blackcap, Olivaceous Warbler
Country: England
Organisation: EBU - BBC Radio Cambridge
Location: Wicken Fen
On Air: Sue Marchant (reporter) & Martin Lester (bird expert)
BBC Radio Cambridgeshire presenter Sue Marchant
Location: Wolverhampton, West Midlands
On Air: Chris Baines, the founder of International Dawn Chorus Day. Chris started International Dawn Chorus Day on his 40th birthday back in 1987 and is thrilled that has taken on a life of its own over the years! For more information, visit www.bbcwildlife.org.uk/idcd.
Chris Baines in his garden
Key Species: Great and blue tits, wren, robin, blackbird, wood pigeon and song thrush.
Wren (photo: John Fox / BirdWatch Ireland)
Location: Ipswich
On Air: Donna & Eric Simmonds
Country: Finland
Organisation: YLE (with BirdLife Suomi)
Location: Hyvelänjärvi, Lohja. Every year, the sounds we hear from Lohja are different, because the water situation is different. At this spot we wish to get forest sounds and sounds from shorebirds and waterbirds and geese etc. Hyvelänjärvi, in Nummi, is an agricultural area, and the fields in the area flood during the spring. Many birds like to rest there during their migration.
Hyvelänjärvi, Lohja (photos: YLE producer Asko Hauta-aho)
On Air: Minna Pyykkö (journalist/Finnish broadcasting company YLE) and Jan Södersved (bird specialist/Birdlife Finland)
Minna Pyykkö and Jan Södersved
Key Species: Northern lapwing- töyhtöhyyppä (Vanellus vanellus) or the skylark- kiuru (Alauda arvensis). Other bird species that we are probably going to hear in the Dawn Chorus programme include Black Grouse, Blackbird, Chaffinch, Crane, Curlew, Dunnock, Goldcrest, Goldfinch, Great Tit, Greenfinch, Jackdaw, Lapwing, Pied Flycatcher, Redwing, Robin, Skylark, Song Thrush, Starling, Wagtail, Whooper Swan, Willow Warbler, Wood Pigeon, Woodcock, Yellowhammer
Country: India
Organisation: EBU - All India Radio (AIR)
Location: Sattal Bird Sanctuary, Lower Himalayas
Sattal (Hindi for 'seven lakes') is an interconnected group of seven freshwater lakes, situated in the lower Himalayan range near Bhimtal, in the Nainital district of Uttarakhand province in India. The lakes sit at an altitude of 1370 metres below lush orchards in the Mehragaon valley. Set amongst dense forests of oak and pine trees, Sattal is one of the few unspoiled and unpolluted freshwater biomes in India. These lakes are a paradise for migratory birds. It has 500 species of resident and migratory birds, 20 species of mammals, over 525 species of butterflies and over 11,000 species of moths, beetles, bugs and other insects. The unique avian fauna of Sattal includes red-billed blue magpie, plum-headed parakeet, crimson-breasted woodpecker, crested serpent eagle, and blue-eared kingfisher, and many more!
On Air: Sunit Tandon (Presenter), Dr. Surya Prakash (Zoologist), Hari Lama (Birding Guide in Himalayas)
Sunit Tandon: Sunit is a veteran news and current affairs anchor on Indian national television and Radio. He had been the Director General of Indian Institute of mass communication and journalism and presently the Director at India Habitat Centre. He is also active as theatre director and actor with about 150 productions to his credit. He had been the Director of Yatrik New Delhi's oldest theatre group.
Dr. Surya Prakash: a passionate nature lover and avid birdwatcher, he joined Jawaharlal Nehru University, in Delhi, in July 1985 and ever since exploring the campus in his leisurely time. Today he has made the data bank of almost all birds ,reptiles, mammals, butterflies and of course the native species of ridge trees of the JNU campus but also of entire southern ridge. Apart from rescuing stressed wild animals he, organizes nature trails, awareness programs, illustrated talks and issues related to conservation of Mother Nature within and outside the campus. Honorable LG –Delhi & WWF-India have felicitated him and appreciated his work and efforts for restoration of Sanjay Van & other conservation efforts.
Hari Lama: Born in Nepal, Hari Lama has been birding since ages in Nepal and Northern India. He has excellent command of birds in the region and hence guides birders from India and Overseas every year. He has many years of experience and knows the area of his study very well. His greater interest is working as freelance guide in Northern India. He can speak and understand English, Hindi and Nepali.
Key Species: Night Jar, different varieties of owls.
Some of the birds that can be found in Sattal; clockwise from top left: Brown Wood Owl; Night Jar; Red Billed Magpie; Blue Throated Barbet (photos: Ashwani Dagar, AIR Engineer)
Country: Israel
Location: Jerusalem Bird Observatory
On Air: Amir Balaban
Key Species: The JBO is ideal for song birds and we can expect a few typical song birds such as Nightingale, Yellow vented bulbul (endemic), Palestine sunbird (endemic), Great tit, Green finch and Palm dove
Country: Italy
Organisation: Independent / BLI - FAI
Location: Bosco di San Francesco, Assisi
Bosco Di San Francesco (the woods of St Francis). These are situated behind the Basilica in Assisi where all the pilgrims and tourists visit. It is easily missed but a steep path takes you deeper into the woods and it is the most amazingly spiritual & peaceful place on the planet.
It is run by FAI which is the equivalent of the British National Trust. They have reclaimed 64 hectares of ground and there in the middle of it all they have an amazing Land Art installation called the Terzo Paradiso (the 3 rd paradise) . Created by famous Italian artist Michelangelo Pistoletto its three circles of olive trees ...the third one overlapping the other two and it represents the birth of a new earth, creating a union of nature and human intelligence, to come away from consumerism and the earth's destruction.
On Air: Kate Liddy & Laura Cuccia
Key Species: Honey Buzzard, Pigeon, Turtle Dove, Hoopoe, European Nightjar, Nightingale, Redstart, Bonelli's Warbler, Subalpine Warbler, Golden Oriole
Country: Kazakhstan
Organisation: BLI - BirdLife International – ACBK (Association for the Conservation of Biodiversity of Kazakhstan)
Location: Central Kazakhstan, in the Tengiz-Korgalzhyn region, close to Korgalzhyn Nature Reserve
The Korgalzhyn State Nature Reserve is an important wetland of international importance. The wetlands are home to pelicans, cranes and the northernmost population of pink flamingos. Altogether there are more than 300 bird species in the reserve. The golden eagle is the national animal of Kazakhstan. The Republic of Kazakhstan is the largest landlocked nation in the world (and the ninth biggest in the world), and home to an astonishing variety of wildlife. Parts of the country are in Europe and parts in Asia. Its fauna includes rare species such as the saiga antelope, red bear, snow leopard and Golden Eagle. The terrain of Kazakhstan includes flatlands, steppe, taiga, rock canyons, hills, deltas, snow-capped mountains, and deserts. Kazakhstan has an estimated 18.3 million people.
On Air: Ruslan Urazaliyev
Ruslan is Kazakhstan's National Coordinator for BirdLife International's Sociable Lapwing Research project
Key Species: Black Lark (this species is one of the typical steppe birds) and White-winged Lark
Country: Kenya
Organisation: BLI - Nature Kenya (the EANHS)
Location: Botanical Gardens, National Museums of Kenya, Nairobi. It has a forest with a mix of tree species -native and exotic - that attracts an array of bird, primate and reptile species. It has a riverine habitat that allows waterbirds and amphibians to thrive as well.
On Air: Edson Mlamba & Dominic Chesire
Edson Mlamba: Ornithologist at Ornithology Section, Zoology Department, National Museums of Kenya and Nature Kenya volunteer. Seasoned field researcher of birds in all habitat types and a naturalist. Excellent guide in nature trips.
Dominic Chesire: Ornithologist at Ornithology Section, Zoology Department, National Museums of Kenya and Nature Kenya volunteer. Seasoned field researcher of birds in all habitat types and a naturalist. Seasoned waterbird census organizer.
Key Species: Olive Thrush
The Olive Thrush is the key species chosen because of its unique song that is louder than other birds and for its early and late chorus in the morning and in the evening. The race is Turdus olivaceus olivaceus, only found in the highlands of Kenya. Other species that are common in this garden are the Klaas's Cuckoo and the Yellow-bellied Bulbul which are also good singers!
Country: Lithuania
Organisation: EBU - LRT
Location: Lake Žuvintas Biosphere Reserve
Žuvintas Biosphere Reserve, located in the southern part of the country, is the first protected area of Lithuania, and was established more than 80 years ago. It is home to several lakes, wetlands, mires, peat bogs and pine forests. A great variety of habitats makes this reserve very rich in biodiversity. Lake Žuvintas and surrounding areas are important breeding and feeding grounds for numerous protected bird species such as Eurasian Bittern, Common Crane, Spotted Crake, Aquatic Warbler and others.
On Air: Vaida Pilibaityte, Arunas Pranaitis & Marius Karlonas
Ornithologists Marius Karlonas and Arunas Pranaitis with host Vaida Pilibaityte
Host/ Reporter/Producer: Vaida Pilibaityte is an award-winning Lithuanian public radio journalist and feature producer. She produces a weekly program on environment and nature on LRT RADIO. This is her third year hosting the Dawn Chorus from Lithuania.

Bird Expert 1: Arunas Pranaitis is a biologist and nature conservation expert, member of Birdlife Lithuania. He is the head of the Zuvintas Biosphere Reserve, where LRT is broadcasting the Dawn Chorus from. Arunas has authored and co-authored a number of scientific articles and books on bird ecology and conservation in Lithuania.

Bird Expert 2: Marius Karlonas is an ornithologist, nature educator and guide, member of Birdlife Lithuania and author of birdwatching guidebooks. He joined the Dawn Chorus broadcast team in 2018.
Key Species: Savi's Warbler, Great Bittern, Thrush Nightingale
Savi's Warbler (Photo by Mathias Schaef/McPhoto/ullstein bild via Getty Images)
Country: Mauritius
Location: Black River Gorges National Park
The Mauritius Bulbul (Hypsipetes olivaceus) is the only Hypsipetes in Mauritius, and an endemic species to the island. There are 15 species of Hypsipetes worldwide and two are threatened with extinction. Vincent's team at the university has been studying the Mauritius Bulbul recently, and just last week published a scientific paper to record that it is the pollinator of a very rare Mauritius endemic plant. An island nation in the Indian Ocean, Mauritius lies around 2000km off the coast of Africa. Its population is around 1.2 million, and it's about 34 times smaller than Ireland.
On Air: Professor Vincent Florens
Key Species: Mauritius Bulbul
Country: Northern Ireland
Organisation: EBU - BBC Radio Ulster & BBC Radio Foyle with RSPB NI
Location: WOW - Window on Wildlife, within the harbour estate in Belfast
Belfast's Window on Wildlife is 4.5 miles from Belfast city centre, located in Belfast Harbour Estate and looking out on to Belfast Lough. RSPB took over management of the site in 1998. The site is designated as a Special Protection area and Ramsar site, as well as an Area of Special Scientific Interest. The Belfast WOW centre was opened to the public in 2015 and offers spectacular and up-close views of birds, including the star species here: the black-tailed godwits. Belfast Lough provides a seasonal home for birds from all over the world. A wet grassland site of 13 hectares overlooking an open lagoon, the main attractions are wildfowl and wintering waders, while raptors are often spotted on site too. More than 200 species of birds have been recorded here. For more information on WOW, visit www.rspb.org.uk.
On Air: David Maxwell (reporter) & Claire Barnett (bird expert)
David Maxwell: David is an experienced presenter and reporter with BBC Northern Ireland. For a decade he reported for BBC Newslinebefore making a move to one of BBC Radio Ulster's most popular programmes – Gardeners' Corner. Taking on this role has allowed him to indulge his passion for gardening and share wonderful gardens in Ireland and Britain with the large listenership.
Claire Barnett: Claire has been working for RSPB NI since 2006 but has been listening to and monitoring birds since she was a teenager. Growing up on a farm, she happily started her RSPB career giving advice to farmers to create more wildlife-friendly spaces on their land. Now a Conservation Team Leader, her expertise has increased to cover a wide range of bird species who depend on different habitats.
Key Species:
Blackcap: The blackcap is a distinctive greyish warbler, the male has a black cap, and the female a chestnut one. Its delightful fluting song has earned it the name 'northern nightingale'. Although primarily a summer visitor, birds from Germany and north-east Europe are increasingly spending the winter in the UK.

Chiffchaff: The chiffchaff is a small olive-brown warbler which actively flits through trees and shrubs, with a distinctive tail-wagging movement. Although not always the case, chiffchaffs often have dark legs and a short pale eye stripe, whereas the willow warbler - a very similar looking species - has pale legs and a long yellow eye stripe. It is readily distinguished by its song, from where it gets its name. It picks insects from trees and also flies out to snap them up in flight.
Common tern: These delightful silvery-grey and white birds have long tails which have earned them the nickname 'sea-swallow'. They have a buoyant, graceful flight and frequently hover over water before plunging down for a fish. They are often noisy in company and breed in colonies. The common tern is the tern species most likely to be found inland.

Common tern (photo: Richie Lort); Sedge warbler (photo: Hazel Watson / rspb-images.com); Song thrush (photo: Chris Gomersall / rspb-images.com)
Sedge warbler: The sedge warbler is a small, quite plump, warbler with a striking broad creamy stripe above its eye and greyish brown legs. It is brown above with blackish streaks and creamy white underneath. It is a summer visitor, and winters in Africa, south of the Sahara Desert. Its song is a noisy, rambling warble compared to the more rhythmic song of the reed warbler.

Song thrush: A familiar and popular garden songbird whose numbers have declined markedly on farmland and in towns and cities. It's smaller and browner than a mistle thrush with smaller spotting. Its habit of repeating song phrases distinguish it from singing blackbirds. It likes to eat snails which it breaks into by smashing them against a stone with a flick of the head.
Swift: The swift is a medium-sized aerial bird, which is a superb flier. It evens sleeps on the wing! It is plain sooty brown, but in flight against the sky it appears black. It has long, scythe-like wings and a short, forked tail. It is a summer visitor, breeding across the UK, but most numerously in the south and east. It winters in Africa.
Country: Poland
Organisation: BLI - OTOP
Location: Polesie National ParkPolesie National Park is a National Park in Lublin Voivodeship, eastern Poland, in the Polish part of the historical region of Polesie (the Eastern edge of the European Union where Poland borders with Ukraine and Belarus). Established in 1990, the park is one of the few remaining areas of least transformed peat-bogs, fen mires, swamps and karst lakes. The park is rich in wildlife, especially birds.
On Air: Dr. Jaroslaw (Jarek) Krogulec, Head of Conservation with OTOP
Key Species: Aquatic Warbler
Aquatic Warblers are small passerine birds found in wet sedge beds with vegetation shorter than 30 cm. Drainage has meant that this species has declined. This species is highly promiscuous, with most males and females having offspring with multiple partners. It is migratory, wintering in West Africa. The aquatic warbler is the rarest and the only internationally threatened passerine bird found in mainland Europe. The sexes are identical, and like most warblers, it is insectivorous, but will take other small food items, including berries.
From BLI-OTOP: OTOP has devoted two projects to the Aquatic Warbler's protection. The main goal was to save the species, but also to provide financing for its protection after completion of the projects. Currently, the future of Aquatic Warbler does not depend only on the actions of ornithologists. In order to stop the destruction of its habitats, financial support for farmers from agri-environmental programs is necessary.
Country: Scotland
Organisation: BBC Radio Scotland & RSPB Scotland
Location: Loch of Strathbeg
The Loch of Strathbeg is a designated Special Protection Area for wildlife conservation purposes. It is located near to Rattray and Crimond in Aberdeenshire, Scotland. The loch is maintained by the RSPB and around the loch there are three hides from which visitors may watch the birds and other wildlife. The RSPB records over 260 species of bird here. The loch is the main destination for migrating birds to Scotland. It is the first safe ground for wintering water fowl migrating from Scandinavia and Iceland. The Crane became extinct a couple of hundred years ago and is just coming back. The Sea Eagle reintroduction programme is going well, and they expanding the programme territory. There are herds of wild horses and highland cattle which help keep the vegetation down and trod the mud encouraging insect life, which helps feed the birds.
On Air: Euan McIlwraith & Kirsty Nutt
Country: Slovenia
Organisation: EBU - RTVSLO
Location: Cerkniško jezero
Lake Cerkniško jezero is one of the largest intermittent lakes in Europe. It appears every year on a karst plain, called Cerkniško polje, and disappears again during the dry season, so it is possible to paddle, fish, hike or mow grass all in the same area within the same year! The lake was first mentioned in Roman times by Pliny the Elder, and has been included on the maps of Europe since the 15th century. Local communities have strong ties to the intermittent lake; the abundance of fish has attracted people and provided them with food since the Stone Age. The intermittent lake of Cerkniško jezero is the heart of Notranjska Regional Park, and was designated a Ramsar site, together with the picturesque karst valley of Rakov Škocjan and underground marvel Križna jama cave, which ranks 4th in the world in diversity of cave fauna.
The biodiversity of Cerkniško jezero wetlands is extraordinary as well. Over 100 bird species nest in the area, while more than 270 different birds were spotted here - representing ¾ of all bird species ever found in Slovenia. The lake is one of the two nesting sites for endangered bird species such as common snipe, red-necked grebe, ferruginous duck, northern shoveler, redshank and Eurasian curlew. The park's forests are home to rare Eurasian three-toed woodpeckers, hazel grouses, Ural and Boreal owls, and in the spring, we can listen to the sounds of the globally endangered corncrake. Shy Black Storks and magnificent White-tailed Eagles hunt in this wetland of international importance, and raise their young in extensive beech and fir forests of Javorniki mountains.
As the importance of the intermittent lake for the endangered bird species goes far beyond Slovenia's borders, lake Cerkniško jezero has also been designated as a Natura 2000 Site. It is also home to 45 mammal species (half of all mammal species found in Slovenia), 125 butterfly species (over 2/3 of all Slovenia's butterflies) can be spotted there and 15 amphibian species (over 2/3 of Slovenia's species).
On Air: Andreja Gradišar (reporter) & Tomaž Jancar (bird expert)
Andreja Gradišar: Andreja joined the team of Radio Slovenija 1 when she was still a student. In recent years she has worked there as a journalist and a morning show host. Her topics of interest include underprivileged people, social themes and the Middle East. She prepares shows about animals, including birds, and her favourite bird is a Eurasian eagle-owl living in a cellar of a block of flats in Maribor, the second largest Slovenian city.
Tomaž Jancar: Ornithologist Tomaž Jancar is chief science consultant in the Notranjska Regional Park. He is a chemical engineer by profession, a great lover of nature and a keen mountaineer. As a child he spent a lot of time in nature with his family and has been interested in birds ever since. Since 1980 he is a member of the DOPPS Birdlife Slovenia, where he was employed for fifteen years: four of which as a director, and in the end as head of the sector for bird conservation. While monitoring birds, he discovered that many species of birds, particularly those nesting in the grass, are severely endangered by agriculture and that a number of them are at the brink of extinction (for example the Eurasian curlew or the corncrake), which prompted him to become actively involved in the planning of Slovenian agricultural policies. He says it is difficult to choose one bird as his favourite, but has decided on the corncrake, because in recent years he has devoted his time to studying it. He also runs yearly surveys on its population numbers in Slovenia.
Key Species: Nightingale, Yellow wagtail, Reed bunting, Yellowhammer, Common whitethroat, Blackcap, Blackbird, Great tit, Common Chiffchaff, Tree pipit - and we are especially hoping to hear corncrake and great bittern, because they are very hard to find anywhere else in Slovenia.
Country: Wales
Organisation: EBU - BBC Radio Wales
Location: RSPB Ynys-hir - woodlands, wetlands and wonderful wildlife
RSPB Ynys-hir is a real gem in the heart of the Dyfi Estuary – a serene wetland paradise just waiting to be explored whatever time of year you visit. In springtime a walk through the woods will reveal a carpet of bluebells and a chorus of birdsong. Lapwings; pied flycatchers; redstart; red kites and ospreys all await you.
In winter the saltmarsh and river are alive with waders, ducks and geese, and it's not just birds that call Ynys-hir home. A visit to the freshwater pools may be rewarded with otters swimming and playing in the pools or along the bank on sunny warm days, lizards and dragonflies can be spotted.
It's the perfect place to spend time with family and friends in the great outdoors and getting up close to nature. Make sure you also call into the Visitor Centre to pick up an explorer kit and have a go at pond dipping - children will have so much fun discovering all kinds of interesting creatures! After visiting the hides, find the ideal spot for a picnic or relax in our Visitor Centre, with a cup of coffee and home-made cakes. For more information, visit rspb.org.uk/ynys-hir.
On Air: Lynn Bowles (reporter) & Daniel Jenkins-Jones (bird expert)
Lynn Bowles: Lynn spent 17 years at BBC Radio 2, the most popular radio station in Europe. She helped wake up the nation with such radio greats as Ken Bruce, Chris Evans and not least Sir Terry Wogan. Lynn says of him "He was the best. A joy to work with, funny and charming. I doubt we'll see his like again". Luckily she is well used to getting up early in the morning to broadcast which means charting the Dawn Chorus will be a pleasure.
Daniel Jenkins-Jones: Daniel has been a lifelong birdwatcher and has worked for the Royal Society for the Protection of Birds and is a local Ambassador for the British Trust for Ornithology. He is a familiar voice on BBC Radio Wales and, in the Welsh language, on BBC Radio Cymru, talking about birds and the natural world.
Key Species: Common Redstart, Pied Flycatcher, Wood Warbler, Grasshopper Warbler, Lapwing, Redshank