Cultural Cuisine
Atoosa Sepehr, Brent Pope and Rozanne Stevens talk about cultural cuisine form their home countries of Iran, New Zealand and South Africa.
See below to try some recipes....
From Atoosa: 'From A Persian Kitchen – Authentic Recipes & Fabulous Flavours From Iran' by Atoosa Sepehr is published by Robinson, £26 in hardback.
Persian Dal - Dal Adas
Persian dal, a vegetarian dish, is easy to make and very tasty. Although it looks a little like Indian dal, the combination of ingredients is quite different. Dal adas originated in the city of Bushehr in the south of Iran, on the Persian Gulf. It is usually served with Persian rice.
Serves 4
3 tbsp vegetable or light olive oil
3 large onions, finely chopped
1 large bulb of garlic, cloves separated and crushed
½ tbsp ground turmeric
½ tsp ground cumin
¼ tsp ground cinnamon
200g red lentils, rinsed
750ml vegetable stock
1 large potato (a
bout 250g), peeled and chopped into roughly 1cm cubes
30g tomato purée
2 tbsp fresh lime juice
¼–1 tsp chilli powder
Salt
Chopped fresh coriander and red chilli to garnish (optional)
Method:
Add the oil and onions to a large pan on a medium heat and fry for 10–12 minutes, stirring occasionally, until soft and beginning to turn golden brown.
Add the garlic and cook for 3 minutes, stirring constantly.
Add the turmeric, cumin and cinnamon and stir for 30 seconds before adding the lentils and mixing well.
Add the stock, stir, and bring to the boil. Reduce the heat to the lowest setting, cover with a lid and simmer for 15 minutes.
Add the potatoes, give it a good stir, put the lid back on and cook for a further 20–25 minutes or until the potatoes are tender, stirring every now and then to prevent the ingredients from sticking to the bottom of the pan.
Add the tomato purée, lime juice and chilli powder to taste and stir well. Taste and add salt if needed. Cook on a medium heat for a couple of minutes without the lid (if the texture is too thick, add a little boiling water). Scatter over some chopped coriander and chilli, if using, and serve.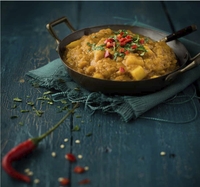 From Brent:
Whitebait Starter
2 Free range eggs
200g whitebait
1 pinch sea salt
1 teaspoon blackpepper
2 Tablespoons oil
2 Tablespoons butter
2 lemons
Chopped parsley
Method:
Beat eggs in a bowl until light frothy.
Add whitebait, parsley, pinch of salt and black pepper.
Heat oil and butter on a medium heat in a frying pan.
Add mixture and fry for 1-2 minutes.
Squeeze of lemon and serve with sweet potato fries.
From Roxanne: Roxanne's book 'Relish BBQ'
Monica's Amarula: Malva Pudding with Vanilla Clementine Syrup
Serves 8
Use a measuring jug to measure the dry ingredients – they are measured by volume, not weight.
Ingredients:
Malva sponge:
250ml caster sugar
2 tbsp butter [should this be softened? And change to 30g?]
1 tbsp apricot jam
2 eggs
125ml milk
1 tsp vinegar
1 tsp bread soda
250ml plain flour
Amarula caramel sauce:
180ml sugar
125g butter
200ml cream
125ml boiling water
6 tbsp Amarula liqueur
1 tsp vanilla essence
Vanilla clementine syrup:
1 cup sugar [list as 250ml?]
1 cup water
2 tsp vanilla bean paste
8 whole naartjies, peeled [change naartjies to clementines to match the recipe title?]
1 cinnamon stick
vanilla ice cream, to serve
Method:
To make the malva sponge, preheat the oven to 180°C Grease a lasagne-type oven dish.
Cream the sugar, butter and apricot jam together. Add the eggs one at a time and beat until light and fluffy.
Mix the milk, vinegar and bread soda together in a separate small bowl and stir well. Gradually add the flour to the butter and sugar mixture, alternating with the milk, until completely mixed. Pour the batter into the oven dish and bake for 45 minutes. Alternatively, you can bake the sponge in 8 individual pots or ramekins for 20 minutes.
Meanwhile, to make the Amarula sauce, place all the sauce ingredients in a pot and melt together. Bring it just to the boil [then remove from the heat?]. When the pudding comes out of the oven, poke holes in it and pour over the hot sauce, allowing it to sink in.
To make the vanilla clementine syrup, combine the sugar, water and vanilla bean paste in a pot. Gently bring to the boil and do not stir. Allow the syrup to bubble up and thicken for 5 minutes. Drag a spoon through the bottom, like Moses parting the Red Sea – the spoon should leave a clear path behind it before the gap closes. Add the whole clementines, vanilla seeds [only paste is listed – which is right?] and cinnamon stick and poach for 5 minutes.
Serve the malva pudding warm with the vanilla clementines and ice cream.