Richard Corrigan - BBQ's
SPICED LAMB KOFTAS WITH MINTED YOGHURT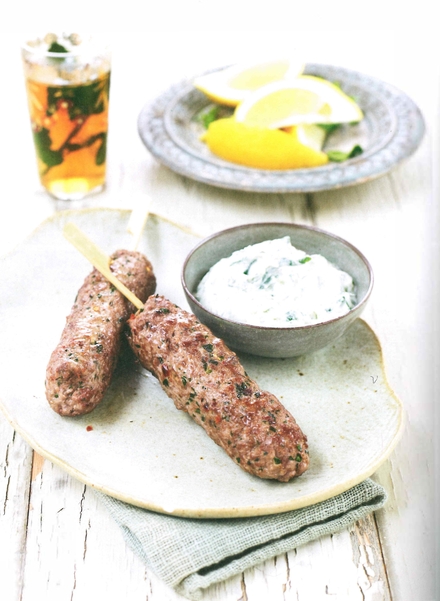 serves 4
FOR THE LAMB KOFTAS
2 teaspoons cumin seeds 2 teaspoons coriander seeds
500g minced lamb
1 red chilli, deseeded and finely chopped
1 garlic clove, peeled and crushed
4 tablespoons finely chopped fresh coriander
salt and freshly ground black pepper
1 tablespoon olive oil
FOR THE MINTED YOGHURT
200g natural yoghurt, 1/2 cucumber, grated then placed in a tea towel and squeezed to remove any liquid
3 tablespoons finely
chopped fresh mint
juice of 1 lemon
1 teaspoon ground cumin
1 lemon, cut into wedges
8 wooden kebab skewers
Every country has its own mince dish, and this is Turkey's. It's a very simple technique and quick to make, but it's all in the taste. Toasting the spices first brings out an intense, warm flavour that goes well with the cool cucumber and yoghurt. A shoulder of lamb, minced by your butcher, is the best meat to use for this dish - and it's great value.
1 Soak 8 wooden kebab skewers in water so they don't burn when you cook them.
2 Put the cumin seeds and coriander seeds in a small dry frying pan without any oil and toast for 3 minutes over a medium heat, then remove from the heat and crush them in a pestle and mortar.
3 Place the minced lamb in a large bowl and add the crushed cumin and coriander seeds, the chilli and garlic. Mix with your hands to work all the aromatics into the meat. Lastly stir in the fresh coriander, season with salt and pepper and mix again.
4 Divide the lamb mixture into 8 balls and roll each ball between your hands to form a tube shape. Thread a tube on to each skewer and brush with the oil.
5 Heat a griddle pan over a medium heat and cook the koftas on it for 3-4 minutes on each side. until cooked through.
6 Meanwhile place the yoghurt, cucumber, mint. lemon juice and ground cumin in a medium-sized bowl and stir well.
7 To serve, place the koftas on a large serving plate with the minted yoghurt and lemon wedges on the side.
THAI PORK LETTUCE CUPS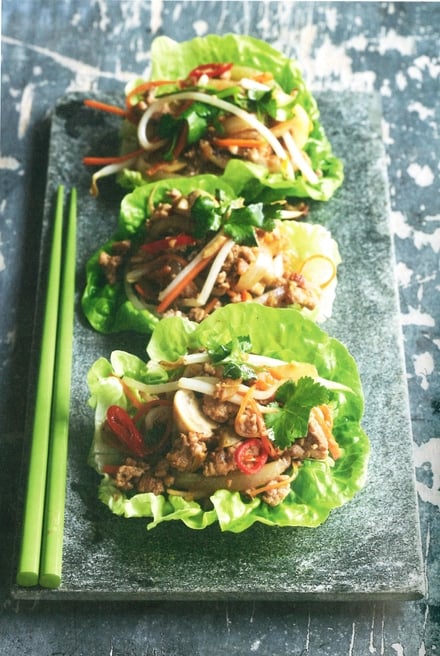 serves 4
2 tablespoons vegetable oil
1/2 onion, peeled and finely sliced
2 garlic cloves, peeled and finely chopped
2cm piece fresh ginger, peeled and grated
1 red chilli, finely sliced 500g pork mince
1 large carrot, peeled and julienned
125g baby mushrooms, chopped
75g water chestnuts, drained and sliced
2 tablespoons soy sauce 2 tablespoons oyster sauce
2 tablespoons rice vinegar
125g bean sprouts
2 tablespoons roughly chopped coriander
outer leaves from 4 baby gem lettuces
6 spring onions, trimmed and finely sliced
70g toasted cashew nuts, roughly chopped
1 lime, cut into wedges
This dish is full of natural flavours from the chilli, garlic, ginger and soy so there is no need to add any salt unless, on tasting at the end, you feel it needs it. Scraping carrots is better than peeling them because there is less wastage and you conserve the vita l nutrients found under the surface of the vegetable skin. You can buy water chestnuts either in tins or in pouches for using in this recipe.
Heat a large sauté pan over a medium heat and pour in the oil. Once the oil is hot, add the onion, garlic, ginger and chilli and cook for 2-3 minutes, then add the pork mince and turn up the heat to high. Cook, stirring, for 5- 6 minutes until the pork is browned.
2 Add the carrot, mushrooms and water chestnuts to the pan and cook fo r a further 2 minutes.
3 Add the soy sauce, oyster sauce and rice vinegar and cook for another 2 minutes, or until some of the liquid evaporates. Mix in the bean sprouts and chopped coriander and take the pan off the heat immediately.
4 Place little gem leaves on 4 serving plates to form cup s and spoon the pork mixture into them. Sprinkle over the spring onions and toasted cashew nuts. Serve each plate with a lime wedge.
BABY CHICKEN WITH PUY LENTIL DAHL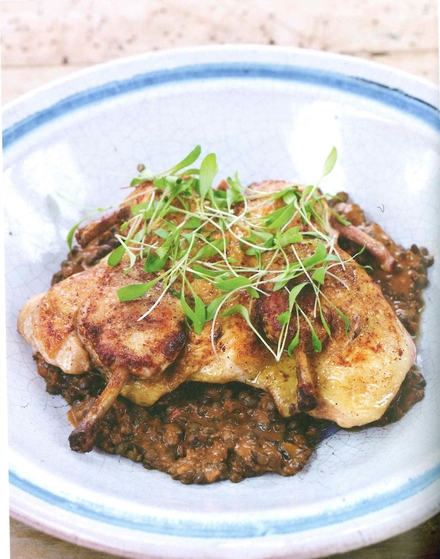 serves 4
4 baby chickens (standard poussin size)
salt and freshly ground black pepper
4 tablespoons olive oil
1 teaspoon cumin seeds
1 teaspoon coriander seeds
2 tablespoons vegetable oil
1 onion, peeled and finely chopped
handful of curry leaves
2 garlic cloves, peeled and finely chopped
2cm piece fresh ginger, peeled and grated
1 red chilli, deseeded and finely chopped
2 teaspoons turmeric powder
300g dried puy lentils 1OOg passata
800ml chicken stock 150g natural yoghurt
2 tablespoons roughly chopped fresh coriander
coriander cress or baby coriander, to garnish
BATTERED PORK CHOP WITH FENNEL SALAD AND AN ANCHOVY AND CAPER MAYONNAISE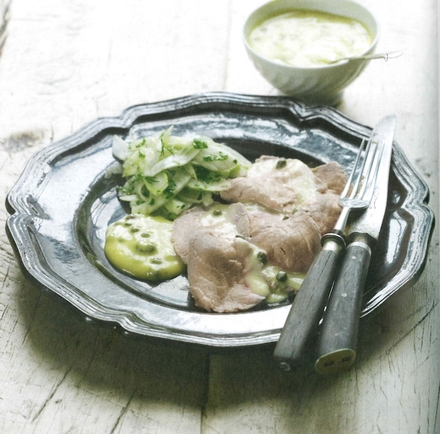 serves 4
FOR THE PORK CHOP
1/4 celery stick
1 bay leaf
1 sprig thyme
1 sprig flat-leaf parsley 2 x
200g Pork Chop,
sinew and fat removed
750ml fresh chicken stock
peel from 1 unwaxed lemon
70g unsalted butter, 50g
kept cold and diced
FOR THE ANCHOVY AND CAPER MAYONNAISE
2 egg yolks
1 teaspoon Dijon mustard
1 tablespoon white wine vinegar
2 anchovies
125ml rapeseed oil
125ml mild olive oil
1 tablespoon capers, finely chopped
Juice of ½ lemon
FOR THE FENNEL SALAD
2 fennel bulbs, thinly sliced
1 tablespoon olive oil
salt and freshly ground black pepper
juice of ½ lemon
1 teaspoon finely chopped flat-leaf parsley
1 teaspoon finely chopped dill
This is moist, succulent and full of flavour. The pork chop is poached in
chicken stock with a bouquet garni and lemon peel for extra flavour.
A little tip to remember when cooking pork is to let the meat rest
for as long as the cooking time - so if you cooked it for 10 minutes,
let it rest for 10 minutes. Any juices that come out of the meat as it
rests can then be whisked into the sauce for extra flavour.
1) Make the bouquet garni by tying together the celery. bay leaf, thyme and
flat-leaf parsley sprigs with butcher's string.
2) Place the pork , bouquet garni, stock and lemon peel in a large saucepan and bring to the boil. Simmer for 12 minutes. Then remove the pork from the stock and place on a plate to one side. Remove the lemon peel and bouquet garni and discard. Continue to simmer the stock. Until the liquid has reduced to one third of the original volume.
3) Meanwhile, make the mayonnaise. Put the egg yolks, mustard, vinegar and anchovies in a small food processor and pulse to blend. Gradually pour in the rapeseed oil then the mild olive oil, continuing to blend at the same time.
4) Use a spatula to scrape the mayonnaise out of the processor into a medium-sized bowl. Stir in the capers and lemon juice, then set aside.
5) Place the sliced fennel in another medium-sized bowl and dress with the olive oil. Season with salt and pepper and add the remaining lemon juice, parsley and dill. Stir well.
6) Heat a medium-sized frying pan and put in 20g of the butter. Once the butter is hot and melted, add the pork and fry to seal on all sides until golden brown. Then remove the pork from the pan to a plate, cover with foil to keep warm and leave them to rest.
7) Once the stock has reduced sufficiently, whisk in the remaining 50g of diced cold butter, the resting juices from the pork and 2 heaped tablespoons of the anchovy and caper mayonnaise.
8) Serve the pork & Place some dressed fennel salad alongside with a spoonful of the mayonnaise. Drizzle the warm sauce over the pork slices.
NOTES ON MARINADES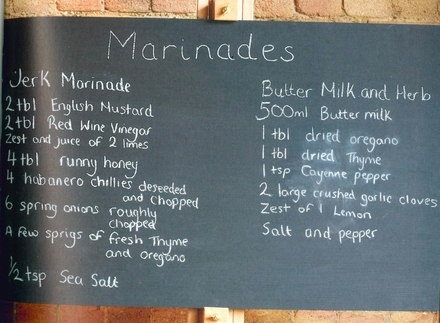 Marinating is a really useful technique to understand because it is a great way of
getting flavour into food, especially fish, and also of tenderizing all different cuts of
meat. Creating a marinade can be a chance for you to show off some personality.
There are many different combinations you can create, but three core ingredient
types should always be found in your marinade:
1 A fat to help the marinade cling to the meat or fish - oil is a good example. When
making American fried chicken, buttermilk is used.
2 Aromatic flavour enhancers, such as chilli, garlic and herbs.
3 Some kind of acidity to tenderize the meat, like lemon or lime juice or vinegar.
Buttermilk also does this, hence its heavy use in fried chicken. For a citrusy flavour
in fish marinades, use the peel only otherwise the juice will begin to 'cook' the fish.
When you marinate fish or prawns you only need to leave them to soak in the marinade
for a few minutes because they will absorb it very quickly.
For all meat, I would recommend leaving it to marinate for a minimum of two hours, and
if possible overnight or even longer. A marinade will actually help preserve the meat so
it's a great way to avoid wastage.
Grilling or barbecuing marinated food is fantastic, but you can also put marinated food
in a stew or curry, which works really well.
We always go on about not having the time to cook. If on a Sunday night you were to
spend a few minutes marinating some meat, you could put that in the fridge and then
during the week all you've got to do is whack the meat on the grill and whizz up a
vegetable side dish. Amazing.