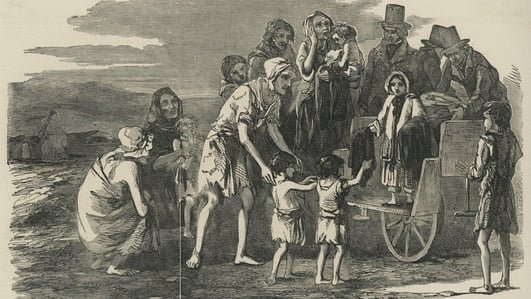 Blighted Nation: Episode One - The Famine Arrives in Ireland
In the early 1840s, Ireland had over 8 million inhabitants. Two-and-half million were living in extreme poverty and were totally dependent on potatoes. An average man ate 14 pounds of potatoes per day so you can just imagine how devastating it was when in September 1845 the potato blight arrived.
Episode One of Blighted Nation deals with the arrival of the blight, the breakdown of society, starvation and disease, mass evictions, soup kitchen, workhouses, burying the dead, public works, bitter winter conditions, how the famine affected different areas and private charitable donations – the first example in history of a major international relief effort.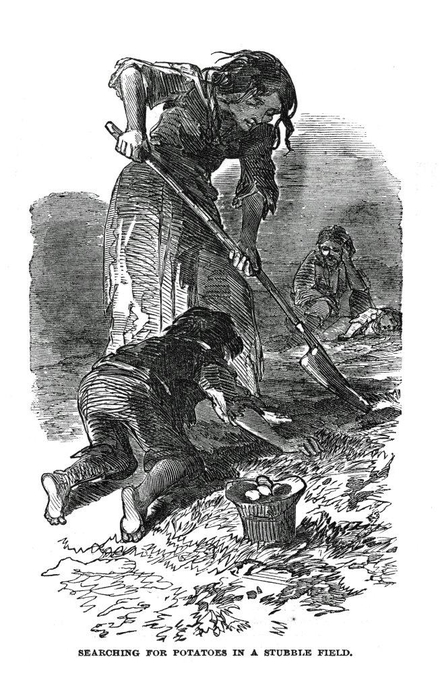 (Image courtesy of Ireland's Great Hunger Museum)
Studio Guests:
Prof. Christine Kinealy of Drew University in New Jersey, author of many books on the famine including the acclaimed This Great Calamity.
Prof. Willie Smyth of University College Cork, Editor of the award winning Atlas of the Great Irish Famine.
Terri Carney of Skibbereen Heritage Centre. Skibbereen was known as the epicentre of horror during the Great Famine.
Programme contributors include:
Former President Mary Robinson
Gerald Fleming (Met Eireann)
Prof. Maureen Murphy (Editor of Annals of the Famine in Ireland)
Dr. Brendan Kelly (consultant psychiatrist)
Dr. Laurence Geary (UCC)
Declan O'Rourke (singer)
Blighted Nation podcasts are extended versions of the original broadcasts and are available here
Blighted Nation: Episode One features
Death by Starvation It's estimated at that 3 out of every 5 who died were under the age of 10 or over 60. Aonghus McAnally read a medical account of the reality of death by starvation.
Death by Disease Most vulnerable people succumbed to disease rather than starvation as Dr. Laurence Geary of UCC vividly explained to us.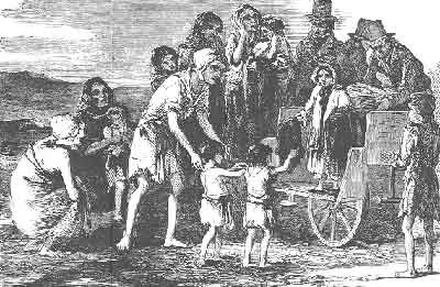 Met Eireann Weather Forecast from 1848 Many people had pawned their winter clothes to buy food which left the evicted pitifully exposed to the elements. The winter of 1847/48 was a particularly harsh one. Gerald Fleming of Met Eireann brought us this forecast for the 28th of January 1848 taken at The Weather Observatory at Phoenix Park, Dublin.
Virtual Tour of a Famine Workhouse The dreaded workhouses are a potent symbol of the famine. When the famine struck, workhouses quickly became overcrowded and disease ridden and thousands died within their walls. Consultant psychiatrist Brendan Kelly who researched this area took Colette Kinsella on a virtual tour.
Famine graves in Skibbereen There are between 8,000 and 10,000 people buried in a mass grave in Skibbereen. To put it in context, Skibbereen town has a population of 2,000 today. Many people buried their dead at night because they were so ashamed of the lack of respect being given to their deceased loved ones, as Terri Carney of Skibbereen Heritage Centre told us.
People Burying Themselves There are also accounts of people burying themselves alive. Dr. Niamh O'Sullivan, a curator of Ireland's Museum of Great Hunger described accounts from the 1840s.
Charity from Abroad Private charitable donations during the Famine were the first examples in world history of a major international relief effort. The charity from America came from some unlikely sources as Nicoline Greer explored.
Connaught Boy by Declan O'Rourke The international relief effort included not just aid sent remotely but the direct efforts of, for example, British and American Quakers like William E Forster (a future Chief Secretary) and Asenath Nicholson. Singer, songwriter Declan O'Rourke came into us to perform Connaught Boy, a song he wrote about Asenath Nicholson's attempt to help a young boy during the famine.
Cannibalism In Connemara, there were some accounts of cannibalism as Clifden historian, Kathleen Villiers Tuthill explained.
Keywords
Blighted Nation
The Great Famine which struck Ireland in the middle of the 19th century was the biggest social catastrophe in Irish history.
Over one million people died. The potato-dependent poor - landless labourers and small cottiers were wiped out.
Two and a half million emigrated between the years 1845 and 1855. A greater number than all those who had left in the previous two-and-a-half centuries
Blighted Nation presented by Myles Dungan will explores how the Great Famine swept through Ireland and changed the country forever.
Emigration became deeply institutionalised in Irish culture and even today, we are the only country in Europe and possibly, the world, that has a smaller population than we had in 1840.
Recorded in Ireland and New York, Blighted Nation explores how our country's past resonates in the 21st century.
In four one-hour programmes on four consecutive evenings Blighted Nation explores the arrival of the blight and its catastrophic consequences, Britain's response to the famine, mass emigration as well as its aftermath and legacy.
Blighted Nation was originally broadcast on 1, 2, 3, and 4 January 2013 on RTE Radio 1
Blighted Nation is sponsored by Ireland's Great Hunger Museum at Quinnipiac University, Hamden, Connecticut http://ighm.nfshost.com/