No bake cake eyeballs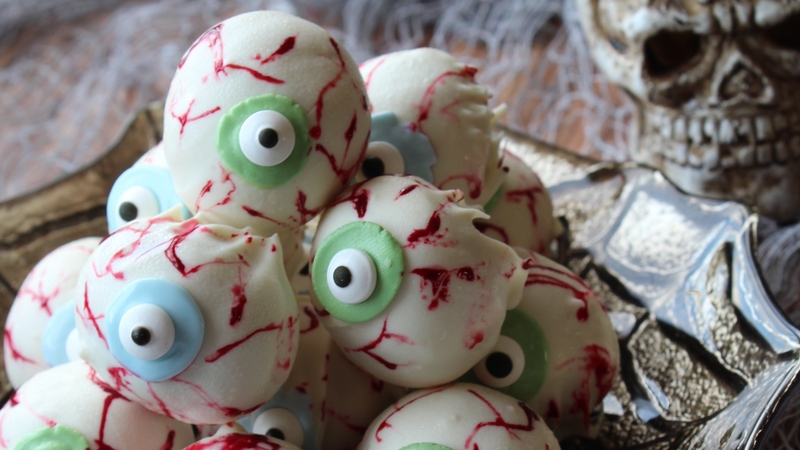 Vanilla 'eye ball' cakes
Makes 15 eyeballs
Ingredients
360g vanilla sponge
100g cream cheese
1 teaspoon vanilla essence
500g white chocolate
Coloured icing
Icing pen
Red food colouring (paste)
Method
In a bowl break the cake into crumbs and add the cream cheese and vanilla extract.
Mix until it all comes together and scoop out 30g pieces and roll between your hands to create a smooth balls.
Chill for 20 minutes.
Place the white chocolate in a bowl over a pot of gently simmering water until melted, set aside.
Take the cake balls from the fridge and using a fork, dip in the white chocolate and place on a lined tray and once all coated, chill.
Skeleton gingerbread cookies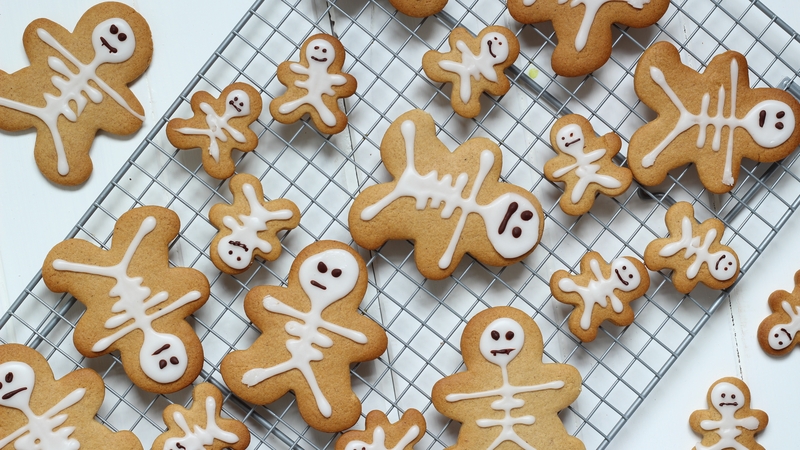 Makes 15
Ingredients
75g butter
75g brown sugar
1 teaspoon ground ginger
1/2 teaspoon ground cinnamon
1/2 teaspoon mixed spice
1 egg yolk
50g golden syrup
250g plain flour
1/2 teaspoon bread soda
1 tablespoon water
To decorate
200g Icing sugar
Water
Melted dark chocolate
Method
In a mixing bowl, cream the butter and sugar, add the golden syrup and egg yolk and mix.
To this add the flour, spices and bread soda. Mix.
You will need to add a small amount of water to help bind.
Once a dough is formed, wrap and chill.
Preheat your oven to 170C.
Line two trays with parchment and set aside.
On a floured surface, knead and roll the gingerbread dough and using a gingerbread man cookie cutter, cut out the cookies and place on the tray.
This goes into the oven and bake for 10 minutes or until lightly golden brown.
Remove and cool.
To decorate, simply add a small amount of water to the icing sugar to create a thick paste, place this in a piping bag and pip on a skeleton design on the cooled cookies.
For added detail you can pipe on eyes etc. using dark chocolate!
Spider cookies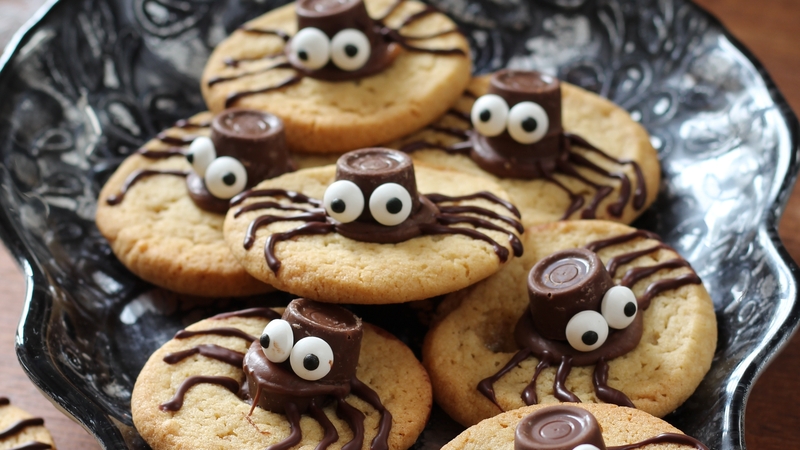 Makes 25
Ingredients
150g butter
80g brown sugar
80g caster sugar
1 teaspoon vanilla extract
1 egg
225g plain flour
1/2 teaspoon bread soda
pinch salt
25 chocolate Rolo's
100g dark chocolate
Edible sugar eyes
Method
In a bowl, cream the butter and both sugars.
Add the egg and vanilla and mix.
Finally add the flour, salt and bread soda and mix until a smooth dough is formed.
Wrap in cling and chill for 30 minutes.
Preheat the oven to 170C.
Once the pastry is rested, roll on a floured surface and using a cutter, cut out 25 circles.
Place these on two lined trays and egg wash.
Bake for 8-10 minutes or until golden brown.
Remove and allow to cool slightly.
Once cold, stick on a Rolo with some melted chocolate and finish decorating by piping on the legs and adhere the edible eyes onto the Rolo.
TIP: If you cannot buy edible eyes, just use white and dark chocolate instead
Witches finger biscuits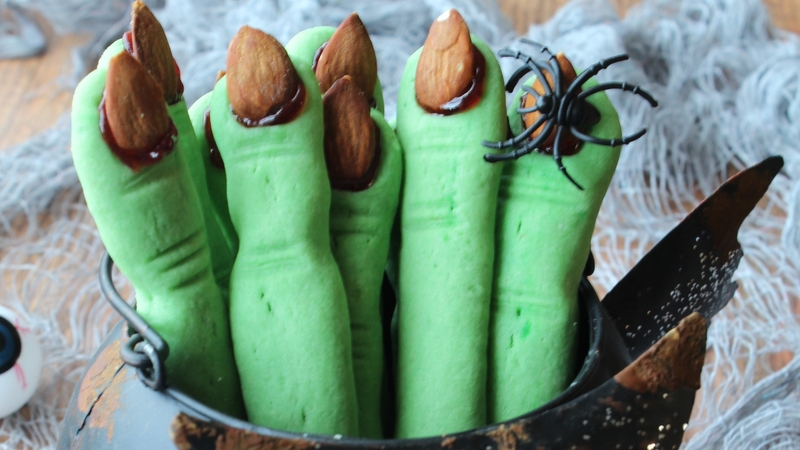 Makes 30 fingers
Ingredients
225g butter
125g icing sugar
1 egg
1 teaspoon peppermint extract
350g plain flour
1 teaspoon baking powder
1/2 teaspoon salt
30 whole almonds
Strawberry jam
1/4 teaspoon green food colouring paste
Method
In a mixing bowl, combine the butter, icing sugar, egg, peppermint extract (if you don't have peppermint you can use vanilla) and green food colouring.
Add the flour, baking powder and salt.
Mix until a dough is formed.
Wrap in cling and chill for 30 minutes.
Preheat your oven to 160ºC
Once rested, divide the dough into 30 pieces and roll into finger shaped biscuits.
Press an almond into the end of the biscuits to give the appearance of a nail.
Squeeze biscuit near the tip and again near the center of each to give the impression of knuckles. You can also cut into the dough with a sharp knife at the same points to help give a more finger-like appearance. Arrange the shaped biscuits on the lined baking trays.
Place in a preheated oven and bake for 20 minutes.
Once baked and cooled, remove the almond and squeeze a small amount of strawberry jam into the cavity and replace the almond.
TIP: Try and use food colouring paste rather than liquid as the colour pay off is better.