Walking through St Raymond's cemetery in the Bronx, New York you'll see something unusual at one of the graves. Someone has placed a blue surgical face mask and a bottle of hand sanitiser there. Tucked into the grave itself is an Irish flag. You would be forgiven for thinking there was a link to Covid-19. But looking more closely you see a name carved into the simple headstone of someone once considered the most dangerous woman in America.
Mary Mallon was the first identified asymptomatic carrier of typhoid fever in the US. Viewed in the early 1900s as a super spreader of the disease and quarantined for 26 years on an island off Manhattan, her story became a legendary but cautionary tale of efforts to deal with an epidemic that wreaked havoc on a population.
Mary Mallon was an Irish woman who emigrated to New York City in 1883. She arrived into a world full of disease and prejudice but still managed to establish herself as a cook working for well-off families from the upper echelons of society. Mary was popular, very much in demand with her employers and carved out a life for herself in a society that didn't always welcome emigrants. However, the typhoid fever that was rampant in the city changed the course of her life, and career, forever.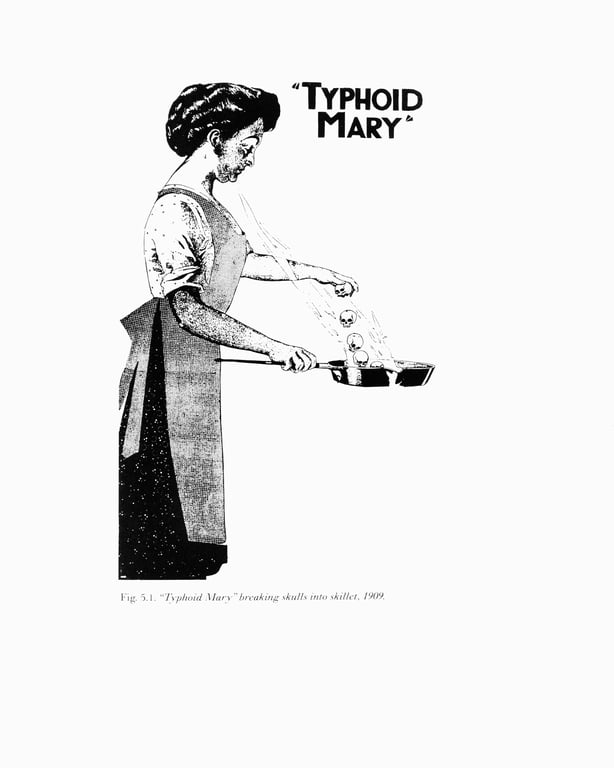 An illustration of Typhoid Mary also known as Mary Mallon breaking skulls into a skillet, circa 1909. Photo credit: Fotosearch via Getty Images.
With mysterious cases of the disease in a number of households where she worked, from the ritzy addresses of New York City to the plush holiday homes of Long Island, the "epidemic fighter" George Soper set out to track and trace the source of infection. His investigation led him to the home of Mary Mallon and a battle of wills ensued. Mary fought to prove her innocence and Soper sought to put the super spreader cook away for good where she would no longer prove to be a "menace to society". The drama played out between public health officials, scientists, judges and lawyers, with Mary's story leading to a public health scare and accompanying media storm. In the midst of it all Mary Mallon was branded forever as "Typhoid Mary".
With echoes of the modern-day Covid-19 pandemic, this Documentary on One tells the story of how a young Irish emigrant became a pariah in her adopted city and examines what it's like to be held up as an example of scientific discovery where efforts to protect public health were pitted against an individual's very identity and freedom.
Narrated by Sarah BlakeProduced by Orla Higgins and Sarah BlakeGenealogical Research by Damien O'Sullivan and Liam O'BrienSound Supervision by Peadar Carney
You'll find further info on the genealogical research on Mary Mallon on rte.ie/culture.
First broadcast RTÉ Radio 1 - Saturday 18th September, 2021 at 2pm.
Readings by Roger Gregg (Newspaper Reporter); Sarah-Jane Scott (Mary Mallon); Bill Kernodle (George Soper)
Contributors:Judith W Leavitt, Professor Emerita, University of Wisconsin-Madison and author of Typhoid Mary: Captive to the Public's Health; Dr Leanne McCormick, Senior Lecturer, History at Ulster University, creator and host of the Bad Bridget podcast; Professor Mary Horgan, President Royal College of Physicians of Ireland and Consultant in Infectious Diseases, University College Cork; David Rosner, Ronald H. Lauterstein Professor of Sociomedical Sciences and History, Columbia University, New York.
Additional recordings by John Doyle (RTÉ Galway), John Gough (RTÉ Cork), Karen Brady (RTÉ Dundalk), Vincent O'Callaghan (Ulster University, Coleraine), Paul Ruest (New York), Miranda Shafer (New York), Noah Gilfinnan (Audio for the Arts, Wisconsin).
Thanks to the staff at the Civil Registration Office, Longford; Alan Delozier, University Archivist, Setton Hall University, New York; Professor Ian Robertson, Dublin; Martin Morris, Archivist, Longford County Council; Harriet Wheelock, Keeper of Collections, Royal College of Physicians of Ireland.
An Irish radio documentary from RTÉ Radio 1, Ireland - Documentary on One - the home of Irish radio documentaries