Angie Mezzetti (left) listening to Johnny Fitpatrick local historian Carrick on Suir
This Sunday's Lyric Feature explores the life and work of Dorothea Herbert, poet, writer, artist and proud spinster from Carrick on Suir, County Tipperary.
Below, presenter and producer Angie Mezzetti gives the background.
---
A Tiny Woman Writer with a big voice that has taken only two centuries to be heard.
Calling a woman from the 18th century a 'Doozy' sounded like a bit of a derogatory term when I heard it first, as applied to writer, poet and diarist Dorthea Herbert from Carrick on Suir. However when I looked it up, Doozy actually means something extraordinary, unique and one of a kind. It is so appropriate to Dorothea who lived in Tipperary from about 1760 to 1829 and who wrote about her life in 'Retrospections of an Outcast 1770 to 1806' which was only published in 1929. Some women have to wait a long time to be heard.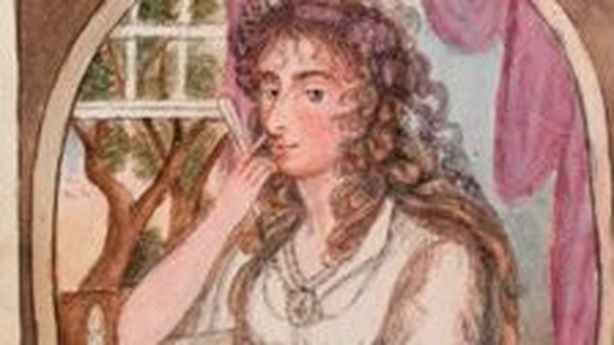 Original Inspiration
The idea for the Lyric feature documentary came from a conversation with Dr. Jane Maxwell Manuscripts Curator, Manuscripts and Archives Research Collections in Trinity College who says in the programme that "This is such an unusual artefact to have survived and she herself is such an unusual person- and there are so few records of women from the eighteenth century surviving anyway so that when you have somebody like her, leaving behind an artefact like this it is unprecedented, it's unique, it's unheralded, it's unexpected, it is unhoped for."
The original handwritten and illustrated book is under her expert care in Trinity College and it felt very special to be able to look at it and at the watercolour cuts by Herbert in the quietness of the old library building only occasionally interrupted by seagulls and excited students outside. The conservation experts in the college have used special techniques to preserve these damaged snippets dated from 1806 and 1807.We are grateful to the board of Trinity for giving us access to the manuscript.
Some of Dorothea's later diary fragments, also in Trinity, show a woman sinking into despair, in mental distress, alone in her room and increasingly isolated from her family. They are a far cry from Herbert's early recollections about her childhood where she describes episodes when she and her brothers get an old gardener to plant trees in an attic which later collapses. She recalls dressing up as shepherds, getting drunk with other children, making beauty potions as young women and wearing masks to protect their faces from the sun. She talks about strange visitors, wandering teachers from Italy and France who taught dancing, French and how to make soup with frogs. She also admires beautiful dark haired exotic visitors born in India. Historical events are the backdrop, the French revolution, American War of Independence, the 1798 rebellion and other agrarian uprisings closer to home.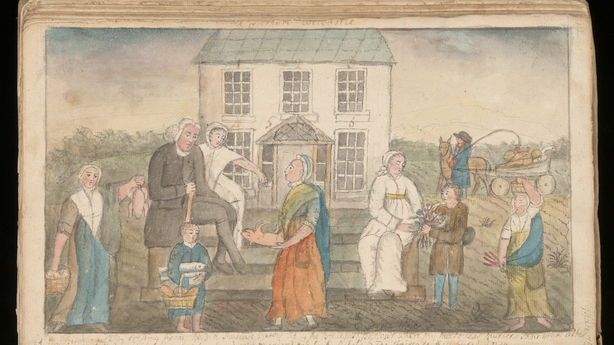 The Voice of Dorothea
Talented Tipperary actor Aideen Wylde gives that long awaited voice to Dorothea Herbert and channels the full range of the emotions and traumas Dorothea Herbert would have experienced both as a young woman and as an older frustrated unravelling person. Having recorded the clips we wanted to use and some more in the studio, Aideen then obliged with imagined temper tantrums, humming, hysterical laughter, squeals as if she was being chased by a naughty cousin and finally heart-aching sobbing which we used for texture and wild track. Dorothea's vernacular spelling and use of capital letters in odd places gave us a good idea of what her accent would have been like. It was amazing to 'hear' Irish spoken by the gardener through her phonetic spelling and surprising to see how often she refers to French phrases and words in everyday speech.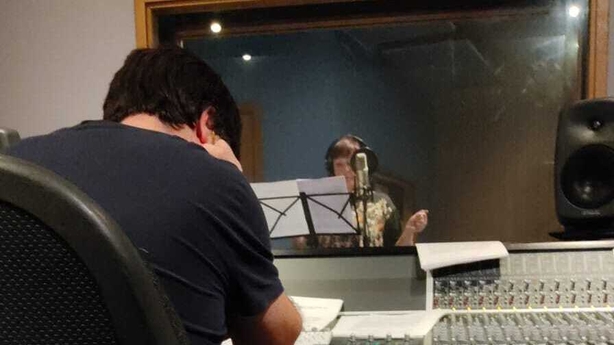 Forgotten Women's Voices
Herbert's work is typical of what happens to women's writing throughout history. It gets trivialised because it's primarily about the domestic or about love and romance and additionally in her case broken hearts and spinsterhood. Dr Jane Maxwell adds that Dorothea's experience was not unusual. "Lots of women like herself survived and thrived in the 18th century, wrote their letters, wrote their journals, drew their pictures and they all are lost."
What is shocking when you read Herbert's work is the level of violence against women in society and especially in the upper classes. In her diary fragments 1807 Sunday April 19th Dorothea describes the horrendous violence that happened to her own sister Sophy - Mrs Mandeville and her children at the hand of her husband. "She arrived here in her Night Cap and Morning gown - fearing she would be pistoled- for he never paid her a visit without being armed with a gun or a sword. If she had her little boys the loss of such a husband would be no great matter". In another extract from Retrospections on the programme she also casually mentions how Lord Barrymore attended a local marriage celebration without his wife 'the young and beautiful Lady Barrymore, because her Lord had given her a good beating which kept her at home'.
LGBTQ Characters
There are many lighter moments and wonderful descriptions of colourful characters like her cousin Ned Eyre who was gregarious, mischievous, wore makeup and lots of jewellery and would possibly be described as camp or gay today. She also writes so tenderly about a distressed genderfluid visitor who stayed at the house and stole all the ladies' hearts. Including this story was important to me as a former teacher of young adults finding their way in the world when it comes to gender identity. So often it is portrayed as a new media led or social media inspired 'fashion' but Dorothea illustrates that there is nothing new under the sun, various forms of gender identity are always with us and it is possible to show kindness, to listen and show understanding even when you don't understand.
Love Stories End
One of the dominant themes of her Retrospections is her supposed love affair with John Roe of Rockwell. Contributor Dr Mary Breen from UCC, a specialist on the works of Herbert and other women writers of the era, says this imaginary romance may have been a literary device by her. She admires Dorothea because she is literary, is obviously widely read and is a talented witty writer. She particularly loves the way Herbert writes about food, the Paris fashions and social interactions and the various marriages and break-ups of marriages. When you read her Retrospections you can almost visualise the places she writes about in Tipperary, in Dublin, in Kerry and in Galway. Her descriptions of playing the harpsichord, of fainting in hysterics because of her sensitivity to music according to Dr Mary Breen would have illustrated qualities highly admired at the time, especially in a young lady looking for a prospective husband. Unfortunately for Dorothea she never did find her match and Dr Breen suspects references to a relationship with John Roe are put there to explain herself and later mental illness to her family because at the time a broken romance was a legitimate accepted cause of mental distress.
Journaling Therapy
In researching Herbert I came across a piece in the Irish Times 2004 by the late Eileen Battersby about how Herbert was ahead of her time in journaling her thoughts for the record and as a form of daily mental health therapy. Having heard poet Anne Tannam talk about this very topic and how to use journaling both as reflective therapy and as a creative writing tool I sought out her insights and observations which proved invaluable in drawing the threads of the Dorothea Herbert story together.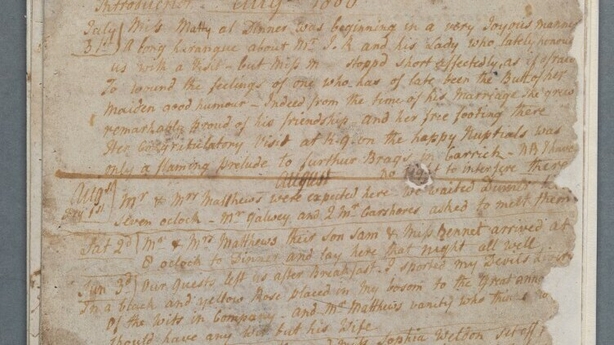 Local Knowledge
Tipperary County Council pointed me towards local historian Johnny Fitzpatrick who is not only a fan of Herbert's work and local expert, but was able to show me where she was buried in the Church of Ireland churchyard of Carrick on Suir. Recording with him outdoors on Dorothea's family plot was an added advantage as we were still coming gingerly out of Covid lockdown. Johnny was able to tell me that Knockgrafton, where the large Herbert family lived part time, is actually called New Inn now and is pronounced Knockgraffin. He too believes she was unique and 'quite a girl' and like Jane Austen who she predates, wrote about love and romance and society except that 'Dorothea was real' and wrote about real local people and familiar places. The late Frances Finnegan, author of the book Introspections the Poetry and Private World of Dorothea Herbert, was too ill to be interviewed but spoke generously to me about her research during the early research phase.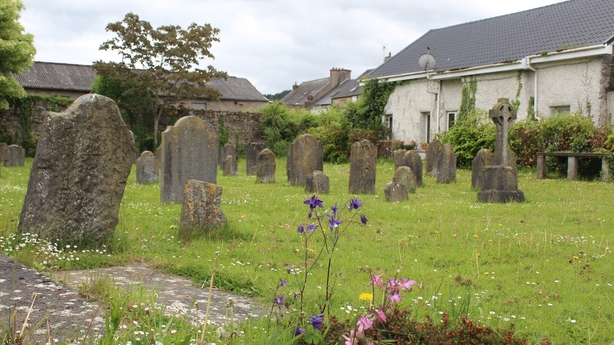 Dolly Herbert The Movie
There are so many things I wanted to include about Dorothea but would have been impossible to cram into a 45 minute radio slot. There are the watercolours she uses to illustrate her book that have a cartoon-like quality and say so much about how she perceived her world. Then there is her music -the lost opera, her biting poetry, her comic timing in her writing all of which are treasures waiting to be mined.
Her descriptions of romantic encounters, groping cousins, spilling pisspots and outrageous practical jokes are so sharp you would wonder why someone has not made a movie about her and her stories yet. That might just be my next project. In the meantime have a listen to the Lyric feature 'Dorothea The Doozy' Sunday 19th February 2023 6pm or online wherever you get your podcasts.
---
The Lyric Feature Dorothea The Doozy will be broadcast on RTÉ lyric fm on Sunday 12th February at 6 pm and will be available to podcast.
Listen to more from the Lyric Feature here.
---