We had a great many entries for our RTÉ lyric fm Choirs for Christmas 2022 competition, our annual celebration of community, amateur choral music making from all around the island of Ireland. Many thanks to all the choirs for talking time out to rehearse and record and enhance once again our Christmas celebrations here on RTÉ lyric fm.
You can hear all the entries below (in no particular order) to get you in the spirit for Christmas and as always, a selection of submissions will be chosen for airplay on Evelyn Grant's Weekend Drive
RTÉ lyric fm Choirs for Christmas 2022 is supported by Sing Ireland.
---
Roscommon Solstice Choir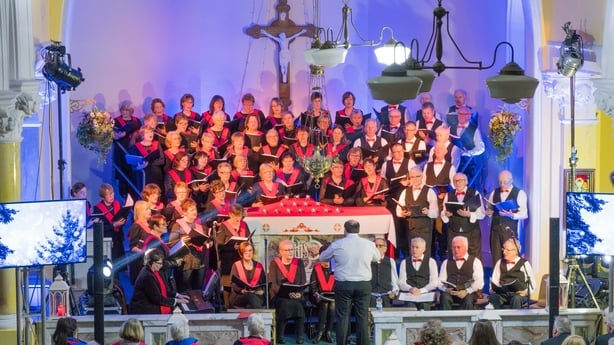 Roscommon Solstice Choir was formed in 2013 for "The Gathering" but proved so popular that it continues to perform almost a decade later. In that time the choir has raised in excess of a quarter-of-a-million Euro for charities in Ireland, in London and in New York. The choir is entirely voluntary and attracts members from Co. Roscommon and surrounding areas. Current membership is approx. 90 singers. Notable performances (amongst many) include singing at the helipad at Blacksod Lighthouse on the last day of the Rescue 116 Search Operation (which featured recently on "Meitheal" on RTE 2 TV), performing with international star Andy Cooney in Rooskey, Co. Roscommon in 2018 and singing in Galway Cathedral in front of 1,000 patrons, with showband star Johnny Carroll, for Galway Hospice in November 2022. The choir performs at least eight charity concerts each year, four in June and four in December, and also attends charity launches and similar functions. A community choir, supported by the community, singing for the community.
The musical piece attached is "Whispering Hope" written in 1868 by Septimus Winner. This version was arranged and performed by Johnny Carroll & Tony Maher and produced by Paul Gurney.
Choir Director: Andrew Reynolds.
---
VoiceOver, Dungarvan, Co. Waterford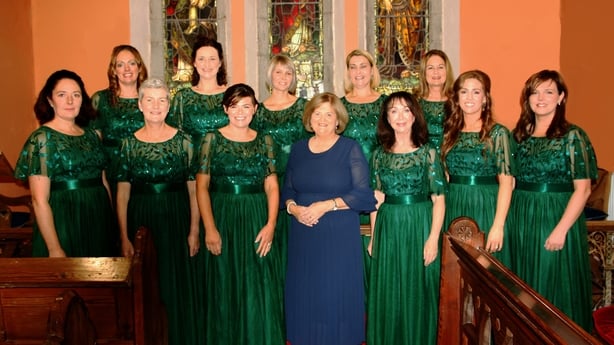 From the beautiful Déise in Co Waterford, Dungarvan based VoiceOver Choir has gone from strength to strength since its inaugural year of 2014. Under the Musical Direction of Cordelia Burke and accompanist Daniel Kearney the 11 ladies enjoy singing from popular to classical pieces. They have become known for their unique harmonised sound and recent highlights in 2022 are; hosting an Autumn Concert and recording their first CD !. All profits from this CD will go to Dungarvan Lions Club Christmas Appeal. Today VoiceOver perform the lively Sing Ding-a, Ding-a Dong!
Music: Sing Ding-a, Ding-a Dong!
Composer Lynn Shaw Bailey
Choir Director: Cordelia Burke
---
Dolce Choir, Dublin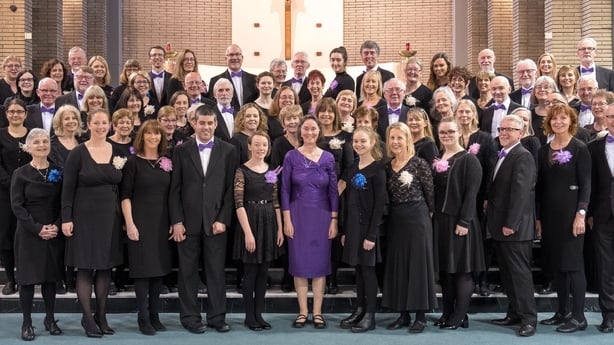 Dolce is a mixed-voice choir, of over 60 members, now rehearsing in Raheny, Dublin 5, on Thursday evenings from 7.15pm (tenors and basses) or 8pm (sopranos and altos) until 10pm. Positivity, community and musical excellence are the 3 core values of the choir, and the atmosphere at rehearsals promotes and reflects these ideals. The music sung is an eclectic mix of choral favourites, modern arrangements of popular and traditional music from various cultures along with modern choral compositions. Dolce has travelled abroad to Bilbao, Bonn, Bratislava and looks forward to more trips following COVID. Singing in small groups in wooded areas of a local public park, Dolce succeeded in staying together throughout the COVID lockdowns but members are delighted to be rehearsing normally again. Dolce has won many prizes in choral festivals and competitions throughout Ireland.
The piece being performed is "Sure on this Shining Night" by Morton Lauridsen
The accompanist is pianist Celine Kelly
Choir director is Deirdre Ní Chaomhánaigh.
---
Vox Orbis, Galway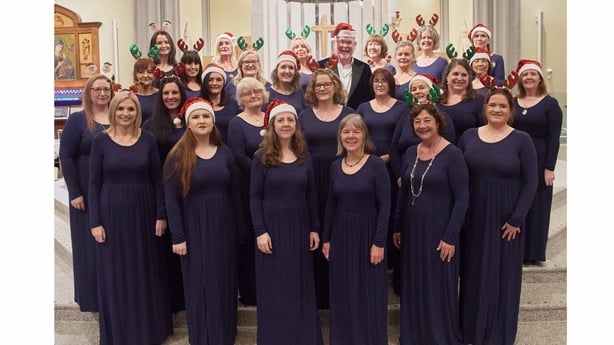 Vox Orbis is a female choral ensemble based in Galway and directed by Dr Mark Keane. Founded in 2019, the choir performs a diverse range of repertoire from plainchant to contemporary music. Earlier this year, they performed Pergolesi's Stabat Mater and Michael Haydn's Vespers with the ConTempo Quartet and in December they will join forces with the internationally renowned clarinetist Emma Johnson, to sing two of her works in Galway Cathedral.
Piece: O Holy Night (Adolphe Adam, arranged by Mark Keane)
Instrumentalists: Noreena McDonagh, soprano, and Clara Booth, concert harp
---
The M.A.C.S. Ensemble, DCU, Dublin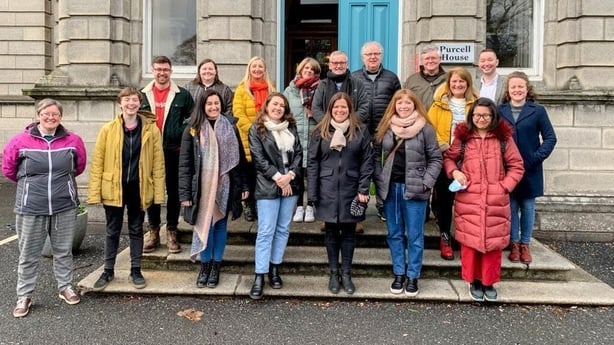 The M.A.C.S. Ensemble is a college-based vocal group made up of students on the M.A. in Choral Studies programme at DCU. The ensemble's main focus is to sing as the 'studio choir' while receiving guidance in conducting and interpretation from course lecturer Dr Róisín Blunnie. The current group has been singing together since starting on the MA in Choral Studies in September 2021, and members travel from all over the country every Monday for lectures. The singers come from a diverse range of backgrounds and this group includes teachers, community and church musicians of various kinds, an orthopaedic surgeon, and a meteorologist. They love working together on their musical style and blend, and supporting each other as they develop their own choir leadership skills.
Piece: Puer Natus in Bethlehem (A child is born in Bethlehem)
Composer: Unknown (This is an anonymous 14th-century carol)
Additional information: Verse 2 is sung by four soloists. These are: Aoife O'Donovan and Sinéad Crowley (sopranos), Úna Nolan (alto) and Jeff Moore (bass).
Choir Director and Conductor: Dr Róisín Blunnie
---
Cuala GAA Choir, Dublin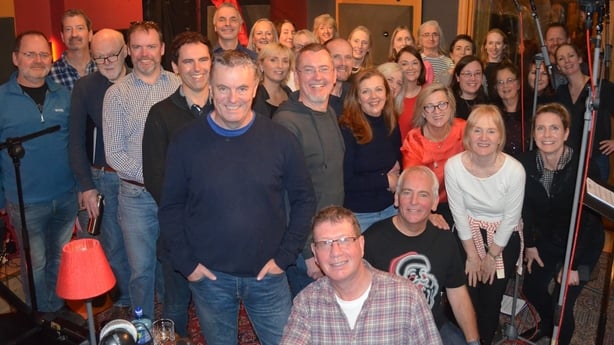 Cuala GAA choir is a small, but growing community choir, currently comprising some 31. Prior to joining the choir, most of us had never sung outside of the privacy of our own showers!
Founded in 2018, the choir was the brainchild of long time club members Siobhán Murphy, Barbara Kearns and Eibhlín Loughman. Their initiative reflected the Club's strategic objective of broadening its involvement in the community beyond Gaelic games.
Siobhán also recruited our first musical director, experienced Italian choirmaster Riccardo Magarotto. The choir grew throughout 2019 and, with 24 members, we gave our first public performance, singing our entire repertoire of 3 songs at a Christmas carol service in Glasthule church. That event gave us great confidence that we were on our way as a choir but then Covid struck.
We had almost 2 years with no singing, and our musical director had returned to Italy. So, by the start of 2022, we were close to square 1 again, still ambitious, but urgently needing musical leadership.
Good fortune came our way in February. One of our members, Judy O'Loan, identified her childrens' singing teacher, the wonderful Audrey McKenna, as a possible musical director. From Audrey's first meeting with the group we knew we were back in business and going places.
It's just as well Audrey is a wonderfully energetic and capable leader, as we had only 10 weeks to put together a much broader repertoire, having committed to a joint concert in May with Kilmacud Crokes GAA Choir to raise funds for the Red Cross work in Ukraine. Cuala and Crokes may be arch rivals on the pitch but we were delighted to work together in song to support such a valuable cause. Under Audrey's direction, and compered by the peerless Olivia O'Leary we had a wonderful and varied evening of music in Monkstown church. It was especially poignant to hear the Donnycarney Ukrainian Church Choir sing some of their beautiful acapella songs and have them join with us to sing the "Prayer for Ukraine". Our Ukrainian guests very kindly forgave how we pronounced their language! And we raised almost €10,000 for this really worthy cause.
After that it was back to our regular Sunday night rehearsals under Audrey's direction. The Ukraine concert helped us to recruit new members as we worked on a wider mixture of Classical, Irish and pop songs, rounding out our year with two exciting events. Firstly, a visit to a recording studio to record for the Lyric FM competition and on 9 December we will return to the scene of our first performance, Glasthule Church, to sing Christmas Carols and raise funds for Focus Ireland.
The fires of ambition are burning strongly in the choir now and who knows where next year will bring us?
---
St Mary's College Singers, Rathmines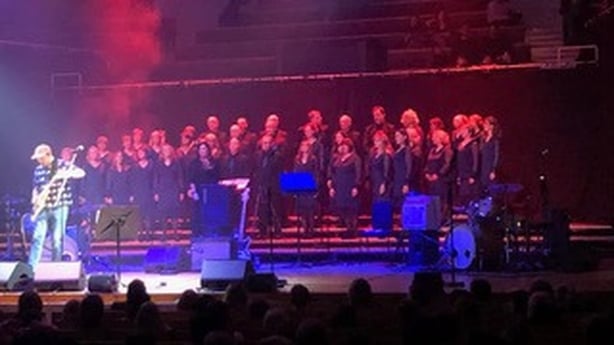 SMCS is a parent's choir formed in 2008, and includes parents of students, and past pupils from St Mary's College, Rathmines. We've sung at all sorts of fabulous and prestigious events over the years but really just love the joy of singing together, especially now that we're back in the same room together after COVID.
Pieces Performed: LITTLE DRUMMER /PEACE ON EARTH (Bing Crosbie/David Bowie, Arr. Jay Althouse)
DO YOU HEAR WHAT I HEAR? (Noel Regney, Gloria Shayne, Arr. Harry Simeone)
Choral Director & Accompaniment: Maria Stanley
---
Newman Vocare Ensemble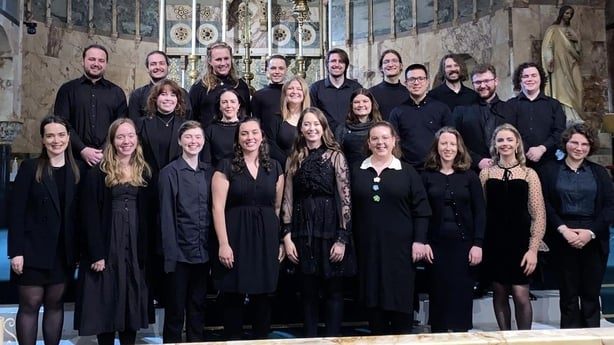 The Newman Vocare Ensemble was founded 5 years ago by the Notre-Dame Newman Centre which stewards Newman's University Church on St. Stephen's Green. Currently under the direction of Dominique Cunningham, the choir is made up of young people with varying backgrounds. The choir is semi-professional with a mix of music professionals and volunteers. The choir is one of two resident choirs in University Church on the green and they provide music at the 6.15pm Mass every Sunday.
The piece: "Soft The Evening Shadows Fall" a new Christmas piece by Irish composer, Ephrem Feeley.
Accompanist: Joseph Bradley
Soprano Solo: Megan O'Neill
Director: Dominique Cunningham
---
Swinford Parish Choir, Co. Mayo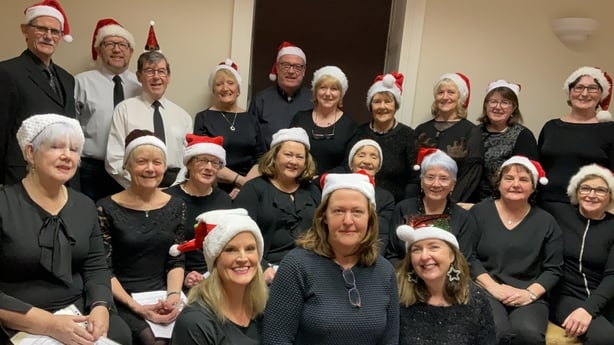 Swinford choir was formed over 100 years ago and has sang every Sunday continuously since then. We don't have many of the original members left 😉😉
During covid, our Director, Francie McNicholas and Organist, Antoinette Byrne provided singing and music in a very quiet church, every Sunday.
We have about 25 members and we stick together mainly because we have great fun and enjoy singing. This year we have three new members which was great because some of our choir have yet to return since covid.
We hope you enjoy our rendition of Angels we have heard on high directed by Francie and accompanied by Antoinette.
Swinford parish choir ❤️
---
enCÓRe, Carlow, Co Carlow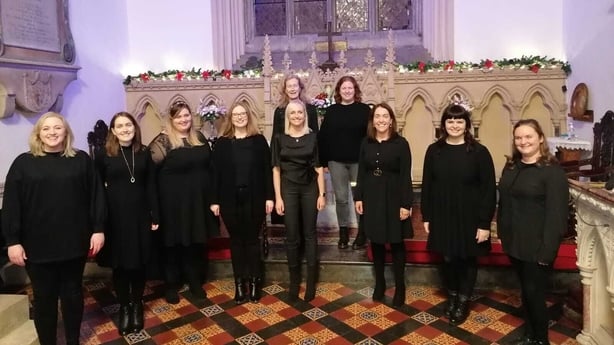 enCÓRe is a female adult choir of 10 singers from Co. Carlow. All members were previously members of Carlow children's choirs "Carlow Young Artists Choir" and/or "Aspiro" both also directed by Mary Amond O' Brien. In 2021 the group decided to reform and begin singing together again, thus the name "encore".
Song: Silent Night . Words by Joseph Mohr, Arranged and Orchestrated by Mark Hayes. Tune: Stille Nachy by Franz Gruber.
Accompaniment: Backing Track
Director: Mary Amond O' Brien
---
Scoil Naisiunta Muire Lourdes 5th & 6th Class Tullow Girls Co. Carlow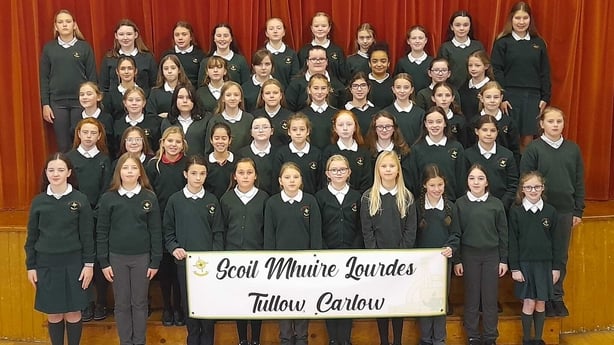 Scoil Mhuire Lourdes is an all-girls primary school located in the town of Tullow, Co. Carlow. It has approximately 250 children on roll from Junior Infants to Sixth class. We have 10 mainstream classes and 3 special education teachers full time and a full time English as an Additional teacher.
Scoil Mhuire Lourdes welcomes all families to our school and celebrates diversity. We have over 14 different cultures in our school and almost 30% of the children do not speak English as their first language. We have an array of activities which support learning in our school to include sport (boxing, football, basketball, soccer, jiu jitsu, Zumba, boxing, and gymnastics), music (early years Music Generation and the vocal programme for the senior classes), drama, dance, STEM and coding and much more.
Scoil Mhuire Lourdes supports not just the children coming to our school but also their families and the wider community in Tullow. We are a DEIS Band II school with a shared Home School Community Liaison. We are currently expanding the school to include another mainstream class along with a Nurture room to support children who may have needs outside of the academic realm.
We believe in giving back to those in need and are currently working on our annual St. Vincent De Paul Fundraiser which raises almost €2500 each year for families who would benefit from help at Christmas. Being part of Music Generation and being a 'Music Rich' school has offered our students opportunities to experience and take part in activities which they might not ordinarily participate in. The school has attended concerts, events and even been part of helping to train other music tutors in the past!
We are very proud of all our accomplishments as a school and live our school motto daily 'Fás agus Foghlaim'- we grow and learn.
Piece Performed by 5th Class:Carol of the Bells for Two-part Treble voices and piano by M.Leontovich & Peter J. Wilhousky, arranged by Steve Kupferschmid.
Piece Performed by 6th Class:The First Noel/ Pachelbel's Canon for ssa voices and piano (2 players) Traditional Canon in D by Johann Pachabel, arranged by Michael Clawson
Piano Accompanist: Yvonne Collier from Pianosoundz
Choir Director: Ann Minchin Brolly (Music Generation Carlow)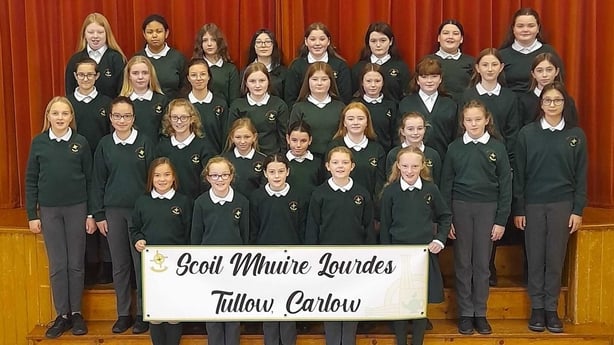 ---
Holy Child Killiney Alumnae & Friends Community Choir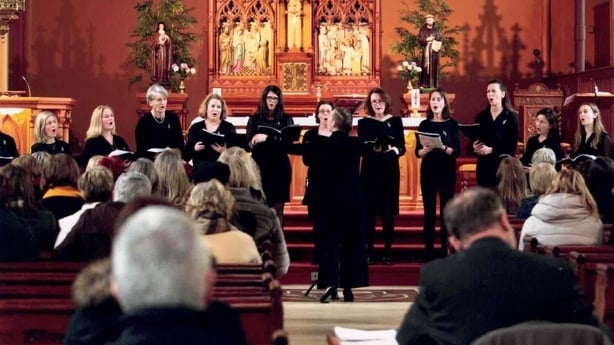 Holy Child Killiney Alumnae & Friends Community Choir was founded in 2016, initiated by recent past pupils in preparation for the school's 70th Anniversary Concert in the RDS in 2017. The original musical director was Eunan McDonald. In September 2019 Bláthnaid Conroy Murphy took over as musical director and the choir expanded to become HCK Alumnae and Friends Choir. They have competed in Feis Maitiú, Cork 2020 and Feis Ceoil, Dublin 2022, and they also make annual appearances in Carol Services and Summer Concerts in the Holy Child Killiney School. During the pandemic they recorded and filmed a song called "Corona Choir Blues", composed, arranged and edited by Bláthnaid. Their philosophy is that a choir is a melding of voices and a sharing of fun times! They rehearse weekly, and everyone agrees that they walk away feeling more energised, positive and empowered for having sung together.
Title of piece: Sylvian Joululaulu
Accompanied (and directed) by Bláthnaid Conroy Murphy on piano
---
Cappella Caeciliana, Belfast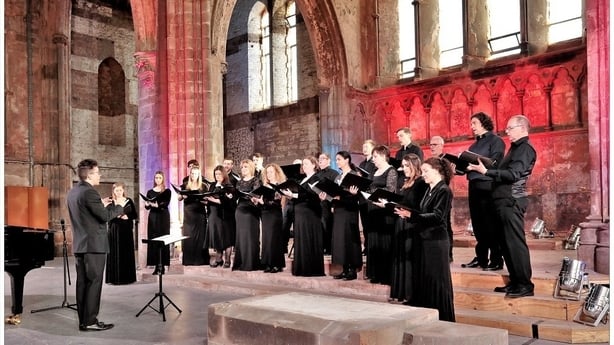 Leading Belfast-based chamber choir Cappella Caeciliana was founded in 1995 and has performed across Ireland and in Scotland, Italy, Germany, Austria, Switzerland and the USA. In Northern Ireland alone it has performed in over 100 venues. The choir mas made five CD recordings. This year Cappella appointed Matthew Quinn as its third Musical Director.
Piece Performed: "Child Within" by Elaine Agnew, directed by Donal McCrisken [Lyric FM carol commission]
Piano – Donal McCrisken
Current director Matthew Quinn
---
Satakieli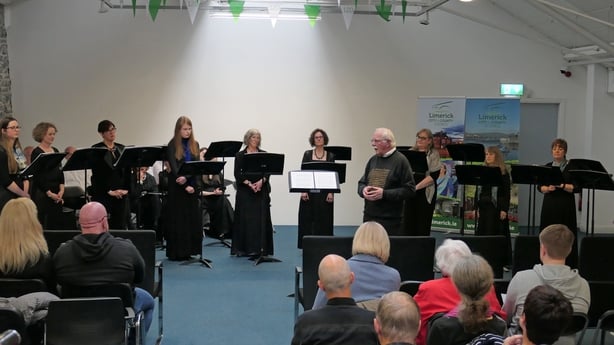 Founded in March 2022, Satakieli ('Nightingale' in Finnish) is a choral ensemble of women from East Clare and Limerick, rehearsing on a monthly basis in the beautiful Kilkishen Cultural Centre to explore the 'a cappella', upper-voice, contemporary and folk-based music of Finland, an exciting opportunity to study a new language and choral tradition. They have so far performed only once, in a joint concert with 'Ancor' Chamber Choir in Limerick, and are steadily building up a full repertoire. Most songs are sung in Finnish (though we felt an English translation was appropriate here!)
The song is 'Ketun Joululaulu' which means 'Carol of the Fox', (based on the 'Kanteletar') - music written by Mia Makaroff for the group 'Rajaton' and here arranged for six-part upper voices by Kaija Viitasalo. English version by Richard Pomfret.
The choir director is Richard Pomfret.
---
North Clondalkin Library Community Choir, Dublin 22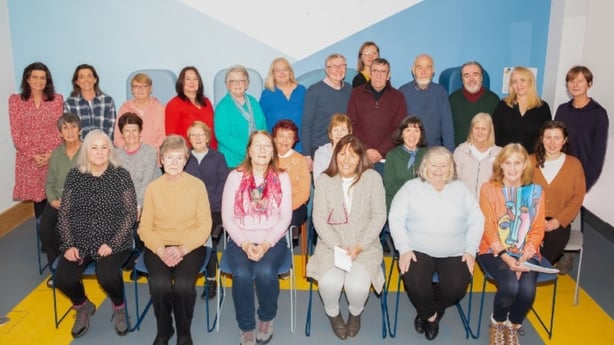 The NCL Community Choir is a newly formed Community Choir under the direction of local Music Teacher Noel Collins. Comprising of members from the ages of 7yrs old to over 80yrs plus, the choir is in its infancy having only completed ten rehearsal sessions which commenced on Sept 19th 2022. Although only a few months old, this has not prevented the choir from tackling challenging pieces many incorporating beautiful harmony lines such as "Somewhere in My Memory" by John Williams that we hear today. The choir is a very diverse group in terms of age with many young members enrolled in the local primary schools in North Clondalkin. Although this is the first experience of being part of a choir for many members, they have embraced the choir experience with great enthusiasm, dedication and most importantly, A LOT OF FUN!
This recording is their very first performance and the choir will make their official debut on Dec 15th during their first Christmas Concert - which be be the official launch of the Choir. The choir is completely free for all members.
Piece Performed "Somewhere in My Memory" Composed by John Williams/Arranged by Mark Hayes. Featured in the film Home Alone starring Macaulay Culkin.
The Accompanist on keyboard is Linda McGann. Two junior members of the choir are playing the Sleigh bells in two sections of the song which helps conjure up images of Santa's Sleigh.
Choir Director Details Noel J. Collins
---
Grosvenor Chorale, Saintfield, County Down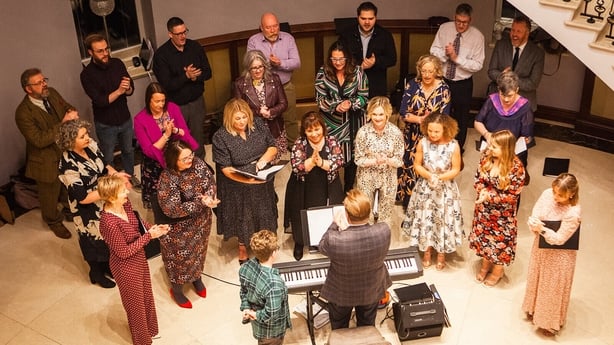 For nearly 30 years, under the direction of their founder Edward Craig, Grosvenor Chorale have enjoyed performing a wide variety of music and have had much competitive success in the UK and Ireland.Through choral music friendships have been forged as the singers enjoy rehearsing together, performing in many memorable venues as well as recording for radio, television and film.
They are delighted to be able to perform together again after the covid disruption and to contribute to the annual RTE Lyric FM broadcast. The highlight of their calendar is always the Annual Festival of Nine Lessons with Carols which this year will be held in St Colmcille's Parish Church, Belfast on Monday 19 December, in aid of the Marie Curie Hospice in Belfast.
Title:Jesus Christ The Apple Tree
Composer: Elizabeth Poston
Conductor: Edward Craig
---
Carrickfergus Grammar Junior Girls' Choir, County Antrim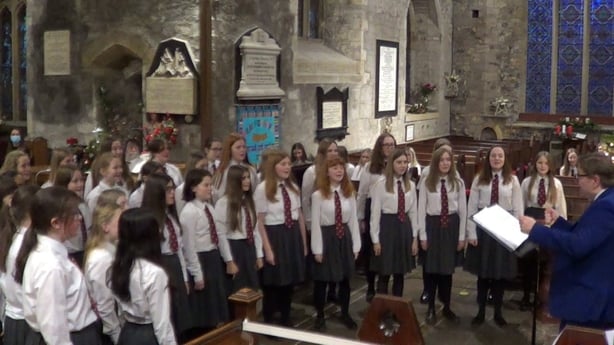 The Junior Girls' Choir of Carrickfergus Grammar School bring together 40 girls aged 11 to 14. All voices are welcome with no auditions nor experience required as they embark on their musical journey. The children sing a fun variety of music from showsongs and choral hits to some sacred music, particularly at Christmas time as they learn to sing in parts.
This arrangement of "In The Bleak Mid-Winter" is a recent setting by Tim Allen, formerly organist of St Columb's Cathedral in Derry and published in 2021 by Galaxy Music.
Choir: Carrickfergus Grammar Junior Girls' Choir
Title: In The Bleak Mid-Winter
Composer: arr. Tim Allen
Conductor: Edward Craig
Organist: Stephen Hamill
---
Voces Aspirantes, Carrickfergus, County Antrim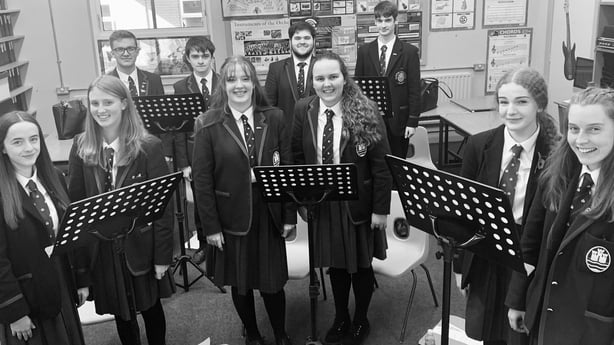 Growing out of the Covid-19 Pandemic when we were not allowed to sing inside schools nor gather together outside of year groups, a small group of the Sixth Form in Carrick Grammar bonded together to sing - including outside. As the rules relaxed they continued to meet together as a group voices who aspired to be the best they could be, unable to sing with other year groups, and so Voces Aspirantes was born. They continue to perform together and now help to inspire the next generation of singers who are growing through the school.
Title: Away In A Manger
Composer: arr. Philip Ledger
Conductor: Edward Craig
---
Carrickfergus Grammar School Senior Choir, County Antrim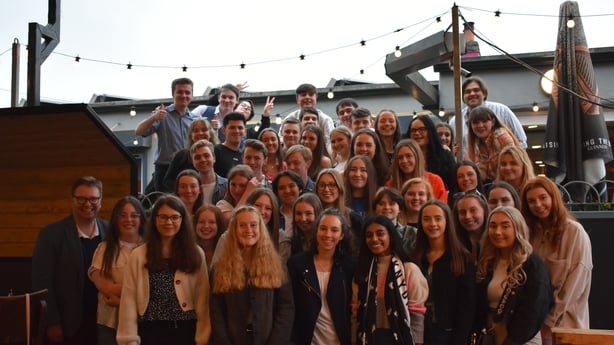 Carrickfergus Grammar School Choir have always enjoyed recording music for RTÉ lyric fm and after two years of producing online performances they are delighted to be back together again as a group of friends. Of course, most of the singers aged 14 to 18 have changed during the "online years" but the passion for singing together has filtered through to the younger students now occupying the seats of their elders. They plan to return to their annual tour with a visit to London and Oxford in the springtime – their last trip away being for RTÉ lyric fm to Limerick for Christmas 2019.
Title: Ding Dong! Merrily On High
Composer: arr. Charles Wood
Conductor: Edward Craig
---
Suara Women's Community Choir, Ennis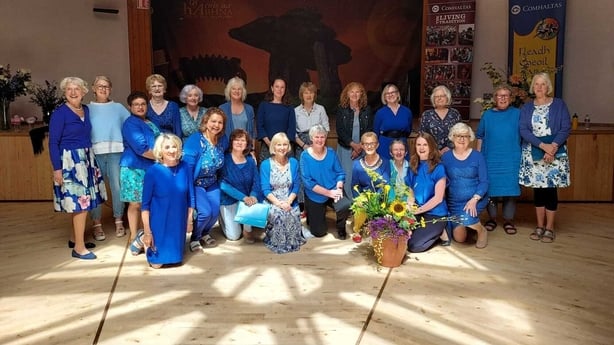 Suara is a Women's Community Choir, based in Ennis, County Clare and conducted by Fiona Linnane. The choir returned to rehearsals in January of this year, in the beautiful Cois na hAbhna venue in Ennis, after a two year break where both the singing and the companionship were missed. Their repertoire has no limits - from Ukrainian lullabies to close harmony jazz but, of late, they have been enjoying lots and LOTS of Christmas music, including this lovely arrangement of In the Bleak Midwinter. They will spend December visiting the Nursing Homes and Day Care Centres of County Clare to share their songs and perhaps pick up a few new ones from the residents! This is a choir that welcomes everyone with open arms - every rehearsal finishes with a cup of tea, a slice of cake and a chat - who could resist that?
Piece Performed: In the Bleak Midwinter: Poem by Christina Rossetti, Music by Gustav Holst. SSAA arrangement by Roger Emerson.
---
Regina Mundi College Chamber Choir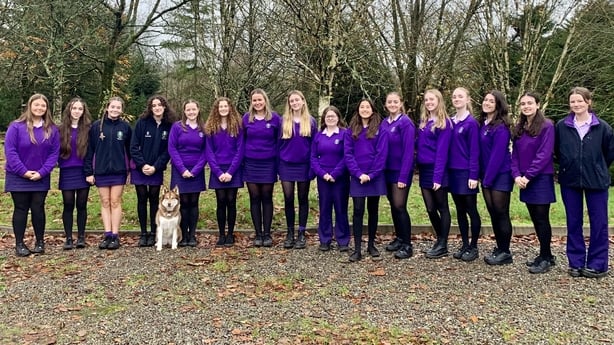 Regina Mundi College has a longstanding history with success in Choral Music. They have won competitions in Feis Maitiu and The All-Island School Choir competition to name but a few. This entry features our 16 voice Chamber Choir. The girls have worked very hard in preparation for this competition, rehearsing during lunchtimes, before school and after school on Fridays. They enjoyed the challenge of working on an unaccompanied piece in five-part harmony. We hope you enjoy listening to our entry as much as we enjoyed working on it.
Piece Performed: Suantraí ár Slánaitheora arranged by Fintan O' Carroll
Choir Director: Grainne O' Neill
---
Mary Immaculate College Community Choir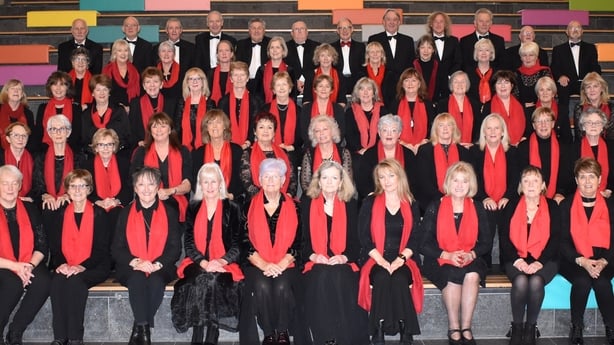 Mary Immaculate College's Community Choir, directed by Dr Paul Collins, was formed in 2012, and its membership comprises College staff members, retired staff, and members of the local community in Limerick City. The Choir sings each year at Christmas concerts in Limerick and also has its own annual summer concert at the Lime Tree Theatre on the main Mary Immaculate campus.
The piece we perform on the recording is 'The Little Drummer Boy/Peace on Earth', arranged for SATB and piano by Jay Althouse (2010). The accompanist on our submitted recording is Bernadette Kiely.
---
The Wilcollane Singers, Cork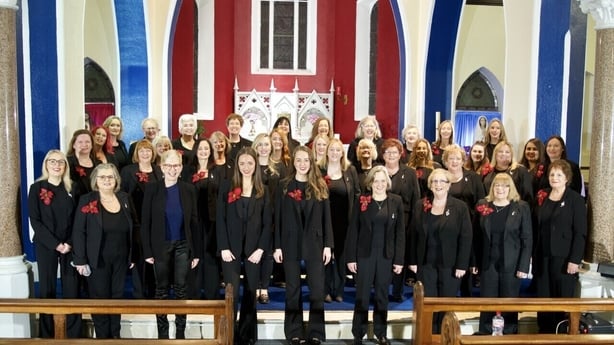 The Wilcollane Singers is a female voice choir formed in January 1989 under the direction of Anne Dunphy. Since its foundation the choir has undertaken numerous performances and has distinguished itself at most of the major choral festivals and competitions throughout Ireland, the United Kingdom and Europe.
In Ireland they have successfully competed in the Cork International Choral Festival, Limerick Church Music Festival, AIMS Choral Festival New Ross and the Kenmare Choral Festival.
The choir has travelled to The Llandudno North Wales Choral Festival and International Choral Festivals in Jersey, Prague and Verona where, in April 2009 they were awarded 1st prize and a gold medal in the Female voice compulsory competition.
In March 2011 the choir was invited to Boston U.S.A. to participate in the St Patrick's Day Parade. They sang at various concerts there and also performed in the Federal Court Building at a function hosted by the Consul General.
In November 2019 they participated in the Choral International Advent Singing Festival in Vienna and really enjoyed performing at the Christmas markets there.
The choir makes regular concert appearances and have performed in many concerts for various charities with the Cork Garda Choir.
The choir is conducted by Anne Dunphy and accompanied by Niamh Quigley
Name of piece: Winter, Fire and Snow.
Composer: Brendan Graham arranged for SSA by Roger Emerson.
Accompanist: Ursula O'Sullivan.
Viola: Niamh Quigley
---
St. Joseph's Primary School School, Tipperary Town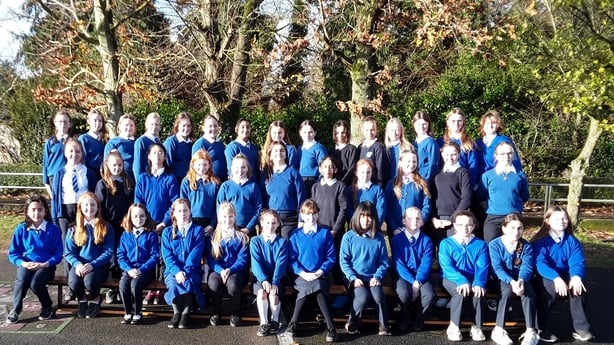 St. Joseph's School Choir was formed in 1998 and has in the current school year approx. 41 students from 5th and 6th classes. The Choir rehearse every Tuesday from 1.30 p.m. – 2.30 p.m.
St. Joseph's School Choir performs for the school community regularly and at many local events to include the turning on of the Christmas Lights in Tipperary Town, Carol Singing Downtown in aid of the St. Vincent de Paul and by invitation to other local events.
The School Choirs at St. Josephs have made many CDs over recent years to include 2 Christmas CDs and 2 Springtime CDs and indeed were featured on the Lyric FM Christmas CD in 2012 with the RTE Concert Orchestra.
This is the Choirs 9th time entering the 'Lyric FM Choirs for Christmas Competition' and we were thrilled and delighted to be runners up in our section in Dec. 2011, winners in 2014 and 2017.
In 2018 we were invited to sing at the Launch of the St. Vincent de Paul Christmas Appeal in Dublin in the company of Ryan Tubridy. We had a fantastic time.
We are thrilled to see the return of Choirs for Christmas once more and to partake in the competition.
Our Choir Teacher and director is Ms. Helen Colbert.
We hope you enjoy our song for this year; it's called Christmastime, That Special Time of Year
Lyrics: Lynn Shaw Bailey
Composer: Lynn Shaw Bailey & Becki Slagle Mayo
Accompaniment: Ms Helen Colbert, piano
---
Choir of Church of Divine Word Parish Marley Grange, Dublin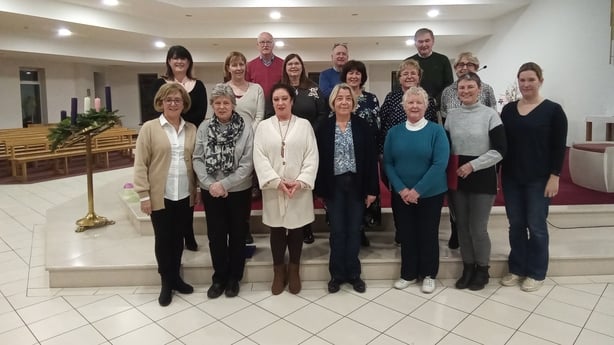 The Parish choir was formed in 1998 with eight members and since then has gone from strength to strength and now has a membership of nineteen. It is a mixed choir which sings a variety of modern and traditional material at the Vigil Mass on Saturday evenings during the year, and also participates at feast days and various events in Marley Grange parish throughout the liturgical year. The choir have been extremely lucky to have had the leadership of very talented choir masters over the years. John Conlon, who started with a small group in 1998, worked with the choir to develop a broad repertoire of music which has formed the basis of a body of work that we still use today. Edward Holden succeeded John in 2008 and brought with him his vast experience of liturgical music and composition, culminating in the Mass of The Divine Word which he wrote for the choir. He was succeeded by Niall Kinsella who was with us for a year before taking up an appointment with RTÉ. Since 2015 Judit Máté holds the position of musical director of the choir. Judit is a Hungarian-born church musician, who completed her Masters degree in Organ Performance in Ireland and enjoys a busy career as a choral conductor and organist.
Piece performed: Edward Holden: Jesus is Born Today
Organist/Conductor: Judit Máté
---
Galway City Chamber Choir, Galway City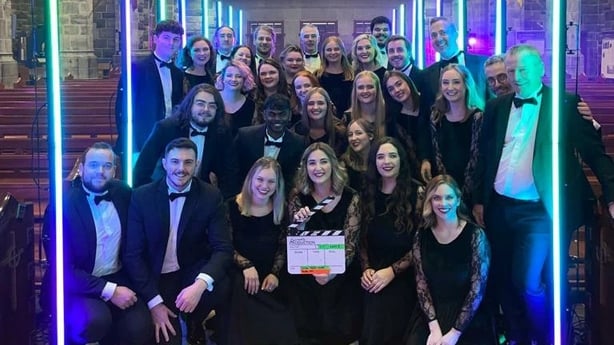 In the choir's short history they have performed all over Ireland. The group was set to compete internationally in Berlin in June 2020 however, unfortunately, this was cancelled due to the pandemic. The Choir has since toured in Europe and plans more extensive touring in 2023 and beyond. The choir is directed by Stephen Carroll and has a focus on both Irish and contemporary choral music. The choir have recently recorded their own dedicated TV Christmas Special which will air on Christmas Eve on TG4. In 2022, the choir played host to some well known ensembles such as USC Thornton Chamber Singers led by Jo-Michael Scheibe amongst others.
Piece performed: O Magnum Mysterium - Morten Lauridsen - "O Great Mystery" a contemporary christmas piece of choral music which tells the story of christmas. Composed in 1994.
---
The King's Hospital Chapel Choir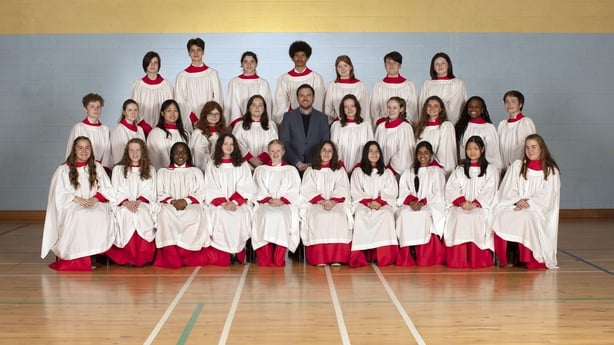 With a history spanning over two hundred years, Chapel Choir is central to the life of the school, singing at the approximately 25 Sunday services throughout the year as well as taking part in many other important events in the school and outside. The choir is recognised country-wide, winning many cups and trophies over the years. The chapel choir has represented the school on national television and radio, toured Germany and Paris and successfully performed in competitions outside the school.
The Chapel Choir provides a great training ground for students. We have a large repertoire, combining traditional sacred music with contemporary music specially composed for young choirs. There is ample opportunity for solos within the choir for those who are willing, or for singing within smaller groups. Chapel Singers offers wonderful security and a sense of belonging to students, as well as the chance to know students right up through the six years of the school.
Chapel choir is not auditioned and open to all students who are interested, however all members are expected to commit to singing at Sunday services. Their distinctive red robes are worn during important services inside and outside of the school.
The King's Hospital Chapel Choir, Directed by Ciarán Kelly, Head of Music
In Dulci Jubilo, arranged by Ciarán Kelly (based on the carol by R. Pearsall)
Soloists: Gracie Gilmartin, Iris Stoicescu and Elizabeth Michael
---
Newpark Academy of Music Youth Choir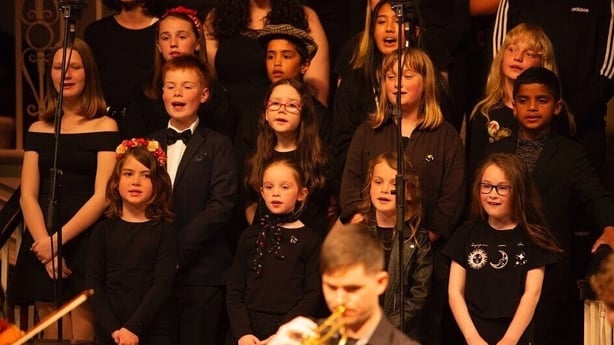 Newpark Academy of Music Youth Choir is based in Newpark Academy, Blackrock. Our ensemble ranges from ages 6-17 years of age. We sing light secular music and are constantly taking part in exciting projects. Our musical director is Mary Walsh. We rehearse every Tuesday night in Newpark Academy of Music and new members are always welcome!
Title/Composer/Arranger: O Holy Night composed by Adolphe Charles Adam and arranged by Julie Gaullke
Piano accompanist - Alyssa Filardo
---
Dublin Welsh Male Voice Choir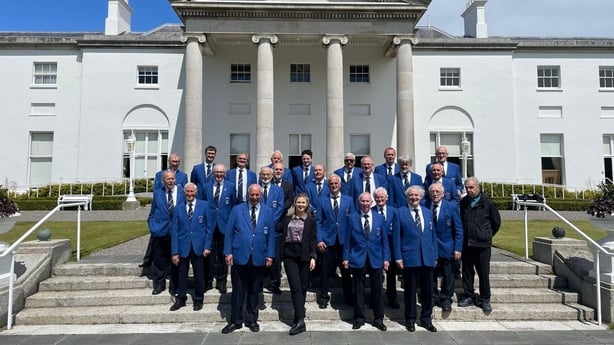 Dublin Welsh Male Voice Choir is a male choir singing in four part harmony. We are based in Dublin but sing in the great tradition of Welsh male voice choirs.
Our musical director is Mary Walsh. We rehearse every Monday night in the Royal Donnybrook Hospital and new members are always welcome!
Title/Composer/Arranger: Silent Night composed by Franz Gruber and arranged by Harry Dexter
Piano accompanist - John Shera
---
The University of Galway Staff Singers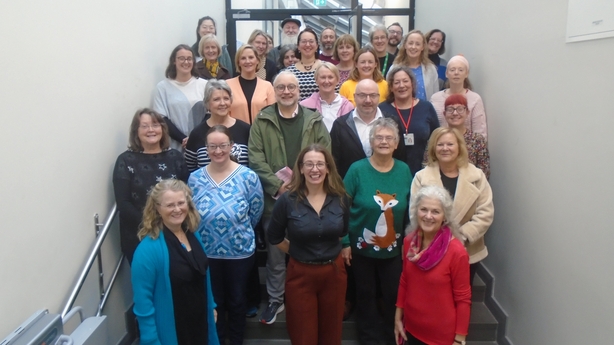 Formed 2013. Around 45 members representing SATB. We are primarily a workplace choir and rehearse on campus each week. We have entered a number of competitions, eg Sligo and Derry Choral Festivals, Kiltimagh, Limerick and Mayo Festivals, and have enjoyed a number of successes too, including on our own turf in 2014 with Choir Factor. We entertain both on and off campus, singing with our younger undergraduate student members on occasion, and with retired staff members. Our choir has always been inter-generational in nature, with retired members of staff, post-graduate students, and members of academia and administrative staff.
We have tackled everything from Bach to Beyonce, sacred to singalong, gospel to jazz. We have sung originally commissioned pieces and ancient folk songs. In the community we have sung for a number of other charities including Cancer Care West, as well as for the public in St Nicholas Collegiate Church and in Galway Cathedral. We enter the RTÉ lyric fm Choirs for Christmas each year and have often played on air.
CAROL: 'Silent Night' in Engish. Composer: Franz Gruber & Joseph Mohr & John F Young. Arranged: Michel Durham-Brandt.
Choir Director: Michel Durham-Brandt
---
Donegal Youth Choir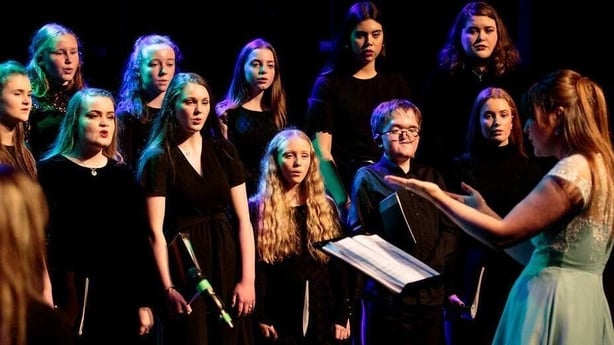 This choir was first established by Dr Shaun Ryan. In 2010 Sara Laughlin took up conductorship of the choir. It is one of the performing groups of the Donegal Music Education Partnership. The group consists of teenagers from all over the county, some even coming from Arranmore & Tory islands. This vibrant group of young singers has gone from strength to strength since 2010 and has enjoyed performances in various Donegal venues including An Grianan, The Balor theatre & The Abbey Centre and nationally in the Mansion House Dublin, RTE studios - RTE junior, NUI Maynooth and the 2014 Electric Picnic. In 2018 the choir travelled to Lourdes where they performed at various masses & concerts during holy week there. Donegal youth choir were part of 2016 'A nation's voice' choir who performed live on RTE on Easter Sunday's 1916 celebration, performance of the premiere of the Shaun Davey work '100 years a nation' Donegal youth choir were part of choral music experience's choral group for conductor training in NUI Maynooth under Chicago Philharmonic conductor, Doreen Rao. Donegal youth choir enjoy performing many different genres of music from classical, music theatre, sacred, traditional Irish, folk and renaissance to more modern popular music. Many of the young people in this choir describe the group as a family and have formed lifelong friendships since joining the group. Throughout lockdown the choir produced many virtual choir projects with some reaching over 50,000 views and even being featured on RTE news. We have missed this friendship and the magic of singing together and those moments in rehearsals when things just "come together" and make us all feel like we are part of something very special. Earlier this year the choir performed along with The Donegal Youth Orchestra to premiere the work 'Colmcille, Dove of Peace' by Irish composer, Vincent Kennedy.
Piece Performed: On This Shining Night, Kirby Shaw
Accompanist: Sara Laughlin
Conductor and Director: Sara Laughlin
---
Coláiste Mhuire Buttevant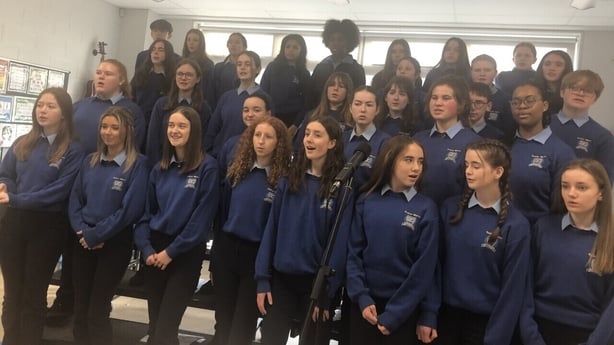 We are an all inclusive lunch time choir that involves students from first year through to sixth year who rehearse once a week. For many of these students this is their only opportunity to perform music and along with their teachers Mr O Rourke, Ms O'Donoghue and Ms Flynn, they love the chance to sing together.
Piece performed: Carol of the Bells, Composed by M. Leontovich, Arranged by Peter J Wilhousky
Choir Director - Monica Flynn
---
St. Mary's Junior School Choir, Rathmines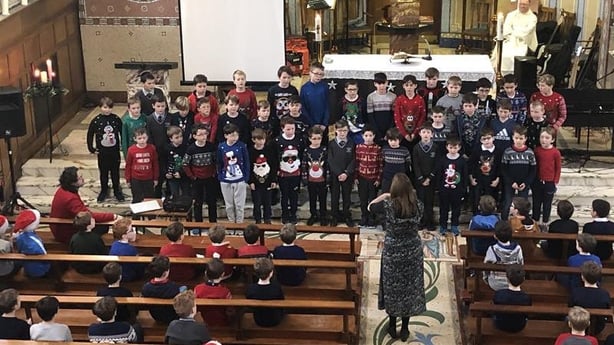 St. Mary's Junior School Choir consists of boys from 2nd to 6th class from St. Mary's Junior School, Rathmines. We sing sacred and secular music and sing at all annual school events. Our musical director is Mary Walsh.
Title/Composer/Arranger: Do You Hear What I Hear? Composed by Gloria Shayne Baker and arranged by Phillip Keveren
Soloist: Finn Moran
Piano accompanist - Brendan Kennedy
---
Coláiste Nano Nagle Choir, Limerick City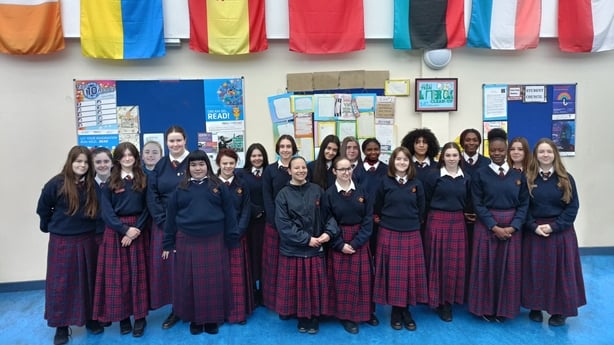 The Coláiste Nano Nagle Choir has played a huge role in our school community since its founding by the Presentation Sisters in 1928. The choir is made up of students from 1st to 6th year. We have a busy yearly calendar of school liturgies and celebrations as well as performances at community events. We are a close-knit, dedicated choir, and the enjoyment of singing is at the centre of everything we do.
Piece: The Little Road to Bethlehem
Composer: Michael Head. Lyrics by Margaret Rose.
The text was originally inspired by Rose's sighting of lambs in an Essex field. The gentle walking melody takes us to Bethlehem, where a golden star lights up the sky as Mary sings a lullaby.
Choir Director: Thérèse Gaughan
Accompanist: Una Clune
---
St. Columba's National School Choir, Glasnevin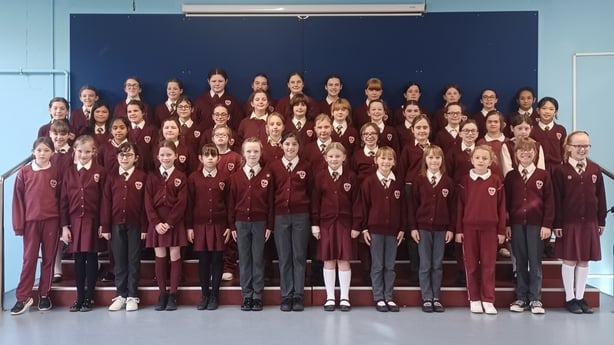 St. Columba's National School Choir is from Glasnevin, north of Dublin City. The choir is made up of voluntary members from 4th to 6th class, who come together to rehearse twice a week. Choir members are thrilled to be back singing together again this Christmas. They have always been proud to perform at school events, and also enjoy taking their singing further afield to perform at local events and at choral festivals. They have performed in DCU at both the Teachers Inspire event in October 2019, and a conference event for the SMEI in January 2020. They have been invited to perform in Trinity College Dublin by their Research in Childhood Centre on a number of occasions also. In March 2020 they were awarded first place in their competition category at the Wesley Inter-schools Music Festival. Their conductor, Ailse Nolan, is a teacher in the school and a recent graduate of DCU's new MA in Choral Studies.
Piece Performed: O Little Town of Bethlehem
Words by Philip Brooks
Music based on a Traditional English Melody, arr. Ralf Vaughan Williams
Accompanist: Emer McHugh
Soloists: Members of Ms. McHugh's and Ms. Melvin's 6th Classes
---
Glenart College Community Choir, Arklow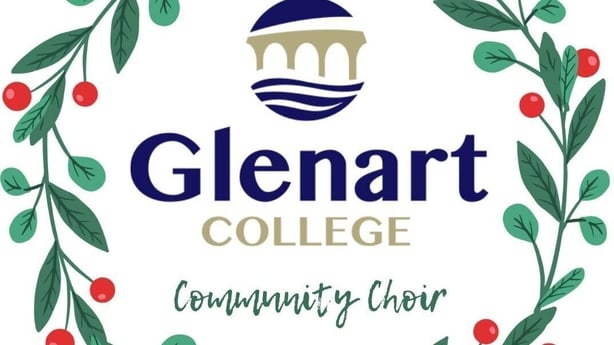 This choir is comprised of students, staff and parents of Glenart College and so has been titled the Glenart College Community Choir. This is the first time we have come together as a group and the first time the school has entered the competition. It has been a lovely effort to come together in our spare time to engage in some Christmas cheer in the run up to the end of term. Glenart College is a KWETB co-ed secondary school with a growing and flourishing music department.
Details of the piece performed:
Overall arrangement, Ms. L Carroll
[Winter Wonderland, Music: Felix Bernard, Lyrics: Dick Smith, arrangement Sing2Piano
Silent Night, Music: Franz Gruber, Lyrics: Joseph Mohr, arrangement Sing2Piano]
Instrumentalists: Mr. Paul Kerr (piano), student Fionn O Sullivan (electric guitar).
Choir Director: Ms. L Carroll
---
Cór na dTreabh, Galway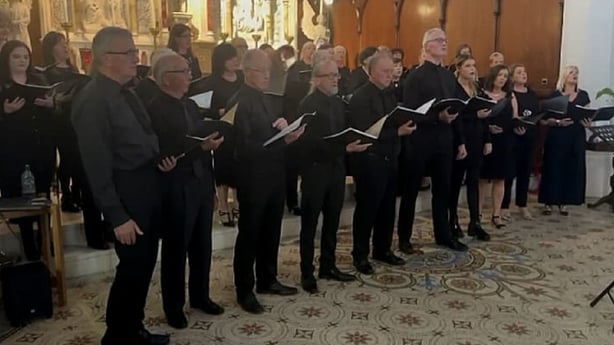 Cór na dTreabh are Galway's first and only mental health wellbeing community chorus. The group is a non auditioned, mixed voice community choir open to everyone in Galway.
The group, now into its second season, have weekly sessions attended by up to 45 singers. The ethos of this group is fun, friendship, inclusivity and community. Our sessions are as much about tea and chats, checking in with one another as the music and the choir organisers are rightly pleased and proud of this growing choir.
Under the direction of Peter Mannion the choir sing a different style of music each week so the singers have enjoyed a varied selection of styles including country and western week, musical theatre week and even disco week! This weekly element of learning a song in a themed approach has made for a fun filled environment.
Cór na dTreabh are singing 'Listen the snow is falling' by Yoko Ono. Recorded in 1969 this was the B side to John Lennons iconic single 'So this is Xmas (War is over)'.
Arranger: Jake Alexander
Conductor: Peter Mannion
---
Blanchardstown Parish Junior Choir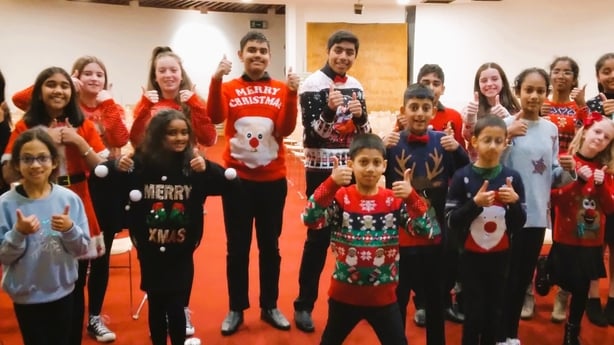 This choir was formed in 2016 to sing at liturgies involving children and young people in the parish and join the Senior Choir for major liturgical occasions. The choir numbers about twenty four children with entire families as members and a mix of many ethnic backgrounds reflecting Blanchardstown's rich tapestry of cultures.
Their ages range from seven to fifteen and when some of the boys voices changed – they decided to stay in the choir and now the choir is a three part choir: Trebles - Altos and…… a brand new Baritone section!
This Christmas the choir is also presenting a short musical entitled Aaron the Allergic Shepherd in Draoicht - Blanchardstown's magnificent theatre at the annual concert in aid of the Coolmine Therapeutic Centre along with the senior choir and Blanch Brass Band.
They also take part in O Night Divine –the Blanchardstown Parish annual Christmas Concert again with the Senior Choir and Blanch Brass Band. They have also sung for two broadcast masses on RTÉ television.
Title: Noel Peace Canon
Composer /Arranger: Arranged by Ruth Elaine Schram
Using the traditional Dona Nobis Pacem melody combined with The First Noel
Conducted and accompanied by: John White
---
The Plurabelles, Dublin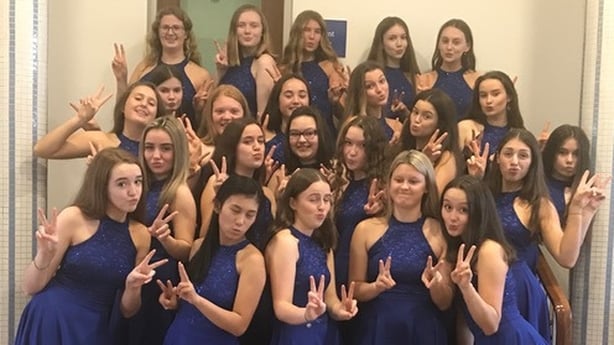 'The Plurabelles' is a chamber choir of girls voices, based in Dublin and founded in 2016 by Áine Mulvey. The choir's repertoire includes arrangements of Irish and international folksongs, classical and sacred music, jazz, gospel and arrangements of popular songs.
In their first year, the choir won the Junior section of the inaugural Clontarf Choral Festival in Dublin, and they went on to win 'Choir of the Year' at the Limerick Choral Festival in 2019, when they also won the Youth Choir and Sacred Music competitions. In 2019, the choir travelled to the World Choir Games in Tshwane in South Africa, where they achieved a Silver award in the Open Competition for Youth Choirs. The girls had been preparing for a return trip to the World Choir Games in Belgium in 2020 which sadly came to an abrupt end when the pandemic broke out.
The choir has reassembled this year and is working on a number of projects including a new commission with composer Fiona Linnane. For the 'Choirs for Christmas' competition, the girls are performing a new composition by the American camposer Andrew Jacobson which he arranged especially for them. This is Andrew Jacobson's setting of 'Stopping by Woods on a Snowy Evening.'
Accompanist: Maire Mannion
---
Dulciana Vocal Ensemble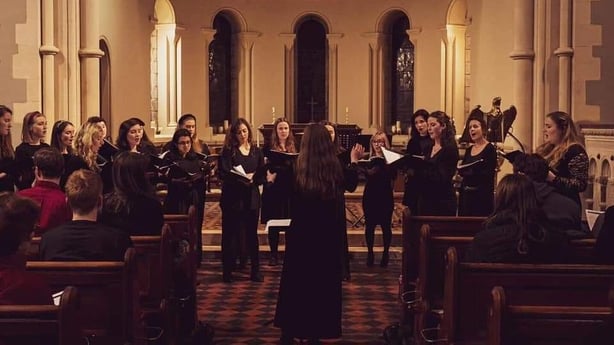 Founded in January 2015 by Eoghan Desmond and Judith Lyons, Dulciana is a chamber choir committed to performing the very best in music for upper voices from across the ages. Since its very inception, part of Dulciana's mission has been the promotion of music by female composers, both those neglected by history, and those currently making history. This first manifested itself in the form of a concert consisting entirely of music by female composers – five pieces written for Dulciana by composers based in Dublin, alongside music by Rebecca Clarke and Imogen Holst. The following year, on International Women's Day, they launched a call for scores for music by emerging female composers, and some months later Dulciana received over 80 scores from around the world. Highlighting the many talented musicians within the group, their most recent concert featured a programme consisting entirely of work composed or arranged by members of the ensemble.
They are also firm supporters of contemporary Irish composers, and alongside many others, Dulciana have premiered works by Éna Brennan, Alex Ryan, Eoin Mulvaney and Jonathan Nangle. Further recent performances and accolades include collaborations with multi-instrumentalist and composer Dowry, performing with the RTÉ Concert orchestra for the opening of the 2022 Pipeworks Festival, guest slots at Kaleidescope nights and First Prize in the Female Equal Voice Category at the Derry International Choral Festival 2022.
Piece: In the Bleak Midwinter (2014) composed by Jonathan Nangle (b. 1981), text by Christina Rossetti. Recorded on November 28th 2022 in the St. Patrick's Cathedral Grammar School Hall by kind permission of Principal Tim Gill.
Director: Judith Lyons
---
Rathdown School Vocal Ensemble, Glenageary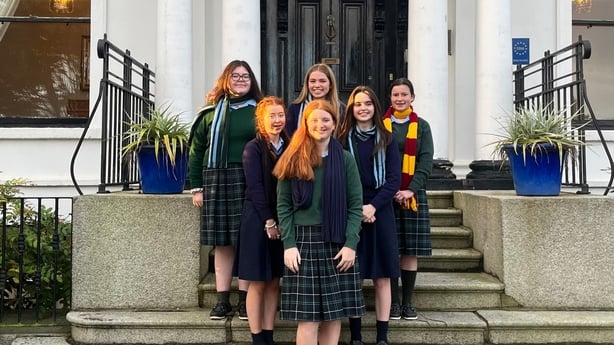 The newly formed, Rathdown Vocal Ensemble consists of six exceptional singing students, Melissa Byrne, Alice Lovern, Arabella Dolan, Beth Felton, Eimear Cunningham and Hannah Johnson. The ensemble is directed by Victoria Warwick. Whilst the singers participate in a number of other choirs and musical societies, they lend their voices on a Monday morning, before school even starts, to this brand new project. Choirs for Christmas is the ensembles debut!
The piece performed is Carol of the bells arranged by Kirby Shaw.
---
Well Sing Choir (Royal Irish Academy of Music, Dublin)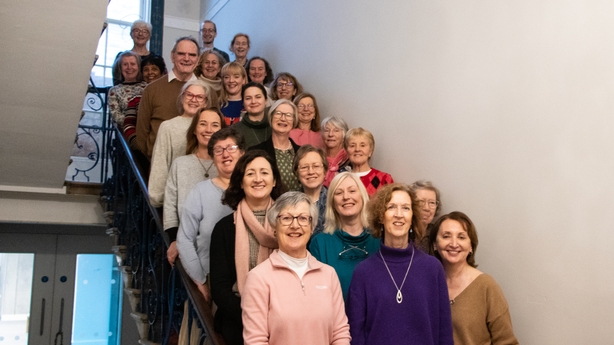 'Well Sing Choir' is a new addition to the Royal Irish Academy of Music's (RIAM) Adult Division having had their first rehearsal in September 2022. Well Sing Choir is for anyone who just simply likes to sing. Drawing on a 'bloom where you are planted' / 'keep going keep growing' approach to learning alongside honouring the musical and singing potential of every participant, no previous choir experience or music literacy is required. Well Sing Choir rehearses at the RIAM, 36-38 Westland Row, Dublin 2 on Wednesday's 12noon - 1.30pm. More info here
Title: Child Within
Composer: Elaine Agnew
Details: Christmas carol for choir (single line) and piano 2015 RTÉ lyric fm Commission
Accompanist: Pawel Waleski (current Professional Mentorship student at the Royal Irish Academy of Music)
Choir Director: Mary Amond O'Brien
---
Dublin Youth Junior Choir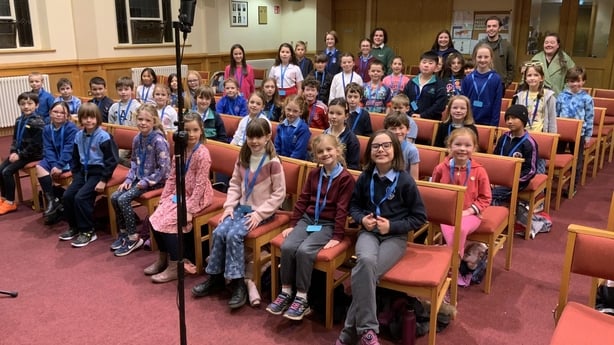 In September 2018, second-class pupils were chosen to take part in Dublin Youth Choir's exciting new initiative - Dublin Youth Junior Choir. Every year since, another cohort has joined the Junior Choir, and there are now four Junior Choirs, all of whom have come together to record this entry for Lyric fm's Choirs for Christmas. The choirs are directed by Lynsey Callaghan and David Callaghan. Alongside their choral singing, the young singers take part in a musicianship programme. After four years in Dublin Youth Junior Choir, the singers move into Training Choir, then Youth Choir, DYC Singers and hopefully even Chamber Choir! The Junior Choir members love their rehearsals and they are particularly grateful to their committed DYC music assistants Imogen and Callum, both of whom sing in Dublin Youth Chamber Choir, their musicianship tutor Brian, and to Maureen and Ellen who welcome them into rehearsals every week.
Gently Falling was written for Dublin Youth Junior Choir by Grace O'Duffy in 2021 when she was a member of Dublin Youth Chamber Choir and DYC's Composer Club. She is now studying composition at the Blair School of Music, Vanderbilt University, Tennessee.
Piece: Gently Falling (2021)
Composer: Grace O'Duffy (b. 2004)
Conductor: Lynsey Callaghan
Pianist: David Callaghan
---
Dublin Youth Training Choirs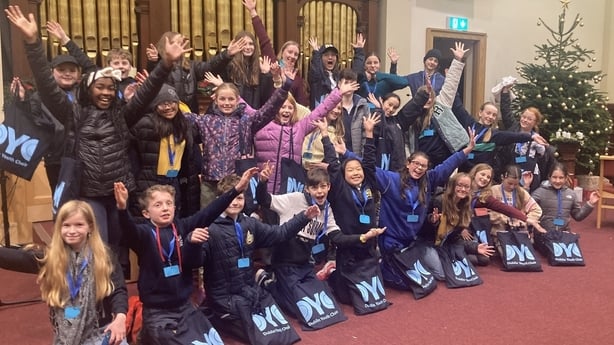 In September 2022, the first group of singers completed the Dublin Youth Junior Choir programme and moved into Training Choir. These amazing singers were joined by a group of incredible new singers and together they all make up the Training Choirs for ages 10-14! There are two Training Choirs: Training Trebles and Cambiata Choir (for boys whose voices are changing), but they often join together, which they really enjoy! In this recording, the choir is singing in three parts: soprano, alto and cambiata! As well as their choral singing, the young singers undertake an ambitious musicianship programme, which aims to develop an array of musical skills.
Training Trebles are directed by Lynsey Callaghan and the Cambiata Choir is led by Brian Murphy. They are accompanied by David Callaghan, assisted by the wonderful music assistants, Callum and Imogen, who are members of Dublin Youth Chamber Choir, and welcomed into rehearsals by Maureen and Ellen.
Piece: Under Winter Moon (2013)
Composer: Andy Beck
Conductor: Lynsey Callaghan
Pianist: David Callaghan
---
Dublin Youth Choir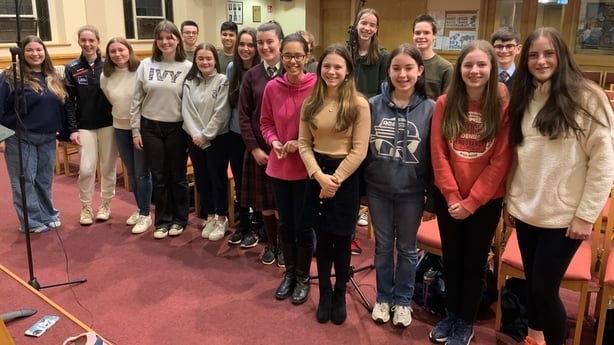 Dublin Youth Choir began rehearsing in January 2017. The SATB choir rehearses every Tuesday in Dublin's city centre and connects singers ages 14-18 from across Dublin (and beyond!) through high-quality choral music education. The choir is made up both of singers who moved from Training Choir into Youth Choir and of young people who have only started in DYC in September. The singers develop skills relating to aural awareness and musical literacy, placing emphasis on musicality and direct engagement with music, and they receive singing lessons too. The choir is conducted by Lynsey Callaghan, supported wonderfully by four Youth Choir Choral Mentors, Hannah, Imogen, David and Niall, who are members of Dublin Youth Chamber Choir, and welcomed into rehearsals by Caitlán (pronounced kate-lyn) and Maureen.
Piece: O Magnum Mysterium (2015)
Composer: Evan Ramos (b. 1983)
Conductor: Lynsey Callaghan
---
DYC Singers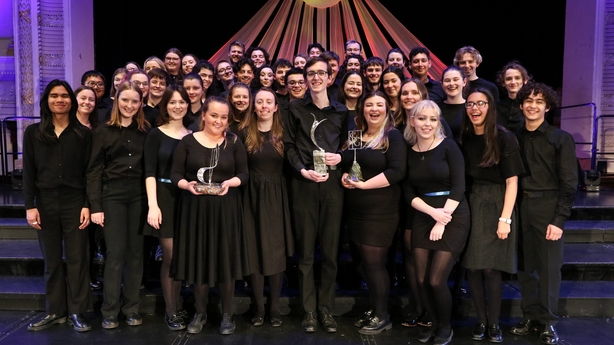 DYC Singers is Dublin Youth Choir's SATB choir for 18-28 year olds, offering singers an opportunity to continue in DYC after Youth Choir and welcoming completely new singers too! The 60-member choir rehearses in the city centre on Thursday evenings and performs a wide range of repertoire, from medieval and renaissance music to compositions by living composers. The choir has exciting plans for 2023, including a retreat, hosting an international choir, and a trip to the Cork International Choral Festival. DYC Singers is co-conducted by Lynsey Callaghan and Brian Murphy.
Sleep, Little Child was written for Chamber Choir Ireland's Choral Christmas Card Programme by Grace O'Duffy in 2021 when she was a member of Dublin Youth Chamber Choir and DYC's Composer Club. She is now studying composition at the Blair School of Music, Vanderbilt University, Tennessee.
Piece: Sleep, Little Child (2021)
Composer: Grace O'Duffy (b. 2004)
Conductor: Lynsey Callaghan
---
DCU Chamber Choir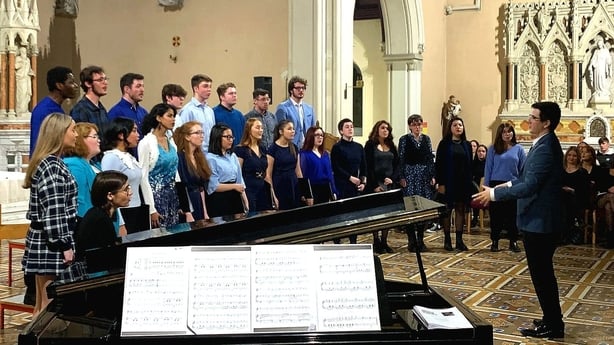 The Dublin City University Chamber Choir was founded in September 2022 by doctoral scholar Kevin Boushel. The choir is composed of students of all faculties and campuses of DCU, performing a wide variety of music with a particular emphasis on the music of living and Irish composers. The choir recently had their debut performance in the beautiful chapel of DCU All Hallow's.
Piece: Let It Snow
Arranger: Kirby Shaw
Composer: Jule Styne
Lyricist: Sammy Cahn
Choir Director: Kevin Boushe
---
Cantoiri Einde, Colaiste Einde, Threadneedle Road Galway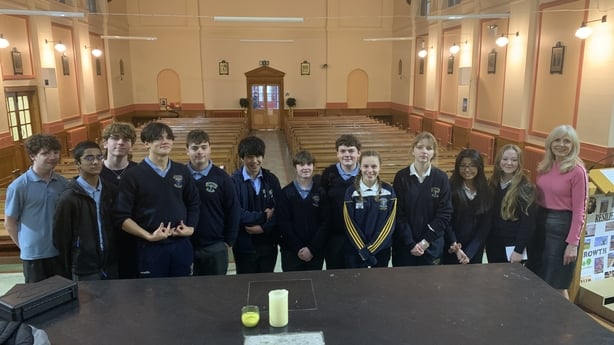 Cantóirí Einde is a newly formed SATB choir in Coláiste Éinde, Galway. Like most schools, Coláiste Éinde has had to start over with choral singing after Covid 19. Luckily there has been a huge appetite among students to get back to singing together. This group of students includes students from 2nd-5th year (14-18 years) who rehearse weekly at Tuesday lunchtimes under the direction of music teacher Carmel Dooley.
The piece performed is the traditional 16th carol 'Gaudete'
---
Fidelity Sings!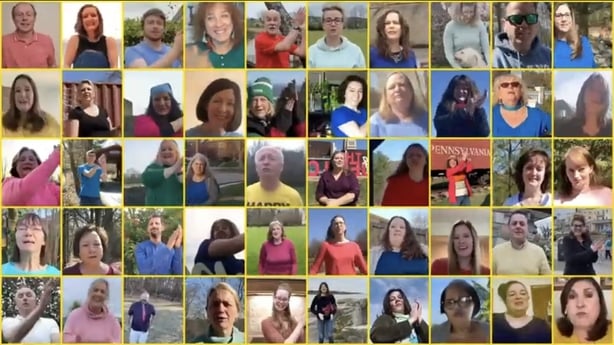 When a few colleagues got together in the Galway office of Fidelity Investments to sing, they never imagined it would turn into a company-wide, global initiative.
In common with many firms, Fidelity Investments carefully monitors workplace trends and popular initiatives, some of which might surprise you.
Most interestingly, the introduction of a workplace choir has been increasing in popularity of late as more companies choose this collaborative art to help invigorate, motivate and encourage greater staff participation.
When we started our first choir in our Galway office more than four years ago, we never imagined it would be so successful that our choir would expand during the pandemic rather than stop. Fidelity Sings! joined the virtual realm, and includes members from 11 locations across the globe with location in Europe, North America and Asia.
Our choir members range in singing ability from the novice to the enthusiast, and the underlying ethos of the choir has always been to have fun while singing. The choir brings together people from all levels within the company, from various backgrounds and locations, and flattens the playing field.
The Fidelity Sings global choir have, for the past two years running, won the IBEC Workplace Choir of the Year Award at the Cork International Choral Festival, with the song "Happy" by Pharrell Williams IN 2021 and "Your Disco Needs You" by Kylie Minogue in 2022.
In the post Covid era the group in Galway are delighted to announce that they have returned to in person singing at their base in Galway City but the real achievement has been the creation of several more choirs in different countries made up of members of our virtual choir.
Fidelity Sings! are performing the Enya piece 'White is in the Winter Night' taken from her 2008 album 'And winter came…'. This is a wonderfully warm arrangement from American choral arranger Audrey Snyder. Being a workplace choir the emphasis is on secular festive pieces and this work from Enya makes a fine fitting into such repertoire. Fidelity Sings! Enjoyed the challenge of getting this piece together especially after the pandemic where work practices were severely disrupted.
Song: White is in the Winter Night
Composer: Enya
Arranger: Audrey Snyder
Conductor: Peter Mannion
---
Aoide Voices, Castletroy, Limerick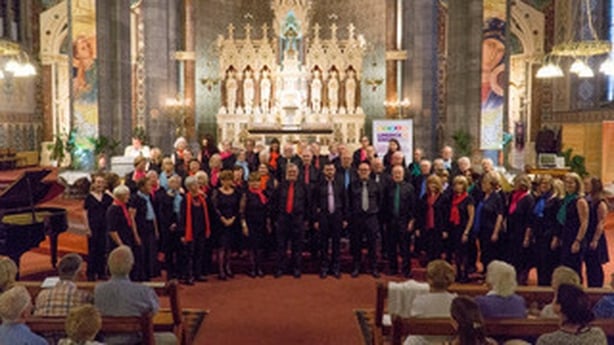 Aoide (Pronounced as Ay-oh-dee, meaning 'to sing') was formed in September 2014, as part of the Mid-West Vocal Academy and Music School & is a mixed voice community choir based in the Castletroy area of Limerick. In Greek mythology, Aoide was the muse of song and we love to sing!
The choir has already performed many fundraising concerts, most recently raising money for Limerick Animal Welfare, Limerick Lions Club, CMRF Crumlin, Children's Grief Centre & Limerick Suicide Watch.
The choir covers popular, upbeat music & is non-auditioning. Everyone from the beginner to the experienced is welcome to join, in a relaxed and fun learning environment, led by Musical Director Owen Gilhooly-Miles & Assistant Musical Director Triona Walsh.
Aoide was delighted to win the 'First Time Competitors' Competition at the 2017 Mayo International Choral Competition and second place in the 2018 Choirs from Ireland Competition.
The choir rehearses on Monday nights from 19:30-21:30 at Kilmurry Arts and Heritage Centre. More info here
Traditional: The Virgin Mary had a Baby Boy arranged by John Leavitt
Irina Dernova (Piano) Triona Walsh, Helen Basini, Finbarr O' Shea (Claves/Shakers)
Owen Gilhooly-Mlles, Director.
---
Schola Gregoriana Maynooth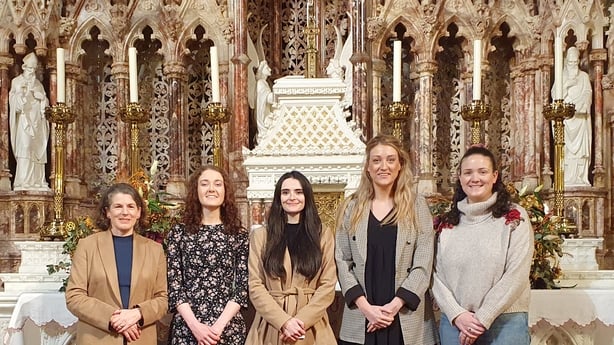 Schola Gregoriana Maynooth specialises in the performance of chant in both concert and liturgical settings. Maynooth has a long tradition of chant performance, reaching back to the very foundation of St Patrick's College in 1795. The Schola is a joint St Patrick's College and Maynooth University ensemble, founded in 2000 by Dr John O'Keeffe and Prof. Emeritus Gerard Gillen. The Schola is an all-female group, comprising solo singers whose individual specialities include art music, traditional Irish music, and music theatre. The group takes its repertoire from the vast array of chants for mass and divine office, and also performs material from rare indigenous medieval Irish sources.
The Schola contributes to the annual cycle of events in both colleges, including the carol services, the Music Department's lunchtime concerts series, and St Patrick's College conferring ceremonies. The ensemble represents the colleges at various international conferences and festivals, and performs regularly in Ireland. Dr Darina McCarthy has conducted the Schola since 2012.
Choir Director: Dr Darina McCarthy
The piece submitted is 'O frondens virga', a composition by Hildegarde von Bingen (1098â€"1179), a German Benedictine abbess active as a writer, composer, philosopher and mystic.
---
Galway Sings Project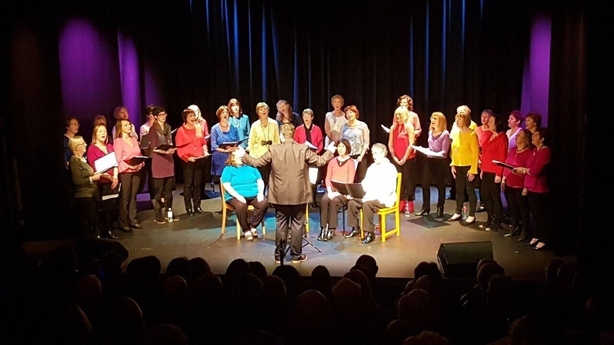 Formed almost 10 years ago now The Galway Sings Project is a class based introduction to choir and group singing. It is designed with the beginner in mind and the classes are devised to deliver a fun approach to group singing. Currently the group consists of female voices. The class introduces singers to singing in harmony. The concept of this choir is fun singing and friendship.
All the music is in the popular music realm and include music from the 60s right up to modern popular music. The choir regularly have workshops with specially invited guest tutors where we cover topics like breathing, the Alexander Technique, choreography, how to sing a jazz song, etc.
The choir have perfomed at many concerts around Galway City and County over the past number of years bringing a fun element to each concert. The singers of the choir organise their own trip to Clifden every February for a much anticipated weekend away.
Galway Sings Project are performing the traditional Ghanaian piece entitled 'Nanuma'. This is a welcome song sung for the arrival of new babies into their communities as well as being a festive piece to celebrate the birth of the baby Jesus at Christmastime. In Ghanaian culture this lively song links the arrival of all babies to the birth of Jesus.
Song: Nanuma
Composer: Trad Ghanaian
Arranger: Audrey Snyder
Conductor: Peter Mannion
---
Maryfield College Choir, Drumcondra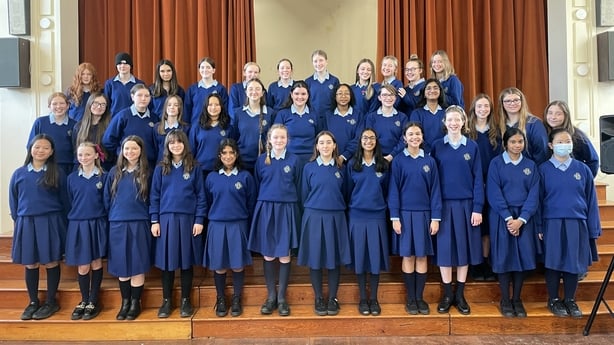 Maryfield College Choir is an SSA choir consisting of students from 1st to 6th year conducted by Music Teacher Ms. Cooney. We are an inclusive choir and welcome anyone who wishes to perform for the school and we rehearse every Thursday at lunchtime!
Details of the piece performed
December's Keep arranged by Greg Gilpin, Music by Frederic Chopin--Prelude in C Minor, Opus 28, No. 20. Greg Gilpin has taken one of Chopin's most beloved piano etudes, created delicate vocal parts, and penned poetic words, resulting in an awe-inspiring work for December or masterwork concerts. Pure unison lines are contrasted with crystalline chromatic chords eliciting icy imagery. An optional SoundTrax CD glimmers with wintery nuances.
Accompanied by Transition Year student Ai Lin Sun
---
Castletroy College Choir, Castletroy, Co. Limerick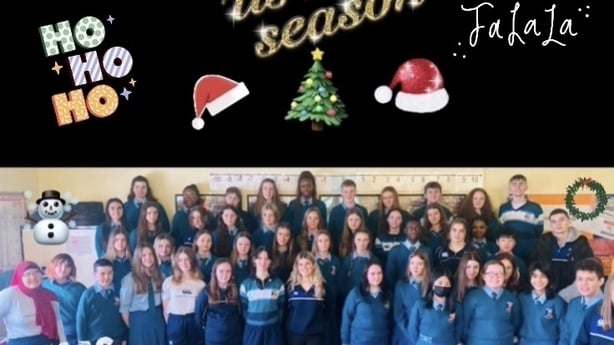 Castletroy College Choir has been going since 2001. The school choir has had big numbers, with up to 100 participants before covid, singing in concerts and competitions. This all stopped in recent years and the choir were delighted to have this fabulous opportunity to start up again, preparing for yet another recording; but this time for a Christmas competition, which will be put up on the school website and will be performed live in school also. Students involved, along with the choir, are 2nd, 3rd and 5th Year Music students. (Students have just begun rehearsals for their school show 'We Will Rock You' , which will take place in March 2023.)
Their choir director Catherine Clohessy has arranged this well known poem 'Twas the Night Before Christmas', and changed the name slightly to 'Castletroy College's Night Before Christmas'!!! The instruments include piano and chime bars, 2nd year violinists Emma Hickey and Sarah O Halloran, Martyna Wojtysiak on the cymbals and Emily Murphy on triangle. Listen out for changing tempos, dynamics, moods and of course, beautiful harmonies which we hope will set the different scenes of the poem.
---
Cluny Secondary School, Killiney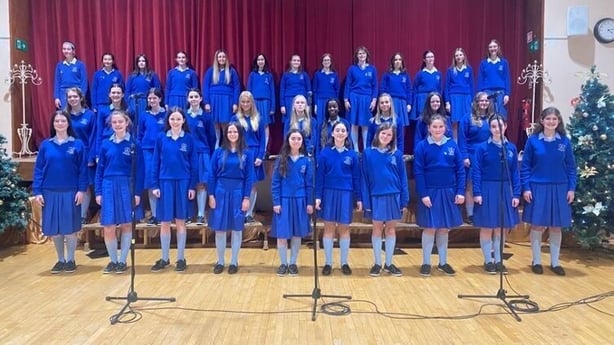 The Cluny choir is delighted to regroup for the first year properly after an almost three year hiatus and to enter the Lyric FM Choirs for Christmas competition for the first time. The choir is open to all students from any year and is currently comprised of thirty first to fifth year students. They rehearse after-school on a Tuesday and are preparing for their upcoming carol service on December 15th. The choir look are looking forward to the school's upcoming production of 'School of Rock' as well as other choral events in the New Year.
Details of Piece:
Christmas Canon of Peace based on Johann Pachelbel's Canon in D
Additional music & arrangement - Ruth Morris Gray.
Additional Instrumentalists
Accompanist (Piano) - Ronan Murray
Violin 1 - Bella Callaghan
Violin 2 - Aoife MacNeill
Flute - Laura O'Leary
Choir Director: Hannah Masterson
---
St. Brigid's Girls National School Choir, Killester
St. Brigid's Girls National School choir is directed by principal, Laura Wickham. The choir is composed of their 5th and 6th class students who are passionate about music and singing. Re-established just over 7 months ago, they have grown from strength to strength with their morning practices.
The choir looks forwards to a number of Christmas performances in the coming weeks, including the Carol Service in St. Brigid's Church and Sybil hill nursing home.
Performance piece: 'Carol of the Bells' arranged by Ruth Artman
Accompanied by: Rodney Baldwin
---
Amhránaithe an Luain, Pobalscoil Chorca Dhuibhne, An Daingean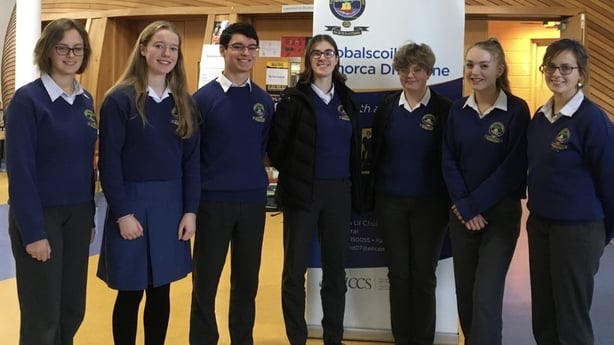 I Mean Fómhair 2022 tháinig grúpa beag amhránaithe le chéile ag am lóin ar an Luain faoi stiúir Mairéad Morales (Múinteoir Ceoil). Is grúpa beag seachtar sinn agus tagaimid le chéile chun amhráin a rá agus taitneamh a bhaint as an gceol. Tá traidisíun láidir ceoil againn sa scoil agus ghlacann scoláirí páirt i gcómórtaisí ar nós Scléip Gael Linn, Oireachtas na Samhna agus Siansa Gael Linn. Bíonn scoláirí i gcónaí ar fáil chun canadh ag oscáidí móra scoile agus Seó Mór Bliain. Is sinne Amhránaithe an Luain agus tá súil againn cur lenár grúpa beag tar éis na Nollag.
Nollaig Mhór Mhaith Oraibh (Have yourself a merry little Christmas), eagraithe Alexander L'Estrange, Aistrtheoir Deirdre Grainbhéil
Tionlacan - Deirdre Grainbhéil ar an gCruit (Múinteoir Ceoil)
Mairéad Morales (Múinteoir Ceoil)
In September 2022 a small group of singers came together at lunch time on Mondays. We are a small group of seven anad we come together to sing songs and enjoy the music we make. There is a straong musical tradition in the school and students take part in competitions such as Scléip Gael Linn, Oireachtas na Samhna and Siansa Gael Linn. Students are always ready and willing to sing at school occasions and events such as Seó Mór Bliain 4. We are Amhráithe an Luain and we hope to continue to develop our group after christmas.
Nollaig Mhór Mhaith Oraibh (Have yourself a merry little Christmas), Arr. Alexander L'Estrange, Tanslator Deirdre Grainbhéil
Accompanist- Deirdre Grainbhéil on the harp (Music Teacher)
Mairéad Morales (Music teacher)
---
UCC Choral Society, University College Cork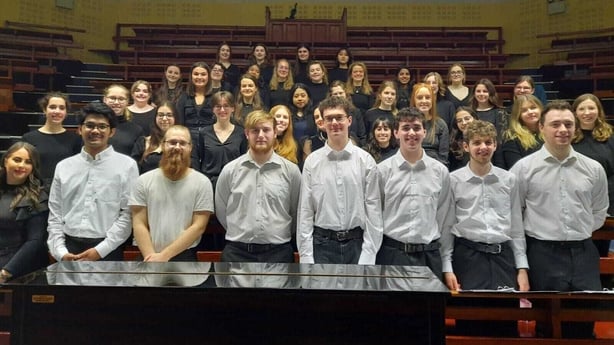 This is UCC Choral Society performing Wish You The Merriest by at our annual Carols by Candlelight Concert which is fundraising for Early Onset Parkinson's Disease Ireland (EOPD.ie). We have 50 members which meet every Tuesday from 7-9pm. The choir is conducted by Helen Colbert. We are a choir that is open to every student who wants to join in on the fun. There are many international students in the choir who normally only stay for one year. This adds to our choir hugely each year as it brings a different spin to it. We are one of the most successful societies in UCC and put on shows for students and the general public throughout both semesters. Two of our major events would be Carols by Candlelight which is on over three nights and sells out every year. We then have our Sounds of Spring concert which is a one night show that also sells out.
Song Details: We Wish You The Merriest
Words and music by Les Brown
Arranged by Mac Huff
Accompanied by Eoin O'Callaghan on the keyboard/piano
Choir Director: Helen Colbert
---
Mulroy College Choir, Milford, Co. Donegal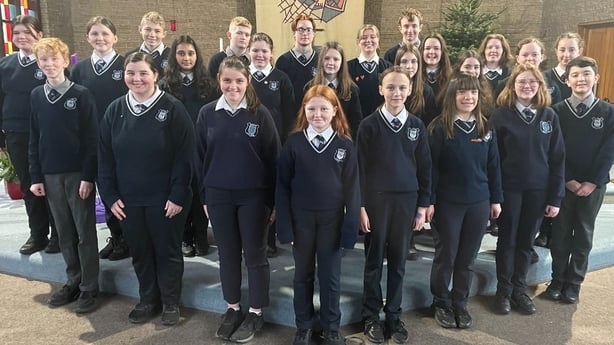 The talented Mulroy College Choir, Milford, Co. Donegal consists of 70 students from first year to sixth year who are divided into a junior and senior choir. The choir consists of both music students and non music students. The choir rehearses three times a week to prepare for events both in our school and in our local community. The choir performs at events such as Christmas concerts in the local nursing home, fundraisers in the local shopping centres, concerts in An Grianan Theatre and also at events such as prize giving and school concerts. The Mulroy College Choir are very excited to enter RTÉ lyric fm's 'Choirs for Christmas' competition. Our school and local communities faced much tragedy this year in connection to the Creeslough explosion. We hope that this song brings comfort, hope, love and peace to all those in our school and communities at Christmas time. The choir selected this beautiful song inspired by 'Silent Night', as it reminds us of our dear friends and loved ones who we have lost while we also feel joy upon reflection of our cherished memories.
Song Title: 'Light a Candle on This Silent Night' Composer: Glenda E. Franklin.
'As the flame burns through the darkness with its glowing light, may the light be a beacon of hope for peace on earth." With this poignant message, this gentle original song with a simple, harmonic texture dissolves into strains of Silent Night that reverberate with a wish for peace for all during the holiday season'.
---
Stellar! Rathmines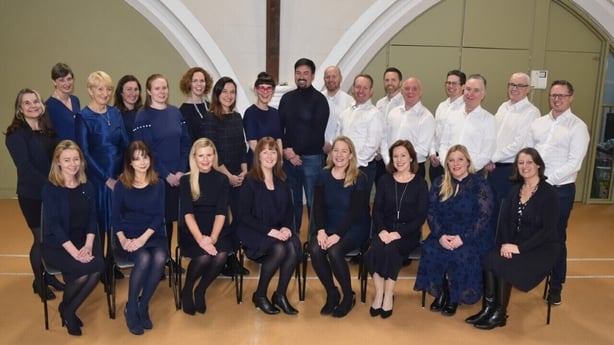 Stellar! is a mixed voice SATB choir based in Rathmines, Dublin 6. The choir was formed four years ago (January 2018) by Aoife O'Gorman bringing together parents from Kildare Place School, Rathmines, Dublin 6. Since then, we have expanded to include members from the wider local community and we are currently 40 singers in total. Our musical director is Thomas Kehoe. We have a varied musical focus including contemporary songs and jazz standards as well as classical pieces. We regularly perform at concerts and events, most recently at The Amphitheatre for Culture Night (20 September 2019). We were awarded second place in the Chamber Choir category at the AIMS Choral Festival in New Ross in May 2019. Preparing our recording of Christmas is Coming for Christmas has been brilliant to re unite and perform together we had so much fun recording this piece. The music piece is very fun and cheerful and we hope you enjoy it as much as we did!
The piece we are performing is Christmas is Coming composed by Joel Raney
Our Choir Director is Thomas Kehoe.
---
St. Pius X G. N. S. Choir, Terenure Dublin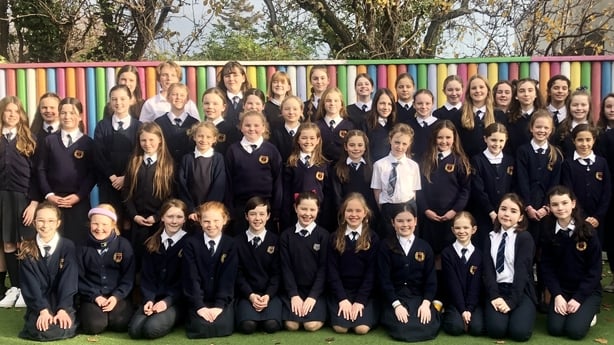 St Pius X G.N.S. choir in made of talented girls from 4th, 5th, and 6th classes aged 10 years to 13 years old. The choir rehearses every Tuesday for an hour after school and enjoy taking part in big events such as the Navan Choral Festival, St. Pius school musicals, Cór Fhéile, etc. The enthusiastic young choir are also called upon to perform for school ceremonies such as Confirmation, First Holy Communion, and the opening of the school year and graduation masses. This year the choir are delighted to have had the opportunity to professionally record some Christmas carols. Their final performance of 2022 will be a festive one. It will take place at the school's annual Christmas Carol Service in St. Pius X Church on the 15th of December.
Performance piece: Angel's Carol by John Rutter
Accompanist: Harry Meehan
Choir director: Niamh Sheehan
---
The Supertones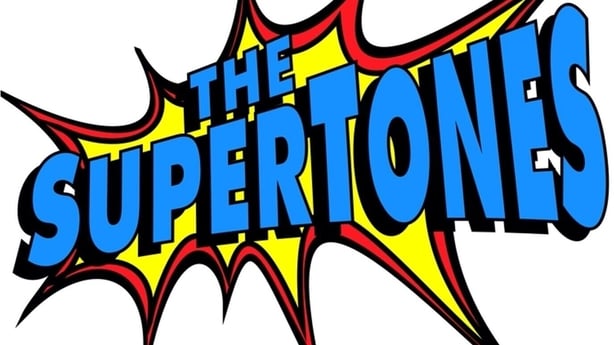 We are The Supertones' Children's Choir, a fun and inclusive children's choir based in Dún Laoghaire, Dublin! We sing lots of different songs together, such as folk songs, canons, popular songs and old favourites. We put our own twist on the music by making up our own lyrics, movements and even including some instruments. We love singing and hope you enjoy our songs!
Piece Performed: Rise Up Shepherds and Follow" (African American traditional)
Choir Director: Julie Shanley
---
Oatlands College Choir, Mount Merrion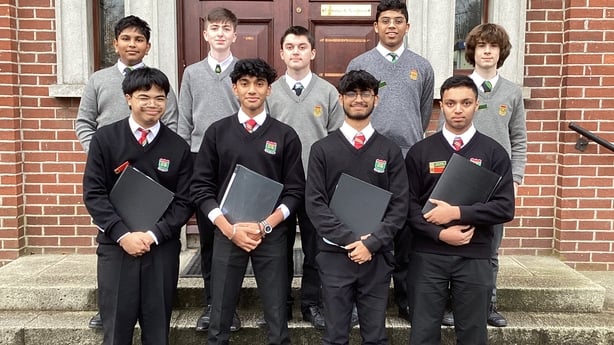 The Oatlands College Choir consists mainly of senior students of the secondary school, which is based in Mount Merrion, Co. Dublin. The choir have recently resumed rehearsals, and a recent highlight was performing for a live studio mass for RTÉ One earlier this year. They regularly perform for school events, and are looking forward to returning to the school choir competition circuit this academic year.
For the RTÉ Choirs for Christmas Competition, they are going to perform the 'Carol of the Bells', by Mykola Leontovych, arranged for lower voices by Peter J. Wilhousky.
Musical Director: Adam McDonagh
---
Frascati Singers, Blackrock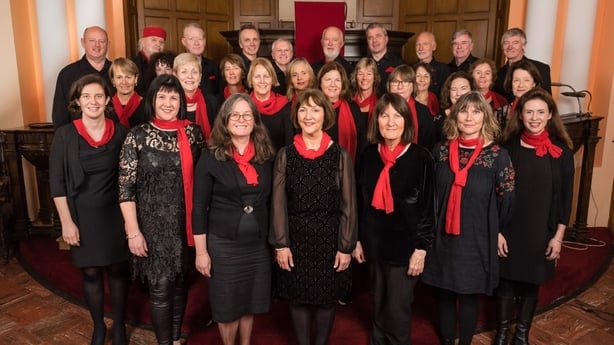 Frascati Singers were founded in 2001 and are a mixed voice community choir with a membership of about 35 based in Blackrock. We sing a wide range of modern, sacred and Irish choral music. While our main event each year is our annual Christmas concert we also participate in choral competitions and support local Community events."
Piece Performed: "Away in a Manger" Normandy tune
Director: Julie Shanley
---
Playlist, Ballsbridge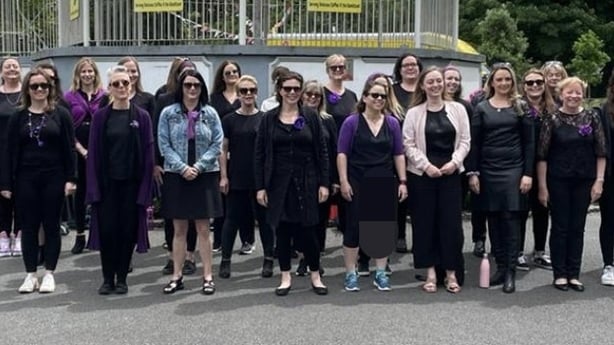 Playlist was established in September 2018 by five friends who wanted to create a singing environment open to anyone, regardless of their experience levels, to sing great songs for fun. Playlist sing an eclectic mix of classic songs, new and old alike!"
Piece Performed: "Winter Wonderland" by Felix Bernard and Richard Bernard, arranged by Julie Shanley
Piano Accompaniment and director: Julie Shanley
---
Fingal Children's Choir / IIMS Children's Chorus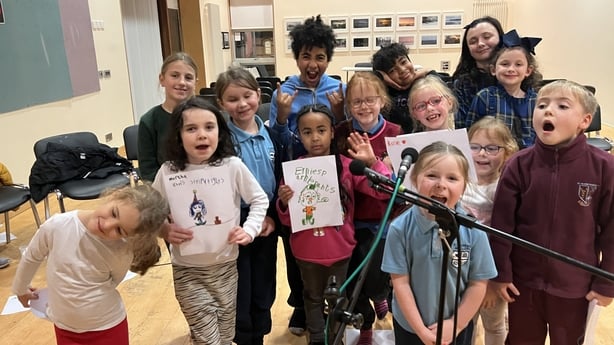 Fingal Children's Choir and the newly formed IIMS Children's Chorus are part of the Irish Institute of Music & Song's Choral program. Both choirs are for kids aged 7 to 12 and they focus on having fun and making friends, while also learning about music and healthy singing. The choirs rehearse separately, and join together for big occasions and for a yearly choir-fun-day.
Both choirs are conducted by the award-winning director, Rebecca Gilbert.
Piece being performed: All on a Silent Night
By Becki Slagle Mayo, incorporating Stille Nacht by Franz Gruber & Joseph Mohr
Accompanied by Sara Jaysmith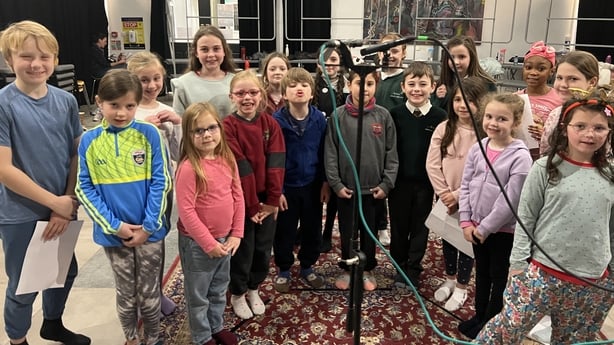 ---
St. Mary's High School Choir, Downpatrick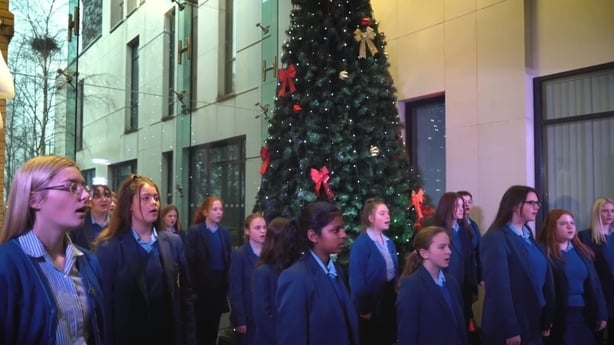 St. Mary's is an all girls secondary school in Downpatrick. It is a school steeped in a unique history and tradition with the Sisters of Mercy who established the school in 1957. The choir meet every week to rehearse and have enjoyed the opportunity of getting back together, practicing and performing this Christmas.
The piece is See amid the winter snow arranged by Dan Forrest.
The accompanist is Danny O Neill recorded by Matthew Campbell
Directed by Head of Music Cathal Murphy.
---
Rathdown Junior Choir, Dublin
The Rathdown Junior Choir is made up of fourth to sixth class students attending Rathdown Junior School. The choir returned to once a week rehearsals in September after a long Covid-influenced hiatus. They were delighted to recently perform at the SUCH Show which raises much needed funds for the incredible Gavin Glynn Foundation. They are looking forward to singing at the school's upcoming Carol Service and school Christmas Musical 'No one wraps like an elf'.
Song: Christmas Star - John Williams arr. Tom Fettke and Thomas Grassi
Accompanist: Claire Wallace
Choir Director: Naoise Whearity
---
Cantairí Óga Átha Cliath
Cantairí Óga Átha Cliath is an international award-winning female voice choir based in Rathmines, Dublin. The choir sings a varied repertory spanning Renaissance polyphony to Contemporary music and arrangements, and takes particular joy in the performance of Irish-composed music. Cantairí Óga Átha Cliath was founded in 1960 by Proinsias O'Ceallaigh. The choir enjoyed huge success over the years under the baton of the late Brian O'Dubhghaill and later Bernie Sherlock, winning awards in many competitions in Ireland and abroad. Brian Dungan has conducted the choir since 2018 and under his guidance, the choir is continuing its long and successful tradition of choral music.
Piece Performed: Blessed Be That Maid Marie. Written in 2012 by Irish composer Seán Doherty
Choir Director: Brian Dungan
---
Third Year Wellbeing Choir, St Joseph's Mercy Secondary School, Navan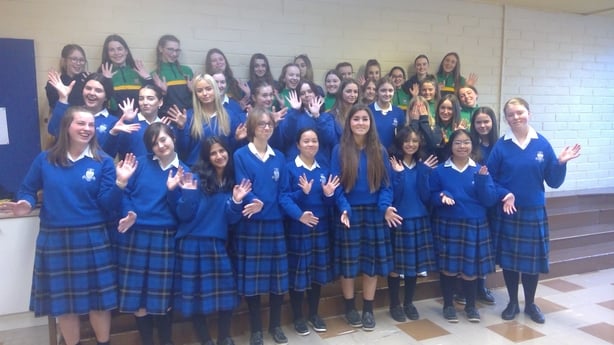 The Third Year Wellbeing Choir is made up of two third year classes 3E and 3D who meet occasionally for choral singing as part of SPHE class – this is a wellbeing initiative in our school. The choir set themselves a challenge, due to time constraints to see if they could learn, rehearse and record a Christmas song in one class! Their choir teachers challenged them further with a quodlibet! And they succeeded, having fun in the process and enhancing their wellbeing, of course! If time allowed, these classes would love to sing more regularly. Perhaps they will if they are chosen for Lyric FM's Choirs for Christmas.
Piece performed: 'Silent Night / Night of Silence'
Composers: Franz Gruber / Daniel Kantor (with words arranged by Aideen O'Sullivan)
Accompanist: Mr Ephrem Feeley, piano
Director: Ms Aideen O'Sullivan
---
Classic Harmony, Ashford, Co. Wicklow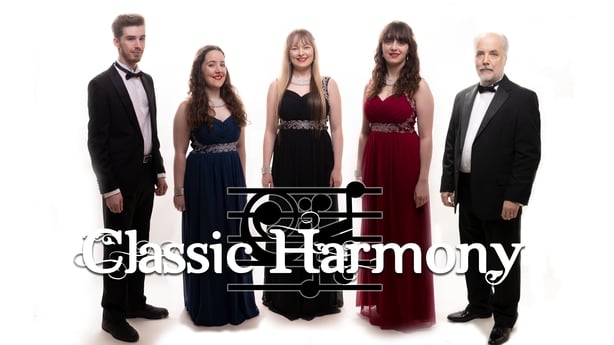 Classic Harmony comes from Ashford in Co. Wicklow. This 5-part vocal harmony ensemble are all members of one family. All the members are graduates of Music from TCD, NUIM (2 members), UL, and DCU. Four out of five members of the group are vision-impaired, including father - Frank who is a musical director of four choirs in Wicklow and a choir for blind and vision-impaired people in Dublin.
Classic Harmony are an award-winning ensemble who have performed in many capacities over the years. The group has a very wide repertoire which includes genres from classical to jazz and celtic to popular. Classic Harmony performs at a wide range events from concerts to weddings and corporate and private events. The group not only includes 5 singers but the members also play a number of instruments collectively such as piano, Irish harp, tin whistle and bodhrán which allows for richer arrangements.
They have performed in concerts at many prestigious venues around Ireland and Northern Ireland, where they have wowed audiences with their unique style including the Whale Theatre (Greystones), The Mermaid Theatre (Bray), the Gaiety Theatre (Dublin), The National Concert Hall, St. Patrick's Catheral (Dublin and Armagh) and Dublin City Hall. They have also performed internationally in large venues such as the Slowacki Theatre (Krakow, Poland) and the Long Beach Performing Arts Centre (Los Angeles, USA).
The group have won prizes in many competitions such as the Feis Ceoil, Derry and Mayo International Choral Festivals, Arklow Music Festival, WCOPA (The World Championships of Performing Arts) and the Lions Club, "Sounds from the Heart" Original Works competition for the blind and vision impaired (of which we are the current winners).
The pandemic didn't stop Classic Harmony from bringing music to their loyal supporters. Throughout the lockdown, the group provided regular video performances via their YouTube and Facebook pages, to keep people's spirits up. This project included several song videos a week, Easter and Christmas celebration concerts and a collaborative project called Para Beats from the Tokyo Paralympics with Dónal Lunny and Hiro Hayashida and his Taiko group Zi-Pang.
Over the years, Classic Harmony have appeared on television on RTE, TV3 and TG4, and on national and local radio.
DETAILS OF SONG: There is Faint Music by Dan Forrest
ADDITIONAL INSTRUMENTALISTS: Frank Kelly - one of the members - Piano
---
Skerries Sea Sharps Ladies Choir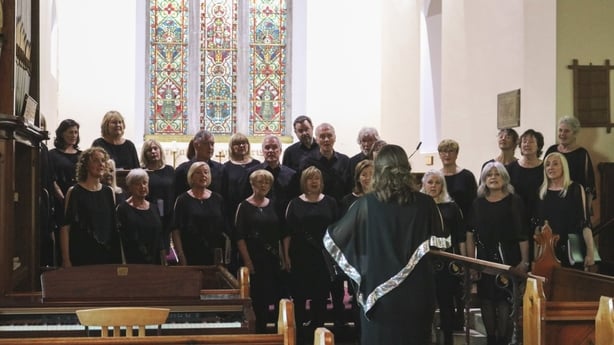 The Skerries Sea Sharps choir was founded in October 2010 by five local women in Skerries, a bustling fishing town located in North County Dublin. In its initial years, the SATB choir had some excellent musical directors who led them to performances at a number of prestigious events. For example, in 2013 the choir had the great honour of singing for President Michael D. Higgins at the opening of a special memorial in Skerries for those lost at sea.The choir practices once a week and perform throughout the year at concerts, workshops and other events. In recent years the choir has competed successfully at national choral festivals. Most recently the choir was awarded the runner up position in the popular music category of the Castlebar Choral festival in 2018 and in March of 2019 went one better and was awarded first place in the community choir competition during the Limerick Choral Festival. The choir attaches great importance and contributes to the cultural and community life of Skerries and is always eager to participate in local events. It makes regular donations to local and national charities and fundraisers from its event receipts, an important dimension of its community ethos.
Song: Whispering Breezes - BÁRDOS Lajos
Choir Director: Naoise Whearity
---
---
Gonzaga College Dublin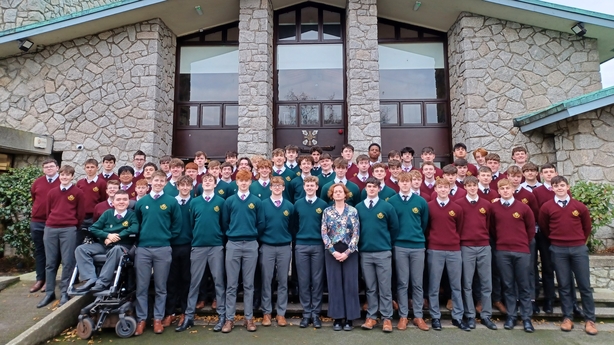 The Gonzaga College Choir is a 70-plus strong TTBB choir, ranging from 3rd years to 6th years. Because of the diversity of student years, we rehearse ad-hoc, as the need arises, for school masses, concerts and other events.
The choir is the foundation group for other vocal groups in the college – Gonzaga Chamber Choir, the 6th year Schola Cantorum, and the barber shop group. We also have a staff choir, who perform 4-part arrangements of mainly pop songs.
We were delighted that the chamber choir won the Frank Hughes cup for 3 and 4 part boys' choirs in the Wesley Schools Music Festival for the first time this year
Gonzaga College Choir – God Rest You Merry Gentlemen (arr. Hoybye)
The choir is conducted by Rosemary O'Brien
---
Nagle Rice Secondary School Choir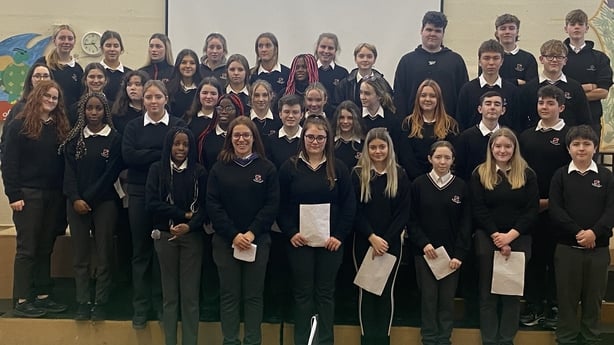 Nagle Rice is a small school of approximately 200 pupils, and we are fortunate enough to have almost 50 dedicated singers who generously give up their Wednesday afternoons to rehearse every week. The choir ranges from 1st to 6th year students and while the choir is an integral part of the school community it is lovely to see that these wonderful students have created their own dynamic, creative and enthusiastic community.
Piece performed: "Night of Silence / Silent Night" by Daniel Kantor, Frans Gruber arr. John Ferguson
Piano accompaniment and director: Ann Linehan
---
Holy Child Killiney Secondary School, Dublin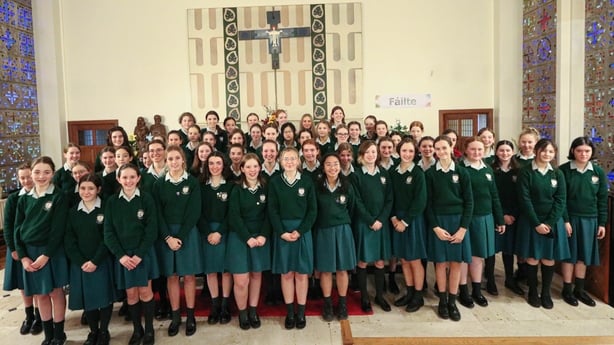 The Holy Child Killiney Secondary School Choir is a choir of over 70 singers with students from 1st- 6th year. Our enthusiastic singers meet on a weekly basis to sing together. This year, along with the Lyric FM Choirs for Christmas, we are really looking forward to taking part in the Fingal Festival of Voices, the Wesley Interschools Music Festival, Navan Choral Festival, and Feis Ceoil. The choir is conducted by Brian Murphy.
Piece: There is Faint Music
Composer: Dan Forrest
Conductor: Brian Murphy
Accompanist: David Callaghan
---
Gaudeamus Choir Newry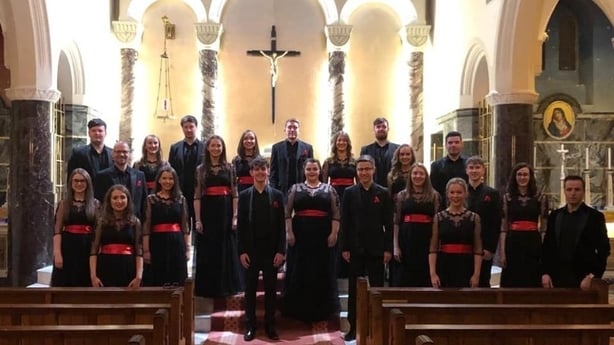 Gaudeamus Choir was established in October 2013 with the aim of encouraging, promoting and enhancing the performance of choral music within the greater Newry Area. The choirs repertoire spans from early to contemporary music with an exerted focus on performing works by international composers still presently living. Our Annual Carol service 'Venite@ takes place in St. Peter's Warrenpoint at 8PM on Friday 23rd Decemeber.
The piece is My Lord Has Come by Will Todd
Directed by Music Cathal Murphy
---
St. Kilian's SNS Choir, Kingswood, Tallaght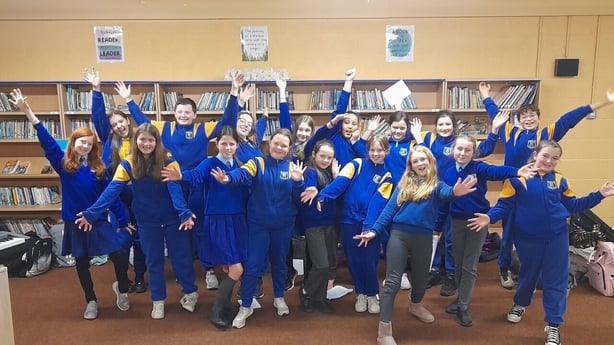 We are a senior national school in Kingswood in Tallaght. The choir is newly formed and they rehearse after school on Mondays after school with Mr. Dignam and Ms. O'Sullivan. The choir has really enjoyed learning songs from different genres and they look forward to plenty more great singing throughout the rest of the year!
Piece: Christmas Day by Elaine Agnew
Conductor and accompanist: Dónal Dignam
---
Mount Sackville Secondary School Junior Choir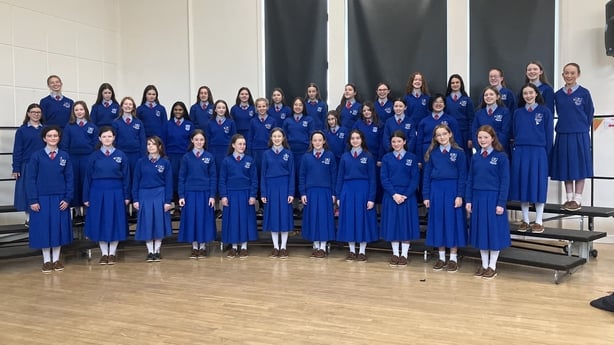 The Mount Sackville Secondary School Junior Choir was formed in September 2013, and is open to the 1st, 2nd and 3rd year students of Mount Sackville Secondary School in Chapelizod, Dublin. The choir consists of about 40 girls, who rehearse on Wednesday afternoons with musical director Áine Mulvey and regular accompanist Aengus Ryan.The choir is really enjoying being back to normal Christmas activities, and is looking forward to a busy Christmas period full of musical events, including a lunchtime performance in Christ Church Cathedral and the school's annual carol service.
---
Rosses Community School, Dungloe Co. Donegal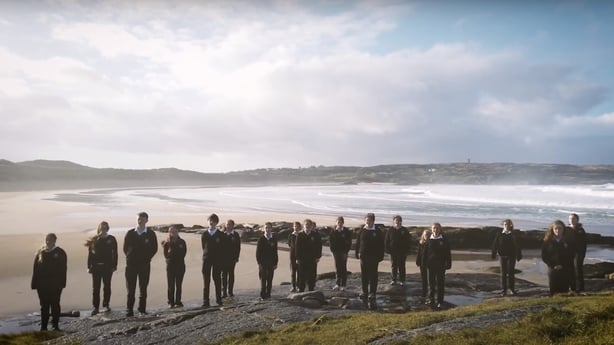 We are a small school in the North West of Donegal in the town of Dungloe, a part of a larger area known as 'The Rosses'. Our school mission statement reads: Pobalscoil na Rosann is committed to an education which reflects our Gaelic and Christian traditions, where each individual is encouraged to realise his/her full potential, in an environment of trust and mutual respect.
Our school motto is "Carpe Diem' and this is a motto we strive to achieve in daily school life throughout the academic year. The Rosses area is rich with music, culture and heritage. We have a strong tradition of marching bands, traditional singing, music and dance. We culminate all of these skills and talents within our school choir, rock bands, traditional Irish group and Irish dancing group. The school choir is led by the music teacher, Ms Sara Laughlin. Sara is passionate about music education and particularly through the medium of choral singing. She has been conductor of The Donegal Youth Choir for fifteen years now. The school choir rehearses at lunchtimes and performs at school masses, local events, our bi-annual school musicals, school concerts and events also. The choir is made up of students from all years within our school.
We hope you enjoy our performance of one of our favourite contemporary Christmas songs, Christmas Lights by Coldplay.
---
Cantemus Choir, Coleraine, NI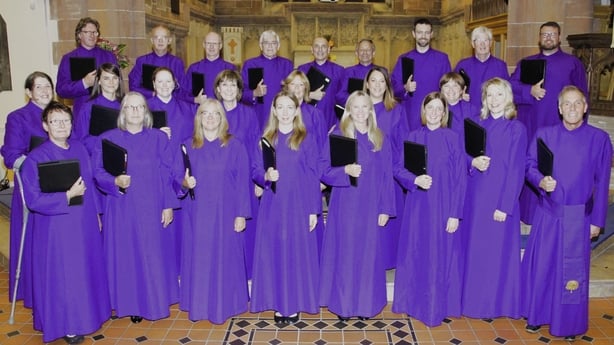 The choir was founded in 2011. Our cross-community membership comes mostly from the Causeway Coasts and Glens district in the North of Ireland and from all walks of life.The one thing we share is a love of choral church music: anthems, psalms, hymns, versicles & responses and Christmas music. We sing ancient & modern repertoire: anything from Gibbons to Stopford, Wesley to Whitacre. We have presented music in many parish churches and cathedrals in Ireland north and south. One of our aims is to keep the Anglican choral tradition of sung Eucharist and Evensong alive in Ireland and to present this and other music to the highest possible standard. Director: Tony Morrison
Still The Night arr: Dr Harry Grindle
Cantemus Choir NI Director: Tony Morrison
Organist: Ben McGonicle
Still The Night was recorded for our 2022 CD – 'I Was Glad' in Christ Church, Londonderry. Our Christmas concerts each year are held in Star Of The Sea Catholic church, Portstewart and are presented by broadcaster Helen Mark.
---
Mornington Singers, Dublin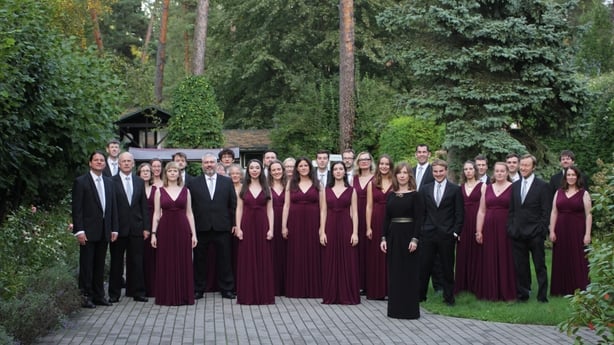 Mornington Singers is an award-winning mixed-voice choir based in Dublin, Ireland and conducted by Orla Flanagan.
Mornington Singers was the winner of the 4th International Baltic Sea Choir Competition held in Jūrmala, Latvia in September 2019. The choir was named Ireland's Choir of the Year 2019 at the 65th Cork International Choral Festival.
The choir enjoys sharing their love of choral music in venues throughout Dublin and further afield, and they are deeply committed to presenting new work by Irish composers.
Title: Glad and Blithe
Composer: Rhona Clarke
Text: Anon. 15th-Century English
---
Clongowes Wood College Senior Choir, Clane, Co. Kildare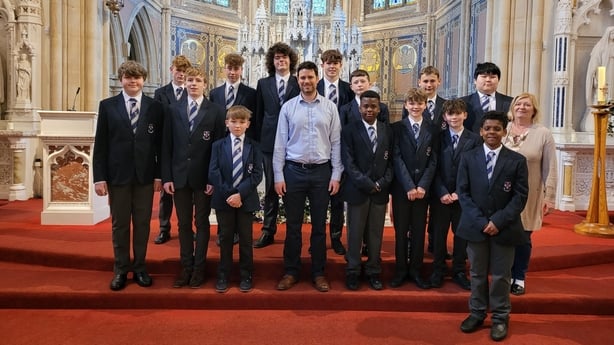 The Clongowes Wood College Choir was founded by Elizabeth Keighary and is now directed by David Scott. In recent years it sang in the National Concert Hall as part of the School's bicentenary celebrations and sang the National Anthem at the Irish Champions Weekend at the Curragh Racecourse with the Army No 1 Band. It regularly performs at events in the school and gives concerts for local nursing homes as part of the school's Age Action scheme. It has won awards at the Wesley Interschools Music Festival and the Sligo International Choral Festival.
Piece performed: "The Coventry Carol" - 15th Century, harmony by Marin Fallas Shaw.
Choir Director: David Scott
---
Gortnor Abbey Senior Choir, Crossmolina, Co. Mayo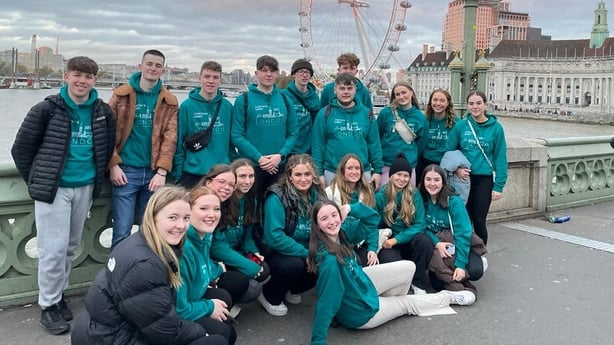 Gortnor Abbey is a mixed secondary school in Crossmolina, Mayo on the beautiful shores of Loch Conn. We have a proud tradition of choral singing in the school and have up to 60 members in our SATB Senior Choir. We have been semi-finalists in RTE's School Choir Of The Year competition and have recently had the great pleasure to sing in the Royal Albert Hall in early November. We love to sing a variety of repertoire, from popular pieces to sacred music for our school services, most notably, our very popular annual Carol Sevice.
Music: Thankful Words and music by Carole Bayer Sager, David Foster & Richard Page.
Arranged by Mark Hayes
Popularised by Josh Groban on his album "Noel"
Choral Director: Fiona Watts
---
Trinity Singers Choir, Dublin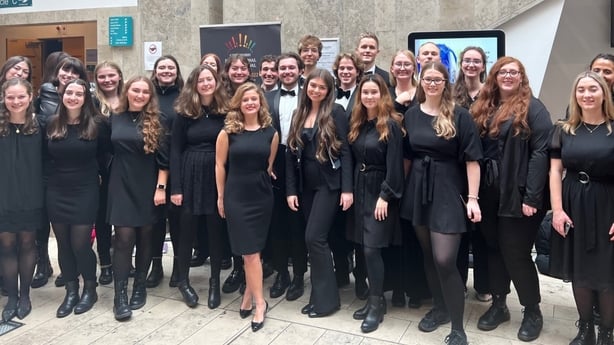 Trinity Singers was founded in 1948 as part of the Trinity College Singers Society. The society's aim is to promote and showcase choral music of a high standard both within Trinity College Dublin and to the general public, and to this end Trinity Singers brings together students from across the university to perform a wide range of mixed-voice repertoire.
The choir enjoys performing in various concerts, competitions and at university events each year. These include Christmas and end-of-year concerts in the Trinity College Chapel, and in March 2022 the choir performed at the American Cathedral in Paris. Trinity Singers remained active during lockdowns by holding online rehearsals each week, producing virtual choir videos and competing in the All-Ireland Choral Intervarsities. The choir has also previously competed in the Sligo and Derry International Choral Festivals. Trinity Singers were delighted to place 2nd in the Derry national competition this year under the direction of conductor Ciara Murphy. Trinity Singers have performed at this years Christmas Tree Lighting in Trinity College and are currently preparing for their Christmas Concert in Trinity College Chapel on Thursday 8th December.
The piece performed is the Ralph Allwood arrangement of James Pierpont's 'Jingle Bells'.
Choir Director: Ciara Murphy
---
Wesley College Senior Choir, Dublin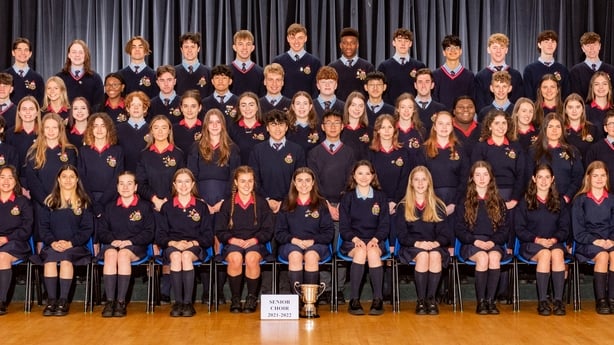 Wesley College's Senior Choir is the flagship choral ensemble of the school. The choir has achieved tremendous success over the last number of years. Membership of this choir is by audition and choir members make a big commitment when they decide to become part of this exciting choral group. The choir is currently directed by Brian Dungan.
DETAILS OF THE PIECE: Carol of the Bells, by Kirby Shaw
CHOIR DIRECTOR: Brian Dungan
---
Cantare, Ennis, Co. Clare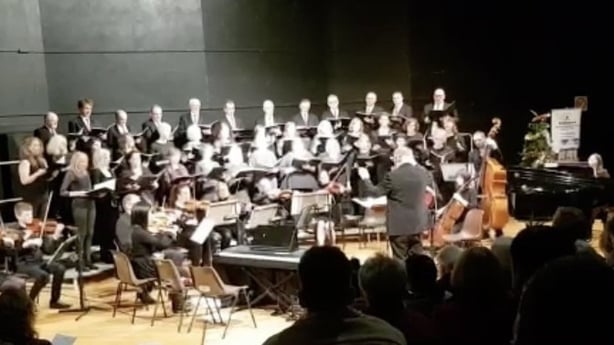 Cantare is a mixed choir based in Ennis Co. Clare and has approx 35 members. We sing a variety of styles and enjoy all kinds of music, both a cappella and with accompaniment. The choir has been singing together for about 20 years. We have a few concerts a year and a few weeks ago we sang in our first competition in the Derry International Chopal Festival coming 4th in the National Section.
We have our Christmas concert in Danlan an Chlair on Wed Dec 21 with orchestra and special guests Regina Nathan and Harmony Bro
Title: Ecce Ovum by Ola Gjeilo with Cantare and strings.
Piano Irina Dernova
Conductor: Michael Hennessy
---
The Academy Chamber Choir, Tullamore, Co. Offaly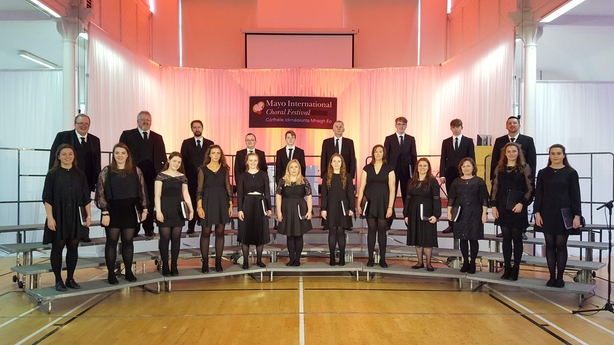 Founded in 2007 as a training ground for students of singing at The Academy of Music in Tullamore, the choir quickly grew through performance, repertoire, and reputation to draw singers from the midlands and throughout Ireland.
They have had huge success at Cork International Choral Festival, Mayo International Choral Festival and Navan Choral Festival. They have represented Ireland Internationally in Germany, Austria and Wales. They will be performing at their Annual "Carols for All" concert with GLOR Childrens and Youth Choirs, accompanied by Professor Gerard Gillen on Organ, on Sunday 11th Dec, at St. Patricks Church, Moate, Co.Westmeath.
Conductor Ciaran Brady is Director of the Academy of Music in Tullamore, and is Vocal Coach and Performance tutor with the Music dept. at Maynooth University.
We have recorded "Bogoroditse Djevo" by composer Arvot Part
---