This Sunday on the Lyric Feature, Sara Lodge presents The Limerick Man the story of Edward Lear, and the influence of his visits to Ireland on his life and work.
---

Lear (1812-88) is best known for his illustrated nonsense verses for children, including 'The Owl and the Pussycat', 'The Jumblies', and 'The Quangle-Wangle's Hat'. But he was also an accomplished zoological artist, whose work made an important contribution to science; he was a landscape painter, who taught Queen Victoria to draw; and a gifted musician and composer, who published twelve of his own song settings of his friend Alfred Lord Tennyson's poems. All of these interests – science, painting, and music – took Lear to Ireland. Here presenter Sara Lodge tells the story of the making of the programme.
---
To my shame, I had never visited Dublin before, so I was thrilled when lyric fm commissioned my radio documentary to follow in the footsteps of Edward Lear and trace his journeys of 1835 and 1857 in Ireland. I had spent seven years studying Lear while writing a book about him: reading thousands of his letters, thirty years' worth of diaries and poring over his pictures. I was desperate to get out of the library and into the world. Then the pandemic struck, limiting us all to the four walls of our flats, the radius of our local park, the jog-trot of our one exercise session a day. When producer Claire Cunningham and I finally got our second vaccinations in July 2021, you could hear a loud pop over the Irish Sea. It was the sound of me letting go of a year's pent-up frustration as the plane hit 30,000 feet and I could finally – finally!!! – see the gorgeous green fretwork of the Irish coastline below me.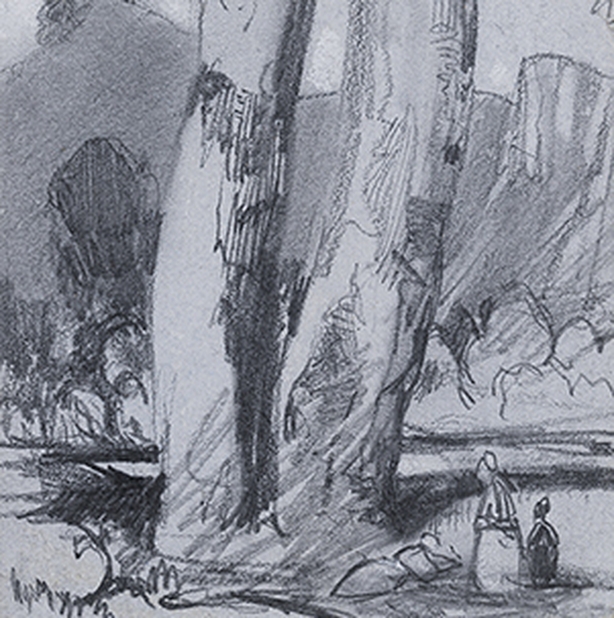 I don't think Claire was fully prepared for the whirlwind of enthusiasm that was about to hit the runway. I wanted to go everywhere that Edward Lear had been, to speak to all the academics who could help me understand his Irish connections; above all, I wanted to see Lear's Irish sketches, which had just been acquired by the National Gallery of Ireland and were on public display there for the first time. I spent a week with Claire, visiting Belfast, Dublin, Glendalough, and Ardee; it was easily the highlight of my year. We had such fun everywhere we went.
Lear came to Ireland to attend the first Irish meeting of the British Association for the Advancement of Science in 1835. The Association brought together knowledgeable amateur geologists, ornithologists, zoologists, botanists and astronomers with University Professors and the small number of specialists who were beginning to be known as 'scientists' (a word only coined in 1831). Meeting at the newly opened Dublin Zoo, these citizen scientists exchanged ideas about everything from fossil fish to the 'action of light upon plants.' As a painter of rare specimens of animals and birds, Lear knew a great deal about the appearance and behaviour of different species: he had studied them intensely to capture them in brilliant lithographs – themselves the fruit of new technology. Steaming in on the new train line from Kingstown to Dublin, he must have loved seeing the ostriches, the monkeys, and the leopard that the zoo proudly presented to astonished visitors.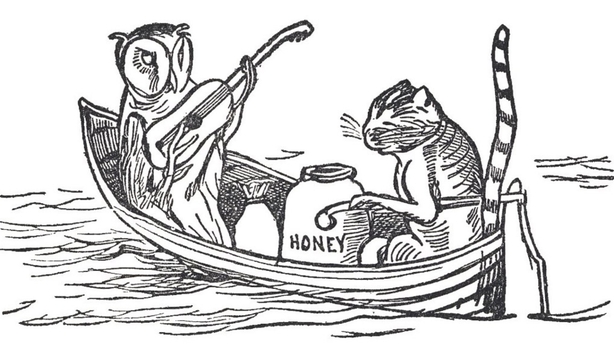 After the meeting, Lear and his friends took a jaunting-car into Wicklow, visiting at some of the great houses there and making a day trip to Glendalough to see the ancient round tower, which Lear sketched in evocative greys and whites. Lear and his friend Arthur Penrhyn Stanley also climbed adventurously into 'St Kevin's bed', a small cleft in the rock by the loch side. They heard a guide recite Thomas Moore's poem 'By that Lake Whose Gloomy Shore'. It was the full nineteenth-century tourist experience. Thomas Moore became the most potent influence on Lear's early poetry and musical compositions, inspiring both homage and spoofs of what Lear called 'Tom Moorey pathos'. Often Lear's verse hovers productively between pathos and comedy, mixing the different lessons he had learned from Irish song. Lear met Moore as a young man, at the publisher Longman's; he also met Daniel O'Connell. His interest in Ireland was strong and abiding.


I managed to visit Glendalough on the warmest, sunniest day of July. Small birds sang; the sky was crystalline blue. My own guide was the local poet, Jane Clarke, who told me about how Lear had influenced her own verse from the early age of 4, when she memorised 'The Owl and the Pussy-cat'. We wandered through dappled sunlight to see the spot where St Kevin's Bed is visible across the loch. After we recorded our interview, I was seized with an irresistible impulse to swim. Much to my producer's amusement, I found a discreet spot, stripped to my underwear, and jumped in. It was magical: swimming in champagne-cold, clear water, with the sun on my face and a spectacular view of sheer mountain and forest around me. I felt a deep peace that I had not experienced since the pandemic began.
Wherever we went, people stopped what they were doing to help us. Lear's second trip to Ireland, in 1857, was to stay with his great friend, the Liberal politician Chichester Fortescue, whose elderly aunt – Anne Parkinson Ruxton – lived in Red House, Ardee. It was a very happy holiday, which Lear commemorated in letters and in nonsense. I was keen to see Red House, which is now in private hands and closed to the public. A couple of friendly local gentlemen promised me that if I climbed a certain gate, I would get a good view of the building. Not only did they assist me in finding this gate, they boosted me over it, commenting wryly on how unsuitable my clothing was to the endeavour. The resulting piece of radio comedy is probably my favourite moment in the documentary.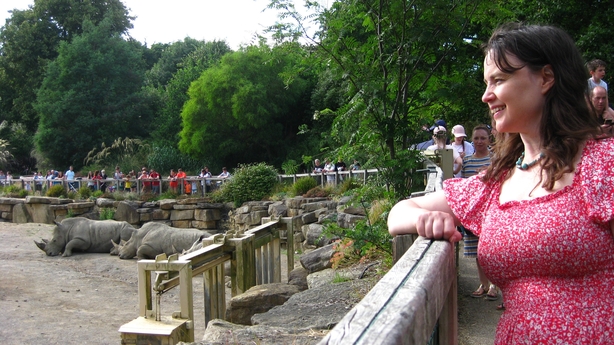 From visiting Dublin Zoo to swimming in Glendalough, from recording Lear's songs with the young baritone Edward Robinson to visiting the Prints and Drawings Room of the National Gallery of Ireland and meeting its delightful curator, Anne Hodge, everything about making this programme has been a joyful experience. I hope listeners will share that pleasure.
The Lyric Feature: The Limerick Man, RTÉ lyric fm, Sunday 6th of February at 6 pm - listen to more from The Lyric Feature here