Ireland is facing a "conveyor belt" of storms this winter, the Chair of the National Emergency Co-ordination Group has said following the departure of Storm Debi.
Keith Leonard said jet streams are currently in a position for further storms to be formed over the winter months.
Speaking on RTÉ's Six One News he said that people will have to be vigilant through the winter.
He said: "The jet streams seem to be in a position to give us a conveyor belt of storms, hopefully not too many more but we will have to be vigilant over the winter."
Substantial progress has been made in restoring normal systems and operations across the country following the impact of Storm Debi.
Local authorities across the country have been working hard with ESB Networks, Irish Water and other agencies in restoring and recovering operations, Mr Leonard said.
He said the worst impact was seen around Galway city with extensive flooding and tidal flooding.
Other counties including Westmeath, Longford, Dublin, Meath and Louth had a significant number of trees down with disruptions to road networks.
He said Storm Debi developed very quickly across the weekend which led to Met Éireann extending its red wind warning late yesterday evening.
Mr Leonard said: "Storms are the most difficult weather systems to predict. This one didn't track for a number of days, it developed very quickly over Saturday and yesterday.
"We're working with uncertainty and we have to do the best that we can with it.
"I do think Met (Éireann) got the track of the storm fairly right."
The National Emergency Co-ordination Group has said that hazards may remain this evening.
Local authority crews have been involved in the clean-up operation while ESB crews have worked throughout the day to restore power to tens of thousands of premises.
An ESB spokesperson said around 34,000 homes and businesses remain without power due to the storm.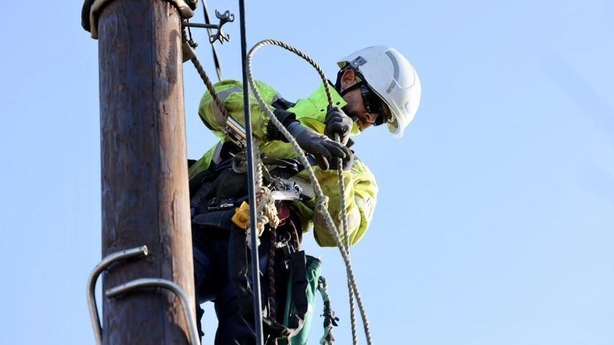 ESB said network crews will work late into tonight.
It said that some customers will remain without supply overnight due to the severity of the damage in some areas.
However, due to the severity of damage and sustained high winds throughout the day, some customers will remain without supply overnight.
Regional manager with the ESB Brian Tapley said that the main areas impacted by power cuts are Athlone, Longford, Mullingar, Tuam, Dundalk, Drogheda and Cavan, while the network has been impacted as a whole from Galway to Dublin and Cavan.
He told RTÉ's Drivetime: "There is such a scale of damage to the network overnight and we have to only mobilise when it is safe to do so, so that was at first light.
"There were high winds throughout the day as well, giving our crews work off the ground on poles and up on the network, we have to proceed with caution.
"The majority of the 100,000 will be back but I don't know exact figures yet but I expect we'll have a number of some customers without power overnight.
"It will probably take us to 6pm or 8pm this evening for a realistic expectation of that number."
For any customers concerned about not having power overnight, Mr Tapley encouraged them to check powercheck.ie for an estimated restoration time.
Anyone reliant on electrically powered medical devices is encouraged to contact their medical professional if they find themselves without power overnight.
Met Éireann meteorologist Mark Bowe meanwhile said that Storm Debi has already almost completely passed through the UK.
Mr Bowe said the storm entered the Irish Sea at around 9am or 10am before crossing over into the UK where it is already thought to be on the east coast.
He said the storm was at its most impactful in Ireland between midnight and 5am or 6am, with the strongest winds recorded in Mace Head and Athenry.
A number of weather warnings, including two Status Red wind warnings, were in place but have lapsed.
An Amber wind warning, which was in place for Armagh and Down, has also ended.
Met Éireann earlier said that there would be extreme winds "with potential danger to life".
The highest gust recorded so far was 119km/h in Knock, Co Mayo.
---
Live: Updates as they happen
---
All schools and pre-schools in counties affected by the Status Red and Orange warnings were asked to remain closed until 10am.
Mr Leonard briefed the media yesterday evening at a last-minute meeting of the National Emergency Co-ordination Group as Storm Debi approached the country.
He described the weather event as "a winter storm with some dangerous features".
He urged people to stay away from coastal areas which would be "extremely hazardous for the next 24 hours".
---
VIDEO: Parts of Galway flooded this morning
We need your consent to load this comcast-player contentWe use comcast-player to manage extra content that can set cookies on your device and collect data about your activity. Please review their details and accept them to load the content.Manage Preferences
---
Employers were asked for flexibility if working from home was possible, according to Mr Leonard.
The Road Safety Authority has advised all road users to take extreme care over the next 24 hours.
The number for ESB Networks in the event of an emergency or fallen wires is 1800 372 999.