Met Éireann has issued 14 counties with a Status Red wind warning ahead of Storm Debi.
The forecaster had initially issued two Status Red wind warnings across five counties for a period of time overnight, but has since added more to the list bringing the total to 14.
A red wind warning for Kerry, Limerick, Tipperary, Clare, East Galway and South Roscommon will be in place from 2am until 5am.
Another separate red wind warning will be in place for Dublin, Kildare, Laois, Louth, Meath, Wicklow, Offaly, and Westmeath from 5am to 8am.
Met Éireann said that there will be extreme winds during this period "with potential danger to life". Structural damage is expected, along with falling trees and significant power outages.
A Status Red alert is the forecaster's highest-level warning.
A Status Orange wind warning for Cork will be in place from 1am on Monday until 4am.
Another Status Orange wind warning will apply to Carlow, Dublin, Kildare, Kilkenny, Laois, Longford, Louth, Meath, Offaly, Westmeath, Wicklow, Cavan, Monaghan, Clare, Kerry, Limerick, Tipperary, Galway, and Roscommon.
That warning will run from 2am until 10am.
The entire country will remain on a Yellow wind and rain warning from midnight tonight until 3pm tomorrow.
---
Live: Updates as they happen
---
All schools and pre-schools in counties affected by the Status Red and Orange warnings will be asked to remain closed until 10am tomorrow morning, according to Keith Leonard, National Director of Fire and Emergency Management.
Mr Leonard briefed the media this evening at a last-minute meeting of the National Emergency Co-ordination Group as Storm Debi approaches the country.
Severe and damaging gusts expected across country
The forecaster said there will be severe and damaging gusts with the possibility of damage to exposed and vulnerable structures as well as dangerous travelling conditions with disruption to services and damage to power lines.
We need your consent to load this comcast-player contentWe use comcast-player to manage extra content that can set cookies on your device and collect data about your activity. Please review their details and accept them to load the content.Manage Preferences

Mr Leonard described the weather event as "a winter storm with some dangerous features".
He urged people to stay away from coastal areas which would be "extremely hazardous for the next 24 hours".
Employees are being asked for flexibility if working from home is possible, according to Mr Leonard.
People are also being advised to keep their mobiles charged so they can contact emergency services in case of power outages.
Gusts and winds of up to 130km per hour are expected throughout the early morning and in to rush hour tomorrow.
Road users should expect 'hazardous conditions' on the roads
Road users should expect hazardous conditions, Mr Leonard warned, saying: "There's going to be substantial number of trees down across the road network tomorrow."
He said this would make traveling conditions very difficult, particularly in the first half of the day.
Motorists are asked to slow down and take care and be aware of vulnerable road users, particularly pedestrians.
Drivers of high-sided vehicles should also take account of the local conditions around their journeys.
This latest storm comes after parts of the island were devastated by floods during intense spells of rain for recent storms Babet and Ciarán.
Transport
The Department of Education said that it has advised schools in counties under an orange or red warning not to open before 10am.
It added that it had been advised by Bus Éireann that it will not be able to reschedule its morning routes in areas under orange and red warnings, and will only be operating its afternoon school services if road conditions are safe.
It has also cancelled a number of its other services, while Ianród Éireann said that speed restrictions will apply to some routes and delays are expected.
There is a risk to life from storm, says meteorologist
Met Éireann meteorologist Rebecca Cantwell said that people should follow the advice of their local authority, and should not take any unnecessary risks.
She told RTÉ: "As Storm Debi tracks across the county it's going to come into the southwest in the early hours of the night but as that tracks across the country it'll reach the midlands and eastern half of the country during the morning when more people are out and about.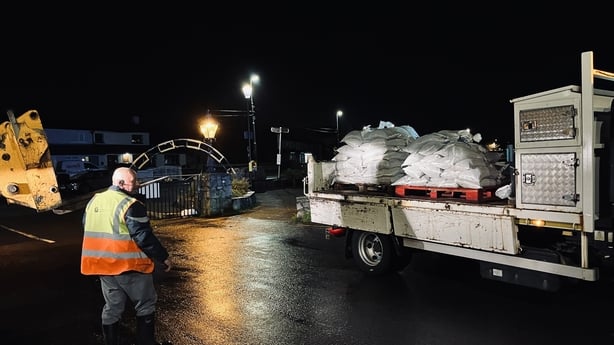 "Within the red warning we are expecting very damaging gusts. There is a risk to life. There is going to be significant power outages, the possibility of fallen trees, branches, and very difficult traveling conditions.
"The second red warning is going to come into effect at the time of rush hour, in the morning between 5am and 7am when people start getting on the roads so there's going to be dangerous conditions.
Ahead of the arrival of Storm Debi, Met Éireann warns that within Status Red counties there is a risk to life, a potential for power outages, fallen trees and dangerous driving conditions during peak morning traffic times | https://t.co/LM9dgNvAen pic.twitter.com/e4boZqv2nF

— RTÉ News (@rtenews) November 12, 2023
"Head the advice of local authorities, they're well briefed on the weather situation and will have the best advice for people.
"Avoid going out if possible, but if it is necessary take the necessary precautions."
Eoin Sherlock, Head of Forecasting at Met Éireann said they had a good handle on the track of the storm.
He said they were trying to give local authorities a bit more information so they can put the right people in the right place at the right time this evening and overnight.
He said gusts were the most dangerous feature of this storm as they had the capability to knock down trees and take off corrugated roofs.
He said parts of the midlands wouldn't be used to this weather which could prove to be similar to that which struck the ploughing championships a couple of years ago.
Asked why the warnings were issued so late this evening, he said: "So we have a jet stream that drives the weather around the world and we have a jet streak and what that means is there's a core of stronger winds are shooting off. It's very difficult for any model to predict that."
He said: "It's a probabilistic forecast," he said adding that the closer you get to the event, the more confident you could be.
He said people had been given a heads up that there was advisory and that gave them time to give their forecasts and for people to get ready.
The Road Safety Authority has advised all road users to take extreme care over the next 24 hours.
The National Parks and Wildlife Services has asked the public to avoid Killarney National Park during the warning periods.
The number for ESB Networks in the event of an emergency or fallen wires is 1800 372 999.
Amber wind warning for Armagh and Down, yellow for rest of Northern Ireland
Meanwhile, the UK Met Office has issued a yellow wind and rain warning for Northern Ireland tomorrow.
It said heavy rain and strong winds due to Storm Debi may bring disruption and flooding to parts of the region.
It added that Armagh and Down will both be on an amber wind alert between 6am and midday on Monday.
It advised people to be aware that homes and businesses could be flooded and there could be disruption to bus, rail, and air travel.
The agency also warned possible fast-flowing or deep floodwater, as well as possible flying debris, could cause a danger to life. Power cuts are also possible.
The warning comes into effect at 3am tomorrow and will be in place until 2pm.