Parts of Europe may be sweltering under record temperatures, but there was so much rain in the month of July in Ireland that it is within touching distance of breaking official records.
The rain is causing problems for those who need good summer weather.
Summertime is peak season for adventure centres across Ireland, but some have been affected by the wet weather in July.
Speaking to RTE's This Week programme, Bill Cremin of Zipit Forest Adventures said that they have had to be really active on social media over the last month to try to encourage people to enjoy the benefits of ziplining despite the wet weather.
"It's very hard to motivate people to go outdoors when it's raining," Mr Cremin said.
"I would say that we are down probably 20% in July on our typical and average July. That's 20% where we have been working really, really hard on the marketing side. We've been offering discounts and we've been extremely active on social media.
"That I think has mitigated what could have really been maybe a 30%, 40% or even 50% reduction otherwise."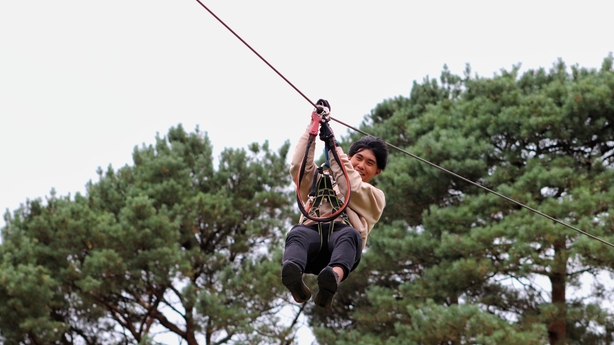 Mr Cremin said they have been forced to run discounts and promotions for the first time as a result of the wet weather. He has three Zipit businesses around the country.
He said: "We are getting through to some people, but you know you have to ask yourself when you're sitting in your kitchen and you're looking out and it's wet and grey, it's very difficult to find the motivation to go and get out and be outdoors and active.
"For the first time ever in the last two weeks, we've ran offers out to our ice skating customers and to Zipit customers.
"They certainly gave us a fillip in the last week of July, but that's not something that we can afford to do at this time of the year, because this is the time of year when we when we generate the income to pay our staff through the wintertime."
Challenging harvest conditions
The dry weather at the beginning of the summer, then the wet weather in July, has meant increasingly challenging conditions for farmers, especially when it comes to getting their crops cut.
Kieran McEvoy, who is the national grain chairman for the IFA and has been cutting barley in Laois, said it has been a difficult harvest because of the weather conditions.
He said: "I suppose the harvest landed at the early this year, probably two-and-a-half weeks earlier than normal because of the drought earlier in the summer.
"It's a stop/start salvage operation for winter barley and oil seed rape. It's far from ideal conditions. I suppose the big problem is there's a huge number of losses with heads.
"On our farm we've very little straw bailed. It'll have a financial impact and also with the nitrates or laws that came in last year, we're supposed to shallow cultivate within ten days of harvest. It's very difficult to do that when the straw is on the field.
"So from an IFA point of view, we've written to the minister about that looking for derogation for the wet weather."
We need your consent to load this rte-player contentWe use rte-player to manage extra content that can set cookies on your device and collect data about your activity. Please review their details and accept them to load the content.Manage Preferences
More rain to come after wet July
Keith Lambkin, Head of Climate Services Division at Met Éireann, said it looks like being one of the wettest Julys on record in Ireland.
Some stations are already recording their records with still rain to fall. Phoenix Park in Dublin, for example, has seen its wettest ever July in 82 years; Shannon Airport, its wettest in 77 years; and Dunsany in Co Meath, its wettest in 59 years.
Mr Lambkin said there are a number of reasons for the recent wet weather.
He said: "We know that because of global warming, a warmer atmosphere can hold more moisture.
"There was a report out from Met Éireann last week that looked at the average rainfall over the last 30 years compared to the previous 30 years and we're seeing that about 7% more rainfall on average is falling.
"Really when it comes to this July, the really driving factor behind that rain was really the meteorological setup, the jet stream, which is a big influencer of the type of weather we get here in Ireland, was to the South of Ireland for quite a persistent long time.
"That has allowed consistent low-pressure systems all throughout July to pass over Ireland, bringing quite a lot of rain.
"It's the same meteorological setup actually that's allowing that high pressure system to establish in Europe, creating all those problems that we see over there as well."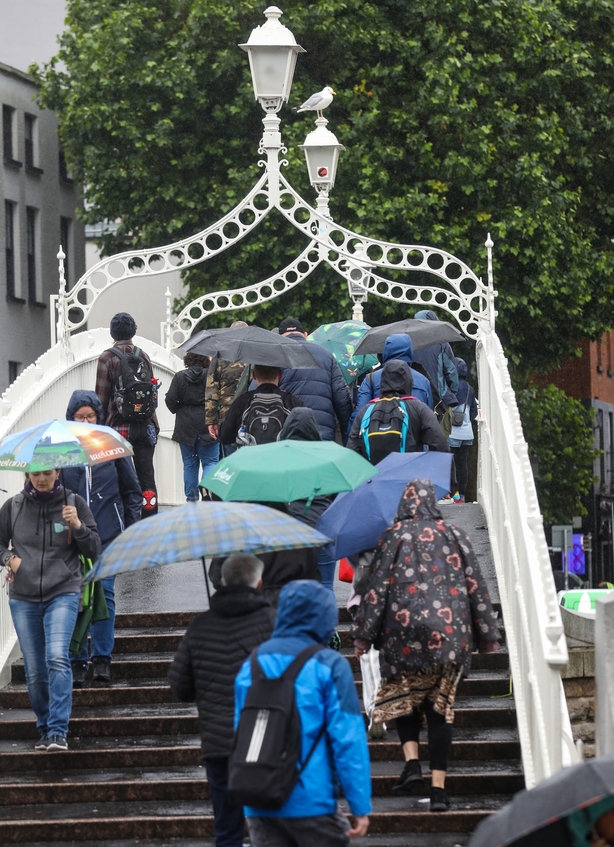 Mr Lambkin said the unsettled weather is expected to continue into August.
He said: "So just talking to our forecasters, unfortunately, the dominant feature certainly for the first half of August is for this unsettled weather to continue.
"That doesn't necessarily mean it's going to rain every day, but the jet stream is still expected to be below Ireland into August.
"So we'd still expect to see that unsettled low pressure systems certainly influencing, the first half of August."
---
Read more
Ireland 'warmer, wetter and sunnier' over past 30 years - Met Éireann