The National Emergency Co-ordination Group will meet each day this coming week as Met Éireann warned low temperatures will continue until Friday.
Minister Darragh O'Brien said the message for the public following a meeting of the group this morning, is that life will go on as normal but people are advised to take extra care during this cold spell.
He said schools will remain open.
The National Emergency Co-ordination Group met today as the cold spell is set to continue until Friday. Minister Darragh O'Brien said the message is that life will go on as normal but people are being advised to take extra care. Schools will remain open I https://t.co/ZZWuos4Xoi pic.twitter.com/b3T5oEccWx

— RTÉ News (@rtenews) December 11, 2022
The minister said the public should take care particularly on the roads, and to look in on elderly or vulnerable neighbours.
Mr O'Brien said all emergency services and local authorities have their weather plans up and running.
He said they will ensure that the services people need, such as public transport and schools, will remain operational.
Temperatures could drop as low as minus 8 to minus 10 degrees in places over the coming days, the minister said.
Blackouts are not expected and that the group had had a "very positive update" both from EirGrid and Gas Networks Ireland, he added.
Asked about vulnerable groups like refugees being housed in tents, Mr O'Brien said that in terms of emergency accommodation people should know that there is capacity for everyone.
"With regards to those seeking international protection - including in Clare - those families and those individuals have been moved out and will not be staying in the temporary sheltered accommodation this evening...alternative accommodation is being sought."
It comes as Met Éireann issued a Status Yellow low temperature and ice warning for Ireland, which is valid until midday on 16 December.
It has warned of widespread sharp to severe frosts with some showers of hail, sleet and snow - mainly near coasts - and freezing fog at times.
The forecaster said low temperatures could lead to treacherous conditions on paths and roads, travel disruption, burst water pipes and damage to engines.
There is increased risks to vulnerable members of the community, Met Éireann said.
Updated: Status Yellow - Low Temperature/Ice warning for Ireland was extended until 12:00 Friday 16/12/2022 ⚠️🥶

For all warnings see➡️https://t.co/ozrQHtoOkt

Meteorologists commentary see➡️https://t.co/ktXtWjbfIg

Be Winter ready see➡️https://t.co/Iz4Qfmr20b pic.twitter.com/61OxkZWYxq

— Met Éireann (@MetEireann) December 11, 2022
Meanwhile, a Status Orange low temperature and ice warning for Ireland came into effect at 5pm, valid until midday tomorrow, with temperatures likely to fall below -5 degrees in many areas.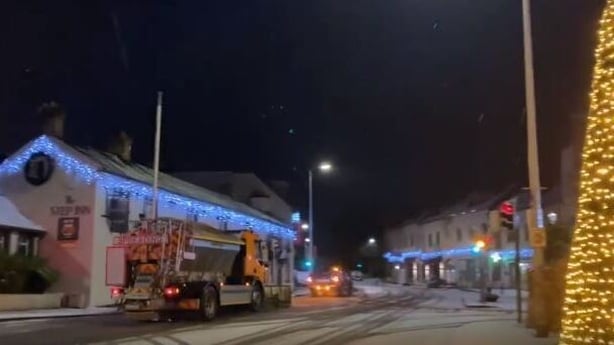 Separately, a snow and ice warning for counties Donegal and Mayo will come into effect at 11.30pm this evening, also valid until midday tomorrow.
A snow warning for Dublin, Kildare and Wicklow this morning was cancelled at 10am.
Gardaí in Wicklow are strongly urging all road users to avoid the Wicklow Gap and Sally Gap this evening as it is currently impassable due to the adverse road conditions and extremely low visibility.
🤔How do #Wicklow folks keep the #Dubs out?

They don't grit the road ! 🤣#Sneachta #snow

Dublin/ Wicklow mountains border on the old military road today.@MetEireann @rtenews pic.twitter.com/kkrJzDiIHq

— Dr Robert O'Connor (@DrRobertOConnor) December 11, 2022
In Northern Ireland, a Status Yellow ice and fog warning for counties Antrim, Armagh, Down, Fermanagh, Tyrone and Derry will be in effect from 4pm until 11am tomorrow.
The Met Office said freezing fog and patches of ice are likely to lead to some slow or difficult journeys.
Bitterly cold tonight with temperatures falling to between -4 to -7°C widely🥶, dipping lower locally.

Wintry showers🌨️ will occur, especially in the NW with accumulations of snow possible, largely dry elsewhere.

Freezing fog❄️🌫️ will become more widespread in light breezes. pic.twitter.com/L2lN0DVRwj

— Met Éireann (@MetEireann) December 11, 2022
Snow, ice teams work overnight at airport
At Dublin Airport there were 14 flight cancellations and a significant number of delays over the course of the day.
This has mainly been attributed to the knock on consequences of poor weather conditions elsewhere in Europe
A DAA spokesperson said that four flight cancellations have been confirmed for the morning due to snow at London airports this evening.
Airport operator daa said: "We remind passengers to heed our travel advice to arrive two hours prior to a short-haul flight and three hours before a long-haul flight, with additional time of up to one hour added if checking in a bag or needing to check-in with their airline at the airport.
"With the extremely cold weather due to continue into the middle of next week, intending passengers should check the status of their flight with their airline in advance of travel."
Some airlines have been forced to cancel flights tonight due to snow in the Greater London area resulting in the closure of Stansted Airport. Further cancellations are now expected in the morning into London airports. Please check your flight status in advance with your airline. pic.twitter.com/aWGF2Fftrt

— Dublin Airport (@DublinAirport) December 11, 2022
The Department of Housing has said that local authority outreach teams are continuing to engage with rough sleepers and encouraging them to avail of indoor shelter.
In a statement, the department said that beds are available in Dublin and other urban centres for anyone who needs one.
Additional reporting Jennie O'Sullivan