A Status Orange thunderstorm warning for Ireland is in effect, with heavy downpours of rain and hail forecast.
Met Éireann said there will be scattered heavy showers or thunderstorms, intense downpours will cause localised flooding, with intense lightning and hail possible.
The forecaster said a lot of places will stay dry but cloudy, and winds will be generally light with some sea breezes, but strong gusts are possible near the showers.
Met Éireann also said that there has been thunderstorm activity in the west of Ireland on Sunday evening.
Thunderstorm activity in the west in the last hour⛈️👇https://t.co/Xg3aMJlyuS pic.twitter.com/i1Npye0BaF

— Met Éireann (@MetEireann) August 14, 2022
The thunderstorm warning will remain in place until 9am on Monday.
Met Éireann has also issued a Status Orange thunderstorm warning for a number of counties in the south and southeast of the country on Monday.
The alert will be in place for Munster as well as Carlow, Kilkenny, Wexford and Wicklow from 9am until 4pm.
A Status Yellow high temperature warning is in effect until 3am on Monday for Leinster, Cavan, Monaghan, Munster, Galway and Roscommon.
Met Éireann meteorologist Joanna Donnelly said the weather in Ireland is "transitioning" as the heatwave comes to an end, with the humidity in the atmosphere mixing with the heat and generating thunderstorms.
She said the thunderstorms that have been forecast will present "a few significant risks" in the areas where they occur.
Ms Donnelly said lightning aside, there will be gusty conditions with a sudden onset of a cold wind known as the downdraft.
"Some of these thunderstorms will give a lot of rainfall in a very short period of time and the grounds are solid dry and the water is not soaking away, so it'll run off and you'll find spot flooding that can be tricky," she said.
"The visibility within these storms will reduce to nothing, so if you have to be driving and you come upon one of these storms, your visibility will be gone to nothing so you have to slow right down."
We need your consent to load this rte-player contentWe use rte-player to manage extra content that can set cookies on your device and collect data about your activity. Please review their details and accept them to load the content.Manage Preferences
Meanwhile, the Minister for Housing has said the National Directorate for Fire and Emergency Management Crisis Management Team has been meeting and is monitoring the weather situation.
Darragh O'Brien also advised anyone travelling to be "very cautious as heavy downpours of rain and hail are forecasted".
He said "a period of dryness coupled with intense rain can lead to flooding in certain places too".
Gardaí are also urging road users to "please take care while travelling on the roads, as driving conditions may become unsafe as the heatwave breaks".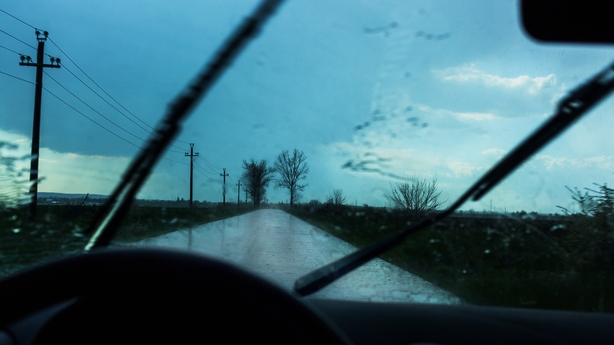 On Saturday, Met Éireann confirmed that Ireland has officially experienced a heatwave with temperatures having topped 25C for five days in a row.
The hottest places in Ireland on Saturday were Oak Park in Carlow (30.7C) and Moore Park near Fermoy in Co Cork (30.6C).
The hottest August day in Ireland since records began occurred on Friday, when temperatures of 31.7C were recorded at Oak Park, Carlow.
Another hot day, especially in Munster & S Leinster, with highs of 24 to 30C🥵

A few isolated heavy showers or thunderstorms will develop throughout the day, they will gradually increase in coverage through the late afternoon & evening.⛈️

Crosses=thunderstorm activity pic.twitter.com/nbLYdG1WA1

— Met Éireann (@MetEireann) August 14, 2022
Met Éireann has said that showers and thunderstorms on Monday will affect the southern half of the country, they will be intense through the afternoon with the risk of flooding.
However, conditions will be fresher but drier further north, with just isolated showers and sunny spells.
On Monday showers & thunderstorms⛈️ will affect the southern half of the country, intense through the afternoon with the risk of flooding.

Fresher but drier further north, with just isolated showers🌦️ & sunny spells🌤️.

Highs🌡️ of 15 to 17°C in the N & W, 18 to 23°C elsewhere. pic.twitter.com/dZbwbuQ6tB

— Met Éireann (@MetEireann) August 14, 2022
Meanwhile, the UK Met Office issued a Yellow Thunderstorm warning for Antrim, Armagh, Down, Fermanagh, Tyrone and Derry.
The warning for "hit-and-miss thunderstorms" was issued until midnight on Sunday.
Additional reporting Fergal O'Brien