Met Éireann has forecast a cooler evening after the high temperatures of recent days and nights.
The high temperature warning for Leinster lapsed at 7pm this evening and temperatures are expected to drop back to between 9-13C across the country.
The forecaster said that there would be a moderate northwest breeze and a few well scattered showers overnight.
A Status Yellow thunderstorm warning for counties Carlow, Dublin, Kilkenny, Louth, Meath, Wexford, Wicklow, Cavan, Donegal, Cork, Tipperary, Waterford and Leitrim remains valid until 9pm.
One of several lightning strikes reported in Dublin this afternoon was captured by Roger McMorrow at St Vincent's Hospital in Dublin.
The NMH Clinical Director and consultant anaesthetist filmed lightning hitting the Poolbeg chimneys.
Lightning can be seen over the Poolbeg Towers today from St Vincent's Hospital ⛈ ⚡️
Courtesy @RogerMcMorrow pic.twitter.com/dLNUiGokoK

— RTÉ News (@rtenews) July 19, 2022
Met Éireann is forecasting another dry and sunny day tomorrow but without the heat of earlier in the week.
It said that high temperatures would be between 15-21C in moderate northwest winds.
The day will start cloudy with scattered light showers, but the sun will break though later in the day.
Yesterday, Ireland recorded its highest temperature in 135 years, with a reading of 33C taken at the weather station in Dublin's Phoenix Park.
Weather stations located in Dublin, Carlow, Roscommon, Tipperary, Clare, Cavan, Meath, Galway and Westmeath all recorded temperatures over 30C.
Provisional maximum temperatures from our 25 synoptic stations for yesterday 18 July 2022. Nine stations recorded all time maximum temperatures. More details here https://t.co/6WyjyUvnod pic.twitter.com/YyKGTCm7RJ

— Irish Observational Climatology (@METclimate) July 19, 2022
The highest temperature ever reported in Ireland was 33.3C at Kilkenny Castle in 1887. Met Éireann said this record stands, but some have called in recent years for it be reassessed.
The only weather stations to record a max temperature under 20C were Mace Head in Co Galway, Belmullet in Co Mayo and Malin Head in Co Donegal, which recorded a peak temperature of 17.8C yesterday.
Meanwhile, Firefighters in Co Wicklow are tackling a fire at Crone Woods near Glencree.
Crews from Bray, Greystones and Blessington stations are being assisted by colleagues from Coillte.
An Air Corps helicopter has also been deployed from Baldonnell to help.
Air Corps firefighting at Crone Wood pic.twitter.com/RqdWkXhIYu

— Wicklow Fire Service (@FireWicklow) July 19, 2022
The Defence Forces said it conducted 11 drops of 1,100 litres each and they lifted water from Lough Bray.
Wicklow Fire Service chief Aidan Dempsey said the fire has been brought under control and he is hopeful the assistance of the helicopter will enable the fire fighters to extinguish it.
Rain is forecast for the area tonight but it is hoped the fire will be put out before then.
In a statement, a spokesperson from Coillte said the fire "is affecting areas of forested lands and also the Wicklow Mountains National Park".
Coillte said the cause of the blaze had yet to be determined.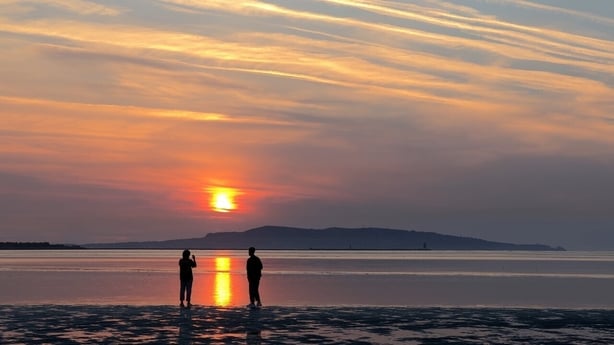 Northern Ireland also recorded its hottest day of the year, with temperatures soaring above 30C in some areas.
The Met Office said that by 4pm, a temperature of 30.5C had been recorded in Armagh, and 30.4C in Derrylin in Co Fermanagh.
The highest temperature ever recorded in Northern Ireland was 31.3C in Castlederg in Co Tyrone last July.
Meanwhile, Britain provisionally recorded its highest temperature on record, while firefighters battle heatwave-related blazes across southern Europe.
'We have to take notice'
Kieran Hickey, a climatologist at the Department of Geography in UCC, said that when we see temperatures in the high 40s in western Europe "we really have to take notice".
"It's definitely telling us something about the climate. The story it's telling us is that exactly what we've said global warming is going to do to northwestern Europe is starting to happen," he said.
"It's not going to happen every summer, but certainly we're going to see these types of events much more frequently. And it's starting to affect Ireland as well, although we're reasonably well protected being way out in the Atlantic Ocean."
We need your consent to load this rte-player contentWe use rte-player to manage extra content that can set cookies on your device and collect data about your activity. Please review their details and accept them to load the content.Manage Preferences
Speaking on RTÉ's Morning Ireland, Mr Hickey said that the reality of climate change, which he said we have known about for 20 years, is starting to be seen on the ground.
"This is the decade that we're starting to see it on the ground in much more detail," Mr Hickey added.
"Realistically, we have to accept that this is the case and start to deal with the consequences of that."
When asked if we could see similar heatwaves later this summer, Mr Hickey said that we absolutely could, adding that since we are only in mid-July and only starting the hottest eight to ten weeks of the summer.
"I certainly wouldn't be convinced by any means this is the last one we will see this summer," he said.
A research associate in the Department of Zoology at Trinity College Collie Ennis said that flying ants are now visible again due to the hot weather and that more will be visible in the coming days.
Speaking to RTÉ's Drivetime, he said that the country is likely to see bigger swarms of flying ants in the coming days and that this was due to mating as they are making nests.
He said that ants do no harm to humans or pets and that this was a natural wonder and part of their natural cycle and that the ants were a source of protein for other animals.