A temperature of 33C was reported from the weather station at Phoenix Park in Dublin at 1pm on Monday, Met Éireann has said.
This is a provisional report but, if confirmed, it will be the highest temperature ever recorded in Ireland in July and breaks the high temperature records for the 21st and 20th century.
The highest temperature ever reported in Ireland was 33.3C at Kilkenny Castle in 1887. Met Éireann said this record stands but some have called in recent years for it be reassessed.
Meanwhile, many Met Éireann weather stations recorded temperatures of over 30C on Monday including in Mullingar, Co Westmeath, Oak Park in Co Carlow and Dunsany in Co Meath.
Phoenix Park has provisionally broken highest 21st temperature record with 33.0°C which is Ireland's highest of 2022 so far and 12.8°C above normal. This is only 0.3°C below the all-time 135 year old record set at Kilkenny Castle in 1887. 🧵 pic.twitter.com/PqVTxgSpYp

— Irish Observational Climatology (@METclimate) July 18, 2022
North Leinster and the midlands were the most likely to record temperatures above 30C.
The hot weather prompted Met Éireann to issue a hot weather alert that is due to expire at midnight tomorrow.
A Status Yellow High Temperature warning is in place for the whole country.
Northern Ireland also recorded its hottest day of the year, with temperatures soaring above 30C in some areas.
The Met Office said that by 4pm, a temperature of 30.5C had been recorded in Armagh, and 30.4C in Derrylin in Co Fermanagh.
The highest temperature ever recorded in Northern Ireland was 31.3C in Castlederg in Co Tyrone last July.
On Tuesday, Met Éireann said the very warm weather will continue over Leinster with daytime temperatures of 25C to 28C.
The forecaster warned of the impact of the high temperatures, with the potential for heat stress, especially among vulnerable people.
Head of Forecasting at Met Éireann Evelyn Cusack said that today would be the "hottest day of mini-heatwave" and will "probably be the hottest day of the summer".
Speaking on RTÉ's Morning Ireland, Ms Cusack added: "It's fair game, everywhere getting warm, sunny weather."
Ms Cusack said that for Ireland, this is considered "extreme" weather, adding that it has been an "extraordinary" summer across Europe.
"Unfortunately, climate change is here. When we get the air masses coming up from Europe, we too will experience some extreme weather and extreme weather events," Ms Cusack said.
There was a glorious sunrise in Dublin on what's expected to be the hottest day of the year. Met Éireann says people across the country will experience "exceptionally warm weather", with temperatures reaching 27 to 32 degrees. #heatwave
Read more: https://t.co/R4FaZSmOuL pic.twitter.com/QoCaSHnsxD

— RTÉ News (@rtenews) July 18, 2022
Met Éireann Meteorologist Gerry Murphy said Ireland can expect "a very hot day right across the country" but that what he calls the "hot weather event" will only last two days.
Speaking on RTÉ's Today with Philip Boucher-Hayes, Mr Murphy said: "Virtually all parts of the country will get temperatures in the high 20s and some of those will break the 30C degree mark in probably north Leinster, places like Meath, Westmeath as well as the midlands.
"While the hot weather will continue in the east of the country, tomorrow will be a transition day.
"It will be cooler over the western half of the country. We'll see a return to our weather coming in more from the west which will give us temperatures similar to what we had last week, quite pleasant and in the high teens to low 20s."
"It's very hot, but don't complain - it won't last forever."

How are people in Dublin's Phoenix Park enjoying the sun on what is set to be the hottest day of the year? ☀️ pic.twitter.com/EZpOfFL75E

— RTÉ News (@rtenews) July 18, 2022
---
As temperatures soar, are you being sun safe?
---
Emeritus Professor John Sweeney, a climatologist at Maynooth University, said today is an "historic day for Irish climate".
Speaking to RTÉ's Six One News, Prof Sweeney said what we are seeing in Ireland is part of a larger picture of increasing extremes and increasing temperatures, and climate change is the driving factor.
It has been an "exceptional summer" across the globe, he said.
"We know that Portugal and Spain have had horrendous temperatures and wildfires over the past few days and France is now experiencing them as well," he said.
"But going broader afield, there are 86 cities in China now under heat warnings and alerts. We've seen drought in northern Italy, we've seen exceptional temperatures in Japan and many other parts of the world.
"What we're seeing is a pattern of global increases in extreme events, which is what we have been saying in the climate science community – it's going to be the harbinger, if you like, of much more extreme events in the future which will be more severe and more frequent."
Prof Sweeney said warm spells in Ireland are lasting longer and are reaching more extreme values.
He said there are "a whole host of impacts" from climate change that need to be considered.
"For agriculture it means that we're going to have to look more seriously at the kind of crops we grow," he said.
"We know that milk yields will fall off in weather like this very quickly. We're going to have to look at irrigation in Ireland in a more serious way – not just potatoes, but irrigation on a wider scale, which is something that people would not have associated with Ireland at all in the past.
"In terms of other aspects, we know that this kind of temperature is not good for people's health, especially people over 65. There's a 10% increase in the risk of mortality for older people."
Prof Sweeney said that in Europe at the moment he would expect to see 2,500 to 3,000 excess deaths from this event.
He said this kind of weather is probably between ten and a hundred times more likely to occur than it would have in pre-industrial times.
"That is really sending a warning signal to us that we really have to be concerned," he said.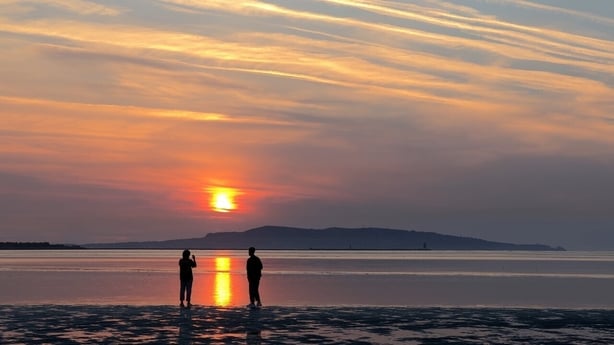 Meanwhile, Irish Water imposed measures including tankering and night-time restrictions on water supplies in 15 areas across the midlands and southeast as demand increases during the current hot spell.
Yesterday, Minister for the Environment, Climate, Communications and Transport Eamon Ryan urged people to "be careful out there" following a third water-related death in the past week amid a spell of warm weather.
A man in his 60s died yesterday after getting into difficulty while swimming in a lake near Portarlington, Co Laois yesterday afternoon.
Separately, Britain's first extreme heat warning is in effect with parts of southern England expected to reach 40C today for the first time.
The British government is treating the red alert as a national emergency.
Western Europe is experiencing its second fierce heatwave in recent weeks, causing devastating wildfires and mass evacuations in several countries.
Scientists blame climate change and predict more frequent and intense episodes of extreme weather such as heatwaves and drought.
Motorists urged to take caution on roads tomorrow
Motorists have been urged to exercise caution on roads tomorrow, with Met Éireann having forecast possible scattered outbreaks of heavy rain in the north and east of the country.
Tonight our weather will begin to change - some showers developing, winds becoming moderate and fresher conditions slowly extending from the West during Tuesday. Here's Nuala with all you need to know #rteweather pic.twitter.com/k3quMqoy78

— RTE Weather (@WeatherRTE) July 18, 2022
The Road Safety Authority has urged motorists to note that during a prolonged dry spell, a build-up of oil and rubber deposits develop on roads.
When the weather breaks, this deposit mixes with rainwater and becomes hazardous, with the resulting greasy road surface increases stopping distances and the risk of a skid.
The RSA has said that motorists can get caught out with this change in road conditions, and has advised people to slow down.
It has also advised people to be aware of aquaplaning under the conditions, especially on roads with speed limits of over 100km/h.