Met Éireann has issued Status Orange and Yellow wind warnings as Storm Barra is expected to bring very strong winds on Tuesday and into Wednesday morning.
The forecaster said winds will be strongest in western coastal counties with severe or damaging gusts possible and heavy rain will bring localised flooding.
"There will also be high waves at sea and a significant possibility of coastal flooding on south and west coasts", it added.
An Orange warning will come into effect for Cork, Kerry, Limerick, Clare and Galway at 6am on Tuesday morning and will remain in place until 6am the following day.
The rest of the country will be under a Status Yellow warning during the same period.
The UK Met Office has also issued a wind warning for Northern Ireland and said strong winds are expected to affect most areas with the potential for travel disruption in places.
The National Directorate for Fire and Emergency Management's Crisis Management Team held a virtual coordination meeting today with Met Éireann, the Office of Public Works, Local Authority Severe Weather Assessment Teams and Government Departments and agencies.
In a statement, the Department of Housing, Local Government and Heritage said there is an expectation that Met Éireann will issue further warnings in advance of Storm Barra as the likely impacts become clearer.
It said the public should monitor Met Éireann for updated warnings and information and heed local authority advice during this time.
"Local authorities have activated their Crisis Management Teams and Local Co-ordination Groups and coastal flood defences are being put in place," the statement added.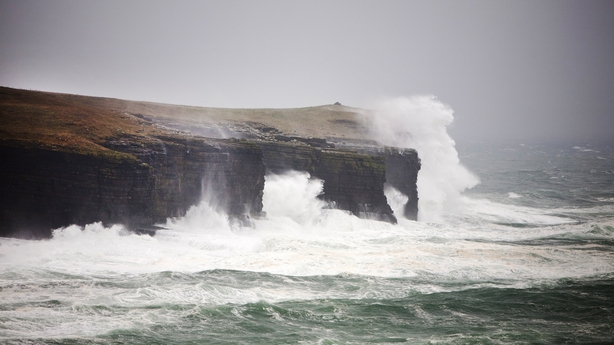 People are being advised to stay away from all coastal areas for the duration of the wind warnings.
Authorities said road users should be aware of the hazardous travelling conditions, and only necessary journeys should be undertaken.
Motorists should slow down and be aware of the dangers of fallen trees and debris, a statement said.
The public are warned electricity wires are always live and never approach them.
Anyone who sees fallen or damaged wires should keep clear and phone ESB Networks immediately on 1800 372 999/021 238 2410.
RSA appeals to road users to exercise caution
The Road Safety Authority is asking road users to exercise caution over the next few days.
Road users in areas affected by the Orange Warning are advised to check local traffic and weather conditions before setting out on a journey.
Motorists are advised that control of a vehicle may be affected by strong cross winds, especially on exposed routes such as dual carriageways and motorways.
High sided vehicles and motorcyclists are particularly vulnerable to strong winds.
The RSA said motorists should look out for objects being blown onto the road and "expect road conditions to change quickly in high winds so reduce your speed".
It is advising pedestrians, cyclists and motorcyclists in areas affected by the Orange Weather Warnings to consider postponing the journey until conditions improve.
"Visibility and light is reduced in poor weather conditions. Keep safe by making sure you can be seen. Wear bright clothing with reflective armbands or a reflective belt," it said.
"Take extra care when crossing the road or cycling in extremely windy conditions as a sudden gust of wind could blow you into the path of an oncoming vehicle," it added.