The record for the highest temperature of the year on the island of Ireland has been broken for the second day running after the mercury hit 31.4C in Armagh city this afternoon.
The UK Met Office said this beats the 31.3C reached in Castlederg, Co Down yesterday and the 31.2C recorded in Ballywatticock, Co Down on Saturday.
The highest temperature in the Republic today was 30.7C at Mount Dillon, Co Roscommon.
A recording of 30.8C was made there yesterday making it the hottest day of the year in the Republic.
Meanwhile, Met Éireann has extended its Status Yellow high temperature warning for the whole of the country until the weekend.
The alert is now in effect until 9am on Saturday, with hot conditions by day and staying very warm and humid at night.
A Status Orange high temperature warning remains in place for Cavan, Monaghan, south Leitrim, Roscommon, Longford and Westmeath until 9am tomorrow.
Overnight temperatures will drop no lower than around 20C, according to the alert.
An Amber warning for extreme heat remains in effect in Northern Ireland until midnight tomorrow.
Northern Ireland has once again provisionally broken its highest #temperature on record 📈

Armagh reached 31.4 °C at 1520 this afternoon🌡️

This beats the 31.2 °C that Ballywatticock recorded on Saturday and the 31.3 °C that Castlederg recorded yesterday #UKHeatwave #heatwave pic.twitter.com/lItf4fwt8Z

— Met Office (@metoffice) July 22, 2021
Met Éireann said that last night was provisionally the first tropical night in Ireland for 20 years, with Valentia in Co Kerry not observing any temperature under 20.5C.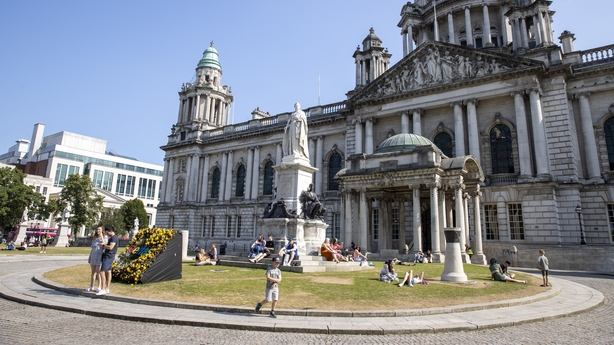 Forecasters said it will be warm and humid overnight and "feel uncomfortable for some" as temperatures remain above 16C-18C.
Last night was provisionally the first tropical night in Ireland for 20 years, with Valentia in #Kerry not observing any temperature under 20.5°C

Tropical nights (shaded air 🌡️ above 20°C all night) are rare in Ireland having only occurred around 6 times in the digital record. pic.twitter.com/3f7jMHECNb

— Met Éireann (@MetEireann) July 22, 2021
Irish Water is continuing to urge the public to conserve water to ensure a consistent supply for all.
Demand for drinking water has increased very significantly in many supplies across the Midlands.
At the same time, due to the dry weather and high temperatures, water source levels are dropping.
In a statement, it said: "Irish Water, together with our local authority partners are working hard to maintain supplies.
"The current extra demand, combined with reduced capacity, is not sustainable.
"We are appealing to everyone to be mindful of this and reduce water consumption as much as possible."
But it added that "with the continuation of the COVID-19 pandemic, the public are reminded to adhere to public health and HSE advice, and handwashing and hygiene remain critically important".