Met Éireann has issued a Status Orange high temperature warning for six counties, with the mercury set to top 30C in some areas.
The warning has been issued for Cavan, Monaghan, south Leitrim, Roscommon, Longford, Westmeath.
It came effect at 2pm and will be in place until 9am on Friday. Temperatures at night will be around 20C.
Status Orange - High Temperature warning for Cavan, Monaghan, south Leitrim, Roscommon, Longford, Westmeath

Maximum temperatures exceeding 30 degrees Celsius in places and overnight temperatures dropping no lower than around 20 degrees.https://t.co/Xg3aMJlyuS pic.twitter.com/LmeBi3A8cl

— Met Éireann (@MetEireann) July 20, 2021
A Status Yellow warning for high temperatures for the rest of the country came into effect at 1pm and will remain in place until 9am on Friday, with hot conditions by day and staying very warm and humid at night.
Temperatures could be as high as 30C in some areas, with overnight values not falling below 17-20C.
Temperatures today will be between 25-29C, and while it will stay dry for most areas, there is a chance of some heavy or possibly thundery showers in the north midlands and west later.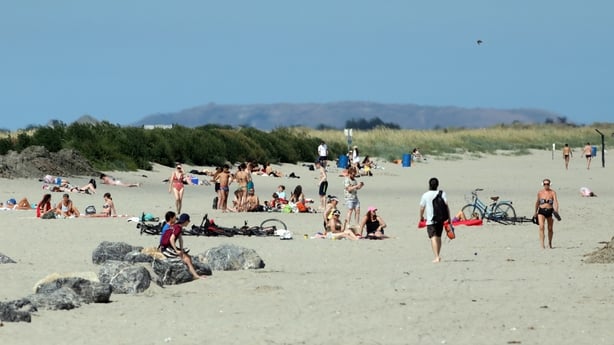 The UK Met Office has issued an Amber heat warning over extreme heat in Northern Ireland.
It said temperatures both by day and night will increase this week leading to public health impacts.
The warning, which covers all six counties in Northern Ireland, covers the period from 8am tomorrow until midnight on Friday.
Northern Ireland recorded a provisional record high temperature on Saturday, when the mercury hit 31.2C in Ballywatticock close to Newtownards in Co Down at 3.40pm.
Previously, the highest temperature of 30.8C was recorded on 12 July 1983 and 30 June 1976.
But it is possible the new record may be exceeded this week with the Met Office predicting that the temperature will rise above 30C on Wednesday and Thursday.
We need your consent to load this rte-player contentWe use rte-player to manage extra content that can set cookies on your device and collect data about your activity. Please review their details and accept them to load the content.Manage Preferences
Night-time temperatures could exceed 25C, warns Met Éireann chief
Met Éireann's head of forecasting Evelyn Cusack has warned that the extreme weather will lead to some areas seeing night-time temperatures of over 25C at midnight tonight and tomorrow night.
Speaking on RTÉ's News At One, Ms Cusack also warned that the high temperatures could spark thunderstorms in the north midlands and parts of the west later today or tomorrow, adding that "dry lightning" in wooded areas could spark fires.
Ms Cusack said that heatwave conditions are in place across the country, with new July temperature records set at some stations already last weekend.
She said that the World Meteorological Organisation defines a tropical night as one where air temperatures do not drop below 20C, adding that this is expected over the next three days.
"We've been close to that and we do expect that in places ... it could reach 30C or 31C almost anywhere," she said.
The current maximum temperature recorded for July is 32.3C, which was reached in Co Roscommon on 19 July 2006.
Status Yellow - High Temperature warning for Ireland
Met Éireann Weather Warning

High temperatures continuing this week with hot conditions by day and staying very warm and humid at night. ⬇️https://t.co/Xg3aMJlyuS pic.twitter.com/rlqRCazrgt

— Met Éireann (@MetEireann) July 20, 2021
It will be very hot tomorrow and Thursday with highs of between 26-30C and night-time temperatures set to be around 15-18C.
By Friday, while it will be a generally dry day over the northern half of the country, scattered showers will develop over the southern half, with the potential for some thundery downpours.
It will remain very warm, although temperatures will be a few degrees lower than previous days with highs of 24-27C, but warm and humid again on Friday night.
Met Éireann is forecasting showers over the weekend, mainly in the east, with spells of warm sunshine. Temperatures will dip to between 20-25C and the nights will be milder too.
Chief Medical Officer Dr Tony Holohan has said while people should get outdoors and enjoy the weather, it is important to do so in as safe a way as possible.
In a statement, Dr Holohan urged people to regularly apply sunscreen with a sun protection factor of at least 30+ for adults, and 50+ for children, as well as wearing light and loose-fitting clothing.
He also urged people to be mindful of heat exhaustion and heat stroke.
⚠️ It's not often that a warning is issued for high temperatures here in Ireland but a yellow warning comes into operation at 1pm today.
☀️Don't forget the sunscreen
💧Stay Hydrated
🐶Keep pets in the shade@WeatherRTE's Nuala Carey has the full details: pic.twitter.com/NYAbDLHE2U

— RTÉ (@rte) July 20, 2021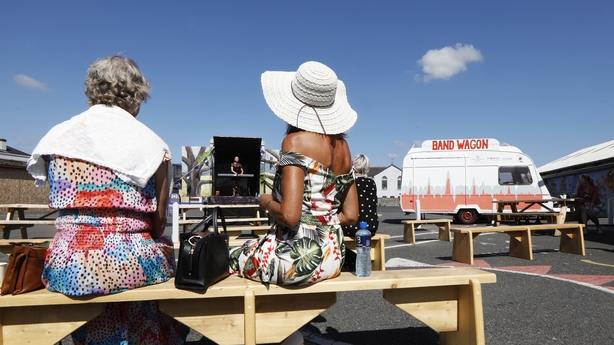 "Look out for others around you, especially individuals who may be more vulnerable to the effects of heat such as older people, young children and babies," he said, adding people should continue to follow public health advice in relation to Covid-19.
Irish Water has urged people to conserve water amid a significant increase in demand, although it says there are currently no plans to implement a Water Conservation Order - or hosepipe ban.
Urgent appeals for conservation have been made in a number of areas, including Wexford, Kerry, and Donegal, with night-time restrictions in place in Portlaoise and parts of Longford.
---
Tips for coping with high temperatures:
The HSE is advising people to stay safe in the heat.
Keep cool
Minimise unnecessary heating - turn off central heating, electrical equipment and lights that are not needed.
Keep out of the sun between 11am to 3pm.
If you have to go outdoors, protect your skin by using shade, wearing clothing that covers the skin, a wide brimmed hat, sunglasses and sunscreen of 30+ for adults and 50+ for children.
Opening windows when the air feels cooler outside than inside (e.g at night) where it is safe to do so.
Stay hydrated
Make sure you have enough water to drink. It is important to stay hydrated.
Drink more fluids when you feel any dehydration symptoms. The best fluids to drink are water or oral rehydration sachets - chat to your pharmacist about how to use these safely.
When to get medical help
Contact your GP or the Emergency Department if you are unwell and especially if you are showing signs of serious dehydration that needs urgent care:
are confused and disorientated.
feel very dizzy.
have not gone to the toilet all day.
feel like your heart is beating fast.
have fits (seizures).
are caring for someone who is drowsy or difficult to wake.