Concerns have been raised about the impact of excessive heat on the country's water supplies and the ability to combat wildfires, as temperatures are expected to remain in the high 20s for the week.
Met Éireann has issued a High Temperature Advisory which remains in place until noon on Friday.
The forecaster said it will continue to be very warm over the coming days, with daytime temperatures into the high 20s and it will be very humid at night with temperatures staying in the mid-to high teens.
UV levels will be high to very high under clear skies today and people are urged to protect themselves when out enjoying the good weather.
Adults should use at least SPF 30, while children should have at least SPF 50 on.
Yesterday, temperatures hit 29.5C in Athenry, Co Galway, making it the hottest day of the year so far.
Hot and mostly sunny across the country today😎
Highs of 25 to 29 or 30 degrees, but slightly less warm along coasts due to a sea-breeze📈🌡️
There is a risk of a few localised heavy showers breaking out later this afternoon or evening🌦️ pic.twitter.com/jEsbzL4ZNP

— Met Éireann (@MetEireann) July 18, 2021
Garda Dog Roxy & Bran having an early morning swim to cool down. Please remember dogs can't regulate their temperature so it's important not to allow them to overheat. Give them loads of fresh water and shade for a walk, perhaps better to do in early morning/evening.

🐶🐶 pic.twitter.com/s9Rh76wN0Z

— Garda Info (@gardainfo) July 18, 2021
It comes as firefighters continue to battle a gorse fire that has been raging in Howth since 22 June.
The Air Corps has been asked to assist.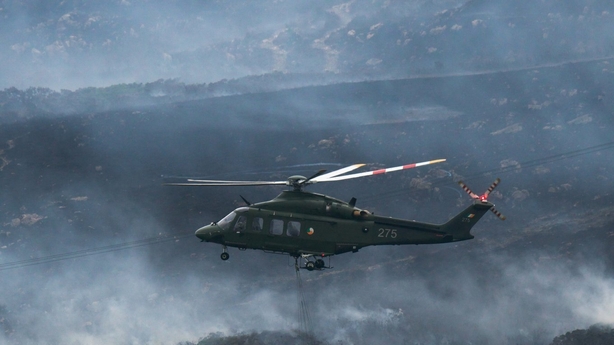 Dublin Fire Brigade said that the heat has dried out vegetation, fuellling the blaze and allowing the fire to spread more easily.
Firefighters were at the scene through the night and three units along with a senior officer were in attendance today.
The Air Corps has also been called to assist firefighters by dumping water on more inaccessible areas.
More than 60 acres are affected within a perimeter line of approximately 2.5km.
Dublin Fire Brigade Station Chief Darren O'Connor said it is a very challenging fire to extinguish because it is "like a bog fire on the side of the hill" and the underfoot conditions are difficult.
He said there is an underground peat fire with gorse and bracken intertwined above that.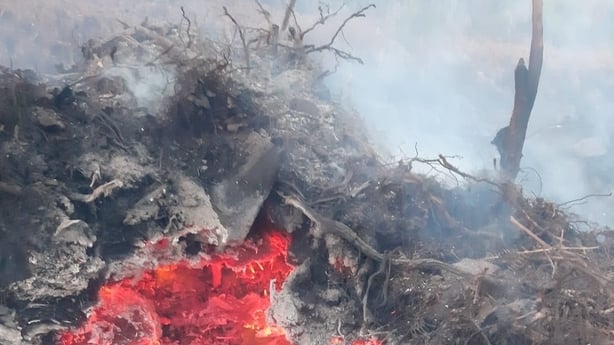 The top of the hill is more than 160 metres above sea level and firefighters say it is "impossible" to pump water that high.
Firefighters utilise natural and constructed 'fire breaks' to stop the spread of the fire.
These are either old pathways or when firefighters deliberately clear a space of organic matter and vegetation to starve the fire of fuel.
Mr O'Connor said the main priority is to protect property.
The time of day is a major factor in the fight against the blaze.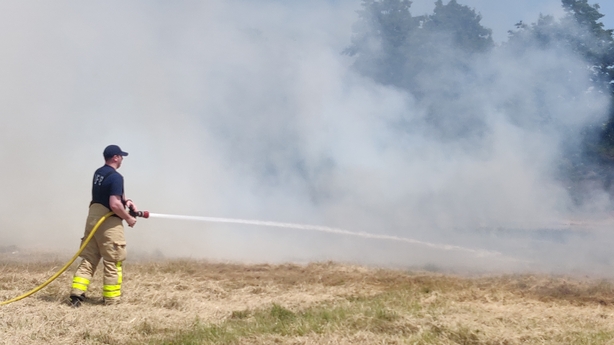 "In the evening time when the humidity level is at its highest and the daytime temperature has dropped and the land-sea breeze is reversed, that's when the fire is at its weakest," he said.
"However, during the day were at the max temperature, humidity level is down at around 50% so the fuel is really dry, really flammable," he added.
He said the current north-east wind with gusts of up to 25km is also driving the fire and causing it to jump the fire breaks.
"This is the danger point. This is why we have crews in place at the fire break with water," Mr O'Connor said.
A lot of the material which fuels the fire has burned out already but it is difficult to say when the fire will end.
Mr O'Connor said firefighters have "made good progress" and will continue to monitor the situation.
Dublin Fire Brigade is appealing for the public to keep clear of the area as nearby roads are congested with traffic.
In particular, members of the not to fly drones which could interfere with the assistance from the Air Corps.
"If people are going out into the hot weather, please be responsible, watch where you are barbecuing, and dispose of cigarettes properly," he added.
'Critically low' water levels
Meanwhile, Irish Water has appealed to the public to conserve water as temperatures soar and water supplies drop to critically low levels.
The agency said it has noticed an increased demand for water and is asking the public to take measures like shorter showers, turning off taps while brushing teeth, and saving and reusing water for gardens.
"As rivers, lakes and groundwater levels reduce through the summer and autumn period, there is less water available for supply, while at the same time the warmer weather gives rise to increased water demands for domestic, agricultural and leisure uses," said Tom Cuddy, Irish Water's Head of Asset Operations.
"Safeguarding the supply of water is essential at this time when handwashing and hygiene is of critical importance. We are calling on everyone to play their part," he added.
Irish Water said there are currently no plans for a Water Conservation Order.
However, night-time restrictions and urgent appeals for conservation have been made in a number of locations across the country including Laois, Kerry, Wexford, Dublin, Meath and Donegal.
Irish Water, working in partnership with @LaoisCouncil , wishes to advise customers in Portlaoise of night time restrictions due to increased demand and depleted reservoir levels. The restrictions are essential for adequate supply during the daytime. https://t.co/n1Elv7wUui

— Irish Water (@IrishWater) July 18, 2021
Nighttime restrictions, involving decreased water pressure, are in place for same areas in Portloaise from 10pm to 6am starting tonight until 25 July.
Meanwhile in the Fingal area of Dublin, people in Garristown, Ballymadun, Tobergregan, Baldwinstown, Palmerstown and surrounding areas may be impacted by intermittent low water pressure and outages until 10am tomorrow, Monday 19 July.
Customers in Garristown, Ballymadun, Tobergregan, Baldwinstown, Palmerstown and surrounding areas may be impacted by intermittent low water pressure and outages until Monday 19 July. Demand is currently outstripping supply volume available. Find out more https://t.co/D32Ghd98LF.

— Irish Water (@IrishWater) July 18, 2021
Irish Water and Fingal County Council reconfigured the network in order to allow the Garristown reservoir to refill, however, demand is outstripping supplies which is resulting in very low water levels in further reservoirs supplying these areas.
An alternative water supply is in place and water tankers with clean drinking water is available in Ballygarra Park and opposite the shop in Garristown Village for the duration of the outage.
In the Ashbourne and Ratoath areas of Meath, authorities are working to restore normal supply after a drop in treated water levels at local reservoirs.
Night-time restrictions are also in place in Enniscorthy, Co Wexford from last night until 6am tomorrow morning.
Irish Water has said water supplies in Donegal are "on a knife edge".
Night-time restrictions have been put in place in Convoy, Raphoe, Tievebrack, and Liscooley for the coming days.Restrictions may also be placed on other areas.