A Status Orange rainfall warning for counties Kerry, Cork, Tipperary and Waterford expired at 9pm, without causing significant flooding to property.
However, Cork City Council has warned that river flooding is likely to continue for some hours, as conditions gradually ease.
ESB Networks crews spent the day repairing faults, and have reduced the number of customers without electricity to around 1,000 in isolated pockets.
The risk to property from flooding is continuing to recede.
Cork City Council said it regards the risk as a 48-hour event, which will not come to an end until tomorrow afternoon or tomorrow evening.
It's blowing a gale at Kennedy Quay in #Cork but, for once, the tides are a huge factor in our favour. @rtenews pic.twitter.com/ttvE1ktFO3

— Paschal Sheehy (@PaschalSheehy) February 23, 2021
It warns there will be further rain this evening, and flooded roads will become more dangerous as night falls.
Throughout the day, the ESB eased the flow of water through its Inniscarra Dam, upstream from Cork City.
Flows of 225 tonnes of water per second were released through the dam prior to last night's rain to create headroom.
Those flow levels were reduced today to 140 tonnes per second during the heaviest of the rain.
However, they may be increased again to 225 or 250 tonnes per second over the next 24 hours, in line with in-flows into the River Lee system.
The ESB said it is continuing to liaise with local authorities and with around 70 residents living immediately downstream of the dam.
Cork County Council said water levels on the River Blackwater in north Co Cork are continuing to rise tonight, with 76mm of rainfall - or almost three inches - being recorded at some locations in the county over the 24 hours since last evening.
Weather fit only for ducks!

Flooded Lee Fields #Cork with #Orange #Rainfall #Warning in place until 21.00 hours tonight #Cork #Kerry #Tipperary #waterford pic.twitter.com/HiSEjA8rAb

— JennïeØSullivân (@OSullivanJennie) February 23, 2021
Flood barriers have been erected in both Mallow and Fermoy, and an early warning system is in place there.
Bridge Street in Mallow has closed. The N72 may be closed later at Mallow Racecourse. Levels on the River Blackwater are expected to peak in Mallow at around 10pm.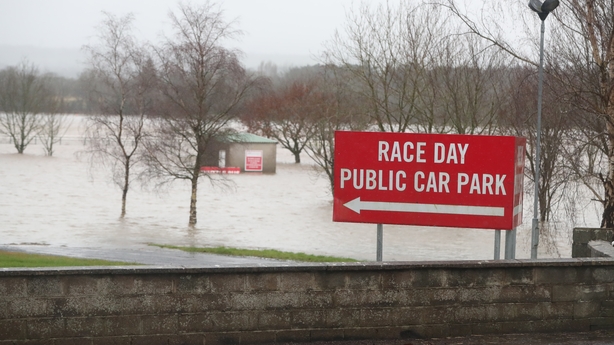 Downstream in Fermoy, meanwhile, water levels are expected to peak between 3am and 6am tomorrow.
Cork County Council crews will be on standby throughout the night in both Mallow and Fermoy, and the possibility of closing the bridge in Fermoy will be kept under review.
ESB Networks crews spent the day repairing faults throughout the country, caused by high winds.
And #Kerry is getting a bit of a hammering from the #weather too, by the looks of things! This is Listry Bridge, on the road between #Killarney and #Killorglin. @rtenews pic.twitter.com/ZXPwkJ1hDN

— Paschal Sheehy (@PaschalSheehy) February 23, 2021
The worst-affected counties were Cork, Kerry, Waterford, Roscommon and Dublin.
Around 1,000 customers remain without power tonight. It may take longer to have power restored to them, given that most are in more isolated pockets.
We need your consent to load this rte-player contentWe use rte-player to manage extra content that can set cookies on your device and collect data about your activity. Please review their details and accept them to load the content.Manage Preferences