A series of weather warnings have been issued for tomorrow with more unsettled weather forecast across the country.
A Status Orange wind warning has been issued for Donegal, Mayo and Galway for between 11am and 3pm.
Met Éireann said: "South to southwest winds will reach mean speeds of 65 to 80km/h with severe gusts in excess of 110km/h in the west.
"Where winds are onshore, there is a risk of coastal flooding."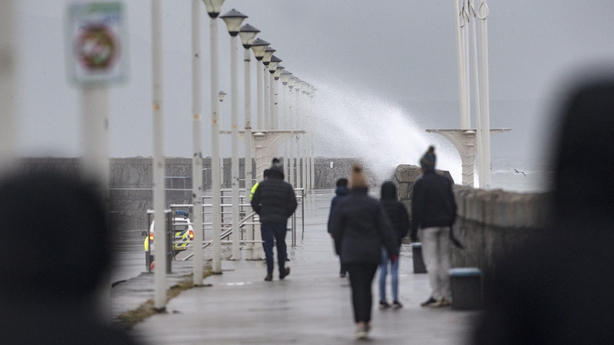 There is also a Status Yellow wind warning for Dublin, Louth, Wexford, Wicklow, Meath, Donegal, Galway, Leitrim, Mayo, Sligo, Clare, Cork, Kerry, Limerick and Waterford.
It will be in effect from 5am to 5pm and Met Éireann is warning that it will be "very windy with southerly winds reaching mean speeds of 50 to 65km/h and gusts of 90 to 110km/h".
It added: "Where winds are onshore there is a risk of coastal flooding around high tide."
Another Status Yellow wind warning has been issued for Carlow, Kildare, Kilkenny, Laois, Longford, Offaly, Westmeath, Cavan, Monaghan, Roscommon and Tipperary.
It will be in effect from 6am to 4pm tomorrow and bring winds of 50-60km/h and gusts of 80-90km/h.
Here is the latest rain & cloud forecast from our HARMONIE weather model. It covers the period from now until midday on Monday.

Detailed forecasts and warnings here ??: https://t.co/YJqxvBBwTs pic.twitter.com/j0VaHIO03X

— Met Éireann (@MetEireann) February 13, 2021
More than 8,000 homes, farms and businesses were left without power this morning due to poor weather conditions overnight.
ESB Networks said that by this afternoon 3,200 were without power and that crews are working to restore supply to those in areas most affected.
Areas most effected include counties Mayo and Louth following strong winds, icy temperatures and sleet and snow showers.
Snow falls in Co Sligo are seen here in this drone footage taken on the duel carriageway between Collooney and Sligo Town this morning | Read more: https://t.co/GBB1dfx4Ox pic.twitter.com/jAUP7SMCBv

— RTÉ News (@rtenews) February 13, 2021
AA Roadwatch has urged drivers to exercise caution, due to hazardous road conditions in many parts of the country.
It has reported multiple collisions on the M1, with icy conditions and snowfall affecting the route.
Gardaí in the north-east have also urged motorists to take extreme care on the roads after a number of collisions, including an eight-car pile up on the M3 in Co Meath.
No injuries were reported in the crash which happened between Junction 6 and 7.
Hazardous road conditions this morning in many parts of the country, with a large number of collisions reported on motorways so far.

Updates at https://t.co/PSzIBsvOzE

?? Icy conditions affecting the northern half and the east

?? V wet conditions & flooding in south pic.twitter.com/HB2YVHl4rN

— AA Roadwatch (@aaroadwatch) February 13, 2021
Meanwhile, Dublin Port Company temporarily closed access to the Great South Wall and the North Bull Wall Bridge due to high tides and gale force winds.
Reminder! TEMPORARY CLOSURES IN PLACE FOR GREAT SOUTH WALL & NORTH BULL WALL BRIDGE THIS WEEKEND??

Read more: https://t.co/ivV596JDgw #WeatherWarning #Dublin pic.twitter.com/2xE0znavJI

— Dublin Port Company (@DublinPortCo) February 13, 2021