Taoiseach Micheál Martin has said the Government will ensure supports are provided to businesses affected by floods in Cork and Bantry.
Around 100 buildings and dozens of parked cars have been damaged by flooding in Cork city centre, with damage estimated to run to millions of euro.
Significant flooding has also been reported in the county following this morning's high tide.
The flood water has begun to recede, but many streets in Cork city were under up to a metre in water.
While flood warnings had been issued in advance, the speed at which the flood waters rose appeared to have taken many people by surprise.
The streets affected are the South Mall, Oliver Plunkett Street, Malboro Street, Princes Street, Pembroke Street and extending onto Patrick Street.
Water, everywhere — a heartbreaking scene from #Cork city centre this morning. @rtenews pic.twitter.com/YIIlFR4b0t

— Paschal Sheehy (@PaschalSheehy) October 20, 2020
Government ministers agreed at Cabinet that supports will be provided for those affected and the Taoiseach encouraged business owners to apply for such funding.
"This latest flood event is deeply distressing for business owners in the city. This is a critical time for traders, and they are now facing into another clean-up operation following this morning's flooding," Taoiseach Micheál Martin said.
"All the necessary supports will be made available to those affected by this morning's floods. We will ensure that these schemes are activated without delay," he added.
Mr Martin said the flooding was further evidence of the need to progress flood defence works in Cork city.
He said there will be another incorporeal Cabinet meeting later today to agree funding for businesses in Cork and Bantry.
The Minister responsible for the Office of Public Works, Patrick O'Donovan, has appealed to a group which is opposing a €150 million flood relief plan for the city to withdraw its application for a judicial review, to allow the first phase of the project to proceed.
The Save Cork City group says it wants dialogue and its alternative option of a tidal barrier explored.
The Director of Services at Cork City Council has said he is very satisfied that a lot of business owners were notified well in advance through press releases, social media updates and WhatsApp messages.
David Joyce told RTÉ's Today with Claire Byrne that the vast majority of premises had their flood defences up and those defences worked.
"Anybody who didn't put up flood defences and did not heed the city council's warnings would have been damaged this morning," he said.
Mr Joyce said the water crossed South Mall and Oliver Plunkett Street was around 30-40cm high and that would have gone through people's front doors had they not protected their premises.
He said Cork City Council is very happy there will not be any flooding tonight or tomorrow morning. He added that roads are mainly dry, but suction trucks were being used.
There are also reports of flooding in Passage West and Monkstown, and Bantry town is said to be impassable due to tidal flooding.
Bantry town is currently impassable due to tidal flooding. Please do not attempt to travel through the town for the next hour while high tide subsides. pic.twitter.com/6ZH4IOpZm5

— Cork County Council (@Corkcoco) October 20, 2020
A senior engineer with the Office of Public Works, Ezra McMenamim, has told RTÉ News that damage has not been as extensive as the last major floods in the city in 2014.
However, he said water levels had come within 10cm of causing major flood damage throughout the city centre.
Cork Chamber of Commerce, Cork Business Association, business people and traders have called for work on a flood defence project to proceed without delay.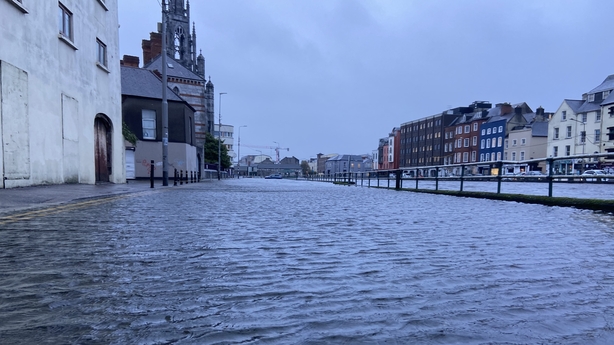 An Bord Pleanála granted permission for work on part of that project to begin at Morrison's Island in June, but Save Cork City, the main opponents of the city's €150m flood defence project, have applied for a judicial review of that decision.
Beer kegs float along a street after Cork was hit with heavy flooding (Video via @corkbeo) | https://t.co/DrLfeXxkg5 pic.twitter.com/nqBprlYvYO

— RTÉ News (@rtenews) October 20, 2020
Elsewhere, Waterford Train Station has reopened after being closed to passengers due to flooding.
Plunkett Station, which is located beside the River Suir, was forced to shut its doors around 9am after flooding submerged the train tracks.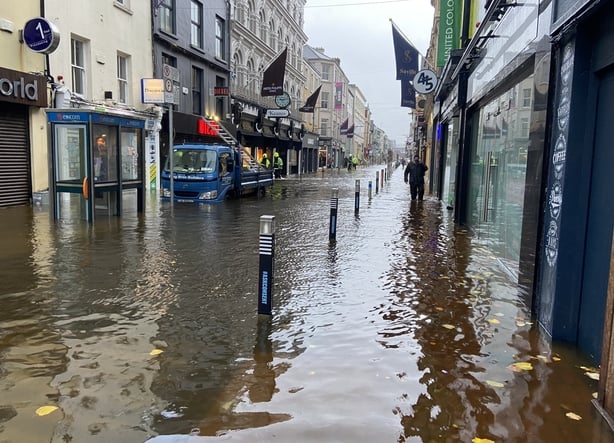 A Status Yellow rain warning for the entire country was lifted this afternoon.
A Status Yellow wind alert for Cork, Kerry, Wexford and Waterford has also ended.
Additional reporting Sandra Hurley