Areas that were impacted most severely by Storm Ellen last week may be vulnerable to further damage from Storm Francis, Met Éireann has warned.
A Status Orange rainfall warning and a Status Yellow rain warning have both come into effect.
People have been urged to stay away from coastal areas and motorists have been warned of hazardous driving conditions during Storm Francis.
The Orange rainfall warning covers Connacht, Cavan, Monaghan, Donegal, Wexford, Cork, Kerry and Waterford.
Met Éireann's Gerry Murphy says all parts of the country will get heavy rainfall and there will be a risk of flooding due to Storm Francis | https://t.co/I0wu1LNsdL pic.twitter.com/gEbUrs06EA

— RTÉ News (@rtenews) August 24, 2020
Met Éireann said: "Intense rainfall associated with Storm Francis is expected at times Monday night and Tuesday, leading to accumulations of 40 to 60mm (higher values in mountainous areas).
"The most intense rainfall is expected to ease off in southern counties during Tuesday morning. Some flash flooding likely.
"This rainfall will further elevate river levels and may result in river flooding also."
It came into effect from 9pm until 5pm tomorrow.
Here is the latest rainfall accumulations for the 6 hour period between 1700 and 2300 this evening. 30.8mm of rain has fallen at our station at Valentia Observatory for the above period. #StormFrancis pic.twitter.com/4DMqdCWzdV

— Met Éireann (@MetEireann) August 24, 2020
A Yellow rainfall warning has been issued for Dublin, Carlow, Kildare, Kilkenny, Laois, Longford, Louth, Wicklow, Offaly, Westmeath, Meath, Clare, Limerick and Tipperary.
It came into effect at 9pm and will remain in place until 9pm tomorrow.
The Yellow wind warning is for all of Munster, as well as Dublin, Carlow, Kilkenny, Wexford and Wicklow and is valid for tomorrow from 6am to 7pm.
Meanwhile, the Met Office has issued a Yellow rain warning for Northern Ireland.
It is valid from midnight until 6am on Wednesday.
Met Éireann meteorologist Gerry Murphy has said all parts of the country will get heavy rainfall and "there will be a risk of flooding, especially in places where there has been heavy rain recently and where water tables are high."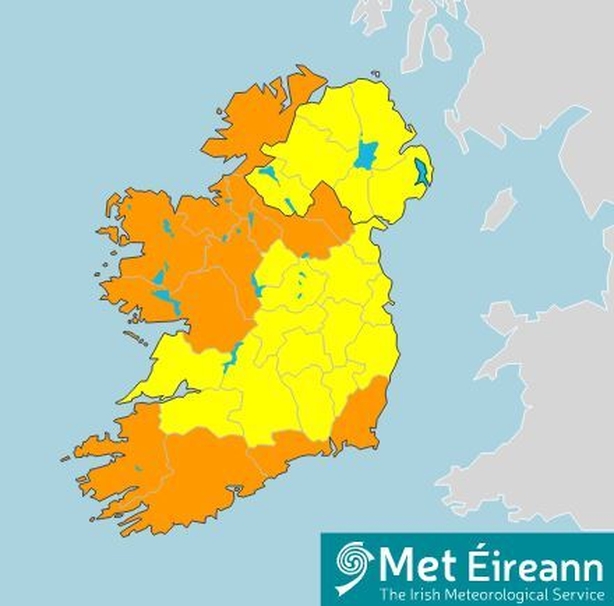 A very wet & windy spell ahead:
From 9pm
⚠️Orange Rainfall warning for Connacht, Donegal, Cavan, Monaghan and the South Coast
⚠️Yellow Rainfall warning elsewhere
From 6am
⚠️Yellow Wind warning for Munster, Carlow, Kilkenny, Wexford, Dublin, Wicklow
Stephen has more #rteweather pic.twitter.com/EbLVVRItnV

— RTE Weather (@WeatherRTE) August 24, 2020
The Irish Coast Guard has advised people to exercise caution in exposed areas including along the coast.
---
RSA's tips for safe driving as Storm Francis approaches
---
The National Directorate of Fire and Emergency Management crisis management team met this morning ahead of the storm.
Severe Weather Assessment teams from the local authorities have been advised to closely monitor weather forecasts and to consider activating crisis management arrangements where dencessary.
The NDFEM said that with trees in full leaf, with the potential for a number of trees to fall blocking roads and damaging power lines.
ESB Networks have said they are preparing for power outages with staff on standby to repair faults.
An update from @HousingPress & NDFEM 👇

⚠️Take account of @MetEireann
wether warnings
⚠️Stay away from coastal areas
⚠️Be aware of hazardous traveling conditions
⚠️Pay attention to #YourCouncil advice on local conditions
⚠️Never ever touch or approach fallen wires#StormFrancis https://t.co/2TyLHAEpuH

— Local Authorities Ireland (@LAsIreland) August 24, 2020
With many people on holidays, everyone has been urged to stay away from coastal areas while the warnings are in effect.
Road users, particularly those driving high-sided vehicles, are also advised to be aware of hazardous conditions.
The storm comes less than a week after Storm Ellen, which caused considerable damage across the south and west and left almost 200,000 homes and businesses without power.
Cork City Council has said that while tributary river levels might rise in the wake of Storm Francis, it is not expecting any tidal flooding in the city centre akin to last week's.
However the local authority said that emergency crews remain on standby if needed.
Cork County Council says given the impact of Storm Ellen last week and flooding in Rosscarbery the week before, the local authority has been taking extra precautions to ensure flooding does not before a major issue again.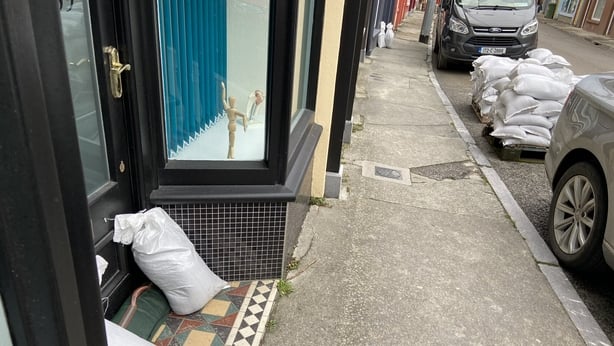 Crews have been working to clear gulleys and known trouble spots in the county following the destruction and debris caused by fallen trees last week.
In Skibbereen, measures, including sandbags, have been put in place at Rossa Road to give additional protection to homes and businesses that were flooded last week due to works not being complete at a culvert at the Cutting.
The storm drain outside the Eldon Hotel has also been opened.
The UK Met Office said that from tonight there would be strong wind gusts in exposed western locations.
The rain is expected to be heaviest in Northern Ireland and southwest Scotland, where 60-90mm of rain could fall as the storm moves from west to east, the Met Office added.
The National Parks and Wildlife Service (NPWS) has announced the closure of seven national parks and nature reserves while the weather warnings are in effect.
Connemara National Park, Co Galway
Derryclare Nature Reserve, Co Galway
Knockma Wood, near Tuam, Co Galway
Laughil Wood, near Pontoon, Co Mayo
Old Head Nature Reserve, Co Mayo
Wild Nephin, Ballycroy National Park, Co Mayo
The Raven Nature Reserve, Co Wexford
The NPWS has asked people not to enter these sites for the duration of the weather warnings.