At least 50,000 homes, farms and businesses will be without power overnight due to Storm Ellen, as two new Status Yellow wind and rain warnings have been issued.
At one point 194,000 premises were without power, but crews have worked overnight and throughout the day and power has now been restored to around 144,000 customers.
However, the ESB said this evening that 50,000 would be without services overnight and crews would mobilise at first light to help the remaining affected customers.
More than 1,800 individual faults have been reported since early morning.
The majority of those affected are in Cork, with power outages also experienced in Tipperary, Westmeath, Longford, Sligo, Roscommon and Leitrim.
ESB Networks Operations Manager Derek Hynes said Storm Ellen was the third biggest storm the ESB has had to deal with in recent years, the biggest being Storm Ophelia on 16 October 2017, but it is the first major one to occur at this time of year.
Mr Hynes more crews will be deployed as soon as it is safe to do so and customers should check the ESB's website for more information.
The south and west of the country experienced the full force of Storm Ellen, which brought heavy rain along with severe and destructive winds.
Cork County Council officials said it had more than 50 reports of fallen trees across the county during the night and many roads are in a perilous condition with the large amounts of debris on them.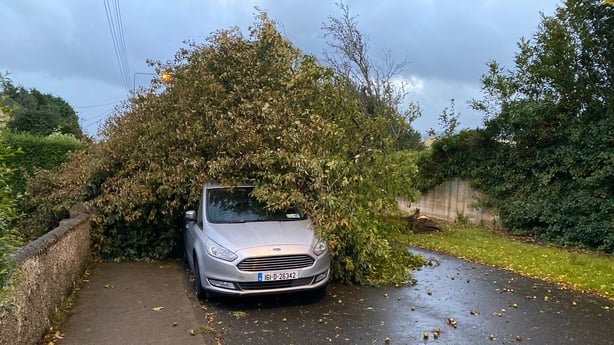 The council's acting Director of Services said emergency crews faced treacherous conditions overnight as they tried to access fallen trees, including along the N25 Cork to Waterford road and the N22, the main road to Killarney.
Jim Molloy said that while trees have been cleared on major routes, drivers should take extreme caution and watch out for debris on the roads, especially in east Cork, where a Status Yellow wind warning remains in place.
Gusts of 143km/h were recorded at Roches Point in Cork at 11pm.
Meanwhile, Met Éireann has issued three Status Yellow warnings.
A rainfall warning for the entire country came into effect at 9am and will be in place until 5am tomorrow, with heavy squally downpours and thunderstorms forecast, bringing a risk of spot flooding at times.
A wind warning for Dublin, Louth, Wexford, Wicklow, Meath, Cork, Kerry and Waterford is in force since 5pm today until 5am tomorrow.
Very strong winds are forecast with severe and damaging gusts and a continued risk of coastal flooding.
A separate wind warning has been issued for Carlow and Kilkenny and is valid from 10pm until midnight tonight.
Updated Status Yellow wind warning issued for Dublin, Louth, Wexford, Wicklow, Meath, Cork, Kerry and Waterford. View all warnings here. https://t.co/ozrQHtoOkt pic.twitter.com/WZspkdKgqL

— Met Éireann (@MetEireann) August 20, 2020
A yellow wind warning has been issued by the UK Met Office for Antrim, Armagh, Down and Tyrone.
Strong winds are expected to cause some disruption to travel and power supplies. The warning is in place until 4am tomorrow.
Cork City Council tweeted pictures of spot flooding in parts of the city centre shortly after 7.30pm. "Morrison's island breached but water did not get too far Fr Mathew St," it said.
This taken a minute after high tide. Morrison's island breached but water didn't get too far up Fr Mathew St. We're lucky the wind direction changed this anoon. @CBA_cork @CorkCityFire @CorkCityFire @GardaTraffic pic.twitter.com/mRb4JXTiTd

— Cork City Council (@corkcitycouncil) August 20, 2020
Elsewhere in the county, flooding in Skibbereen has been largely cleared, but crews are continuing to clear floodwaters.
A Fianna Fáil TD for Cork South West has said there are "serious questions to answer" over how parts of Bridge Street in the town were badly affected after a flood relief scheme was completed in the town three years ago.
---
Live: Latest updates on the aftermath of Storm Ellen  
Advice for staying safe during storms
---
Speaking on RTÉ's Today with Sarah McInerney, Christopher O'Sullivan said "tens of millions was spent on the flood relief scheme". He said he would be raising the issue with his Government colleagues.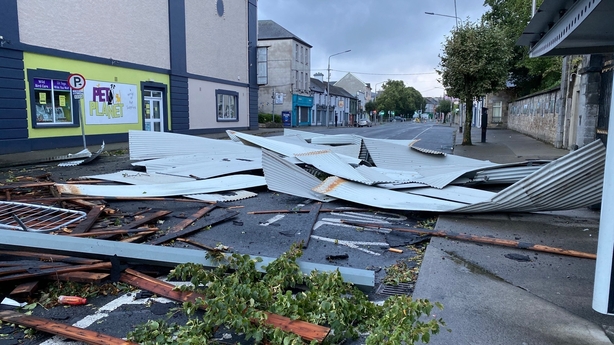 In Co Tipperary, the Davis Road in Clonmel was closed after part of the roof of the Regal Centre, the town's old cinema building and now a business premises, blew off late last night. It has now reopened.
Business and homeowners in Kenmare, Co Kerry, breathed a sigh of relief this morning, with no flooding to report. The last high tide was at 5.30am. 
In the northwest, Sligo County Council said crews worked through the night to deal with storm damage, with trees cleared from a number of locations, including the N17 at Ballinacarrow and the N4 at Drumfin.
Additional reporting Jennie O'Sullivan, Tommy Meskill, Conor Kane