Storm Ellen has left thousands of people without power across the south and west of the country with severe and destructive gusts also leading to fallen trees and flooding.
Met Éireann's Red Status wind warning for Cork expired at midnight but an Orange wind warning for Munster and counties Galway and Mayo is valid until 6am.
A Status Yellow wind warning for the rest of the country will remain in place until 8am.
Spot flooding has been reported in parts of Kinsale, Middleton and Bantry in west Cork. Local Social Democrat TD Holly Cairns tweeted a video of a flooded Bridge Street in Skibbereen.
Skibbereen now. #StormEllen #WestCork pic.twitter.com/ZyWoZ81lFr

— Holly Cairns TD (@HollyCairnsTD) August 19, 2020
Cork South West Fianna Fáil TD Christopher O'Sullivan said on Twitter: "This shouldn't be happening in Skibbereen. Millions spent on flood protection.
"The entire town should be dry even in this intense rainfall. OPW need to provide answers."
Widespread power outages were reported across Munster and southern Leinster including Ballina (Tipperary), Kilkenny City as well as several locations in Cork, Wexford, Waterford and Kerry.
Thousands of customers were affected and the ESB urged people to report local outages to its website. 
Cork City Fire Brigade appealed to people to ensure they have torches ready and phones charged.
Fallen trees were reported in Cork on the R612 (Carrigaline to Crosshaven), R586 (Ballineen to Dunmanway),  N22 (east of Lissarda, obstructing westbound traffic) R627 (north east of Midleton at WestPark), N25 (between Lakeview roundabout in Midleton and Two Mile Inn and Kilmountain Cross).
A fallen tree was also said to be blocking the R624 near Fota while another tree was down on the Shanbally Road in Ringaskiddy.
Very strong winds and heavy rain battering Cork city tonight with lots of surface water and debris on roads across the city. And lots of reports of fallen trees. A section of fencing is also blocking one lane of the N8 on Horgan's Quay in the city @RTENews #StormEllen #Cork pic.twitter.com/tPzKUTUQKU

— Fergal O'Brien (@FergalOBrienTV) August 19, 2020
Other affected routes include the R665 Wood Road at Clonmel, the R666 at Ballyduff in Co Waterford (at the Golf Club Junction) and the R671 (near Modeligo).
The weather has started to deteriorate in parts of Kerry, with severe winds and rain. People are being advised to remain indoors. There was concern for low-lying areas of the county, with a risk of flooding.
In Kenmare, Finbar Quill of Quill's Woollen Market in the centre of the town said he would be up through the night with pumps and sandbags at the ready. His shop was badly damaged by flooding just two weeks ago.
Kerry County Council has set up a hotline, which will be live until 9am. Council crews are on standby and the their Severe Weather Assessment Team is monitoring developments. 
Our outdoor crews and Severe Weather Assessment Team will be monitoring matters during the night
Our Emergency Telephone Line is in place from 9pm-9am for any Storm Ellen-related emergencies. Tel: 066-7183588

— Kerry County Council #SafeDestinationKerry (@countykerry) August 19, 2020
Earlier today, the Acting Director of Services and Roads with Cork County Council said council staff tried to make contact with visitors to the area ahead of the storm.
Jim Molloy said: "Many who are on campsites are not local to the area and are not familiar with the conditions and storm force gales that we are exposed to in southwest Cork."
He told RTÉ's News at One that staff were preparing sandbags, flood defences and making sure gulleys are clear in the parts of Cork that are likely to be affected.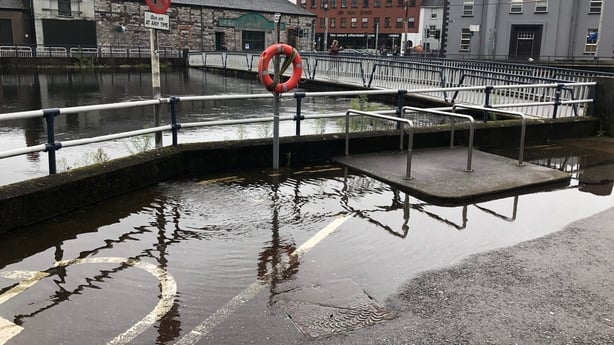 However, the Director of Operations at Cork City Council, David Joyce, said concerns remain ahead of tomorrow's high tide.
He said the risk will be assessed at a meeting of the Flood Assessment Team tomorrow morning.
Conditions deteriorating along the Cork coast as waves and wind build - #StatusRed #StormEllen comes into affect from 2100hrs until midday tomorrow in #Cork @rtenews pic.twitter.com/AxZKjiqVCZ

— JennïeØSullivân (@OSullivanJennie) August 19, 2020
Minister for Defence Simon Coveney, who is also a TD for Cork South-Central, earlier urged the public to take seriously the Status Red and Orange weather warnings.
Speaking as chair of the National Emergency Coordination Group, Mr Coveney said there was concern that some people might not be prepared for Storm Ellen and would "get into difficulty".
Mr Coveney said there had been a lot of preparation for the impact of the storm, involving input from local authorities, gardaí and the Irish Coast Guard.
---
Met Éireann warning system explained
Why have we seen so many storms in recent years?
---
Met Éireann said there is particular concern for tourists who may be camping as a separate Orange weather alert remains in place for the other counties in Munster, as well as for Galway and Mayo.
⚠️ Warnings coming into effect for #StormEllen from 9 PM tonight, here's Karina from @WeatherRTE with all the details.

Take care & stay up to date with warnings & the forecast for your area at https://t.co/nKAQoe69Ry and via @rtenews #RTÉWeather pic.twitter.com/HcyQNnigAX

— RTÉ (@rte) August 19, 2020
Head of Forecasting Evelyn Cusack said counties Kerry and Cork, and Co Clare in particular, are likely to experience coastal flooding as a result of very heavy rain.
She said all areas are at risk from the high impact storm and the country is in for a very unsettled spell of weather into today and tomorrow.
Ms Cusack said the further bad weather will increase the risk of flooding along the east coast with a Status Red marine warning in place for coastal areas. She said Storm Ellen is being fuelled by remnants of Hurricane Kyle.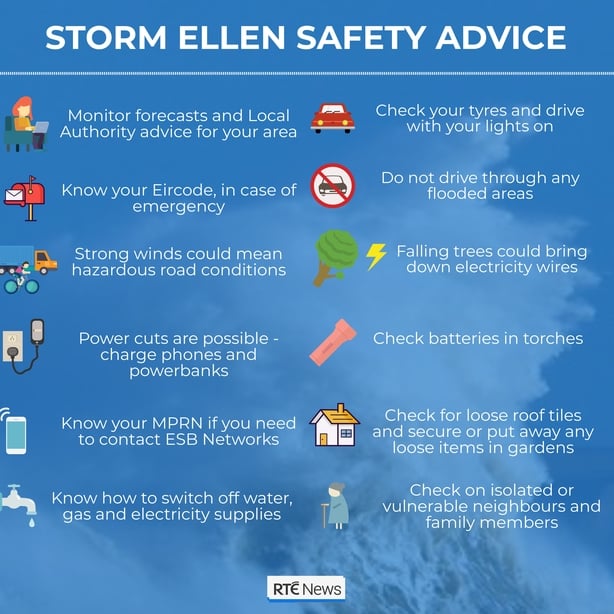 It is expected to travel up the west coast or the midlands, but there "is some degree of uncertainty about this".
Ms Cusack said: "All parts of the country may experience severe impacts. Trees are in full leaf at the moment and are likely to be blown down, some roofs blown off and roads damaged.
"There will be heavy and thundery downpours and some flooding. There will be coastal effects or storm surges and tides are high, and will vary depending on the location."
Ms Cusack said while this weather is unseasonal, August is one of the wettest months in Ireland because of warm humid conditions and thunderstorm activity.
EUMETSAT Satellite animation showing the track of #StormEllen. The developing low pressure system that will cross Ireland tonight can be identified as the bend in the cloud located to the northwest of Spain. All current warnings see https://t.co/juduxcKda8 pic.twitter.com/FkVxNR9TNQ

— Met Éireann (@MetEireann) August 19, 2020
The UK Met Office has also issued a yellow wind warning for counties Antrim, Armagh, Down, Fermanagh, Tyrone and Derry, from 8pm this evening until midnight tomorrow. 
Met Eireann have issued a "Status Red" severe wind warning for Cork. People should take Storm Ellen seriously - if you're in a campsite or caravan park, go home or prepare appropriately. Listen to warnings & alerts on media and from local authorities. https://t.co/57JAuuYJaH

— Simon Coveney (@simoncoveney) August 19, 2020
The Irish Coast Guard said there will be a period of very high spring tides approaching the Highest Astronomical Tide in all coastal areas until Sunday, and it advised people to take extra care in coastal locations.
Coast Guard Head of operations Gerard O'Flynn urged people to "stay back, stay high and stay dry", saying this is not a time for people to be out and about and they should "avoid the temptation to get a fancy photograph or a selfie".
Weather has started to deteriorate in the past half hour. The risk of flooding is major concern in low-lying areas. For many, it'll be a sleepless night with sandbags and pumps at the ready. Towns like Kenmare are only just recovering for flooding two weeks ago @rtenews pic.twitter.com/yj0I6459jX

— Tommy Meskill (@TommyMeskill) August 19, 2020
What does a Red warning mean?
Met Éireann issues a Red weather warning when the country is braced for rare and very dangerous conditions from intense meteorological phenomena.
If it relates to wind, like Storm Ellen, then gusts can exceed 130km/h and if the warning is about rain, you can expect over 80mm to fall within 24 hours.
The advice during a Red weather alert is to take action to protect yourself and your property.
What about Orange and Yellow warnings?
Orange alerts are issued when dangerous weather conditions could pose a threat to life and property. Expect gusts of between 110 and 130km/h and/or rainfall of 50mm within six hours or less.
Yellow warnings indicate weather that does not pose a threat to the general population but is potentially dangerous on a localised scale.
Additional reporting Fergal O'Brien, Conor Kane and Tommy Meskill
---
How to share your weather photos and video with RTÉ News
As Storm Ellen batters Ireland, the impact is likely to be felt around the country.
If you've taken photos or videos that show its effects and you want to share with the RTÉ audience, you can submit them with this form.
Of course, you should only take pictures when it's safe to do so.
Here are the terms and conditions for sending contributions to RTÉ.