Crews from local authorities and the ESB are on the road this evening to assess damage caused by Storm Jorge as it passes across Ireland, with western coastal counties bearing the brunt.
Winds were gusting at speeds in excess of 130 km/h on the west coast at the peak of the storm, early in the afternoon during the Status Red warning which lasted from 11am to 3pm in counties Clare and Galway.
A Status Orange warning remains in place in Clare, Galway, Sligo, Mayo, Leitrim, and Donegal until midnight, with other areas subject to yellow warnings until 10pm.
Met Éireann, as well as the Irish Coast Guard and local councils, have urged people to remain careful with high winds remaining in force and debris likely.
#StormJorge has brought strong winds, heavy rain and fears of further flooding to many parts of the country. | Updates: https://t.co/YCwKxZAFhW pic.twitter.com/4NGQOYTqw1

— RTÉ News (@rtenews) February 29, 2020
Exposed coasts, including beaches, piers, promenades and cliffs, should be avoided as strong gusts will continue in the coming hours.
Some roads in Co Clare have been blocked by fallen trees, including around Ennis and Kilrush, as well as on the Killaloe-Limerick road outside Clonfada.
Local authority crisis management teams will continue to meet over the weekend and council crews will be undertaking clean-up operations after the red level warning period expired in Clare and Galway.
ESB crews will be out in the coming hours to restore service to homes and business around the country that have suffered outages since this morning.
Up to 15,000 customers had suffered outages earlier today but ESB crews have since repaired most of those faults.
Worst hit areas include parts of north Clare, north Kerry, Cork, Tipperary, Wexford, Kildare, Longford, and Meath.
ESB has said its electricity network has held up well despite the high winds from Storm Jorge.
About 5,000 homes were without electricity at 6pm this evening, about half of which is one outage in Saggart, County Dublin.
Two surfers rescued by Coast Guard off Co Sligo coast
The Irish Coast Guard said the Sligo-based Rescue 118 helicopter was called out to rescue two surfers who got into difficulty today during Storm Jorge.
The incident happened along the Co Sligo coastline.
The Irish Coast Guard said the two surfers were "successfully recovered and handed over to the National Ambulance Service".
It said it strongly advises the public to avoid coastal activities during storm conditions.
Elsewhere, a number of flights into airports have been forced to divert as a result of Storm Jorge.
At Shannon Airport, a Ryanair flight from Manchester diverted to Belfast International Airport.
Dublin Airport said the strong and gusty winds may cause delays to the flight schedule during the afternoon.
It is advising intending passengers to check the latest flight information with their airline before travelling to the airport.
Municipal district management along coastal areas in Clare have been monitoring conditions throughout the day so far and will be assessing any damage caused when the worst of Storm Jorge has passed.
Lahinch in County Clare this morning, winds already strong ?@rtenews? pic.twitter.com/qZ4JLyXrkF

— Conor Kane (@ConorKane0909) February 29, 2020
In Clonlara in County Clare, where residents of Springfield have been battling to stay in their homes following the flooding of their road, water levels dropped overnight.
The ESB told Clare County Council that there would be no increase in the volumes of water released via the Shannon today.
Members of the Defence Forces as well as Civil Defence volunteers and council staff will be back on duty in Springfield tomorrow.
"Motorists are advised to drive with extreme caution during and after the wind warnings as debris on the roads is expected," a spokesperson for Clare County Council said.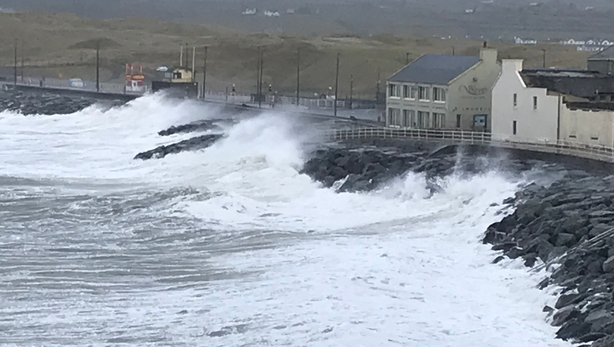 In the areas of Carrickobrien, Golden Island and Canal Walk of Westmeath, residents have been battling the increasing water levels for the past 12 days.
But Westmeath County Council said it believes the level of the River Shannon has stabilised.
The Defence Forces said they have had no calls for assistance in the Midlands region.
A number of troops and vehicles were in the Golden Island area to assist with flood defence preparations this morning and remain on standby should people need assistance.
Local authority teams in Sligo, Leitrim and Donegal are on standby in the event of any storm damage and power outages.
Meanwhile, wind speeds of up to 80km/h have been recorded at St John's Point between Donegal town and Killybegs.
Malin Head Coastguard say speeds will continue to increase to Storm Force 10 and are advising people to remain indoors and to stay high and stay dry.
In Killybegs the coast is clear with Irish fishing vessels taking shelter over the past number of hours. Norwegian and Danish trawlers have left the area ahead of the storm.
High tide is at 10pm and exposed coastal areas remain extremely vulnerable.
The Dursey cable car in west Cork has not been operating today because of the high winds. It will resume when council staff deem it safe.
Kerry County Council has an emergency line, 0666183588, which the public can use to report any issues.
Galway County Council reported a number of fallen trees in the Derrydonnel area of Oranmore.
The council also said a shed was blown onto a road at Kingsland in Athenry.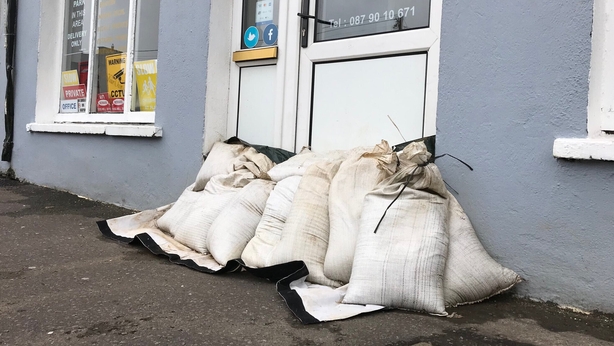 Storm Jorge is the seventh named storm so far this winter season but the third since the start of this month.
With lands already saturated and widespread flooding, particularly in the Shannon catchment area, there are serious concerns about the amount of damage that could be inflicted.
Additional reporting Fergal O'Brien, Samantha Libreri and Teresa Mannion