A Status Red wind warning has been issued by Met Éireann for Galway and Clare, with Storm Jorge set to bring gusts of up to 145km/h.
The warning is valid from 1pm until 4pm on Saturday.
The forecaster is warning of "very severe winds", with mean speeds reaching up to 100km/h in places.
Met Éireann meteorologist Gerry Murphy said people in Galway and Clare should stay indoors during the period when the Status Red wind warning - the most severe - is in place.
Speaking on RTÉ's Six One, Mr Murphy said people should "stop all activities outdoors, and stay out of the weather" while the red warning is in place, as he said "extremely damaging" gusts could reach up to 145km/h during this time.
He said the coastal areas in Clare and Galway will feel the strongest winds.
There is likely to be coastal flooding at Galway Bay and on the west coast of Clare, Mr Murphy added.
Mr Murphy urged people to check met.ie for specific warnings for their county.
A Status Orange wind warning has also been issued for the rest of the country over various stages of the weekend.
The Status Orange warning is in place for Galway, Clare, Mayo and Kerry, from 6am on Saturday until 3am on Sunday. The warning also applies for Donegal, Sligo and Leitrim from midday on Saturday until 3am on Sunday.
A Status Yellow wind warning has been issued for the rest of the country from 9am on Saturday, which from 1pm until 7pm will be upgraded to Orange. From 7pm until midnight, that warning will revert back to Yellow.
The National Emergency Coordination Group has asked people to heed the advice of local authorities as Storm Jorge approaches.
The storm is likely to bring a significant risk of coastal and inland flooding, as very wet and windy conditions are expected throughout Saturday.
A status red alert warns of extremely dangerous weather conditions. People are urged to take action to protect themselves and their property.
A status orange relates to dangerous weather conditions which may pose a threat to life and property. The public is urged to prepare themselves in an appropriate way depending on location and activity.
A Status Red Marine Gale Warning will also develop tonight on Irish coastal waters.
Met Éireann has said that rainfall amounts in February have already exceeded record levels in many parts of the country.
We need your consent to load this rte-player contentWe use rte-player to manage extra content that can set cookies on your device and collect data about your activity. Please review their details and accept them to load the content.Manage Preferences

Minister for Local Government Eoghan Murphy has advised those in coastal areas to stay away from the sea.
He said there was a risk of increased flooding, fallen trees and power outages and he advised people to monitor Met Éireann's updates.
The Chair of the National Emergency Coordination group has said some of the local authority response which is dealing with recent flooding "may have to withdraw from operations" during the worst of Storm Jorge.
Speaking on RTÉ's News at One, Keith Leonard said local authorities have been "in full crisis response mode since Storm Brendan" and he said this will continue "until such times as it becomes too hazardous for them to maintain operations".
He said he expects storm conditions to peak between the hours of 12pm and 6pm tomorrow.
Mr Leonard added that each local authority will make decisions on whether to continue their efforts after "dynamic risk assessments" have been carried out in their area.
Mostly cloudy today with rain, heavy in places, compounding the current flooding situation. Milder than recent days with highs ranging 7 to 11C generally, but remaining cold in Ulster until later in the evening. Fresh to strong & gusty SE winds will veer SW through the day. pic.twitter.com/se8SDQdgU7

— Met Éireann (@MetEireann) February 28, 2020
Local authorities in the west and northwest are on high alert for the storm. Donegal County Council says it has activated its Severe Weather Assessment Team and all council resources are at a heightened state of readiness in preparation.
In Leitrim, the council's Emergency Management team is now 11 days into its storm response protocol and will meet again over the weekend to monitor and assess the situation.
While the predicted rainfall does not overly concern the council, preparations and precautions continue for any possible difficulties.
Pumping of water continues in Carrick-on-Shannon and Leitrim village, pedestrian walkways have been erected over flood waters and sand bags distributed to home owners and businesses in vulnerable areas.
Sligo County Council says its roads crews and Emergency Services personnel remain on high alert in anticipation of the expected impact of Storm Jorge in terms of flooding and wind damage.
Storm Jorge, named by the Spanish Meteorological Service, is the third "named" storm to hit Ireland during February, a month usually associated with one of the least amounts of rainfall.
It comes after storms Ciara and Dennis brought a deluge between them, leaving lands saturated and rivers still overflowing.
There has been very significant flooding in many parts of the country, especially along the Shannon catchment area.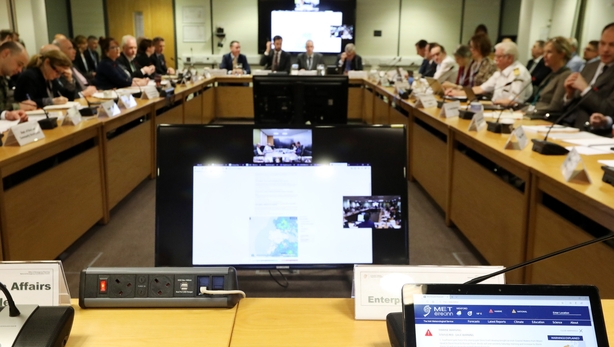 Mr Leonard advised people to check on their elderly and vulnerable neighbours before the storm arrives.
He also advised people to keep their mobile phones charged in case there are power outages and he warned drivers that road conditions could be hazardous.
The Road Safety Authority has asked road users in areas affected by the Orange warnings to check local traffic and weather conditions before setting out on a journey.
#StormJorge (named by AEMET, the Spanish meteorological service) is the latest in a series of Atlantic storms this month & is due to affect Ireland from early Sat. Rain will extend countrywide from the W tonight, before the storm arrives.

More info here : https://t.co/ktXtWjbfIg pic.twitter.com/JM8EErAqhx

— Met Éireann (@MetEireann) February 27, 2020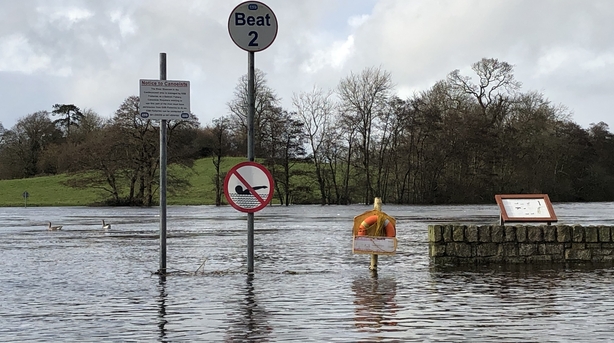 Met Éireann reported yesterday that ten of its 25 synoptic weather stations around the country have already had their wettest February on record, including Phoenix Park in Dublin where the records go back 170 years to the time of the famine.
Rainfall records have also been broken at Shannon Airport, Newport, Claremorris, and Knock, as well as Casement Aerodrome.
The NECG is now expected to meet throughout the weekend up to and including Sunday as the impact of the storm unfolds.