As flood waters continue to rise in the west there is growing criticism of the effort to deal with the issue.
Many locals in Co Galway have expressed frustration with the pace of progress to alleviate the risk, given the increased frequency of flooding in the area.
Meanwhile efforts continue to try to keep rising flood waters from damaging a number of homes in the Springfield area of Clonlara, located adjacent to the River Shannon in south east Clare.
The ESB has announced that the levels of water released through the Parteen Weir has risen to 400 cubic metres per second, up from 370 yesterday.
These levels are now considered very high and threaten to overwhelm huge efforts to keep the rising river waters from entering homes.
Clare civil defence teams are doing a series of runs morning and evening, driving people to and from their homes in the affected areas.
They are also delivering fuel and other equipment to keep the pumping equipment working.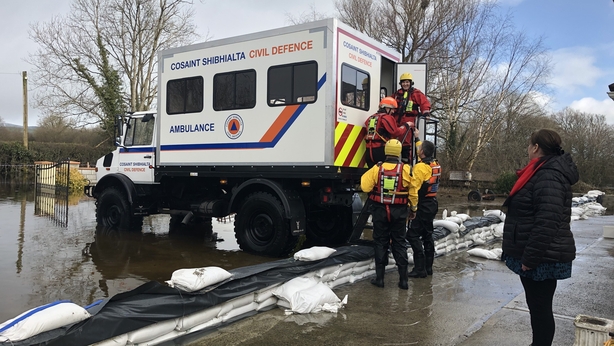 Mobile toilets have been installed on a number of properties because running water and toilets no longer work.
Geraldine Quinlivin, one of the residents living in the affected areas said it is absolute hell trying to cope in these conditions, but they must do everything to save their homes.
She appealed once again to the OPW and the Government agencies to implement an already costed flood relief plan for the area.
She said cost and planning objections are holding families and communities like hers to ransom with delays which are making their lives a misery.
---
Read more:
Galway man forced to leave home because of floods
Flooding likely to worsen as more rain forecast
---
In Leitrim, the county council's Emergency Management Team met again this morning to assess the situation with water levels on the River Shannon.
In a statement issued afterwards, the council said that the level of the river has risen by approximately 30mm in Carrick-on-Shannon since yesterday's readings and that flood waters have now over topped the quay wall and the flood has advanced slightly into the car park at this location.
The council said it is continuing the pumping of flood waters at strategic locations in both Leitrim Village and Carrick-on-Shannon and this is successfully managing the water levels in these locations.
There is flooding on some roads in Leitrim Village and Carrick-on-Shannon, but all roads are passable with care and the council said that appropriate engineering measures are being put in place today in both Leitrim Village and Carrick-on-Shannon to facilitate pedestrian access.
No domestic or commercial properties have been flooded to date but the council continues to remind property owners in areas susceptible to flooding to be vigilant and to monitor water levels.
The council says that engineering staff are in contact with property owners in areas vulnerable to flooding and are ensuring that action and support such as the provision of sandbags and other resources are available as the situation demands.
Members of the Defence Forces based at Custume Barracks in Athlone have been called out to help protect homes and holiday chalets from flood waters at Portlick near Glasson.
Soldiers delivered four tonnes of sandbags to homes which have been badly hit by flood water in the last two days.
Earlier residents on Saints Island in Newtowncashel in Co Longford called on Longford County Council to take urgent steps to rebuild the causeway to a higher level on the way into their homes.
The families say the causeway - which was repaired in 2016 - has been breached again and they must use tractors and trailers to get into their homes.
Reporting: Pat McGrath, Cathy Halloran, Eileen Magnier