There have been renewed calls to improve flood defences in areas that have once again been inundated in the midlands and the River Shannon basin.
Hundreds of acres of farmland in south county Galway are underwater following days of heavy rain while businesses and homes have been damaged.
Experts are waiting for floodwaters to recede before assessing damage to the Yeats Tower in Galway which has once again fallen victim to the Shannon breaking its banks.
Water breached flood barriers at Thoor Ballylee overnight and the former holiday residence of WB Yeats has been extensively damaged.
Irish Farmers' Association President Tim Cullinan said the Government needs to take urgent action. He said financial aid and better alleviation measures were needed.
Taoiseach Leo Varadkar has visited flood-hit areas in Athlone and Carrick-on-Shannon.
Mr Varadkar said that a lot of investment has been going into flood relief, about €1 billion in 98 different projects around the country to prevent flooding in the future.
He thanked the local authorities and OPW for the work they are doing.Mr Varadkar said the defence forces will be made available in the coming days to help, particularly in rural areas.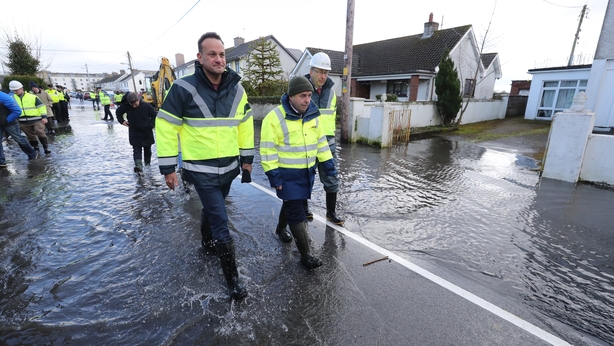 Minister of State at the Office of Public Works, Kevin 'Boxer' Moran said he has never seen the Shannon at the level it is today and he is not sure "how long it can be held back".
Speaking earlier, Mr Moran said Westmeath County Council had worked throughout the night and the plan that is in place is working.
He said he knows the anger of the farmers and an emergency scheme must be put in place to help them.
During a visit to areas worst affected by flooding in the midlands, the Taoiseach said a lot of money is being invested in flood relief measures across the country. Locals affected by the floods are calling for permanent solutions | https://t.co/MVdXs6dmum pic.twitter.com/o3d5X1JqnJ

— RTÉ News (@rtenews) February 24, 2020
Meanwhile, Iarnród Éireann has said tomorrow's 5.55am Limerick to Galway train and the 6.15am Galway to Limerick train will operate as a bus transfer due to rising water levels at Kiltartan.
A decision on the following train services will be taken tomorrow morning.
Water levels at Kiltartan are expected to rise overnight, as a precaution the 05:55 Limerick/Galway and 06:15 Galway/Limerick will operate as bus transfers on 25/02/2019. A decision will be made regarding the second services in the morning. -AD pic.twitter.com/gNEzkhEu3x

— Iarnród Éireann (@IrishRail) February 24, 2020
In Galway, the N65 between Portumna and Loughrea was said to be badly affected, with particular problems around Killimor.
Parts of the Loughrea to Ballinasloe route were flooded, while problems were also reported between Claregalway and Carnmore Cross.
Galway County Council said water levels are continuing to rise around Cregboy and there was spot flooding on the N59 between Oughterard and Galway.
Care was also advised on the Moycullen to Spiddal Road.
The local authority appealed to motorists to drive with extreme caution.
In Donegal, snow was affecting a number of routes, particularly the Barnesmore Gap and Ballybofey.
Some morning #letterkenny #donegal will be an interesting drive this morning on #roads #StaySafe @aaroadwatch @barrabest @morningireland pic.twitter.com/m50c95fm73

— Jimmy Stafford (@JimmystaffordDJ) February 24, 2020
There were a number of school closures, mostly in the Letterkenny area.
The schools closed included Loreto Secondary School, St Eunan's College and Errigal College.
With water levels expected to rise along the River Shannon overnight, Offaly County Council is to continue to monitor the river levels in the county with a continued spell of unsettled weather and significant periods of rainfall expected.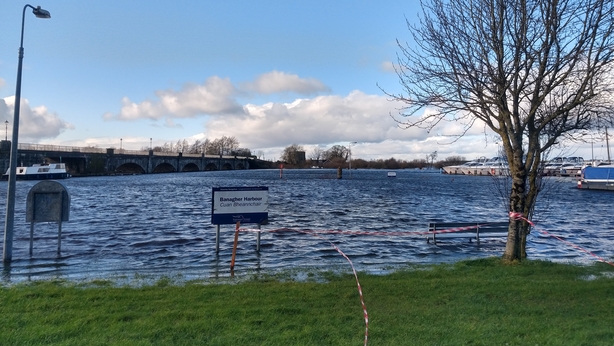 In a statement, the local authority said it would continue to monitor the river levels and is prepared "for the deployment of defence measures" if required, should the levels continue to rise over the week.
According to the council, its crew will respond to localised flooding as required as several local roads including Botley Lane, Portarlington and the Shannon Harbour to Banagher Road remain closed to traffic due to flooding.
However, motorists are being advised to exercise caution as excess water on a number of road surfaces in the south and west of the county.
Several residents in Shannon Harbour remain on high alert as flooding continues to rise in the village, leading to the closure of the road from the Shannon Harbour to Banagher and has led to the flooding of one property since water levels began to rise significantly since Friday night.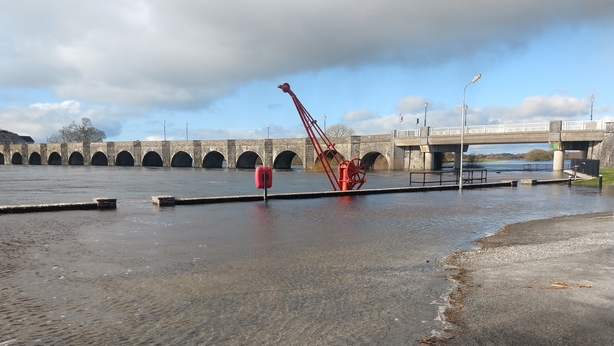 In Laois, a stretch of the N80 at Pearse Street in Mountmellick is closed as well as the Mountmellick/Mountrath Road between Ballyfin and the N80 junction due to flooding.
Residents and farmers along the river Shannon have been warned that homes may be flooded in several areas due to increased rainfall over the next 48 hours.
Local authorities from Cavan to Limerick are putting preventative measures in place.
The release of water by the ESB through the Parteen Weir has risen to 345 cubic metres a second today, up from 315 cubic metres yesterday, adding considerably to the flooding difficulties faced by householders in the Springfield area of Clonlara in Co Clare.
Ten homes in particular along this rural area of south Co Clare, which is located adjacent to the River Shannon, are vulnerable to flooding when the volumes of water released through the weir rise.
Clare County Council has been in the area since last week and hundreds of sandbags and pumping equipment have been put in place to try and keep the rising waters from entering people's homes, however water levels have continued to rise since last Saturday threatening those homes in the area.
Homes located in nearby Montpelier and Castleconnell, which are located on the opposite side of the River Shannon in Co Limerick, are also vulnerable to flooding when the river levels rise, and are being monitored closely.
St Flannan's college in Ennis was forced to close because of extensive flooding in its school grounds.
Parts of the roadway on the Shannon Banks estate in Corbally in Limerick have also been flooded and are being monitored.
Flooding below O'Briensbridge towards Clonlara. The ESB are now releasing 287 tonnes of water per second from Parteen Weir (top right above the town) #rivershannon #flood #shannon #ireland #flooding @rtenews @Limerick_Leader @limerickpost pic.twitter.com/HGWz0jIxM8

— Arc Imaging (@ArcImaging) February 23, 2020
Longford County Council said the Black River has burst its bank in the townland of Creelaghta, Ballinamuck. The road is closed between Bandra Bridge and Gaigue Cross. This closure will remain in place until flooding subsides.
A yellow rain warning for 19 counties, which had been in operation since 8pm yesterday, was lifted at 8am this morning.
However, Met Éireann has issued a Yellow snow and ice warning.
It is valid from 6am tomorrow to 9am on Wednesday.
Additional Reporting Eileen Magnier