Residents and farmers along the river Shannon have been warned that homes may be flooded in several areas due to increased rainfall over the next 48 hours.
Local authorities from Cavan to Limerick are putting preventative measures in place.
Minister of State at the Office of Public Works with responsibility for flooding, Kevin 'Boxer' Moran, said the river's water levels will exceed the ten-year flood mark next Tuesday, based on weather projections.
Speaking in Athlone, Mr Moran said he could not give an undertaking that private homes would not be flooded in the coming days, but local authorities from Cavan all the way to Limerick were on high alert.
Preventative measures such as flood barriers have been put in place and water pumps placed onsite, he said.
A status yellow rainfall warning is due to come into effect for 15 counties on Sunday evening.
The warning - for Connacht, Cavan, Monaghan, Donegal, Longford, Louth, Offaly, Westmeath, Meath, Clare and Tipperary - will lead to accumulations of between 20mm to 25mm of water, with higher totals possible in upland areas.
It may also be preceded by a period of snow in parts of Connacht, Ulster and north Leinster.
There is a warning that the ground is saturated at the moment and river levels are elevated, so the rainfall and snow melt may lead to some flooding.
The warning comes into effect on Sunday at 8pm and remains in place until 8am on Monday.
In Co Offaly, the Irish Farmers' Association have called for emergency measures to be introduced to provide fodder for animals on land flooded in the Shannon Harbour area.
Flood defences have been put in place by Clare County Council at Springfield in Clonlara, which is located adjacent to the River Shannon, and which is vulnerable to flooding during periods of heavy rain.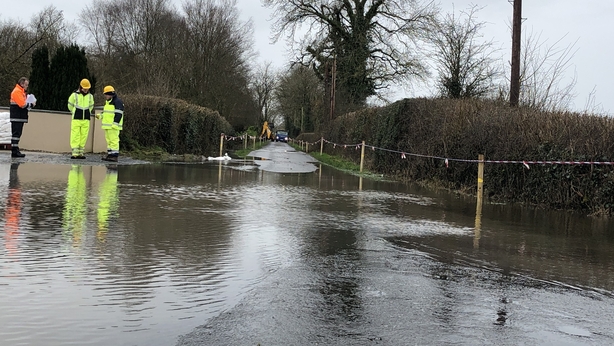 In addition, the ESB is releasing over 280 cubic metres of water a second through the Parteen Weir today, because of heavy water swells coming from the upper Shannon region.
This flow is high, up from 245 cubic metres yesterday, and means houses and lands in the area could flood as a result.
Sandbags and pumping generators are being distributed to ten houses along the rural road at Springfield.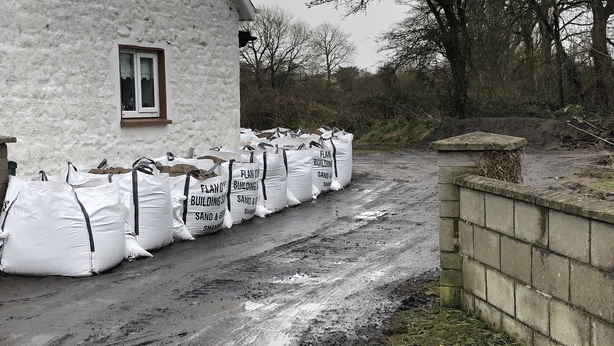 Farmland around the area has become heavily flooded in recent days.
Senior Engineer with Clare County Council John Leahy said they have been distributing flood defence equipment to people living in the area, and will remain with them over the coming days to check on how rising water levels are affecting them.
The Springfield area of Clonlara in Co Clare was one of the worst affected areas during the bad flooding periods of 2015 and 2009, and is monitored regularly during times of persistent rain and when the lower River Shannon is swollen.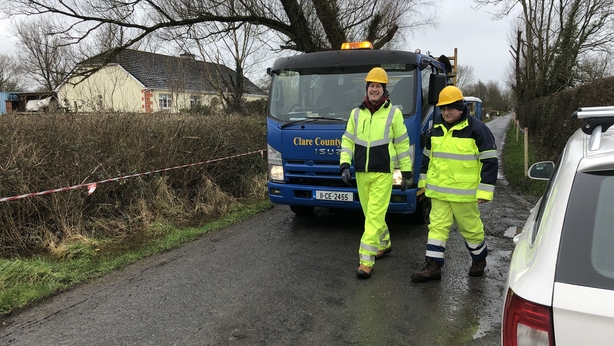 Meanwhile, water levels on the Shannon in Athlone are continuing to rise and have reached 39m OD Poolbeg, according to Westmeath County Council.
"As expected at these river levels", said the local authority, "there is water on the minor roads in the lower parts of the town".
There are no residences at imminent risk, it said, and water levels remain approximately 0.8m below the highest level recorded in Winter of 2015/2016.
"Westmeath County Council staff are on the ground carrying out protective works and will continue to deploy defence measures as required and in the expectation that water levels will continue to increase in the coming days."
Local authorities are also closing roads in other parts of the country due to flooding.
Galway County Council said it is closing the R358 between Ahascragh and Ballinasloe, at Derrymullen, due to road flooding.
Mayo County Council notified road users that the R334 at the Neale crossroads is flooded and diversions are in place.
Donegal County Council said it remains in a "heightened state of readiness", and its severe weather assessment team has been activated.
Additional reporting: Cathy Halloran