Minister for Housing, Planning and Local Government Eoghan Murphy has warned that potentially "ferocious and dangerous" storm surges are expected when Storm Lorenzo reaches Ireland later this week.
Mr Murphy said there seemed to be some consensus that the storm, which is currently a major hurricane in the Atlantic, is going to track northeastwards and reach Ireland on Thursday.
Speaking at a meeting of the National Emergency Coordination Group, he said it would not be a hurricane when it arrives on Irish shores, but it would be a serious storm.
The storm is expected to hit Ireland between Thursday afternoon and Friday morning, with Met Éireann due to issue more detailed warnings tomorrow morning.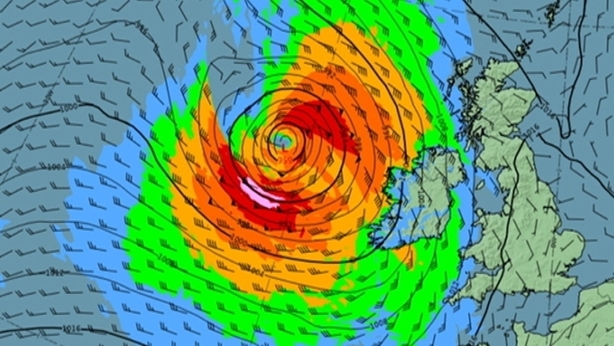 The worst affected areas are expected to be along the west and south coasts.
Mr Murphy said the severity of the storm had still to be determined, as it will weaken as it moves across cooler waters in the north Atlantic.
The hurricane currently has maximum sustained speeds of 155km/h.
Mr Murphy said: "Our primary concern is around coastal areas [and the] very significant storm and wave surges that we are going to see around coastal areas.
"It could be quite ferocious, very dangerous. There is a secondary concern around very strong winds."
Meteorologists are warning that large swells generated by Hurricane Lorenzo will continue to spread across much of the North Atlantic basin during the next few days, producing life threatening swells and rip currents.
We need your consent to load this rte-player contentWe use rte-player to manage extra content that can set cookies on your device and collect data about your activity. Please review their details and accept them to load the content.Manage Preferences
The storm is expected to bring hurricane and tropical storm force winds to the Azores beginning tonight and these conditions will continue into tomorrow.
It is understood the hurricane is forecast to transition to a tropical storm as it tracks towards Ireland but its exact path is not yet known.
Mr Murphy said the OPW had confirmed that high seas and potential storm surges may occur along the coast as this system approaches Ireland.
The national picture is for winds to pick up ‪tomorrow evening, with rainfall and wind continuing throughout Thursday and into ‪Friday morning.
Mr Murphy said they have contacted all local authorities, requesting that they monitor Met Éireann's forecasts, and prepare for storm impacts by activating Crisis Management and Local Co-ordination arrangements.
He also said they have contacted DTTS (Transport Operators and IRCG), An Garda Síochána (public safety messaging), ESB Networks, the OPW and Irish Water.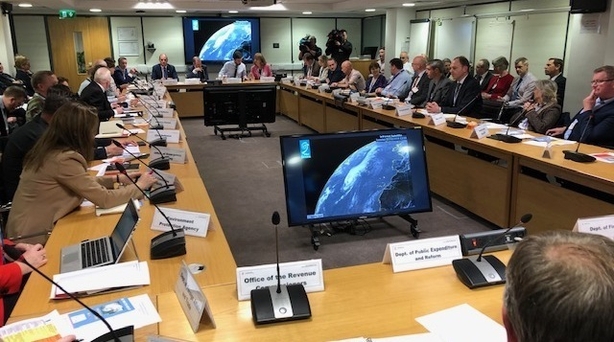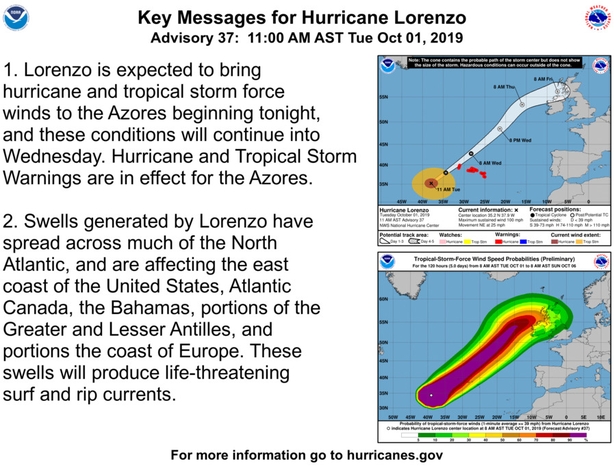 There is agreement that Lorenzo will turn east-northeastward close to Ireland and then eastward towards Britain, dissipating over western Europe by Saturday.
Hurricane Lorenzo is currently located about 1,000km southwest of Flores in the Western Azores, at a latitude 34.4 degrees north and 39.7 degrees west. For comparison, Dublin is 53.3 degrees north, 6.2 degrees west.
The hurricane currently has maximum sustained speeds of 155km/h with higher gusts and only slow weakening is expected in the next 48 hours.
It is travelling northeast towards the Azores at a rate of 35km/h and is continuing to accelerate.
We need your consent to load this YouTube contentWe use YouTube to manage extra content that can set cookies on your device and collect data about your activity. Please review their details and accept them to load the content.Manage Preferences
The National Hurricane Center (NHC) in the United States said it should move in the same general direction, but at a faster forward speed in the next few days.
It is now expected to pass over the western Azores early tomorrow.
This is a very large tropical cyclone. It is the easternmost and northernmost major hurricane ever recorded in the Atlantic Ocean.
Hurricane force winds now extend up to 150km from the eye in its centre, and tropical storm force winds extend outwards up to 555km. This is a wider range for tropical force winds than the 405km reported yesterday.
The eye of the hurricane has become less distinct on satellite images over the past several hours but the system remains very well organised with tightly curved convective bands.
Sea surface temperatures below the cyclone are likely to fall below 20C within 36 hours along with a large increase in vertical shear.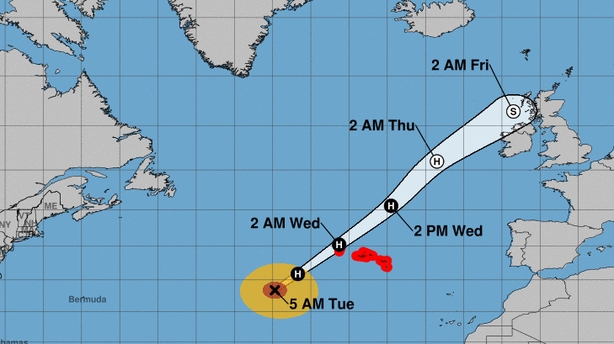 The NHC is warning that since Lorenzo has such a large circulation it will probably be slow to weaken.
The forecasting models however, show that within 48 hours or less, Lorenzo will merge with a frontal weather zone indicating a transition to a extratropical cyclone. This will weaken the cyclone below hurricane strength when it nears Ireland and Great Britain.
This morning, the NHC reported that global forecasting models are now in much better agreement on the cyclone turning east-northeastward close to Ireland and then eastward towards Great Britain dissipating over Western Europe on Saturday.
Meteorologists have warned of enormous and dangerous seas on the eastern side of Lorenzo.
The hurricane will be accelerating to the northeast in the same direction for a couple of days.
Coupled with the large size and intensity, this will lead to an amplified wave field on the eastern side due to a phenomenon called trapped-wave fetch.
NOAA's #GOES16 continues to watch #HurricaneLorenzo, with its large wind field moving toward the #azoresislands. @NHC_Atlantic predicts #hurricane conditions in portions of the Azores by early tomorrow. pic.twitter.com/8yvG3Tlayf

— NOAA Satellites - Public Affairs (@NOAASatellitePA) October 1, 2019
Meanwhile, there has been a warning that high winds coming in as part of the remnants of the hurricane could lead to flooding in some areas along the River Shannon and hazardous conditions in jetties and marinas.
Waterways Ireland has issued a general alert to boat users in harbours, jetties and moorings to be aware of the hazards of the wind and heavy rainfall already forecast for later this week.
Farming groups along the River Shannon basis have already warned that levels of the Shannon are already well above October flood levels after heavy rainfall in August and September.
They also said that local flooding is inevitable in many areas if the rainfall continues at the present level.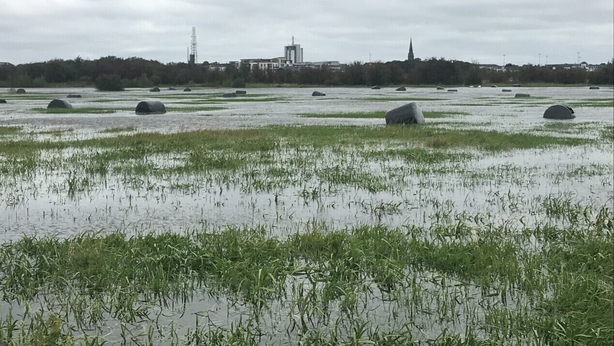 Many parts of the River Shannon basin in south Roscommon that are normally flooded after Christmas are already under water with the loss of fodder in some areas and increased financial pressure on farmers who are feeding cattle indoors.
Waterways Ireland has warned that strong winds are a major hazard while boaters are using floating pontoons and that heavy rain will also lead to slippery conditions on the banks of the River Shannon.
Additional reporting Ciaran Mullooly