Temperatures in France have reached a record-breaking high of 45.9C, as Europe continues to endure a sweltering heatwave, which sparked an out-of-control wildfire in Spain.
It was registered in Gallargues-le-Montueux, a village in the southern department of Gard near Montpellier, breaking successive records set earlier in the day.
Governments warned citizens to take extra precautions, with the week-long heatwave causing a build-up of pollution and fears of an increase in emergency calls across Europe.
The previous record was set in August 2003 in Montpellier and Nimes, when the thermometer hit 44.1C.
The average maximum temperature recorded on Wednesday in France of 34.9C was already a record for the month of June, said state weather forecaster Meteo France.
French President Emmanuel Macron warned that such extreme weather is likely to become more frequent as a result of global warming.
"We will need to change our set-up, our way of working, build differently," he said, stressing a necessary "adaption of society and its habits".
French Health Minister Agnes Buzyn said people had to be prepared for the peak of the heatwave and expressed irritation that some appeared not to be listening to advice.
She complained about parents leaving their children in the car and joggers exercising in the midday heat.
A forest fire in Torre del Espanol in Spain's northeastern Catalonia region burned out of control, despite the efforts of hundreds of firefighters.
Catalonia's forest agent service said the fire likely began when an "improperly managed" pile of manure at a chicken farm self-combusted in the extreme heat.
Some 350 firefighters backed by around 230 soldiers and 15 aerial tanker aircraft were at the scene of the blaze.
"The situation is critical," said fire service chief Antonio Ramos. "We haven't seen a fire like this (in the region) in 20 years."
With temperatures expected to reach up to 42C, Spain has issued a "red level" warning to its population.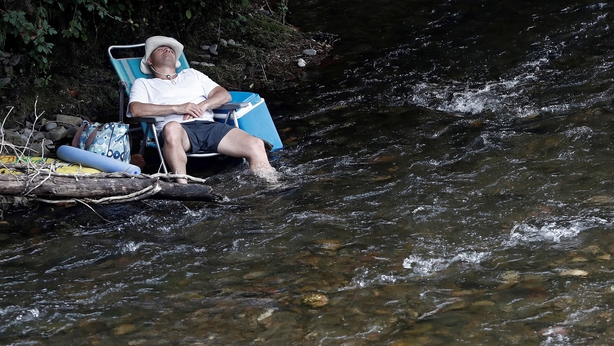 In the Italian city of Milan, a 72-year-old homeless man was found dead at the main train station after falling ill due to the heatwave, the local authorities said.
As Germans attempted to cool off amid scorching temperatures, at least four people died in bathing accidents in different parts of the country on Wednesday.
Some areas of the country were experiencing water shortages and some residents in the North Rhine-Westphalia state were told to only use drinking water for vital purposes or face a €1,000 fine.
There has been no coordinated shutdown of schools but some have closed in parts of France, while others advised parents to keep children at home.
In Paris, Lyon, Marseille and Strasbourg, authorities have banned the most-polluting cars from the roads.
Residents of the French city of Grenoble were unable to use two municipal swimming pools, despite the record temperatures, due to a row sparked by use of the full-body burkini swimsuit.
Lifeguards had asked for the shutdown after Muslim women clad in burkinis had gone to swim in defiance of a municipal ban.
Meanwhile, it will be another warm and humid day for much of Ireland with temperatures ranging between 22 to 27C, but cloud will build across parts of Munster and Connacht bringing the potential for a few thunderstorms and some heavy rain.
---
Sunshine, dogs and ice cream – what's not to like? Here are some tips to keep your canine cool.
---
Our Man in France - Fergal Bowers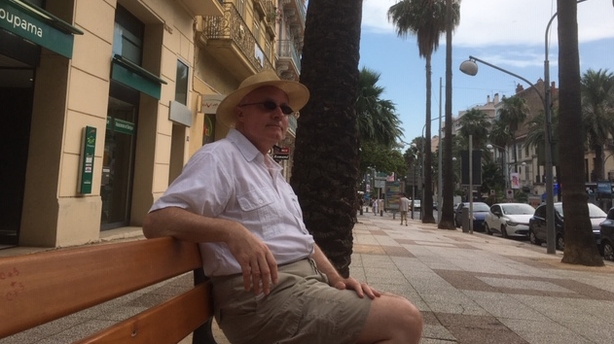 Here in the Côte d'Azur, in the South of France, the temperature has regularly hit 34 degrees over the last week, and that's just at night. Mostly during the day it has hovered between 33-37 degrees.
The sun is intense, there have mostly been no clouds and the wind at times has been zero kilometres per hour.
Thankfully, the temperature where I am currently, is short of the record temperature reported today elsewhere in France of a sizzling 45.1C.
With little or no breeze, conditions are certainly stifling.
The coolest places and popular spots appear to be supermarkets, with welcome air conditioning and the many shops, which offer respite from the soaring temperatures. Churches and parks also offer the option of a place to cool down.
The number of people eating outside restaurants during the day and also in the evenings appears lower, especially in exposed areas and places where stone paths recirculate the heat, absorbed from the daytime sun.
The beaches have been busy but even there, because of the dead calm, the wind is down and at times it can be just too intense.
Low wind also makes it useless for windsurfing and some other popular water sports.
Walking on the sand in bare feet is akin to walking on hot coals.
Using public transport can be pot luck, some buses have air conditioning that works, others are like ovens, so short journeys are the wise option. But mostly people are getting on with their business - whether tourists or residents.
After all, we don't control the weather and have to adapt to whatever comes. But the bigger picture must surely be climate change and new records today being set for summer temperatures in Europe.
Here in France, while people are complaining about the heat, there are limited options to manage the intensity.
Most of the French television news has been dominated by la canicule - the heatwave.
Some weather forecasters have warned that 'Hell is coming' with the scale of the heat, especially in northern France and for nearby countries like Spain, Portugal and Germany.
Big cities are much hotter and some older cars have been banned in Paris and elsewhere due to the impact of air pollution.
Schools were due to close at the end of this week but many voluntarily closed in recent days, due to temperatures in the classrooms, where there is no air conditioning.
This has been unusual weather for June.
The French have yet to take their traditional holidays. One French skiing resort yesterday reported a temperature of over 30 degrees.
Both outdoor and indoor workers are also on health alert - builders, road workers, farmers, electricians, welders.
Some hospitals have reported seeing 100 patients a day due to the heat.
France still has the memory of how it badly handled the last major heatwave in August 2003, when around 15,000 people died - many elderly in nursing homes.
This time, nursing homes and hospitals report special measures to keep patients cool and well hydrated.
French television has been broadcasting helplines and lots of advice on how to cope with the heat, to avoid dehydration and the risk of collapse and cardiac arrest.
The French also love their dogs - who can travel on buses, trains and planes - and so these animals are getting special attention. Water basins are scatted on certain streets for dogs to rehydrate.
The message from health authorities here is to keep drinking lots of water, avoid the intense heat and limit alcohol intake.
The current heatwave looks like persisting into the early days of next week, so who knows what the final mercury reading will be this summer in Europe.