Thousands of people remain without power tonight following the strong winds of Storm Ali, while Storm Bronagh brought heavy rain to many parts of the country.
ESB Networks said 12,000 homes, farms and businesses were still without power after Storm Ali.
The majority are in the Cavan and Monaghan areas, while the rest are in parts of Longford and Galway.
At one point yesterday, there were more than 180,000 customers without power.
Crews worked into the evening, but some customers will be without supply for a second night.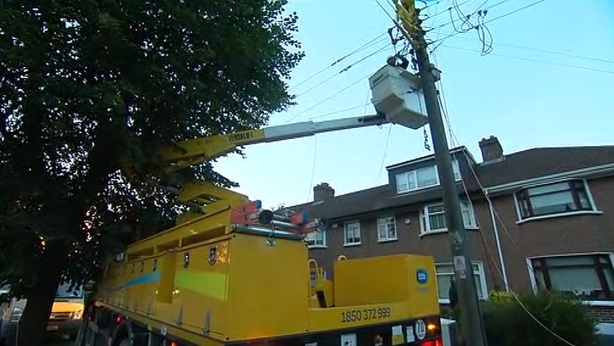 Met Éireann said Storm Bronagh was expected to bring "heavy and possibly thundery rain" across Ireland this evening and overnight.
It is expected to be at its peak in the early hours of the morning as it moves across the English midlands and southeast coast.
Winds could reach more than 100 km/h in the UK, meaning there is a danger of fallen trees and widespread damage in the worst affected areas.
Met Office forecaster Simon Partridge said it will be the first time this season that southeast England will be tested by strong winds.
"The first storm to reach an area each year usually has some fairly significant impacts because all the things you didn't realise were diseased or rusted or whatever, that's the first time you know about it - when the first winds arrive," he said.
The Met Office alert warns of the risk of roof tiles blowing off, trees and branches falling and flying debris generally.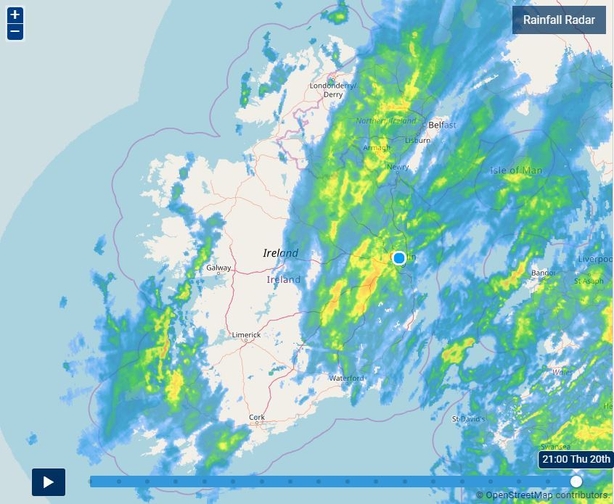 The second named storm of the season comes just a day after two people were killed during Storm Ali.
The unsettled weather is set to continue with another weather system forecast to bring more wind and rain over the weekend.
Met Éireann said: "The weather remains changeable and disturbed for the coming weekend and there is potential for another storm to form late Saturday into Sunday.
"The track of the depression is uncertain at this stage and both Met Éireann and the UK Met Office are monitoring developments.
"Further updates and relevant warnings will be issued as appropriate."
You may need to plan ahead for your journey on Friday morning; check the hourly wind gust data at https://t.co/j7ojlIvTVO to see if you need to allow extra time for your journey. Take care and stay #weatheraware pic.twitter.com/NGge7XALDa

— Met Office (@metoffice) September 20, 2018
---
Read more:
Two killed as Storm Ali batters Ireland with strong winds
In pictures: Storm Ali
As it happened: Storm Ali
---
Elsewhere, full service will not resume on the Luas Green line until tomorrow morning, according to operators Transdev.
There is currently no service between Cowper in Rathmines and Dawson in the city centre.
A tram's pantograph, or connecting roof rod, became entangled with a fallen power line during Storm Ali yesterday.
A spokesperson said it has been discovered that 200 metres of overhead tram wires have to be replaced instead of 40 metres as originally thought.
It is planned that full service will resume at 5.30am tomorrow.
Telecoms company eir said it was continuing to restore phone service to parts of the country where it was disrupted yesterday.
It said 72 mobile mast sites continue to be down in Dublin, north Leinster, Connacht and Ulster.
It said 22 communications cabinets are also offline due to the storm, which is affecting 1,500 fixed line customers.
Elsewhere, Irish Water has said a power outage may cause loss of water supply in Monaghan to around 10,000 Lough Egish customers.
The ESB restored power to the treatment plant last night but power has yet to be restored to the pumps at the lake.
Irish Water said customers may suffer some temporary loss of water supply.
The National Ploughing Championships resumed this morning in Co Offaly, after being closed to the public yesterday due to public safety concerns.
---