The tail end of Hurricane Helene is expected to reach Ireland early next week, bringing wet and windy weather.
However, it is not expected to bring the severe weather seen during Storm Ophelia last October, which caused widespread damage and left three people dead.
Helene is one of several major storms in the Atlantic at the moment, with Florence sparking mass evacuations on the east coast of the US.
Helene is currently 2,065km south-southwest of the Azores in the Atlantic and Met Éireann said the storm would approach the south coast by Tuesday.
The US National Hurricane Center said the storm is packing winds of 140km/h, but it is expected to weaken from a tropical storm as it moves north from the Azores towards Ireland and the UK.
Met Éireann said: "Current indications are that (ex-) tropical storm Helene will approach Ireland's south coast during Tuesday.
"It is likely to bring wet and windy weather later on Tuesday, but at the moment there are no indications that it will bring any severe or damaging weather."
The Met Office in the UK said Helene could also hit the south-western corners of the UK, with south Wales and the Cornish peninsula expected to bear the brunt of any storm-like weather.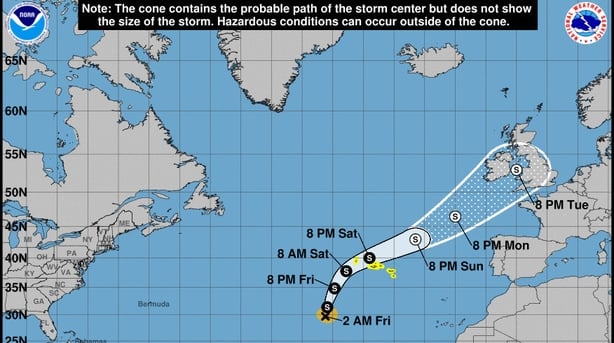 ---
Read more:
The future will bring more hurricanes to Europe 
Is Ireland ready for hurricanes? 
Blowing in the wind: how Hurricane Ophelia became a very big deal
---
Emma Smith, meteorologist with the Exeter-based Met Office, said more details would emerge within the next day over what impact the storm might have.
She said: "Helene is moving up from the Atlantic towards us.
"Hurricane Joyce is also in the Atlantic so we need to see how those two systems are going to move around each other because that could have an impact.
"It looks like Helene will move towards Ireland on Tuesday morning.
"It's possible that the west coast of Wales and Cornwall could get some winds as well, but we will get a clearer picture of what to expect very soon."