Irish Water has made an urgent appeal to the public to conserve water as demand remains too high across the country.
Managing Director Jerry Grant warned that there will be a further ban on the use of hosepipes around the country within the coming week.
Last Friday, the utility announced that it will impose a ban in the Greater Dublin Area from tomorrow.
Mr Grant said there are other water schemes around Ireland where supply is already in difficulty and hosepipe bans will be required.
He said the purpose of the ban is really to make people aware of the gravity of the situation, and Irish Water will talk to people who are not obeying the ban to persuade them to act responsibly.
Mr Grant said that enforcement and fines will be a last resort.
We need your consent to load this rte-player contentWe use rte-player to manage extra content that can set cookies on your device and collect data about your activity. Please review their details and accept them to load the content.Manage Preferences
Water restrictions are already in place in many parts of the country and Irish Water said that the ban would be in place until 31 July, but it would keep the situation under review.
The utility said that it is "operating on a knife edge" and urged consumers to continue to conserve water.
However, the utility has confirmed to RTÉ News that Croke Park and other sports grounds are not covered by the hosepipe ban.
Croke Park uses drinking water from the Irish Water supply to water the pitch. Stadium Director Peter McKenna told RTÉ News that the grass on the pitch would wither and die without water.
---
Read more:
The heatwave: In numbers
George Lee: Ireland's record breaking week of sun
---
People in Drogheda, Co Louth, have been urged to "exercise caution and common sense" after a number of gorse fires started in the area this evening.
Plumes of smoke could be seen across the town this evening during some of the driest and hottest weather on record.
Visibility was particularly poor in the Ballsgrove area of Drogheda this evening as the smoke from a gorse fire between the hilltop estate and the River Boyne engulfed the area.

A number of gorse fires have broken out in Drogheda, Co Louth, this evening pic.twitter.com/HCLV6GHztl

— RTÉ News (@rtenews) July 1, 2018
Despite the warm temperatures, local residents have been closing their windows to prevent the smoke getting in.
Local Labour Party Senator Ged Nash said: "This is an unprecedented spell of hot weather and near drought-like conditions.
"This evening, I have seen palls of smoke emanating from three locations in the Drogheda area. The fire service has been busy responding to and managing localised incidents this evening.
"I am urging people in the area to exercise caution and common sense, to be wise to the dangers associated with gorse fires both to individuals and to property and to ensure that they report any incidents to the fire service without any unnecessary delay."
NI Water reissues appeal for people to reduce water usage
Meanwhile in the North, NI Water has said it cannot treat water quickly enough to satisfy the demand.
A number of homes in Lurgan, Co Armagh and Coalisland, Co Tyrone as well as some other areas - particularly those that are isolated and high lying, have experienced lower pressure and supply failures.
This evening, NI Water said demand is still 30% higher than normal, and re-issued its appeal to the public to reduce their usage.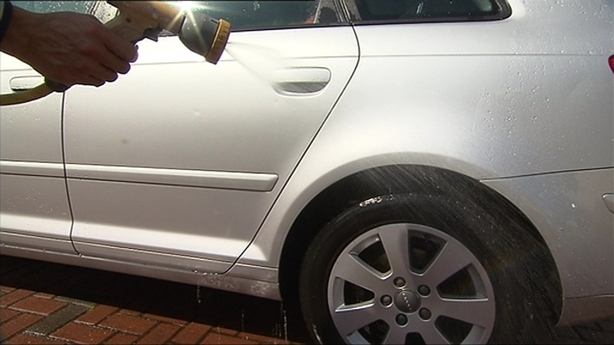 Chief Executive Sara Venning thanked some local businesses who lent NI Water their tankers over the weekend to help their efforts to meet demand.
"We would like to thank all our customers who are working with us to limit their water usage," she said.
"However, demand remains much higher than normal, particularly during peak times, so we are still struggling to get water around the system quickly enough.
"By helping us, you are in fact helping yourself, as the ultimate penalty for using water unnecessarily is not a fine it is the heightened risk of widespread supply interruptions."
The last summer hosepipe ban in Northern Ireland was ordered in 1995.
Yesterday, Met Éireann warned of drought or near-drought conditions for the entire country as temperatures are to remain high for the week.
A Status Yellow advisory was issued and is in place until next Friday. It warns that, "With little or no rain forecast for most areas over the coming week, drought or near-drought conditions are expected to develop more widely across Ireland".
A separate Status Yellow high temperature warning has also been issued. Temperatures are forecast to hit 27C in parts of the country tomorrow.
Met Éireann has said that the country is in a "heatwave situation". A heatwave is defined as five continuous days of temperatures above 25C.