Irish Water has banned the use of hosepipes in the Greater Dublin Area from next Monday, as efforts continue to conserve water during the current heatwave.
In a statement this afternoon, Irish Water said a Water Conservation Order prohibiting the use of certain types of water usage in the Greater Dublin Area would take effect from 2 July.
The company said the ban would be in place until 31 July, but it would keep the situation under review.
It added it may have to extend the period of time the order is in place.
We need your consent to load this rte-player contentWe use rte-player to manage extra content that can set cookies on your device and collect data about your activity. Please review their details and accept them to load the content.Manage Preferences
The ban will apply to the use of water drawn through a hosepipe or a similar function. Those found in breach of the ban could face a fine of €125.
Irish Water's Corporate Affairs Manager Katie Gannon said the measure was appropriate, adding that it was essential that resources are conserved if restrictions and outages are to be avoided over the coming weeks.
Under the order, activities such as watering gardens and washing vehicles are banned in order to conserve water.
It comes as the country basked in temperatures of around 30C in places.
Irish Water has said the number of water zones under restriction has increased to 28, up from 20 yesterday.
Ms Gannon said the number of 'at risk water zones' has also risen to 128 from 100 yesterday.
She said its crews were working very hard to tanker water to reservoirs and are making changes in configuration to try to keep supply to households.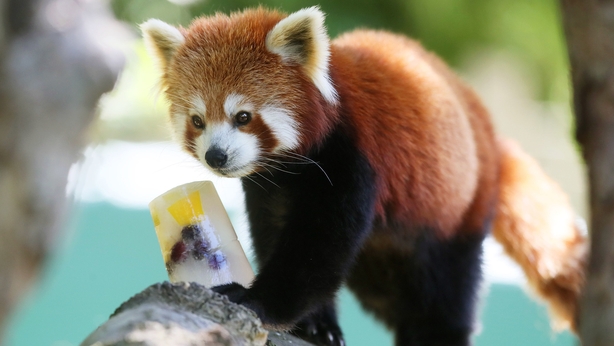 Irish Water has already said it is "operating on a knife edge" and urged consumers to continue to conserve water usage.
Irish Water's Drought Management Team has been meeting daily to monitor water supplies and demand around the country.
Speaking on RTÉ's Morning Ireland, General Manager Eamon Gallen said the demand for water was exceeding supply in places.
He said the demand in Dublin was 615 million litres, five million above what they can produce on a daily basis.
Fairly extensive fire in the #sallygap today. This close to Lough Bray Lower and Kippure. @IrishAirCorps v busy fighting fires since Monday #rtenews pic.twitter.com/09KL5R9QKo

— Joe Mag Raollaigh (@joemagraollaigh) June 29, 2018
Irish Water has appealed directly to heavy users, such as Bus Éireann and Iarnród Éireann, both of whom have copied Dublin Bus in halting washing their vehicles on a daily basis, while the water shortage continues.
The company has also received a commitment from the Department of Education for schools to turn off their water supplies now that the holidays have begun, in order to prevent the automatic non-stop flushing of cisterns in schools around the country.
Elsewhere, Kildare County Council has said it had to close one of the roads between Kildare and Offaly, because of the danger posed by boiling tarmac.
Wicklow County Council said its fire service had to attend attended 42 gorse, forest, and wildland fires over the past two days - some of which had been serious enough to require the closure of some mountain roads.
The Waterford Viking Marathon scheduled for tomorrow has been reduced to three quarters of its original length due to health and safety concerns because of the hot weather.
According to Met Éireann, Ireland is experiencing three times the normal level of sunshine for this time of year, with 16.5 hours of sunshine recorded yesterday as far north as Malin head.
More footage from aerial firefighting with @IrishAirCorps today. Picking up 1200 litres uisce in every trip! #rtenews pic.twitter.com/zfuBfZU1Uv

— Joe Mag Raollaigh (@joemagraollaigh) June 29, 2018
---
Read More:
The heatwave: In numbers
Department issues forest fire warning as heatwave continues
Water pressure lowered as temperatures reach 32C
---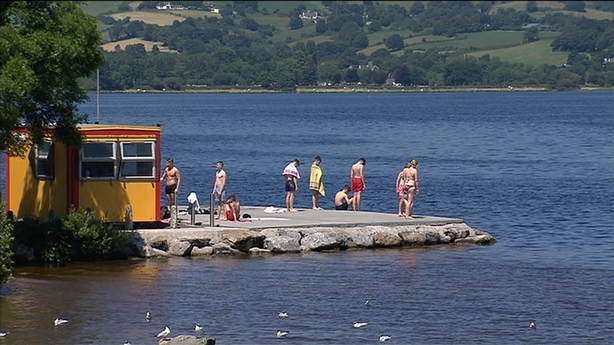 Find the latest observations on our website at https://t.co/MvCx72KIaT
While Shannon reached 31.1 this afternoon, by 6pm this evening the temperature had dropped to 30.4°C. pic.twitter.com/GhptJ25iAD

— Met Éireann (@MetEireann) June 29, 2018
The forecaster said the heat was showing no signs of abating with today's weather to stay dry and very sunny. Top temperatures are expected to reach between 28 to 31C.
The Road Safety Authority is advising road users to be aware of surfaces becoming slick and dangerous in the high temperatures, particularly on minor roads.
Several local authorities in the west are on standby to grit roads should they soften as tar melts in the heat.
The Health Service Executive has also urged people to be aware of potential health risks during the heatwave, especially being out in the sun between 11am and 3pm.
The Department of Agriculture has extended its condition Red Extreme forest fire risk warning until Monday, as Coillte said more fires were "very likely" in the coming days.
Northern Ireland Water will also introduce a hosepipe ban from this weekend to stop any interruptions to supplies.
NI Water Chief Executive Sara Venning said the company was appealing to customers to stop non-essential use, as hoses and sprinklers were causing strain on supplies.