Met Éireann has forecast further warm and sunny weather for tomorrow as temperatures reached 32C at Shannon Airport this afternoon.
The heat is threatening drought conditions in many parts of the country and a Status Yellow temperature warning remains in place until tomorrow evening.
Met Éireann said the country was in a "heatwave situation". A heatwave is defined as five continuous days of temperatures above 25C.
Irish Water has announced additional measures to protect the water supply in the Greater Dublin area.
The utility has lowered night-time water pressure levels in the region to the minimum level that will not affect businesses but will assist it in managing demand more effectively.
In the Greater Dublin Area, Irish Water can sustainably produce 610 million litres of water per day. In the past 24 hours, demand reached 615 million litres.
Irish Water said this level of demand meant drawing from treated water storage to maintain full supply and this option could only be maintained for a limited period of a few weeks.
It said this record level of summer consumption was also depleting raw water reserves needed for the coming months.
Irish Water added that it remained very concerned about the possibility of having to impose restrictions in the long term.
It said this would become unavoidable if the dry conditions persist into the autumn with lower than normal rainfalls.
We need your consent to load this rte-player contentWe use rte-player to manage extra content that can set cookies on your device and collect data about your activity. Please review their details and accept them to load the content.Manage Preferences
Demand for water is increasing while levels in rivers and lakes are dropping significantly, which means there is less water available to treat and supply to homes and businesses.
Nationally, Irish Water has identified 100 water supply schemes that are now at risk.
Customers in Westmeath, Laois, Kilkenny, Longford, Athlone, north Galway, Louth and Kerry have experienced restricted water supply and outages in some cases.
Currently almost 4,000 customers are affected.
Some areas in Cork, Wicklow, Limerick, Kilkenny, Carlow, Tipperary, Clare, Mayo, Sligo, Donegal, Galway, Roscommon, Laois, Limerick, Kerry, Waterford and Offaly have been identified as being at risk.
---
Read more
The heatwave: In numbers
From the archives: Blistering sunshine in 1976
---
Maximum temperatures from around the country today. Shannon Airport at 32 degrees is the highest temperature recorded in Ireland since 29 June 1976. pic.twitter.com/h30wKjKPS2

— Met Éireann (@MetEireann) June 28, 2018
Today's max temp of 32.0°C recorded at Shannon Airport is the highest JUNE temperature since 1976, when Boora in Co. Offaly recorded 32.5°C

Notable high temperatures:
32.3°C Elphin, Co.Roscommon, July 2006
32.2°C Oak Park, Co. Carlow, July 1983
33.3°C Kilkenny Castle, June 1887

— Met Éireann (@MetEireann) June 28, 2018
In Dublin, fire crews with the assistance of Coillte have been fighting a large forest fire in Saggart.
The blaze broke out over the weekend but re-ignited this afternoon and covers a large area between 50-100 acres.
A bog fire reported in Athboy earlier is now under control and a number of fire crews have been stood down.
Meanwhile, farmers say they are very worried about the impact any water restrictions could have, especially on dairy farms where up to 120 litres of drinking water per cow is required each day.
The President of ICMSA confirmed that the water shortage situation was most acute in the southeast, specifically Kilkenny, Wicklow and parts of Laois.
Pat McCormack said that concerns were mounting right across the country amongst his mostly dairy farmer membership.
Unfortunately a car was destroyed in today's gorse fire (Dublin mountains) after a change in wind direction ruined visibility on the road. Smoke from these fires affects your breathing & ability to see, enjoy the ☀, be safe #Heatwave #HeatwaveIreland pic.twitter.com/Yjjj4mtWL6

— Dublin Fire Brigade (@DubFireBrigade) June 27, 2018
Julian Hughes, a fresh produce grower in Co Kilkenny, said the prolonged dry spell was creating a very challenging situation.
Speaking on RTÉ's Today with Sean O'Rourke, he said it was an ongoing challenge to manage irrigation and with two or three weeks of dry weather forecast, getting water on produce is a major issue.
Dairy farmer Ellen O'Neill from Co Wicklow said they were struggling having emerged from a tough winter and very wet spring.
She said: "We're a grass-fed farm and grass isn't growing at the moment. We've only about three or four days of grass left".
Meanwhile, Mayo County Council's Road Safety Officer Noel Gibbons said the high temperatures have left a lot of minor roads in a poor state where the bitumen has bubbled up.
He said a team of gritters was treating these roads but because Irish roads are engineered for cold weather they do not do well under extreme heat conditions.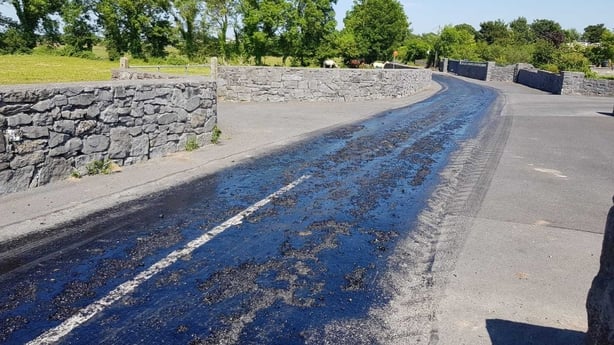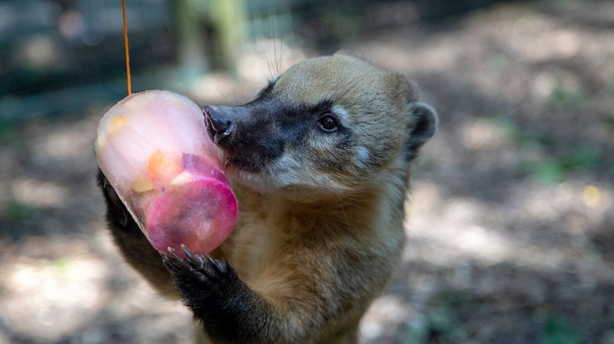 Eirgrid says there has been increased electricity demand at night throughout this week.
It suggests the surge in demand is caused by people using fans and air conditioning units to cool down.
Iarnród Éireann has said it will distribute 50,000 bottles of water to passengers at major stations over the coming days.
It said it was monitoring conditions on the rail network but at the moment it was not concerned about rail temperatures.
The company said it has automatic temperature gauges on tracks and has not registered any temperatures on them over 48C. Rails can buckle when they reach 55C.
It has, however, suspended overnight track maintenance as works could unsettle the track bed and contribute to rail buckling if temperatures rise further.
Translink, the public transport provider in Northern Ireland, has warned passengers there will be delays to some services due to high rail temperatures.
#TRAIN Speed restrictions will be in place from 14:00 today due to high track temperatures today, some services will be amended or may be subject to some delays. Please check your journey via our Live Updates here - https://t.co/dWx4M3w9hE

— Translink (@Translink_NI) June 28, 2018