Soaring temperatures of over 30C are forecast in inland areas again today, threatening drought conditions in many parts of the country, and an extension of water restrictions.
Temperatures exceeded 30C in some places yesterday and it could get even hotter in the coming days. A Status Yellow temperature warning remains in place until Friday evening.
Met Éireann said temperatures at its weather station at Shannon Airport reached 30.8C.
Mayo County Council crews are spreading grit on a number of secondary routes that have been compromised as a result of the high temperatures.
Melting tar on some roads has led to a need for repair work in a number of areas including around Turlough, north of Castlebar.
Additional work has also been carried out on roads near Ballinrobe. Similar measures have been undertaken on some routes in Connemara.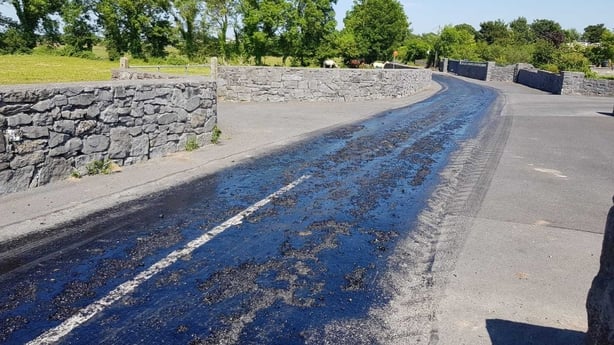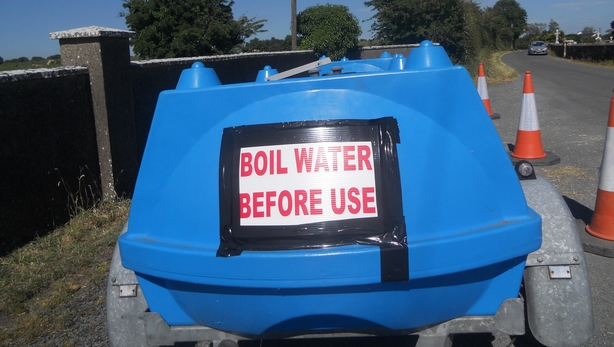 Meanwhile, water restrictions have been put in place in Co Longford from 10.30pm to 7am until Monday in an effort to conserve water.
Bulk water containers have been deployed to Granardkille Cemetery and people are being urged to conserve water during the current hot spell.
Some areas in north Dublin have already experienced water shortages and areas in Donegal, Galway, Limerick and Mullingar are at risk of outages and restrictions.
Irish Water has also said that restrictions will become unavoidable in the Greater Dublin Area as demand levels for water continue to rise.
It said that in many of its schemes around the country, demand for water is increasing while levels in rivers and lakes are dropping significantly.
The main raw water storage at Poulaphouca Reservoir has dropped to rates similar to those experienced in the drought years of 1975, 1976 and 1995.
June 27, 2018
We need your consent to load this rte-player contentWe use rte-player to manage extra content that can set cookies on your device and collect data about your activity. Please review their details and accept them to load the content.Manage Preferences

Irish Water is advising customers in Athlone and surrounding areas that due to increased water demand from customers on the Athlone Public Water Supply Scheme, treated water levels in the Annagh Reservoir have fallen.
As a result Irish Water will impose planned water outages from 10pm tonight until 6am tomorrow and from 10pm tomorrow until 6am on Friday, to allow treated water levels in the reservoir to recover.
This water restrictions will impact customers in the east of Athlone Town, Baylin, Mount Temple and the Ories, Garrycastle, Dublin Road, Ardnaglug, Fardrum, Moydrum, Blyry, Killyon Hill, Bonavalley, Athlone and surrounds in Co. Westmeath.
Meanwhile, the Irish Farmers' Association has warned forest owners to be on alert after the Department of Agriculture issued a condition red extreme forest fire warning.
Farmers have been urged to check fire breaks and familiarise themselves with their fire prevention plans and be aware of access points in and out of their forests.
The IFA's farm forestry committee warned that any blaze could ignite and spread quickly, causing huge damage to the forests and wildlife.
The committee also urged anyone visiting woodland areas to be careful if they are using anything like a barbecue.
Smokers are also warned to be vigilant and make sure cigarettes are properly extinguished.
Farm organisations have also said that water restrictions on farms would be devastating and cause significant hardship for farm animals.
Clear and sunny skies from our Satellite images ?? pic.twitter.com/cMGL9WnyoI

— Met Éireann (@MetEireann) June 27, 2018
Highest temperature so far today 29.7C at Mount Dillon.

— Met Éireann (@MetEireann) June 27, 2018
The Irish Greyhound Board has said all racing and trials scheduled for between 10am and 7.30pm during the current hot weather have been cancelled, including Friday's race meeting at Longford.
Dublin Fire Brigade has said crews are still working to damp down forest fires in woods in the Dublin hills.
Crews have attended repeatedly over the last few weeks to spray water and use shovels to beat down flames at several sites around the Barnaslingan/Lead Mines area near Kilternan.
Aerial photos of the gorse fire that is visible in the mountains courtesy of @IrishAirCorps & Tadgh Weddick © pic.twitter.com/l4M4ZK3PTC

— Dublin Fire Brigade (@DubFireBrigade) June 27, 2018
A spokesperson said the heat has now got into the ground at the fire sites and embers in the vegetation and the turf reignite the flames when fanned by breezes or winds.
The spokesperson said it will take "three good days of rain" to cool off the ground and properly extinguish the fires.
Until then the fire brigade is monitoring the situation and working with Coillte and other landowners.
We need your consent to load this rte-player contentWe use rte-player to manage extra content that can set cookies on your device and collect data about your activity. Please review their details and accept them to load the content.Manage Preferences