Army snow ploughs have been deployed in west Wicklow to assist with the clearance of snow around Blessington and in more rural areas.
Wicklow County Council has also called in additional private contractors to help reopen roads, which should allow people who have been stranded in their homes for up to five days to get out.
Amid hundreds of appeals for assistance from Wicklow residents on social media, authorities in Wicklow are asking people who need help to contact gardaí.
A growing number of secondary roads are now passable, but only using one lane, which makes passing hazardous.
Authorities are appealing to so-called "snow tourists" to stay away from the west Wicklow area.
A Wicklow County Council spokesman said they are "throwing everything" at the clean-up operation.
---
Read More:
Dublin area 'in real trouble' with water supply
Schools may not be obliged to make up storm days
INMO says 664 patients on trolleys in hospitals
---
Around areas such as Manor Kilbride, farmers are struggling to get fodder to animals.
Access around villages and towns including Rathdrum, Aughrim, Roundwood, Valleymount and Dunlavin remains very difficult.
Many schools around west Wicklow remain closed as the fallout from Storm Emma continues.
Still very snowy in North #Kildare - although many of the road have been cleared #Sallins #Clane @rtenews pic.twitter.com/qSCOAQgmck

— Sharon Tobin (@sharontobin) March 5, 2018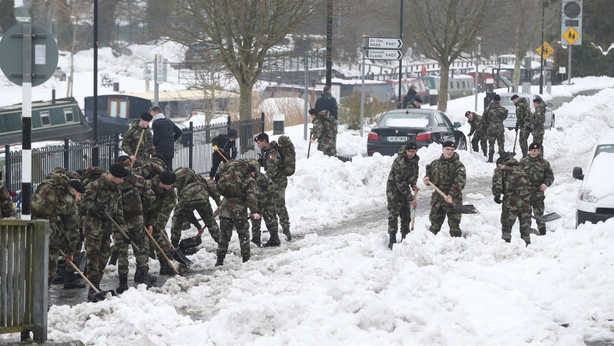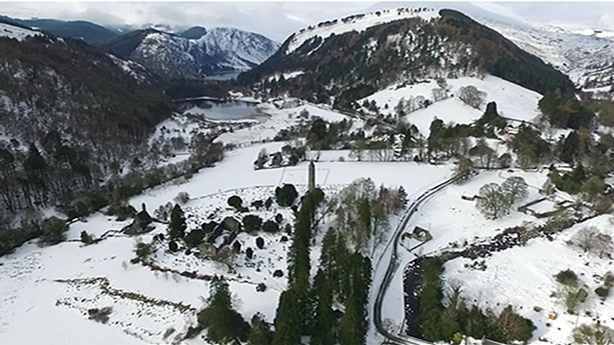 In Co Meath, the operation to clear local roads of ice and snow is continuing.
The areas worst affected still include Oldcastle, Kells, Kilmessan and the Navan area.
Many schools in the area are still closed and farmers are assisting the local authorities to try to allow homeowners in rural areas to release their cars from their drives and farmyards.
Earlier, the L1002 road from Mill Cross to the N2 was closed for a period when snow that had accumulated in large banks, on the side of the roads, collapsed and traffic was unable to get through.
Farmers in the region are experiencing severe problems as they try to provide water and fodder for animals.
Gardaí say motorists should exercise caution in all areas as most local roads have only one lane open.
The DSPCA has praised staff and volunteers who tended to animals during the severe weather. pic.twitter.com/s7zcQpS53U

— RTÉ News (@rtenews) March 5, 2018
The DSPCA has praised the dedication of staff and volunteers who ensured more than 200 animals were fed and watered during the severe weather.
Road access to the shelter, which is located in Rathfarnham in the foothills of the Dublin Mountains, has only been possible since yesterday afternoon.
But two staff members who live on site, together with colleagues and volunteers who live nearby, braved snowdrifts and freezing temperatures to tend to the animals every day of the cold snap.
Natasha Eames, who works at the shelter, described the weather conditions as "horrific".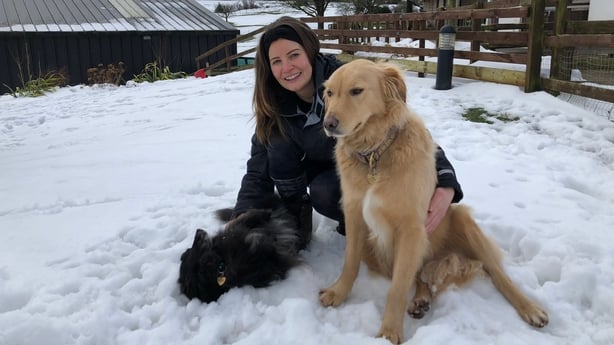 "But there was a great team effort every day. As soon as you had battled through the snow to get here, you just had to start digging to get access to the animals," she said.
The DSPCA says the number of calls it has received about abandoned horses - more than 80 in the last 48 hours alone - is now a "major concern".
It is urging owners to tend to their animals as a matter of urgency as the thaw sets in.
The shelter expects to reopen to the public tomorrow.
In Co Wexford, national and regional routes are mostly clear but caution is still being advised on all routes for motorists and pedestrians.

Fifty army personnel were assigned to various locations in Wexford town, clearing footpaths and entrances to surgeries, clinics and pharmacies.
A spokesperson for Wexford County Council said there has been huge co-operation from members of the community in helping to clear snow.
Up to 15,000 customers, mostly in Wexford town are without water, still but Irish Water is hoping to have supply restored by this evening.