A couple's dream to tie the knot refused to be blown off course by Storm Emma yesterday.
Nobody got cold feet as Glenn Cooper from Enniskeane, West Cork, married Ione Porto, who is from Brazil, at Monkstown Parish Church in south Dublin.
By the time the bride arrived just a couple of minutes late – in a Garda car – a crowd of well-wishers had gathered outside the snow-covered churchyard. Someone had even drawn love hearts in the snow.
Reverend Canon Roy Byrne was the celebrant. Speaking before the ceremony, he said that despite the "extraordinary conditions", everyone was "really looking forward to it".
"It's been an exciting few days trying to get organised for it – not knowing what the snow was going to do or how people would get here," he said.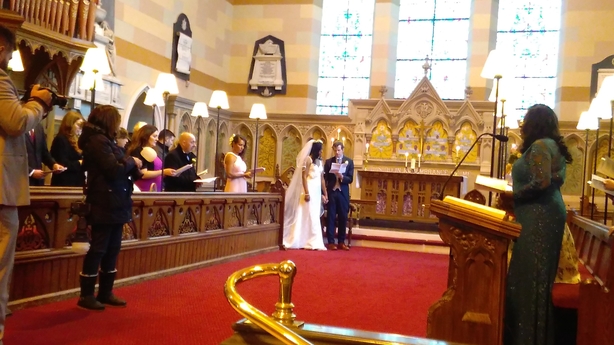 The church itself is over 200 years old – but it hadn't seen anything like this in his time there. "We'll remember this one," he said.
The parents of the groom, Philip and Lorna Cooper, made the "hair-raising" journey from West Cork.
But they were expecting less than 40 of the 70 invited guests to be there. The irony of relations being able to make the nearly 9,000 km journey from Brazil to Monkstown – but not from Cork – was not lost on them.
Though the inclement weather meant he was not entrusted with the rings, the best man, Brian Keenan, didn't leave anything open to chance. He lumbered through the snow, walking to the church all the way from Sandyford.
No-one stopped to give him a lift. "There weren't too many people on the road, to be fair," he said.
The groom met his new wife at his brother's wedding: he was the best man, and she was a bridesmaid.
But that was a blizzard-free affair – despite it being held around the same time of year.
As heard on Fergal Keane's (@fergalrte) report on RTÉ Radio 1's Drivetime.