A Status Orange weather alert is in operation warning of exceptionally high seas, coastal damage and flooding across counties Donegal, Galway, Leitrim, Mayo, Sligo, Clare, Cork, Kerry and Limerick.
The warning is for the storm surge following Storm Eleanor which has cleared from Ireland and is moving across the North Sea.
Met Éireann has said that damaging inland gusts are likely. The weather warning is valid until 2pm today.
Motorists are advised to remain vigilant to the possibility of flooding and debris during the day.
A Status Yellow wind warning is in operation for Leinster, Cavan, Monaghan, Roscommon, Tipperary and Waterford. Met Éireann says that gusty westerly winds are expected to continue into this afternoon.
Updated Warnings for Storm Eleanor pic.twitter.com/FqvKj2x9za

— Met Éireann (@MetEireann) January 2, 2018
Around 55,000 ESB customers in the west and north west of the country are without power due to Storm Eleanor.
The counties worst affected by the power outage are Mayo, Leitrim, Sligo, Galway, Cavan and Monaghan.
Earlier, Status Orange weather warnings were issued and road users were urged to travel with care as the storm swept across the country bringing gusts of up to 130km/h and flooding in some areas.
In a statement, the ESB said that fallen trees on overhead power lines are responsible for most of the damage to the power network.
It said that its teams are working to restore electricity in the affected areas where it is safe to do so, and that teams will be deployed again before dawn this morning.
The ESB also said: "Further damage to the electricity network can be expected in North Leinster as the storm tracks east."
Emergency utility numbers for #StormEleanor , remember never approach fallen lines, always call for help @ESBNetworks @GasNetIrl pic.twitter.com/9XWHjh2Eht

— Dublin Fire Brigade (@DubFireBrigade) January 2, 2018
There was extensive disruption around Galway city centre after high tides caused extensive flooding.
Dominick Street, Cladagh Quay, Flood Street Quay Street and roads around the docks were all submerged in a matter of minutes, when high winds drove tides ashore before 6pm.
The city fire station was flooded and several businesses and homes in the west of the city are dealing with excess water.
Strong winds pushed water from the River Corrib over a specially erected flood prevention boom, close to the Spanish Arch.
A number of roads have reopened and a clean up operation has begun.
Clean up operation under way in Galway following extensive flooding due to Storm Eleanor - @joemagraollaigh reports pic.twitter.com/vB1b0DzpTP

— RTÉ News (@rtenews) January 2, 2018
Dramatic #StormEleanor flooding footage from Salthill and Fr Griffin Road in Galway.

(Video: Joe O'Shaughnessy, @CTribune) pic.twitter.com/ftlnCe1P1U

— Enda Cunningham (@endacunningham) January 2, 2018
The Road Safety Authority said motorists and pedestrians should be aware of falling debris and warned that high-sided vehicles and motorcyclists were particularly vulnerable to strong winds.
A Status Orange warning for Munster, Leinster and Galway was in place until 10pm as the fast-moving storm tracks across the country with southwest to west winds of up to 80km/h and gusts of between 110 and 130km/h possible.
Serious coastal flooding in Galway city and Oranmore with #StormEleanor? blowing behind high tide #rtenews @oranmore pic.twitter.com/7rooop9B83

— Joe Mag Raollaigh (@joemagraollaigh) January 2, 2018
However, local winds could exceed those forecast with a gust of 140km/h measured at Mace Head.
A number of cars were swept away by flash floods in Oranmore, Co Galway last evening.
Gardaí said a section of the Coast Road between Oranmore and Galway was impassable and that there were significant volumes of water on roads around Renville Park and on the Maree Road at Oran Hill.
A number of people were evacuated from cars at a roundabout into a shopping centre in Oranmore village after swells submerged the road just before 6pm.
The Shannon based Coast Guard Rescue Helicopter was tasked to attend the scene but was stood down after all those involved escaped unharmed.
Salthill Promenade was under water after winds combined with high tides to cause flooding.
We need your consent to load this Facebook contentWe use Facebook to manage extra content that can set cookies on your device and collect data about your activity. Please review their details and accept them to load the content.Manage Preferences
Gardaí said the situation improved as the tide abated. Several cars were submerged in Toft car park, on Seapoint Promenade.
Shannon Airport has told passengers to check their flight status during the warning period.
?? Attention Passengers??
A status orange wind warning will be in place across the airport region from 16.00 today. Please check your flight status with your airline before making your way to the airport during this period. Thank you. pic.twitter.com/MIpCV9CzAU

— Shannon Airport (@ShannonAirport) January 2, 2018
Sligo County Council has said that strong winds have resulted in fallen trees throughout the county, with a number of roads blocked.
The council said that water levels are also rising very quickly, warning that low lying and coastal roads are in particular danger.
Strong winds have resulted in fallen trees throughout the county with a number of rds blocked. Water levels are also rising very quickly with low lying & coastal roads in particular danger. Gibraltar Road Sligo flooded, a Bus Eireann Bus evacuated and road closed #StormEleanor

— Sligo County Council (@sligococo) January 2, 2018
Meanwhile dozens of local roads are closed in the midlands because of fallen trees.
Storm Eleanor has hit parts of Roscommon, Longford and Offaly with reports of trees down in Castlerea, Ballaghaderreen, Birr and nearby areas.
There are no reports of any injuries and efforts are under way to clear debris from roads in many areas.
A Status Yellow rainfall warning was also issued for Connacht and Donegal from 2pm to 9pm, with thundery downpours forecast and accumulations of up to 25mm in some areas.
Floodwaters in Cork city along the south channel of the River Lee have subsided.
The combination of a high tide just before 6pm and very high winds as the storm crossed over the county led to localised flooding along Fr Mathew Quay, Morrison's Island, Union Quay and South Terrace. A number of cars were temporarily stranded.
Flooding also caused disruption in Cork county.
Gardaí say the flooding caused disruption to evening traffic in Bantry, but no houses or businesses were affected.
Roads around Bantry now fairly clear, lots of surface water and debris, caution advised. High tide 05:20 tomorrow, mind where you park @CorkSafetyAlert @aaroadwatch @SouthernStarIRL pic.twitter.com/PIkWvUWswP

— Bantry Fire Brigade (@BantryFire) January 2, 2018
There was also some flooding along the Bailick Road in Midleton, Co Cork.
While in Clonakilty, high tide passed without incident according to local gardaí.
In Kerry, there were also reports of flooding.
The N86 Tralee to Dingle Road was impassable at Blennerville due to flooding but has re-opened.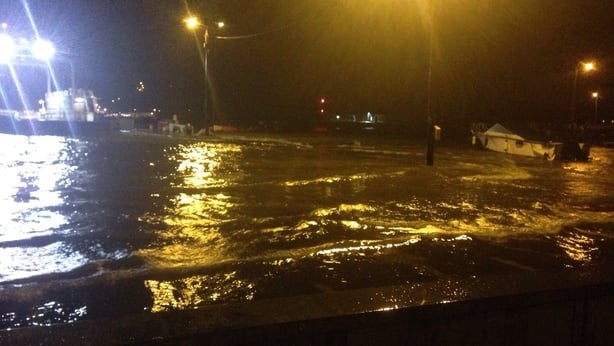 There was flooding at high tide along Limerick city quaysides this evening, as Storm Eleanor brought high winds and heavy rain.
The worst affected areas were O'Callaghan Strand, Merchants Quay and Georges quay. Many were closed for a time.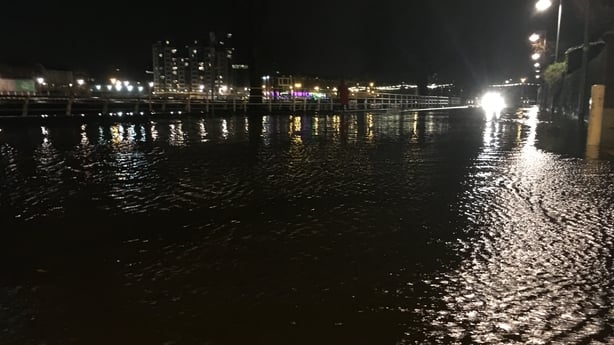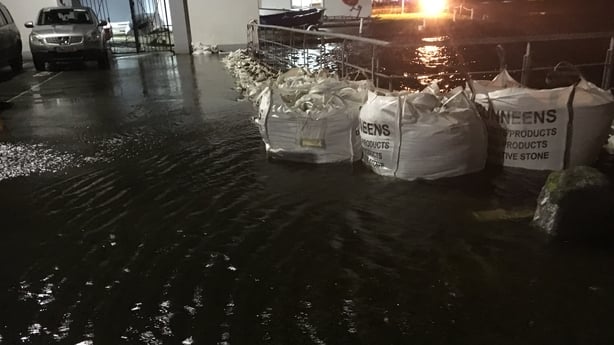 Sandbags were placed in areas around the city courthouse, which are vulnerable to flooding.
Flood defences were also placed in vulnerable areas in Foynes and Askeaton in Co Limerick.
Clare County Council urged people to stay away from exposed coastal locations this evening.
Senior Engineer Tom Tiernan said: "We are advising the public not to venture out unless necessary - particularly in coastal areas. Motorists are asked to be careful when driving and to avoid parking vehicles in close proximity to exposed coastal areas.
"Any coastal areas which have previously flooded are at risk and people in such situations are advised to take appropriate precautions."