Ireland has endured its fair share of inclement weather, but with his trademark wink and cosy jumpers Gerald Fleming reassured an anxious nation for more than two decades.
Watch Weather Live's tribute to Gerald from friends, colleagues and famous fans here.
His signature sign-off was as endearing as it was comforting. However, we will have to venture on without the veteran weatherman after he announced his retirement from Met Éireann today on The Sean O'Rourke Show.
Watch Gerald's final weather forecast here.
An emotional Gerald told listeners: "I've a big change in my life. I'm reaching 60 this month, so I've decided that come the end of the year I'll be stepping away from Met Éireann and I'll be retiring - not from meteorology, I hope.
"I've reached this stage happily in good health with plenty of energy and plenty of interest and there are other things in my life that I want to focus on and enjoy."
Despite leaving with a heavy heart, Gerald added that he "wouldn't miss walking round the corridors of RTÉ on a Sunday night".
Gerald's first break was a £10-a-week summer job at Wexford Creamery renowned for its vintage cheddar. As the churns arrived, young Gerald would whip off their tops to give the milk inside a strong sniff for quality control purposes.
His nose for milk turned to sniffing out the latest weather. Gerald, who loves nothing more than a "vigorous Atlantic storm rolling in from the west", studied Experimental Physics at UCD and was immediately accepted for a position with the Met Service in 1980. He made his forecasting debut in 1984 using "the big sticks" and from there would breeze through the ranks of the organisation to become Head of Forecasting.
He's since been in the hot seat during many memorable weather events including severe thunderstorms over Dublin in July 1985, the Dublin snow of 1982, the great storm in January 1990 that claimed the lives of 14 people and the torrential rain that ruined the 1997 August Bank Holiday. 
Weather forecasting is a serious business requiring sober judgement before imparting the most important news there is. Get it right - that's the least viewers can expect; fail to forewarn of an imminent deluge and your reputation is buffeted like a plastic Woodies garden chair during gale force winds.
Father-of-three Gerald has thankfully avoided a 'Michael Fish moment' by remaining acutely aware that a weatherman is only as good as their last forecast. He has upheld high standards throughout his career and expressed disdain about warnings of a 'big freeze' or 'severe winter'.
Writing in 2013, Gerald set the record straight. "So where do all the predictions of a severe winter come from? From people who do not understand the complexity of the problem, and who make simplistic assumptions. From people who specialise in speculation, not science."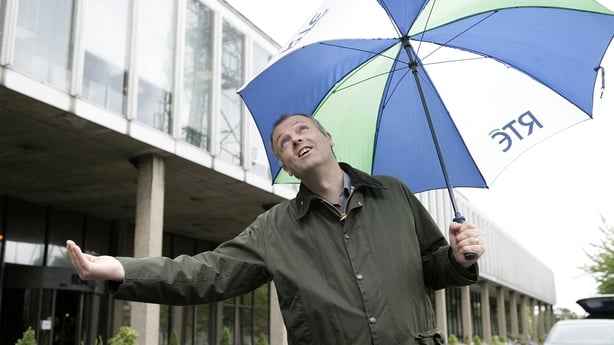 They say you can tell a lot about a person by the car they drive. So it is no surprise that in an interview with The Irish Independent in 2005, Gerald proudly revealed he was the owner of a Saab 93 2.2l diesel. He said: "It is nice and understated; solid and well-built. It's fairly frugal too; about 5.8l/100km (go do the sums, we supposedly went metric about 20 years ago!). No-claims bonus still intact." 
Gerald, who says he introduced his famous wink to "create a visual connection with the viewers", moved with the times and embraced the technology that makes forecasting more accurate, particularly when it comes to long range forecasts. Weather forecasting is undoubtedly a science, but not an exact one. And when it goes wrong, while meteorologists don't like it one bit, Gerald maintains you have to get back on the horse.
"As scientists you can't spend time beating yourself up about something that goes wrong," he told the Irish Examiner earlier this year. "You just try to understand how and why it happened so the next time around you'll have a better explanation of how things behave."
We need your consent to load this rte-player contentWe use rte-player to manage extra content that can set cookies on your device and collect data about your activity. Please review their details and accept them to load the content.Manage Preferences

However, the life of a weatherman can be a lonely one. Gerald concedes his career has severely limited opportunities to watch TV or keep pace with the changing story lines of soap operas. But when he's not starting work at 1pm and finishing at 10pm, Gerald says "any three of the varieties of football" or hurling keep him entertained. 
His other great passion is travel. He and wife Mary Duggan, an architect, have frequently enjoyed trips across western Europe - mainly in France - with their trusty weather-proof trailer tent in tow. 
Earlier this year, Gerald told the Irish Star: "It's a very public job and you could be successful and give a good forecast 100 times and if one doesn't work out, that's the one you'll be remembered for."
Whatever the weather, we'll never forget Gerald Fleming.
For all the very latest weather news, visit www.rte.ie/weather