Lasting damage has been caused to the Deer Stone in Glendalough, Co Wicklow, in what appears to be an act of vandalism, according to Project Manager for HeritageMaps.ie Pat Reid.
Speaking on RTÉ's Today with Philip Boucher-Hayes, Mr Reid said he believes someone lit a fire on the stone, which caused the boulder it is carved into to crack.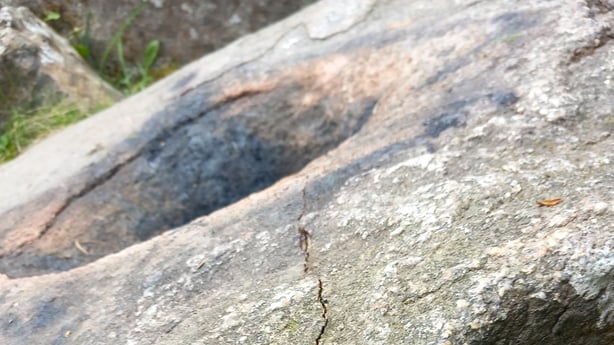 "There's four significant cracks running across it, and they may run quite deep.
"This is a significant problem in that if water gets into these cracks during winter the resulting freeze thaw will cleave the boulder that holds it apart, so it is a serious issue.
"There was some damage to it before, but it has really accelerated it," he said.
Mr Reid said the fire may have happened over a couple of nights, but was clearly deliberate based on the markings and discoloration on the stone.
He said it is not a comfortable area for camping, so the fire may have been set for cooking or merely to inflict damage.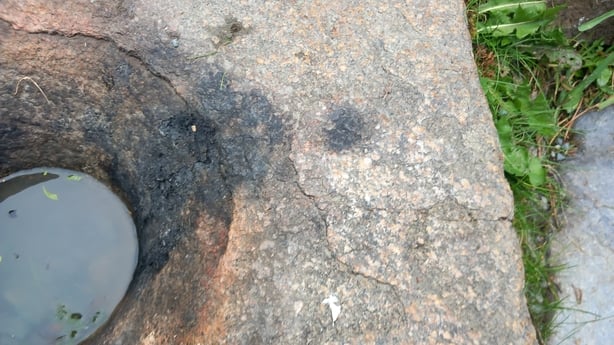 The Deer Stone is a Bulláin Stone, which can be thousands of years old.
Mr Reid said the original purpose of the stone is unknown, but it might have been used for food preparation or metal production.
They were repurposed into early Christian sites and have religious uses now as holy wells or Christening fonts. They may also have held cursing or curing stones in them.
He said it was hard to tell how deep the cracks run and if the rock will fall apart.
Mr Reid said it needs to be cleaned and assessed by a conservationist or agroecologist. They will assess if it can be repaired.
The monument will likely be fenced while it is assessed and repaired, he said.
"We cannot do that for every single monument in the country and they are disappearing at quite a rate, it is shocking, the absolute ignorance involved here.
"People know they are in a national monument, they still light a fire on it.
"It is happening all the time in places like Glendalough where people are climbing onto the monuments, losing stones, they are lying down on graves to pose for photographs."
Mr Reid is against installing CCTV at the monument as people do not want to feel like they are being watched in a tranquil place like the national park.
"I'm hoping that by talking about it and addressing it like this that we are educating people as to the merits of our heritage and how available it is to us all and how open it is to us all and that it needs to be respected as opposed to taken for granted," he said.
This evening, the National Monuments Service (NMS) said it is to carry out further specialist analysis of the damage to the Deer Stone.
The NMS says it carried out a preliminary inspection earlier this week, noting 'severe scorching from fire and cracking'.
It says it is reporting the matter to An Garda Siochana for investigation.