'What a Wonderful World' - the song first recorded in 1967 by Louis Armstrong - rang out this afternoon from the Cliffs of Moher.
Performed by a choir drawn from across Ireland and the world, the event was part of the Limerick Sings International Choral Festival Outdoor Chorus presented by University Concert Hall Limerick.
The choir was only formed this morning - 275 singers from choirs as far away as the USA, Finland and Iceland joined forces with choirs from Dublin, Wicklow and Louth for what has become a highlight of the festival which is now in its eleventh year.
Musical Director of the Outdoor Chorus, Ruaidhrí Ó Dálaigh, said that after a 15 minute vocal warmup the newly formed choir had just 45 minutes to rehearse the song which he had arranged, and he was delighted with how well it all came together.
Delighted too were the choir members themselves and visitors to the cliffs who were treated to the special performance.
Michael Morales from California said that during the pandemic they were singing online so it was wonderful to be singing out in the open air in such a beautiful place. Things had come full circle, he said.
Rebecca Ingibjartsdottir from Iceland was singing with a Norwegian choir which travelled to Limerick for the festival and was enjoying singing with a great diversity of choirs from different places.
Ingrid Savage and her friends in the Voices of the Boyne Choir were delighted with the performance and full of praise for Mr Ó Dálaigh for making it happen.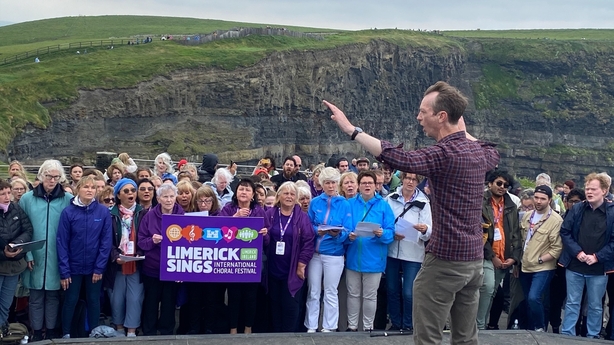 The non-competitive festival aims to encourage and promote choral singing in Limerick and the mid-west region and brings together choirs of all traditions from Ireland, Europe and the US.
The festival's Artistic Director Sinéad Hope said the Outdoor Chorus is a fun event and very popular with those who come to the festival.
The festival is not just about performing in concert venues, she said, it is an opportunity for people to get out and see the region and perform in a variety of places.
This year she said they have included other places of interest for performances including Bunratty and the International Rugby Experience in Limerick.