A teenager in Northern Ireland has sat his final A-level history paper, the equivalent of the Leaving Cert, just weeks after writing himself into the history books.
While thousands of teenagers are sitting exams, 18-year-old Lewis Boyle is in a class of his own.
He is the youngest ever elected politician on the island of Ireland and the UK.
The pupil at Rainey Endowed grammar school in Magherafelt in Co Derry took time out from his studies to hit the campaign trail last month.
He got the result he wanted when elected as a councillor for the Alliance Party in Antrim and Newtownabbey with just under 1,000 first preference votes.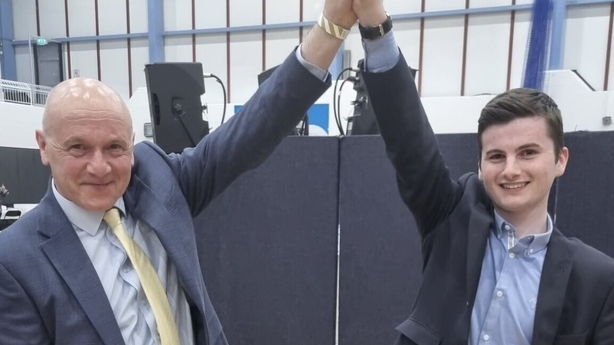 Then it was back to the books to get ready for A-levels in history, business and no surprise, politics.
The youngest councillor ever elected in Britain or Ireland, he is keen to encourage others to follow in his teenage footsteps.
"I think there should always be younger voices in politics, it's very important that younger people have a voice," he explained.
"Prior to this election 30% of people in the borough of Antrim and Newtownabbey were under the age of 25, yet there was no age representation for people in that demographic, but now we have a young person's voice on every single issue that will come forward on council."
Councillor Boyle said it is important that young people are involved in making decisions that could impact their lives for many years, rather than leaving it to older politicians to decide for them.
"Voter turnout in the 18 to 24-year-old age category is by far the lowest of any category, that's people whose voices aren't getting heard. We're going to be affected by these decisions for the longest amount of time and it's very, very important that we have a say in our futures," he explained.
His politics teacher at his school has asked for one of his election posters for the classroom wall.
"I took part in a lot of political debates at school and in future I might be one of the things they talk about," he said.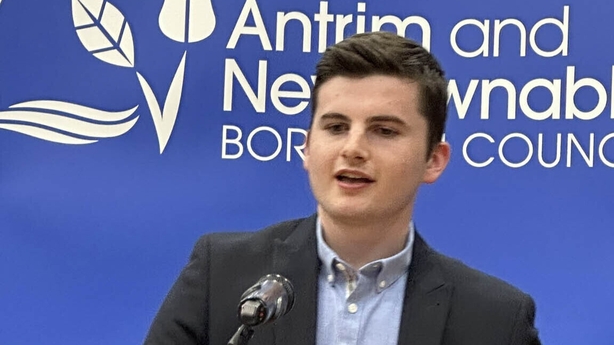 High on his list of priorities for his four-year term in office are climate change and the environment, issues such as fracking, rewilding and recycling.
He ruffled a few feathers at his first council meeting last week when he failed with a motion to stop mandatory a Bible reading before each meeting of his council.
Many within the Alliance Party predict a bright future but for now, depending on results, he wants to study politics at Queen's or Ulster university, and his annual allowance of just over £16,000 will pay his way.
Political commentator Alan Meban watched the election result with particular interest.
He first came across the record-breaking councillor during his work with Politics in Action, a programme that brings together school pupils from across the political divide.
"I used to get messages from his teacher occasionally saying, 'this is ruining his revision for his exams', but fair play to him he managed to get through the exams and get through the election campaign, when he did quite a lot of knocking doors," he said.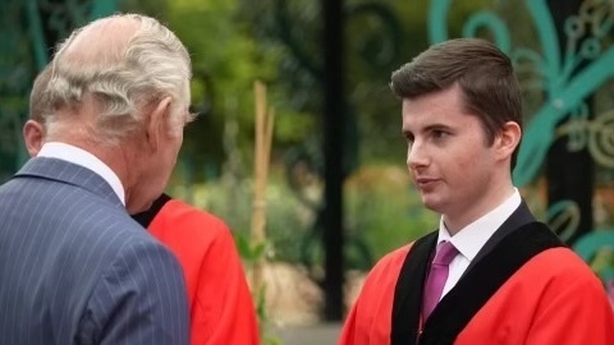 Mr Meban paid tribute to the Alliance Party for taking a gamble on such a young candidate and said he hopes his success will encourage other young people to enter the world of electoral politics.
"It says a lot about a party that actually is willing to put up an 18-year-old for a seat where it looked like they had about a 50% chance of winning," he said.
"I hope that it would encourage people of that age to realise that they have a voice. They have different experiences.
"Everybody who's a councillor has been 18 at some point, but the only ones who know what it's like today are the ones of that age, and things have changed.
"I hope that other people realise that they have perspectives and perhaps they can be listened to."
One of the 977 first preference votes Lewis Boyle secured was from one of his biggest fans back at his home in Randalstown in Co Antrim.
"I'm very proud of him, very proud, a proud granny," said his gran Roberta Boyle.
"Proud as punch, I couldn't be prouder," she added.